PICK YOUR WINE WITH CONFIDENCE!
If you want to know the best Thanksgiving wine pairing, you've come to the right place! Here, we offer simple tips on what wine you will want to drink with your Thanksgiving meal.
The challenges of picking a Thanksgiving wine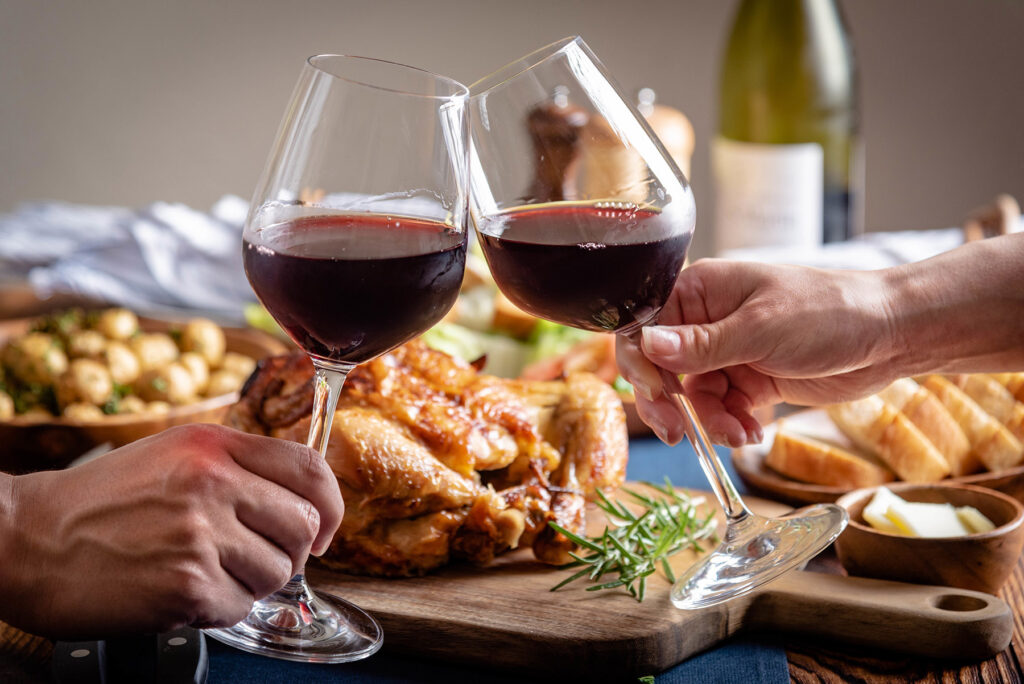 Pairing wine for Thanksgiving can be difficult because of a few different reasons:
There are so many dishes in a traditional Thanksgiving meal that finding one wine to go with them all can be hard.
Finding a wine to go with both white and dark meat turkey can be a challenge.
If you have many people at your gathering, everyone probably enjoys a different style of wine.
However, even with these challenges, we have tips on how you can pick the the best wine for your Thanksgiving meal. Keep scrolling to see all of our Thanksgiving wine pairing suggestions. This page includes ideas for if you only want to serve one bottle of wine for Thanksgiving, or if you want to serve multiple bottles. There's something for everyone.
Remember, at the end of the day, the most important rule of wine and food pairing is to drink something you enjoy with food you enjoy eating. So as long as you enjoy what you're eating and drinking, you made a good choice!
Cheers!
Nick
LGCM Wine Expert
Getting one wine for Thanksgiving? Pick This!
If you're only going to be enjoying one bottle of wine at your Thanksgiving meal, we recommend choosing a bottle of Pinot Noir. This lighter bodied red wine is our number one pick. In the video above, Nick lays out why Pinot Noir is such a good pick, and offers some bottles you can enjoy this season. Watch, or, if you prefer, you can read the highlights below.
WHY PINOT NOIR IS A GOOD THANKSGIVING WINE PAIRING:
The light body of Pinot Noir doesn't overwhelm the white meat turkey flavor and has enough depth to go with the dark meat flavor.
The cranberry and cherry flavors you find in many bottles of Pinot Noir complement the "fall" theme of the meal and match many of the flavors you find in the side dishes.
There is enough acidity in Pinot Noir to balance all of the different dishes you are enjoying during your Thanksgiving meal.
WHAT ARE BOTTLES OF PINOT NOIR I SHOULD DRINK THIS THANKSGIVING?
We have recommendations from three different regions to try! Here they are:
French Pinot Noir – often drier, higher acidity, and more traditional. Perfect for the food lover.
Le Charmel Pinot Noir – about $12 – $15
Domaine Chanson Le Bourgogne Pinot Noir – about $20 – $25
Maison Louis Latour Bourgogne Pinot Noir – about $18 – $25
Oregon Pinot Noir – not as heavy as California Pinot Noir, more red fruit than French Pinot Noir, a nice "goldilocks" wine style.
Kin & Cascadia Pinot Noir – about $15 – $18
King Estate Pinot Noir – about $25 – $30
Foris Pinot Noir – about $20 – $25
California Pinot Noir – beautiful red fruit flavors come through in these sun kissed Pinot Noirs. We love California!
Hess Select Pinot Noir – about $15 – $20
Truchard Pinot Noir – about $25 – $30
Flowers Pinot Noir – about $45 – $50
IF YOU WANT TO "HACK" YOUR WAY TO A GREAT THANKSGIVING WINE PAIRING
If you're the type of person that likes to "work smarter, not harder," we have the perfect wine pairing suggestion for Thanksgiving: sparkling wine!
WHY IS SPARKLING WINE A GOOD THANKSGIVING WINE PAIRING?
The bubbles in sparkling wine refresh your palate between each sip meaning that you can enjoy each bite of food without tasting the last thing you ate!
Everyone loves bubbles – they mean it's a celebration, and what else is Thanksgiving other than a celebration of gratitude?
You can get sparkling wine in more dry or more sweet styles depending on what you personally prefer.
WHAT BOTTLES OF SPARKLING WINE I SHOULD DRINK THIS THANKSGIVING?
Segura Viudas Cava – this Spanish sparkling wine is an outstanding value and has moderate sweetness with some apple and peach flavor notes. Less than $10.
Santa Marina Prosecco – this Italian sparkling wine is crisp and clean with very fine bubbles. It's also great for Mimosas! About $10.
JJ Vincent Cremant de Bourgogne – a French sparkling wine that isn't as expensive as Champagne but still sophisticated and refreshing. Fine bubbles with floral and apple flavors. Around $20.
Pol Roger Champagne – my personal favorite sparkling wine, Pol Roger makes a Champagne that is simultaneously richly creamy, crisp and sparkly, and packed with floral aromatics. It's a way to celebrate with an incredibly delicious bottle. Around $55.
WHAT'S THE SECOND BOTTLE OF WINE YOU SHOULD SERVE FOR YOUR THANKSGIVING WINE PAIRING?
If you'd like to serve both a white and a red wine for Thanksgiving, we recommend riesling as our second best Thanksgiving wine pairing option. We specifically recommend dry to off-dry riesling, nothing super sweet for this meal!
WHY IS RIESLING A GOOD THANKSGIVING WINE PAIRING?
Riesling has a ton of acidity in it, which is very refreshing between bites of food. It also helps the wine stand up to the rich, dark turkey meat and gravy.
As a white wine, Riesling doesn't overwhelm the white turkey breast meat.
The floral and fruit aromas you find in Riesling are lovely matches to all the side dishes in the Thanksgiving meal.
WHAT ARE BOTTLES OF RIESLING I SHOULD DRINK THIS THANKSGIVING?
Pacific Rim Dry Riesling – this wine is an outstanding value that is crisp, refreshing, and almost tailor-made for Thanksgiving. Around $10.
Boundary Breaks "OLN" Riesling – did you know New York makes incredible riesling? Yep, this Finger Lakes bottle is off-dry with a bit of sweet citrus and stone fruit flavors, but still has enough acidity to match all of the food. Between $15 and $20.
Pewsey Vale Dry Riesling – I adore this bone-dry Australian Riesling. It is packed with floral aromas that are pleasant to enjoy, while the acidity will perfectly match each food item. Between $15 and $20.
Dr. Hermann "H" Riesling – this off-dry German Riesling is one of our most popular Thanksgiving wines. It combines ripe fruit flavors with a zippy finish to match your meal. Between $15 and $20.
WHAT IS A SWEET WINE PAIRING FOR THANKSGIVING?
We wouldn't traditionally recommend sweet wine to go with a Thanksgiving meal because the sugary flavors in sweet wine can be a little heavy with the rich Thanksgiving meal. However, if you enjoy drinking sweet wine, you should definitely drink it with your Thanksgiving meal! Here are a few tips to find a sweet wine that will work the best with your Thanksgiving meal:
A sweet, sparkling red wine like a lambrusco or something similar is a great choice. The red fruit flavors will complement the side dishes, and sparkling wine is always a good food pairing. We have this available at LGCM and it's delicious!
If you want white wine, try a sweet sparkling wine like a Mocato d'Asti. We also have Tropical Mango Moscato at LGCM that is so good!
If you don't like sparkling wine, try a very sweet German Riesling labeled Spatlese (sweet) or Auslese (very sweet). At LGCM, we have Fritz Zimmer Spatlese and Schmitt Sohne Auslese. While they are definitely sweet wines, they still have enough acidity to work with food.
Sweet wines are a great food pairing with spicy food, so if you want to reverse engineer a sweet wine Thanksgiving wine and food pairing, try our Cajun Turkey Brine recipe! 
DO YOU HAVE MORE THANKSGIVING WINE PAIRING SUGGESTIONS?
If none of the choices we've suggested above sound good to you, or if you want to have a bunch of options, here are some more suggestions of easy to find wines that are delicious Thanksgiving wine pairings.
SAUVIGNON BLANC – JUST NOT NEW ZEALAND SAUVIGNON BLANC
Sauvignon blanc is a great wine for summer refreshment, but it also works well for a Thanksgiving wine pairing. Look for bottles from France or Chile instead of New Zealand bottles for your Thanksgiving meal. The grapefruit flavors in New Zealand Sauvignon Blanc just don't work well with Thanksgiving meals. Instead, the crisp green apple and mineral flavors you'll find in many bottles from France and Chile are a beautiful pairing.
DRY ROSÉ – ESPECIALLY FRENCH ROSÉ
Pink wine is in for Thanksgiving! The light body and crisp, refreshing berry fruit flavors are an easy drinking choice for your Thanksgiving table. If you have wine drinkers that like sweet wine, but can go a little drier, rosé is a good choice for them. We recommend looking for French (or French-style) rosés for Thanksgiving becuase they often have a bit more acidity to stand up to food than their American counterparts.
ZINFANDEL – LOOK FOR BOTTLES UNDER 15% ALCOHOL
It's easy to think of Zinfandel as a big, high alcohol wine with huge fruit flavors. This style of wine isn't at all a good food pairing, but if you look for traditional styles of Zinfandel from California wineries like Frog's Leap, Truchard, and others, you'll find sophisticated, food friendly wines with light berry flavors and plenty of acidity. Pro-tip, you can also look for Italian wines labeled Primitivo – it's the same grape!
I'M REALLY INTO WINE – WHAT ARE SOME THANKSGIVING WINE PAIRINGS I SHOULD TRY?
If you want to get crazy and try some more esoteric bottles this Thanksgiving here are our picks:
Gruner Veltliner – this Austrian varietal is an aromatic white wine that is similar to Sauvignon Blanc with more green apple flavor and floral aromatics. You can find really good examples under $20 without having to look that hard.
White Rhone blends – look for either a Cote du Rhones Blanc or a wine made from Marsanne, Roussane, or Viognier. These wines are more full bodied than the other white wines we've recommended, but still have gorgeous aromatics and acidity. These can be harder to find, but they're well worth looking for. We stock several at Lake Geneva Country Meats because I love them so much!
Chenin Blanc – another aromatic white wine, I firmly believe that South African Chenin Blanc for $12 is one of the most foolproof wines you can buy at store. It'll have a bit of body, a bit of acidity, some nice tropical fruit flavors, and plenty of floral aromatics. It's easy to drink, and refreshing with food!
Beaujolais – really anything made from Gamay that's not Beaujolais Noveau! Beaujolais is a French red wine made from the Gamay grape in an area just south of Burgundy. These are lighter bodied, but still complex wines with dry red fruit flavors and spice notes on the end. They're often very good values and very delicious.
Grenache (or Garnacha in Spain) – Grenache is a lighter bodied red wine that combines red berry fruit flavors and black spice notes. You can find it grown best in Spain and France, but other areas of the world are starting to grow it too. I like it for smoked turkeys especially!
Cabernet Franc – finally, if you want to go with a Cabernet, then pick a Cabernet Franc, not a Cabernet Sauvignon! This will be a bit lighter bodied than a Cabernet Sauvignon and have more violet and graphite type of aromatic notes. While it's not my top pick for a pairing, if you want to do a Cab, this will work for you!
One last pro-tip – serve your lighter bodied reds at cellar temp (about 55ºF) for this meal. The slightly cooler temperature lets the best parts of the aroma shine.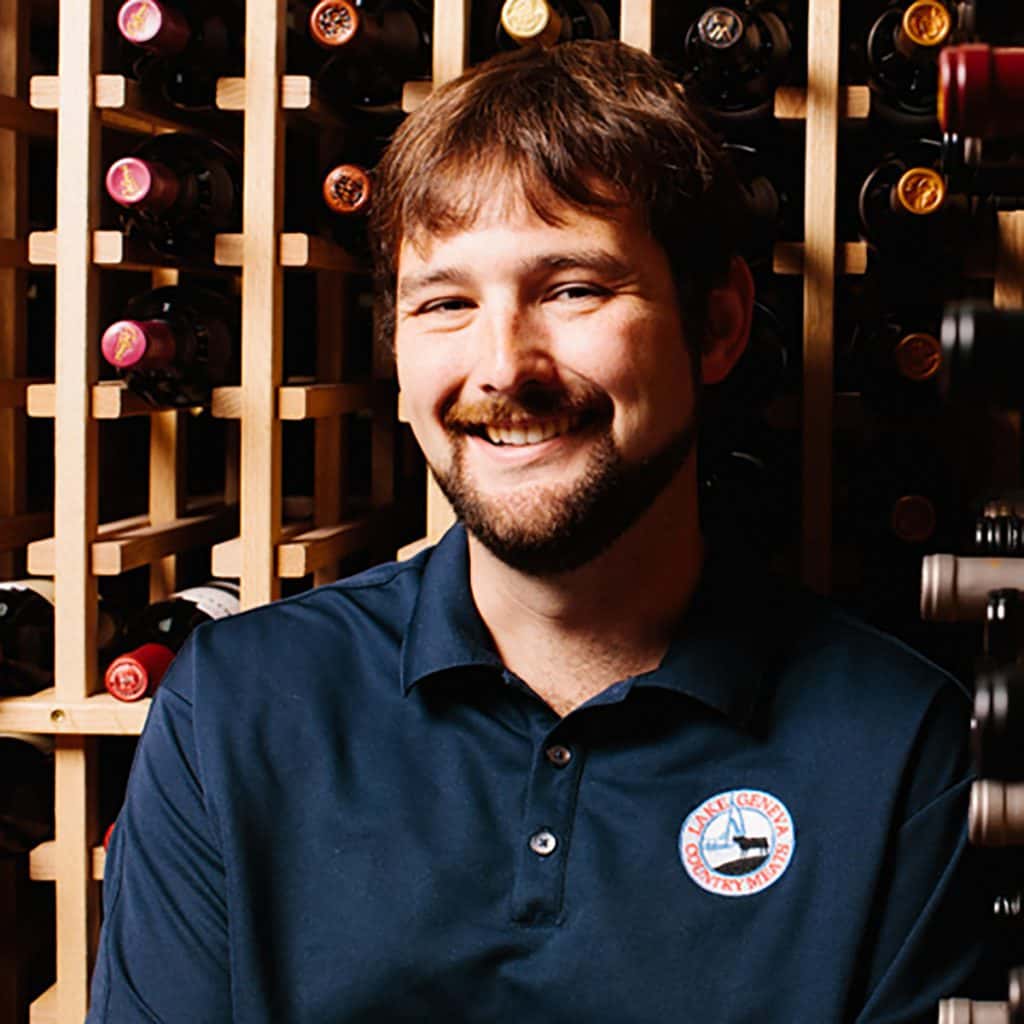 Thanks for reading our Thanksgiving wine pairing guide!
We hope it answers your questions and has helped you pick the perfect bottle of wine for your Thanksgiving meal. We're always happy to help you find the perfect bottle, so if you have questions, stop by the store, ask for me, and I'll be glad to help you find a bottle that matches your occasion, tastes, and price point. 
Happy Thanksgiving!
Nick – LGCM Wine Expert