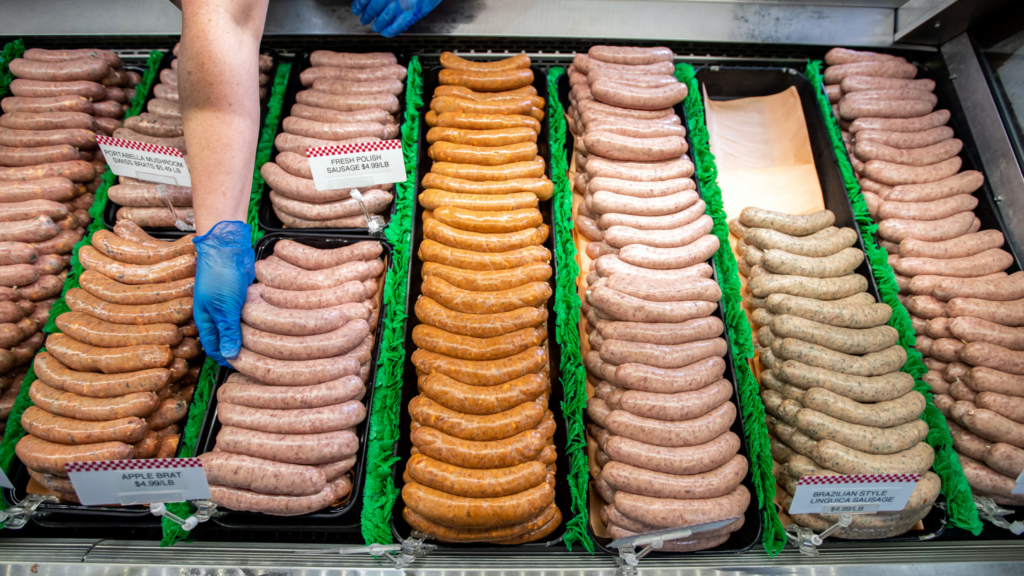 Our award-winning fresh bratwursts
This week, you'll save $1 per pound on our fresh and fresh frozen dinner sausages!
Most sausages are now $4.99 per pound after the discount, and this sale includes all of our bratwurst flavors, Italian sausages, fresh Polish sausage, Hungarian sausage, chicken brats, and chorizo sausage. Grab any of the flavors we have fresh, or stock up from our freezer while the savings are available to you.
Keep reading to see what flavors we have fresh this weekend, including two special new flavors, and discover more deals!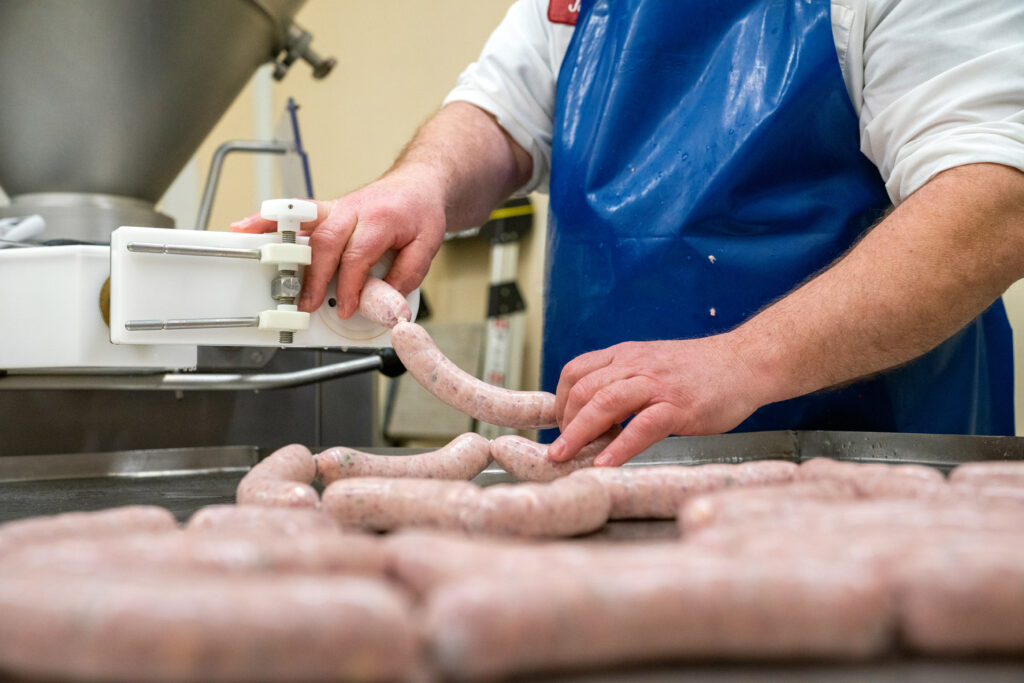 French Onion & Swiss Cheese Bratwurst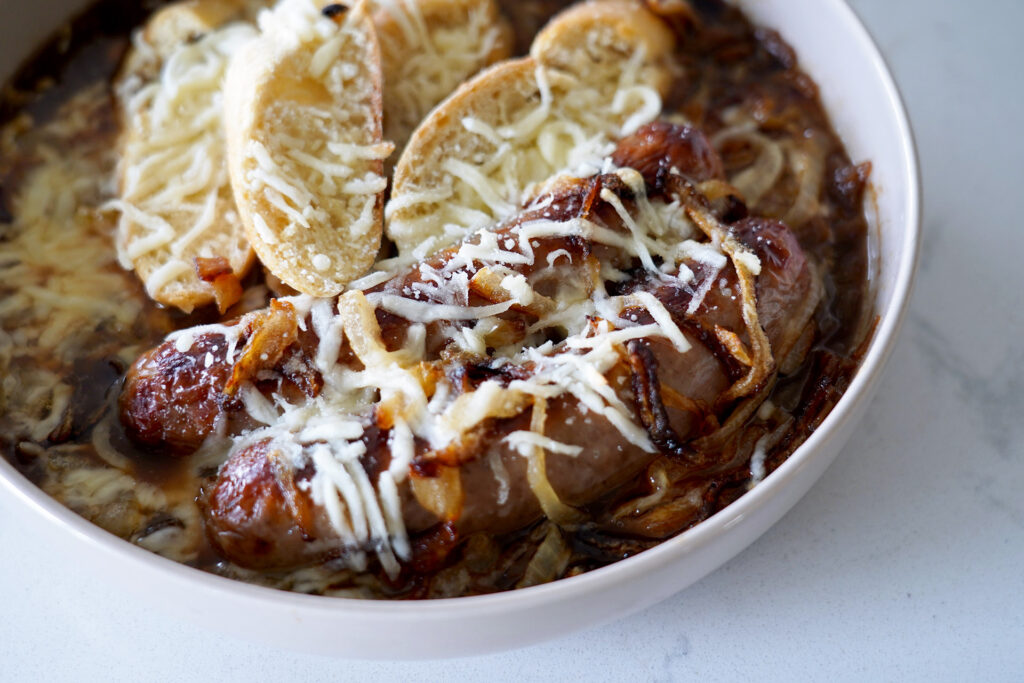 Made from pork & beef, we season this bratwurst with savory French onion soup flavorings, and then add beef broth and Swiss cheese. The bratwurst is flavorful, comforting, and delicious, just like the soup!
This bratwurst is delicious on a bun by itself, but can also be transformed into a quick summer stew by serving the links in a bowl of French onion soup with toasted bread and melted cheese on top.
Sour Cream & Cheddar Cheese Bratwurst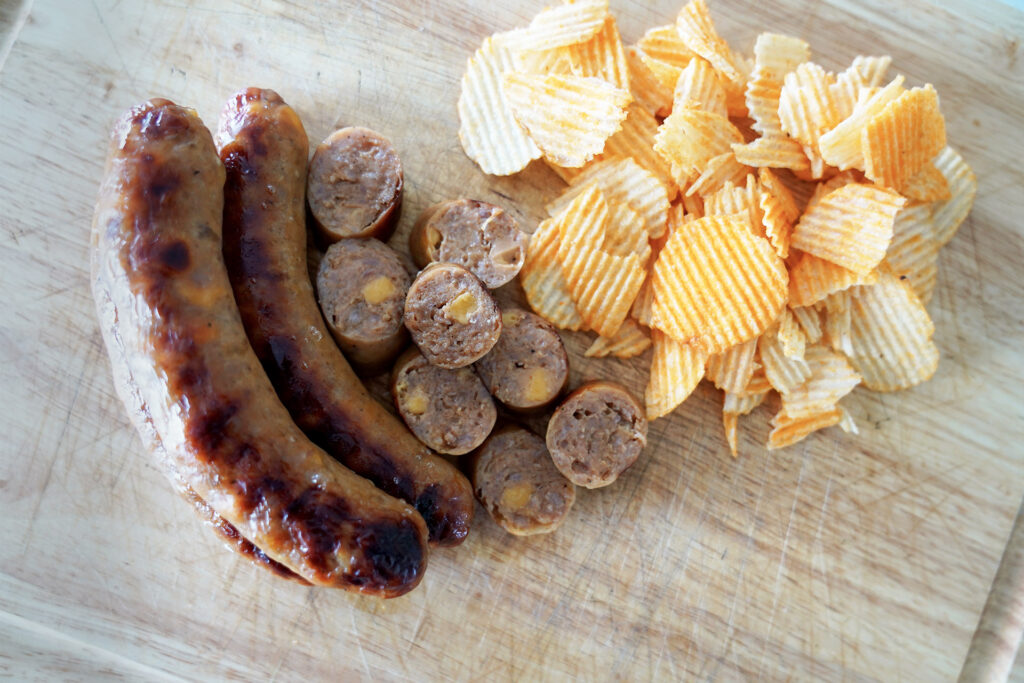 If you like Sour Cream & Cheddar chips, you are going to love this bratwurst!
Made from pork & beef, we then season this bratwurst with what basically could be described as the dust from your favorite chips. We then stuff the sausage with extra cheddar cheese. These bratwursts are super tasty, and we think they'll be a real crowd favorite!
LIMITED AVAILABILITY – Argentinian Chorizo Sausage
Cheddar Cheese & Green Pepper Bratwurst
Cherry Bratwurst
Chicken Feta Spinach Bratwurst
NEW – French Onion & Swiss Cheese Bratwurst
Mild Italian Sausage
Onion & Garlic Bratwurst
Portabella Mushroom & Swiss Cheese Bratwurst
NEW – Sour Cream & Cheddar Cheese Bratwurst
Taco Bratwurst
Traditional Bratwurst
Wisconsin 3 Cheese Bratwurst
New LGCM Store-Pick Bourbon!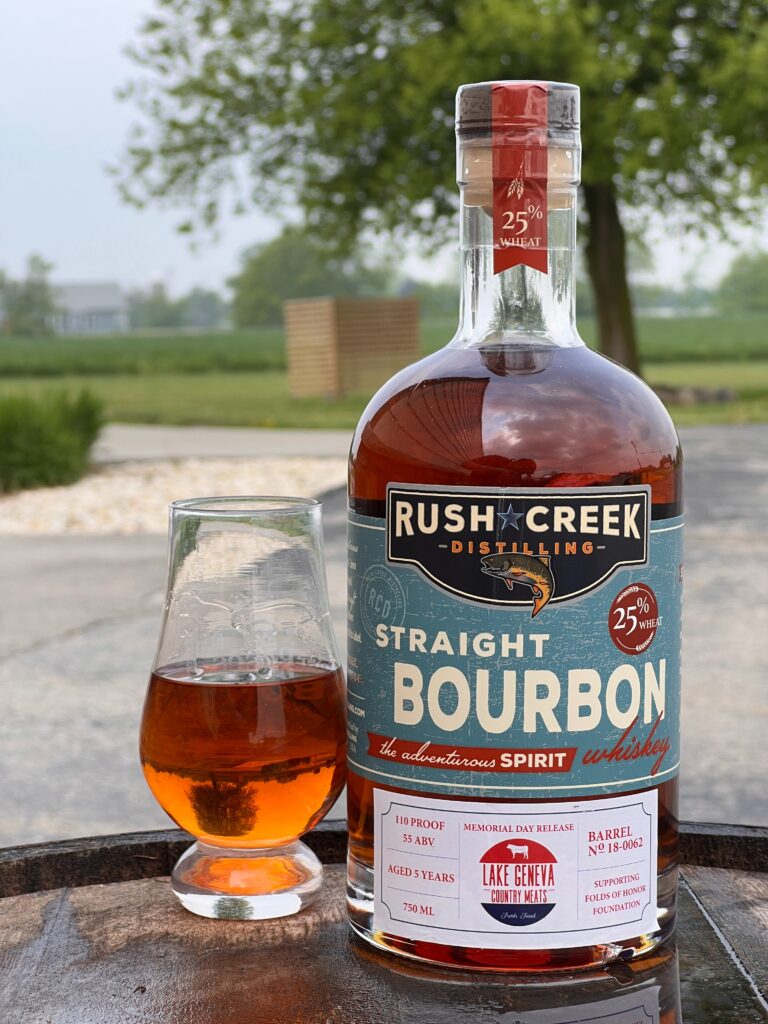 We're excited to be releasing a new store-pick of bourbon whiskey from Rush Creek Distilling in Harvard, Illinois!
This 110-proof wheated bourbon is smooth, flavorful, and something we're proud to share with you. 
Bottles are $49.99 each, and $5 per bottle sold from this Memorial Day 2023 release will go to benefit the Folds of Honor Foundation.
Special Items
Our "everyday" items are pretty special, but when you're looking for a cut of meat that's truly extraordinary, you need to check out our weekend specials!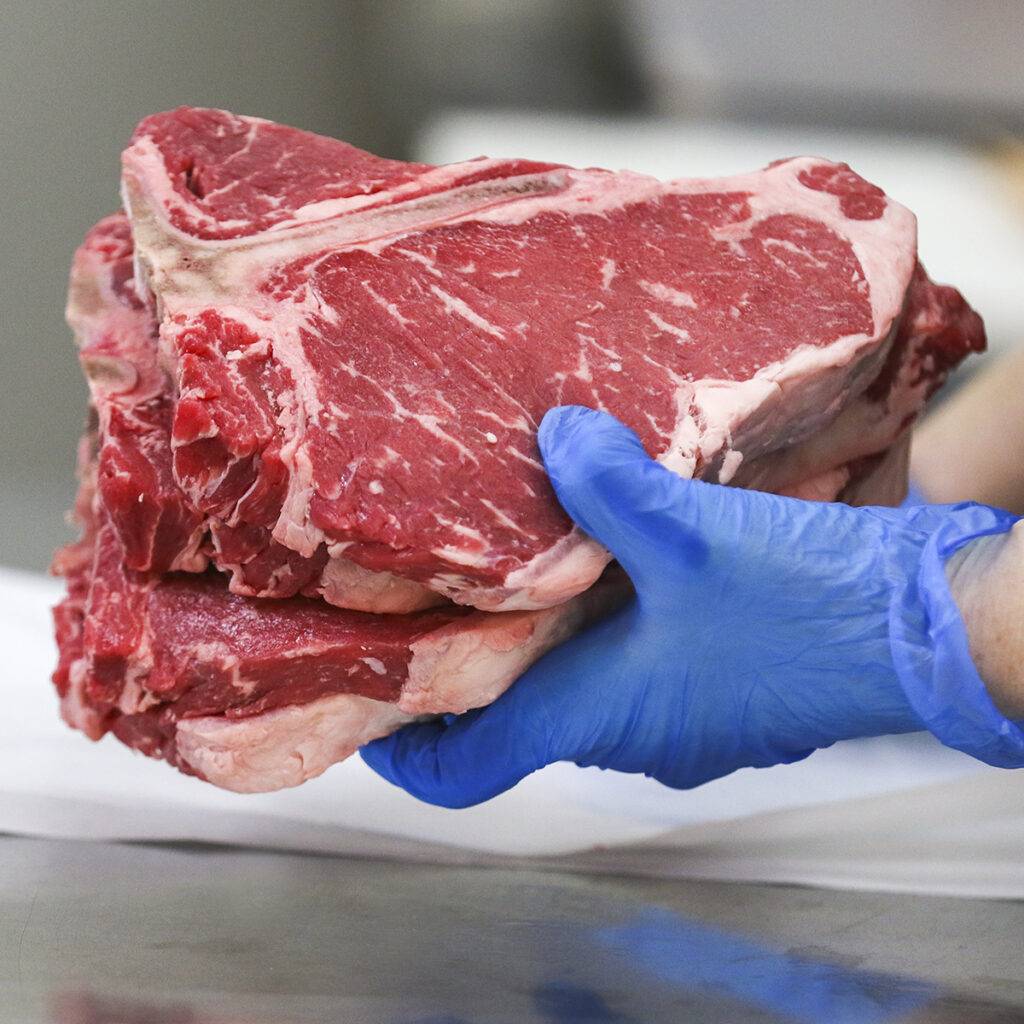 We will have our case stocked full of delicious treats this weekend. Limited supplies of all of these items will be available. Give us a call to reserve yours!
USDA Prime Dry Aged T-Bone & Porterhouse Steaks – these lusciously marbled steaks have been dry-aged for 21 days for incredible flavor and tenderness!
Porterhouse Steaks: $22.99/lb. 
T-Bone Steaks: $20.99/lb.
Leahy's Angus Beef Gourmet Burgers – an 85% lean blend of USDA-inspected bison, Wagyu beef, venison, and wild boar, these burgers have a bold taste and unique texture that we love! $9.99 per pound, available in packages of 2 approximate half pound burger patties.
Upcoming Special Items
Here's a sneak-peak at special items we have coming soon. If you'd like to enjoy one of these, call us at 262-248-3339, and select option 3 to speak to a Meat Ambassador and reserve your favorites!
June 16th – 18th
USDA Prime Ribeye Steaks
USDA Prime Dry Aged Bone-In Strip Steaks
USDA Prime Brisket
June 23rd – 25th
USDA Prime Dry Aged T-Bone Steaks
USDA Prime Dry Aged Porterhouse Steaks
June 30th – July 3rd
USDA Prime Dry Aged Bone-In Strip Steaks
USDA Prime Brisket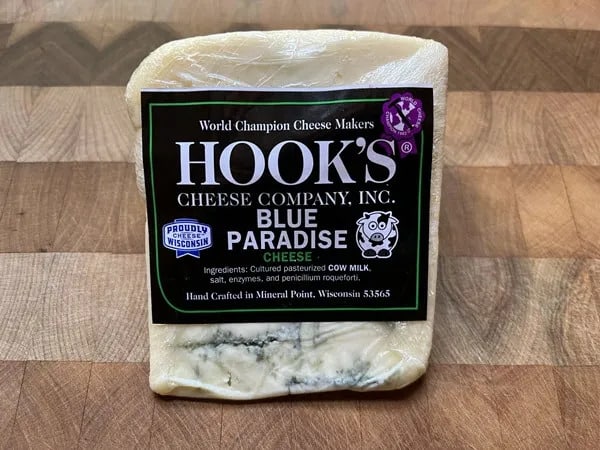 Hook's Blue Paradise Cheese
This is a great introductory blue cheese for people who think they don't like blue cheese. It is a double cream blue, hence very creamy, that is slightly sweet with pleasant tanginess.
Now $11.89 per pound
15% savings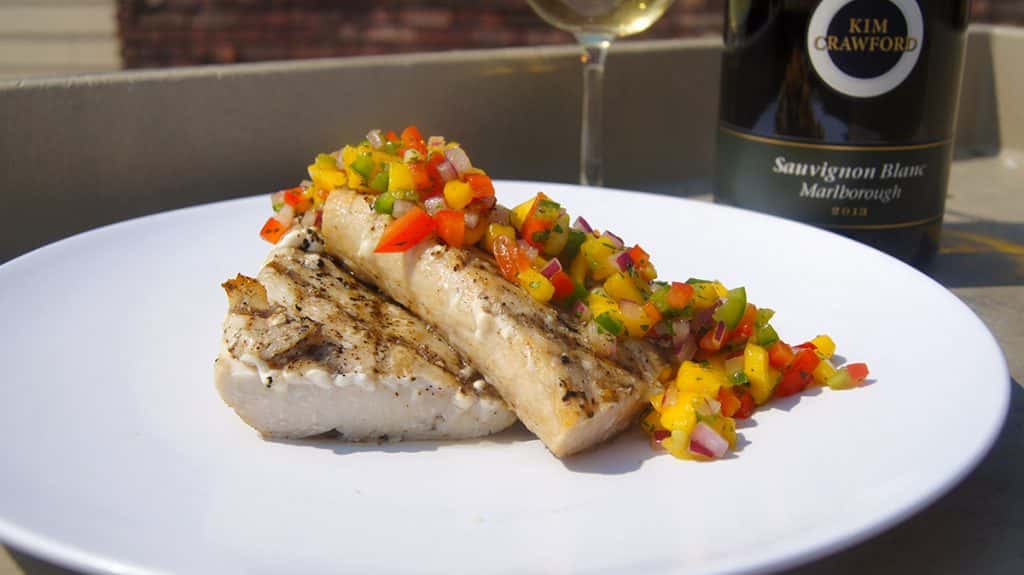 Mahi Mahi Steaks
This game fish is one of our most popular summer seafood treats!
Mahi Mahi has a sweet, mild flavor with a lean, firm texture. You can prepare Mahi Mahi by baking, broiling, sautéing, or even grilling.
Now $4.99 per steak
$1 savings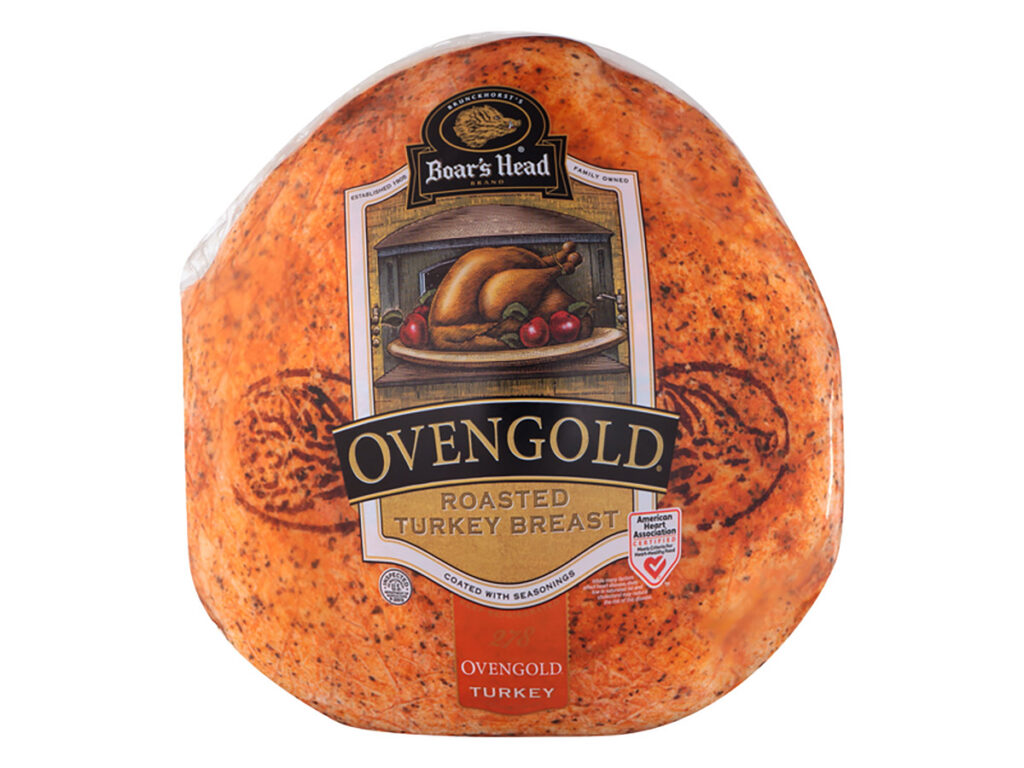 Boar's Head Maple Glazed Honey Turkey
Delivering homestyle flavor in every tender slice, Boar's Head Ovengold Turkey Breast is seasoned with aromatic spices and slow roasted to perfection according to a family recipe for a taste of home.
Now $10.99 per pound
$1 per pound savings
Terms & Conditions
Sales valid 6/7/23 - 6/13/23 while supplies last, in-store only. Items may not be further discounted. Does not include pork sausage, breakfast sausage links, or breakfast sausage patties. Does not include cooked or smoked sausages.