If you're into science based cooking techniques, you may have heard of dry brining and want to learn how to dry brine? What is dry brining, you ask? Well, dry brining is an easy seasoning technique that will make your food more juicy and more flavorful. This blog post will fully explain what dry brining is, and give you step by step instructions on how to dry brine steaks, pork chops, and more!
What is Dry Brining?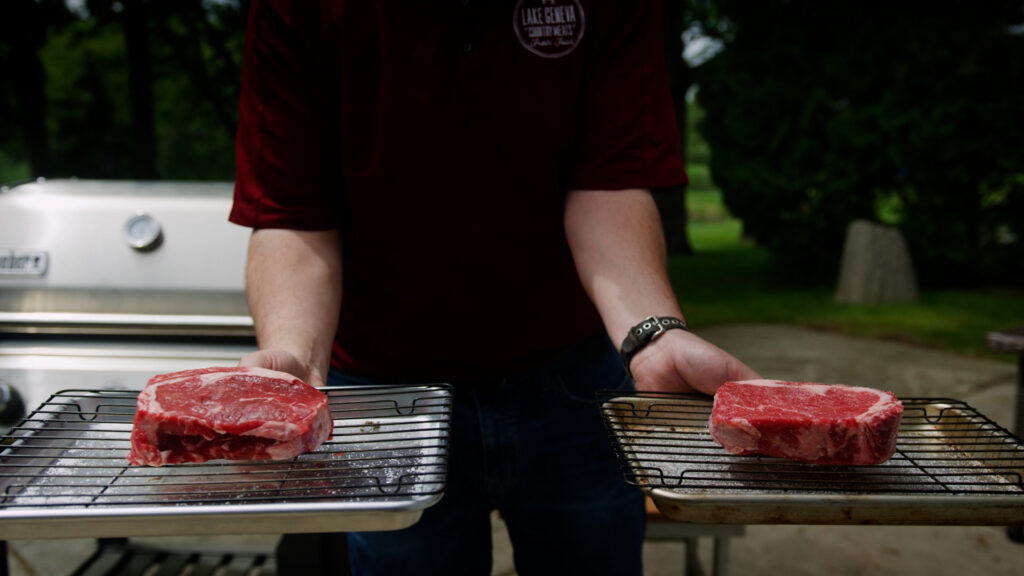 Traditionally, when we talk about brining, we're talking about submerging meat in a tub of salty liquid. This is called wet brining. Instead, dry brining involves salting your meat and then resting it before cooking, no liquid involved! It's a much less messy process, but also a much more effective process.
How to Dry Brine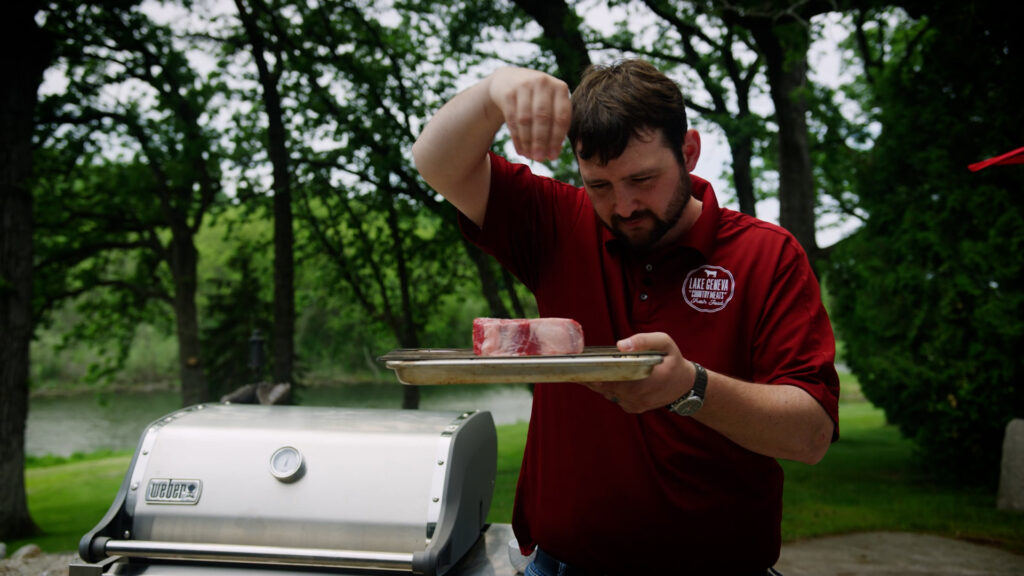 Dry brining is a simple process to do at home. All you need to do is sprinkle a moderate amount of salt evenly over the entire surface of your steak or chop. We don't have a precise measurement to give you because each cut of meat requires a little different salt. We know directions like this can be frustrating, but just follow this method, and you'll nail it each time:
Grab a generous pinch of salt between your thumb and forefinger.
Hold your fingers about 8 – 10 inches above the meat.
Rub your fingers together to sprinkle the salt onto the meat, letting it gently fall evenly over the entire surface.
Coat the surface lightly so that you see salt over the entire meat. You want a light covering, not a pile up of salt!
Now that you've seasoned the meat, place the meat on a baking rack over a sheet pan and place it in the refrigerator to sit for two hours or up to an entire day. Do not cover the meat – you want air circulation to allow the salt to absorb into the meat.
While the meat is sitting in your refrigerator, the salt will attract the liquid to the surface of the meat. The moisture will soon dissolve the salt and make a brine that is then absorbed back into the meat. That brine will dissolve and modify protein structures to make the meat more tender, more flavorful, and taste juicier!
When you're ready to cook the meat, simply remove the meat from the refrigerator and season it with any other non-salt based seasonings you'd like, such as freshly cracked black pepper or powder garlic. It's important to not use any more salt at this step, so most store bought seasonings won't work. We like to use this simple seasoning mixture for steaks and pork chops:
2 tbsp. black pepper
1 tbsp. garlic powder
1 tbsp. onion powder
1 tbsp. dry Italian seasoning mix
1 tsp. cumin
1 tsp. brown sugar
1 tsp. ground red pepper flakes
Once seasoned, let the meat sit on the counter at room temperature for 15 – 30 minutes before you begin cooking. Room temperature meat sears better than cold meat!
If you're in a pinch for time, salt the meat and let it sit at room temperature for 30 – 45 minutes before cooking. You'll still get most of the benefits of dry brining but save time!
What Type of Salt Should I Use?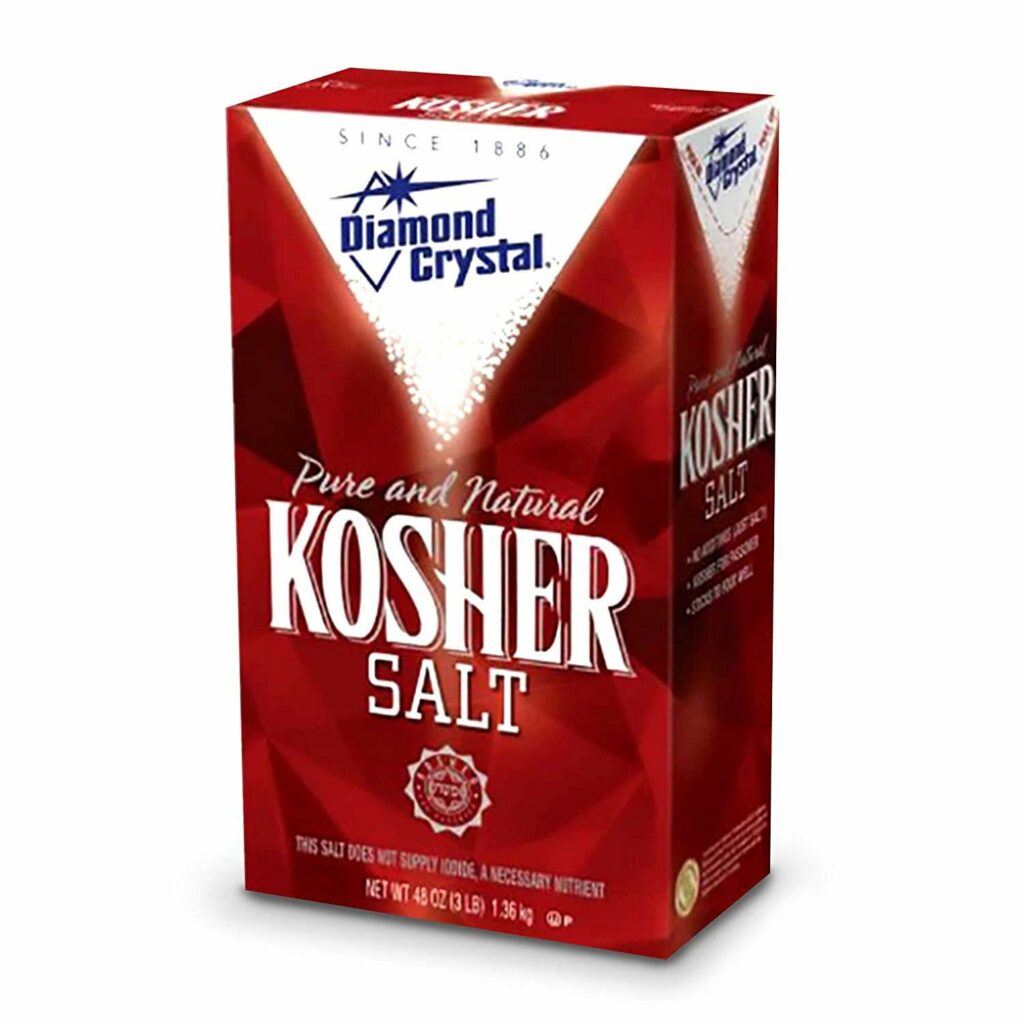 We strongly recommend using Diamond Crystal Kosher Salt. The flakes are uniquely structured to perfectly dry brine meat and they sprinkle easily. It also isn't a super "salty" tasting salt, which is ideal for this method!
Can You Share Some Dry Brined Recipes?
Of course! You can check out our Reverse Ribeye Steak recipe video above that also uses a dry brine and walks through step by step how to dry brine. Our Reverse Seared Pork Chop recipe similarly uses a dry brine to yield incredible flavor.
We hope you enjoyed this blog post taught you how to dry brine. Now that you know how to dry brine, you can easily bring extra flavor to your steaks and chops. So stop in to Lake Geneva Country Meats soon, pick up your favorite beef steak or a thick cut pork chop and try it at home. We're confident this technique will yield great results and you'll dry brine again and again!