Gift boxes are a great way to show appreciation, and when you give a gift box full of food, maybe the recipient will share some of the food with you, the classic win-win gift!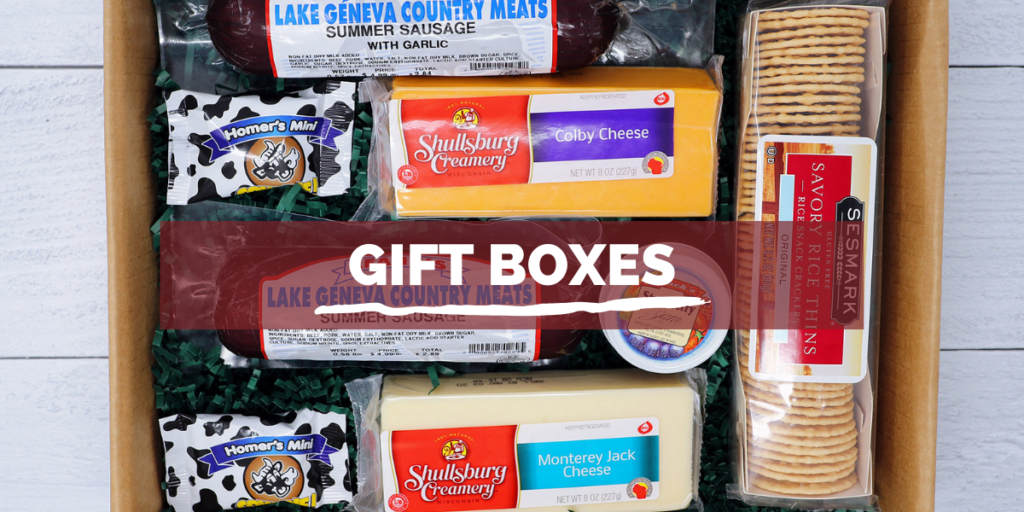 At Lake Geneva Country Meats, we offer classic cheese & sausage gift boxes during the Holiday season ready to grab and gift. A standard box is appreciated, but if you really want to say thank, building a custom box tailor-made to the recipients' tastes is the way to go.
Luckily, we offer empty boxes for you to load up with meat, sausage, cheese, seasonings, and so many more delicious items. While what you can fill in a box is limited only by your imagination, we wanted to provide six gift box themes as inspiration. Take these themes and our suggested items, and create a gift that fits your budget and the recipients' tastes.
We generally recommend gifting frozen meat – that way there are no concerns that the gift recipient has to use it quickly. If you do know that the recipient is going to be able to cook the meat within a day or two of you purchasing and delivering the box, then you can purchase fresh meat, otherwise, be safe and stick to frozen!
If you are ordering meat for a gift, let us know, and we can make sure no price is printed on the label. If you are purchasing frozen meat, we can always relabel the meat with no price as well.
Theme 1: The BBQ Box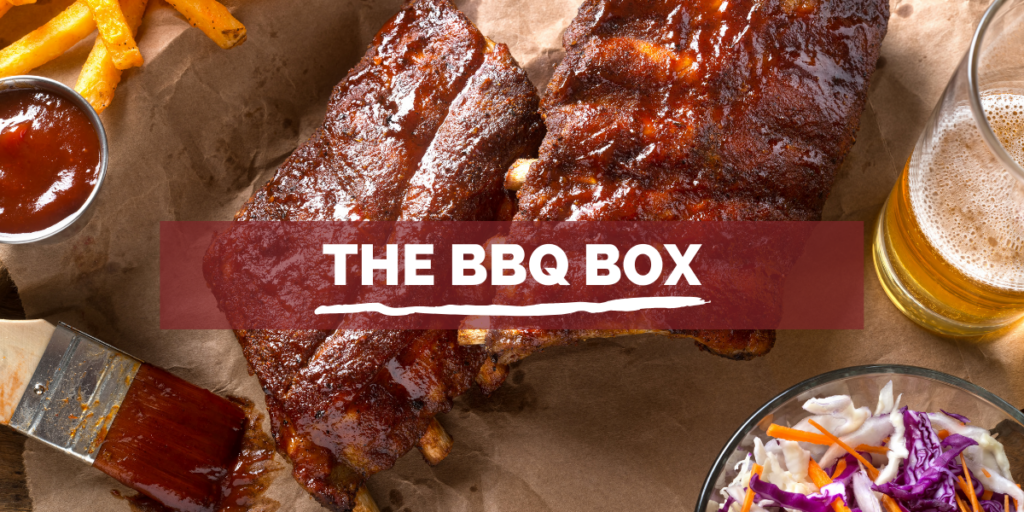 This one is definitely a gift that will give back, because when you cook BBQ, you're cooking for a crowd! Here are two suggestions on easy to gather gift boxes that are sure to please someone that loves to barbecue:
THE BABY BACK RIB BOX
2 slabs Baby Back Ribs
1 bottle BBQ Seasoning – we have lots, our favorites include the Custom Culinary Pork BBQ Spice Rub, the LGCM Kansas City Rump Rub, and the Just North of Memphis Rub.
1 bottle BBQ Sauce – again, we have lots available, so pick out one that sounds good to you.
Approximately a $60 gift depending on weights and seasonings.
THE BRISKET BOX
1 Whole Brisket
1 Lillie's Q "Q Rub" – we prefer to keep brisket seasoning simple, and this is a perfectly balanced salt, pepper, garlic blend.
1 Remote Thermometer – thermometers are essential to cooking great brisket. We have them available in-store, or we recommend this one on Amazon.
Approximately a $100 gift depending on weights and seasonings.
Theme 2: The Bratwurst Box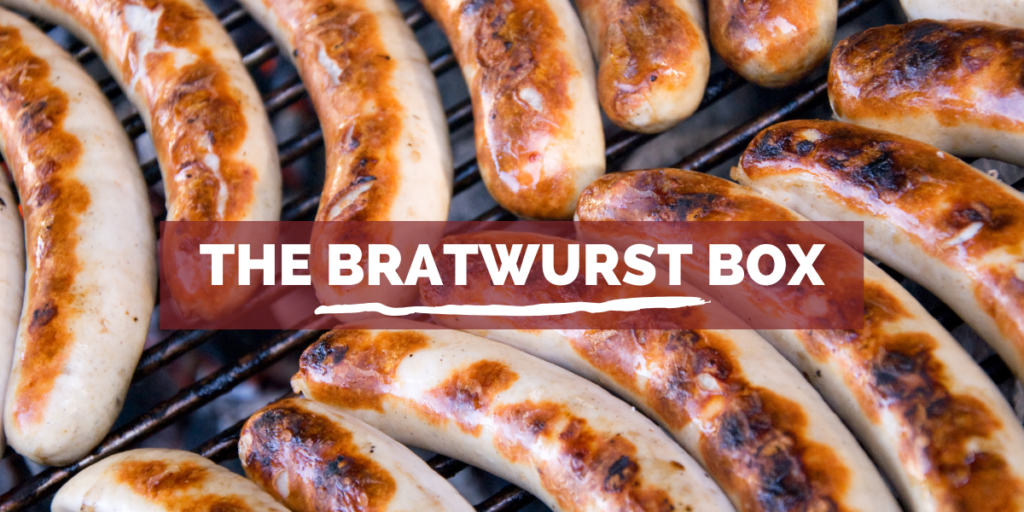 We have so many types of bratwursts and sausages in our store that you could make an almost infinite number of combinations for a gift box. Here are a few different combinations that we suggest as gift boxes that will delight the recipient:
THE BASICS BOX
1 package Traditional Brats
1 package Cherry Brats
1 package Portabella Mushroom & Swiss Cheese Brats
Approximately a $25 gift depending on exact weights.
CHEESE IT UP BOX
1 package Cheddar & Green Pepper Brats
1 package Wisconsin Three Cheese Brats
1 package Macaroni & Cheese Brats
Approximately a $25 gift depending on exact weights.
SAUSAGE AROUND THE WORLD
1 package Italian Sausage
1 package Szechwan Brats
1 package Chorizo Sausage
1 package Filipino Longanisa
Approximately a $30 gift depending on exact weights.
SPICE IT UP BOX
1 package Taco Brats
1 package Jalapeño & Habanero Brats
1 package Jalapeño Popper Brats
1 package Chicken Hot Wing Brats
Approximately a $30 gift depending on exact weights.
Theme 3: The Breakfast Box
You know what they say, the most important meal of the day is breakfast! Get someone's morning started right with a box full of breakfast goodies from Lake Geneva Country Meats!
BREAKFAST BOX
1 package Bacon
1 package Pork Sausage Links
1 container Stonewall Kitchen Pancake Mix
1 jar Tapped Pure Maple Syrup
1 container Yuppie Hill Eggs
Approximately a $35 gift depending on exact weights.
Theme 4: The Cheese Box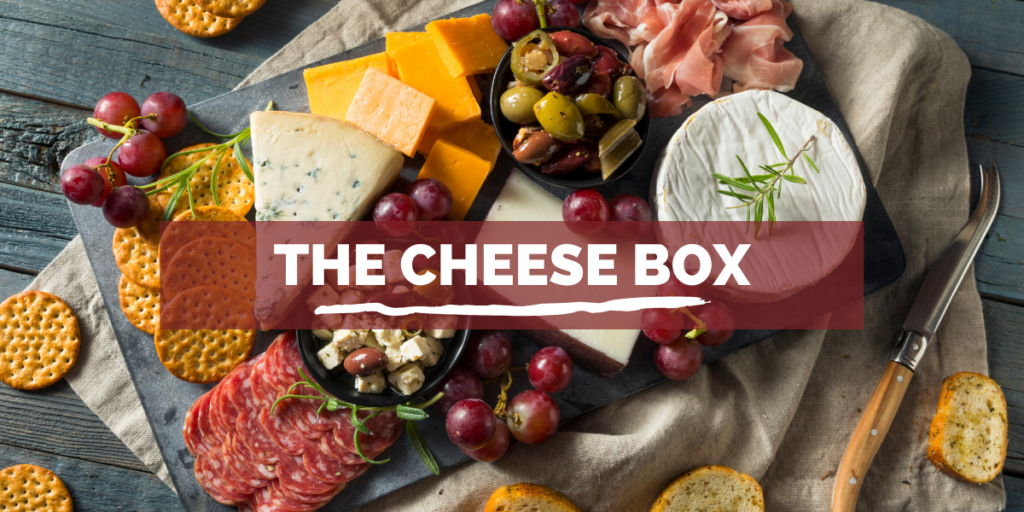 Nothing says Wisconsin like cheese! In addition to all of our delicious meats, we also have a wide selections of cheeses from our backyard, region and beyond. It's easy to build a basic box for $15 – 20, or if you build an extravagant box full of hard to find cheeses, you can make a $75 gift. It's up to you to make a gift that fits the occasion.
We have a five step process to building a cheese box that meets your budget and   Follow this step by step guide to build the box of your desired size and adventurousness!
FIRST, START WITH SOME BASIC CHEESES.
We recommend starting your gift box with 3 basic cheeses that are easy to enjoy. Cheeses like cheddar the way to start. We recommend these cheeses:
Hill Valley Dairy Tomato Basil Cheddar
Hook's 2 Year Cheddar
Sartori Bellavitano – your pick of flavor, we like raspberry a lot for this box!
THEN, GO AHEAD AND ADD SOME TEXTURE.
If you want to go from the basic cheeses, we recommend adding cheeses that have different texture, either harder or softer or both! Here are a few suggestions of cheeses that will help bring texture to the box:
Belgioioso Parmesan or Asiago
Belgioioso Fresh Mozzarella Ball
Belletoile Triple Cream Cheese
Shullsburg Cheese Spreads
LOOKING FOR MORE? GOUDA IS ALWAYS GOOD.
Yep, gouda is always a good addition. It has a relatively mild flavor, smooth texture and can be melted if you like! Check out these "grate" goudas:
Hill Valley Dairy Goudas – plain or whiskey washed.
Marieke Goudas – young, aged, or flavored, take your pick.
Youngsters Double Cream Gouda
FEELING ADVENTUROUS? GO AHEAD, AND GET FUNKY!
If you want to really bring some flavor to your cheese box, goat's milk cheeses or blue cheeses will bring a bit of bold flavor. These cheese will up your funk in a good way:
Cambozola Blue Cheese
Hook's Little Boy Blue
Montchevre Goat Cheese Logs
FINALLY, YOU CAN FANCY IT UP A BIT!
To add a cherry on top to your box, you may want to add some "fancy" cheeses. These aged cheeses have sophisticated flavors that are sure to please the biggest cheese fans out there:
Hill Valley Dairy Luna
Roth Surchoix Grand Cru Cheese
Uplands Cheese Pleasant Ridge Reserve
In addition to cheese, there are a few other items you can add to round out a cheese themed gift box. Suggestions include:
Summer Sausage
Jams
Olives
Honey
Theme 5: The Spice Box
A box made up of spices, rubs, marinades or other types of seasonings is a great idea if you want to ship a box to someone, or won't be able to keep the gift refrigerated. Here are a few lines of seasonings that make great gifts. Check them out when you're in the store:
Lillie's Q BBQ Sauces: we have a range of their BBQ sauces in stock. Each sauce represents a different regional style of American BBQ. Give the gift of a few bottles of sauce to give the gift of a BBQ tour of America! Lillie's Q Sauces are $7 each.
LGCM Rump Rubs: our rump rubs are available in a variety of flavors from BBQ to Butter Garlic. They're all delicious, and all highly recommended. Rump Rubs are $4 per bottle.
Smokin T's Sauces: locally made, this smoked tomato vinaigrette is a salad dressing, a marinade, a dip, a whatever. It's unique, delicious, and very popular. Smokin T's Sauces are about $9 per bottle. 
Spice Mode Rubs: we have a variety of Indian-inspired rubs from Spice Mode. These flavorful rubs are a great way to introduce new flavors to a friend. Spice Mode Rubs are about $6 per bottle.
Urban Accents Rubs: these rubs come in a variety of world flavors. Some of our favorites include Argentina Steak Rub, Kodiak Salmon Rub, and Mesa Rosa Chipotle Rub. Urban Accent Rubs are $6-7 per bottle.
Theme 6: The Steak Box
We're ending with the box that may be the most appreciated of all of them: a steak box! You can make a steak box from any assortment of steaks, it's easy to pick out a few ribeyes, a few filets, or both, but if you want to get creative, here are four ideas to try:
ARGENTINIAN STEAK BOX
Argentina is well known for their asado grilled meats. Put together this box and the recipient will be able to enjoy a taste of Argentina!
1 Picanha Steak – this is a special order, so call ahead to order!
1 Flank Steak
1 Urban Accents Argentina Steak rub
Approximately a $65 gift depending on exact weights. 
MARINATABLE STEAK BOX
We're not sure marinatable is a word, but these steaks are great when marinated, cooked, and sliced to serve a crowd.
1 Flank Steak
2 Flat Iron Steaks
1 Top Butt Steak
Frontera Carne Asada Marinade (for the flat iron steaks)
LGCM Zinfandel Tri Tip Steak Marinade (for the top butt steak)
PS Seasonings Black Belt Korean BBQ Marinade (for the flank steak)
Approximately a $80-90 gift depending on exact weights. 
T-BONE STEAK BOX
Bone-in steaks look great on the grill, and they're a better value than boneless steaks, so you'll save a little money while giving a delicious steak.
4 T-Bone Steaks
LGCM Ultimate Steak & Roast Rub
Approximately a $70 gift depending on exact weights.
THE WHOLE COW STEAK BOX
This box has items from every area of a cow. The gift recipient will be able to taste all of the different flavors and textures that come from different areas of the beef.
2 Flat Iron Steaks
1 Flank Steak
2 Strip Steaks
2 Ribeye Steaks
1 Top Butt Steak
1 Tri Tip Steak
LGCM Ultimate Steak & Roast Rub
Approximately a $175 gift depending on exact weights.
These sound great, how do I get a box?
Just stop in our store and find the big stack of empty boxes! Small boxes are free with a $25+ purchase and large boxes are free with a $35+ purchase. Fill them up as you desire, or call ahead and ask us to fill a box for you. Our number is 262-248-3339, and just select option 3 to speak with a Meat Ambassador. We'll be happy to have your box ready for you when you arrive.
If you would like your box shipped, we can also arrange for an insulated box and ice packs. You can either ship it on your own, or we can schedule a pickup as well. We recommend most meat items arriving one day after shipping, while other items such as cheese can be shipped two days.
Have a great Holiday season – we'll see you soon at Lake Geneva Country Meats!