Picanha steak is probably the most beloved steak in Brazil, and this recipe is going to teach you how to make a Brazilian-style Picanha Steak at home!
If you've had picanha before, odds are you have probably enjoyed it at a Brazilian steakhouse or, as it's known in Brazil, a churrascaria. There are a number of ways you can make a picanha steak at home (like our Smoked Picanha recipe) but this recipe does our best to recreate the churrascaria experience!
What does that mean?
It means we're going to skewer this steak and then cook it over hot coals to be sliced up and enjoyed table-side!
Before we give you the recipe, we're going to share details about what a picanha is, how to prepare it for cooking, and also suggest some side dishes. If you just want to get to the recipe, scroll on down and get cooking. Otherwise, let's answer some questions you may have!
What is a picanha?
The picanha, as it's known in Brazil, is more properly known as a sirloin or rump cap. The French call it a coulotte, but in America, we just don't think of it that much, which is why you've probably not seen it in a grocery store!
You see, beef is cut using slightly different methods and patterns all throughout the world, and in America, the typical method we use to cut sirloins doesn't separate the picanha from the top sirloin. The picanha is called a sirloin cap because it sits on the cap of a sirloin steak.
At Lake Geneva Country Meats and other American butcher shops, we generally keep the cap on a top sirloin steak so the top sirloin is a nice, large steak to grill. The downside to this method is that we don't get to enjoy the picanha.
When separated from the rest of the sirloin, a picanha is a richly flavored, tender, triangular chunk of meat weighing about 3 pounds per piece. A large fat cap is left on top of the picanha which will render to juicy flavor as it's cooked.
If you love beef, you definitely need to try cooking a picanha!
How do I prepare this picanha steak before cooking it?
What we sell at Lake Geneva Country Meats (and what you'll find almost anywhere you can buy picanha) is technically a picanha roast. As we described above, it is a roughly triangular piece of meat that is about 3 pounds.
Before we skewer and grill the picanha steak, we need to do these steps:
Place the steak fat side up and lightly score the surface fat of the steak. This will help the fat render over the meat as it cooks.
Cut the steak lengthwise into 2 – 3 inch wide pieces. Some pieces will be longer than others, and that's okay!
Roll the steak pieces into a "C" shape with the fat on the outside of the steaks.
Thread three pieces of picanha onto a thick metal skewer as pictured below. You're now good to grill!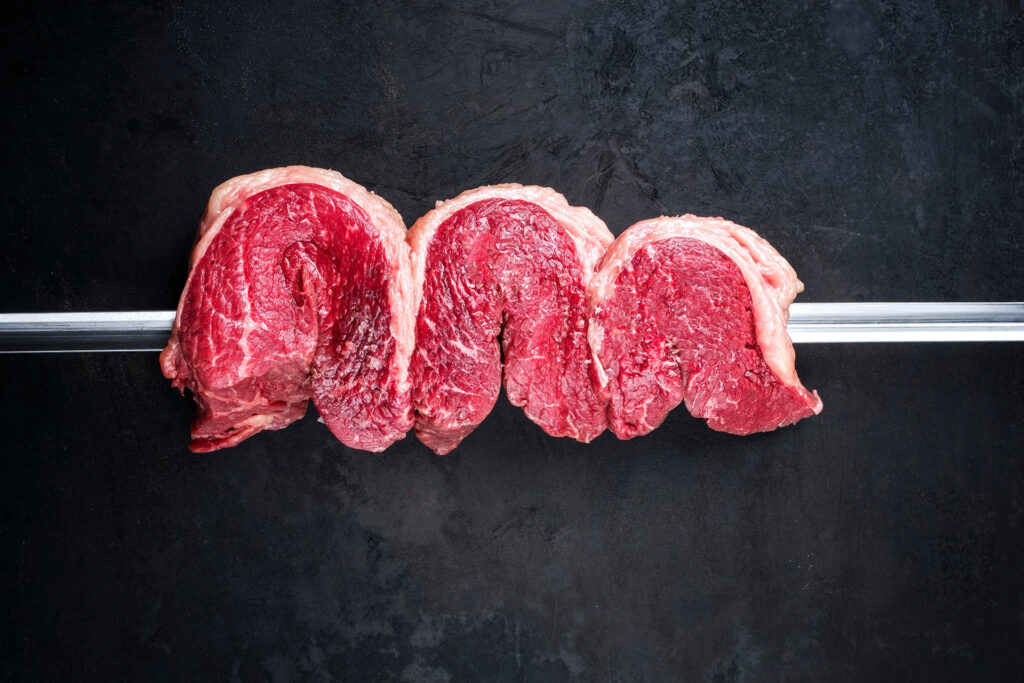 If you don't have suitable skewers at home, you can use this link to purchase grill-ready skewers that we recommend. Please note, if you make a purchase using the links in this post, we'll receive a small commission. Thanks!
How do you season this picanha steak?
We want to keep things simple with our seasoning choices and let the flavor and texture of this rare cut of beef shine.
You can use any steak rub that you prefer, like our LGCM Ultimate Steak and Roast Rub or a Montreal steak seasoning, but in our minds, the best way to season this picanha steak is with just kosher salt and freshly ground black pepper.
Give the steak a generous sprinkle of salt and as many cranks of the pepper grinder as you enjoy, then let the flavor of the meat sing!
What do I serve with this picanha steak?
With this picanha steak, you could easily serve traditional American steakhouse-style potatoes and roast vegetables. However, this is a Brazilian-style picanha steak, so why not serve Brazilian side dishes?
If going full Brazilian sounds good to you, check out this list of 16 Delicious Brazilian Side Dish recipes and enjoy them with picanha steak!
We hope these notes answer all of your questions. If you have feedback about this recipe, or a question you'd like answered before trying to cook your picanha, leave us a note below, and we'll get back to you.
Enjoy your picanha, and we'll see you soon at Lake Geneva Country Meats
1 Picanha Steak

(about 3 pounds)

Kosher Salt
Black Pepper
Heat your grill to 425ºF and set up for indirect heat cooking.

This means that only one side of your grill has heat. To accomplish this, only turn on one side a gas grill's burners, or if you have a charcoal grill, pile all of the hot coals on one side of the grill.

Prepare the picanha steak by cutting it into slices and skewering as described above. After skewering, generously season all sides of the beef with salt and pepper.

Place the picanha steak skewers on the indirect heat side of your grill (not directly over the lit burner or hot coals) and cook for 15 – 20 minutes, flipping every 5 minutes until the picanha steaks reach 130ºF for medium-rare doneness.

Once the picanha steak is done cooking, remove the skewers from the grill, let rest for five minutes, then serve warm.

For a dramatic churrascaria-style serving, you can hold the skewer over a plate and shave meat onto the plate like this: