5 hours (including chicken cooking)
Makes enough for 12 tacos
Chicken tinga tacos are one of those dishes where the ingredients all come together to taste just a little bit better than the sum of their parts, and if you've never had them, you need to cook these delicious tacos.
These are a traditional Mexican taco that combine a rich smoky tomato flavor with a touch of heat. This combination of smoke and heat comes from using chipotle peppers – smoked and dried jalapeño peppers.
Using these peppers is a total kitchen hack because they give you deep, complex flavor without you having to spend hours building layers of flavor. While it does take a bit of time to cook and shred the chicken the rest of the recipe comes together fairly quickly, which is awesome when you're on a time crunch.
Here are a few common question and answers about chicken tinga tacos to get you acquainted with the recipe and help you prepare the recipe the way you like it!
What type of chicken should I use for chicken tinga tacos?
You need about 3 – 4 cups of shredded chicken, and you can get that from several different sources, including leftovers. When we make chicken tinga tacos, we use whole chickens. Here's why:
You get a delicious mixture of white and dark meat chicken.
Cooking the meat on the carcass always seems to be more flavorful than cooking boneless pieces.
They're super affordable!
A 3 – 4 pound whole chicken will work splendidly for this recipe. You can use a fresh chicken like we suggest in this recipe, or you can buy a cooked rotisserie chicken and get your shredded meat from that.
If you don't want to use a whole chicken, here are two alternatives:
If you prefer all white meat, you can cook 1.5 – 2# of boneless skinless chicken breast to get enough shredded chicken.
If you like dark meat, you can cook 2# of boneless skinless chicken thighs, or 3# of bone-in chicken thighs to get enough shredded chicken.
How do you recommend cooking the chicken?
We cooked our whole chicken in the slow cooker for this recipe. It's so easy and saves effort.
However, if you're in a time crunch, or don't like slow cookers, here are two alternative cooking methods:
Boil your chicken until it shreds – about 30 minutes. Save the water for stock!
Roast the chicken until it shreds – about 1 hour at 400ºF.
If you want to go crazy, you can even smoke your chicken at 275ºF for 90 minutes until it shreds. Smoked chicken is great in chicken tinga tacos!
What's in the chicken tinga sauce?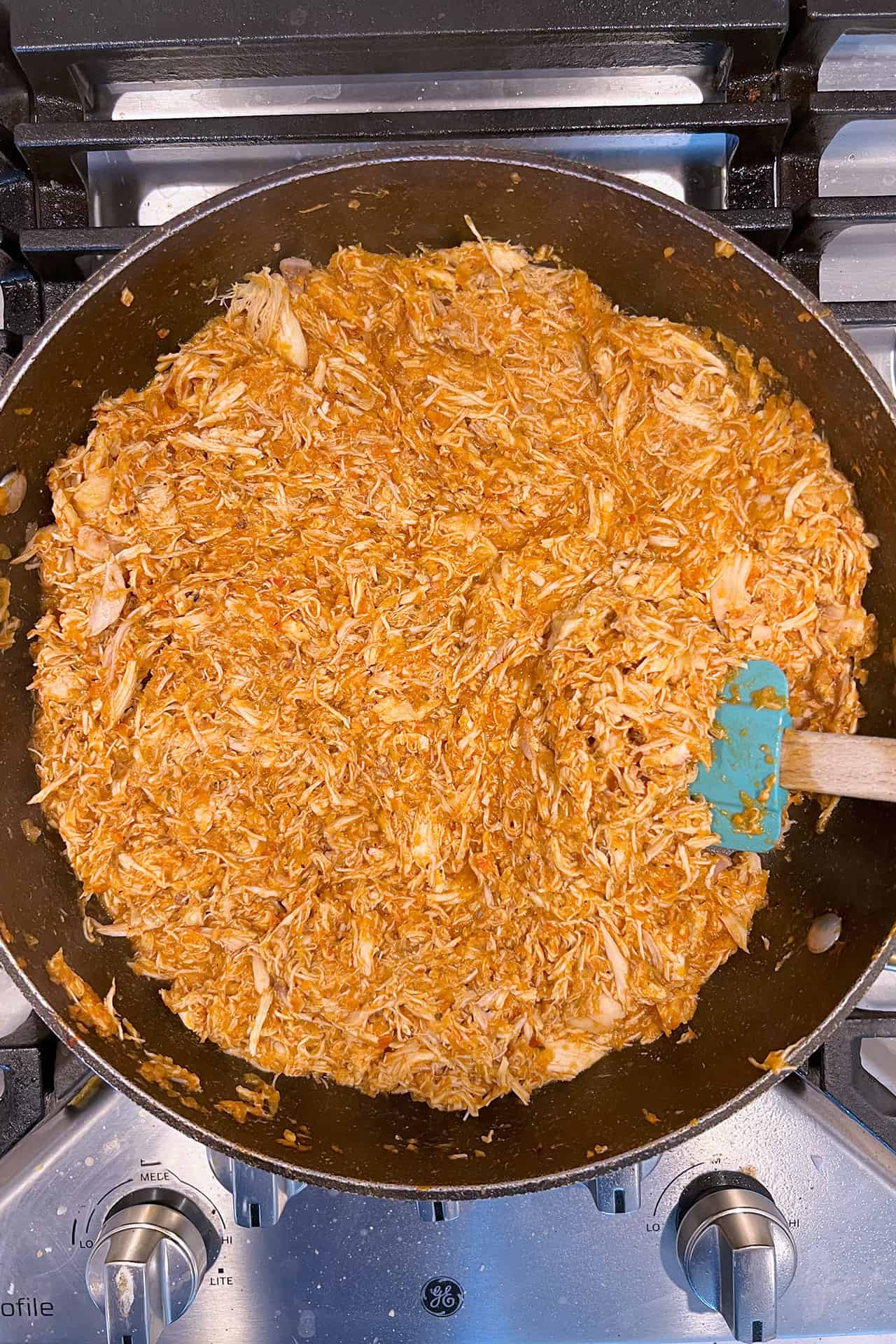 Shredded chicken meat tossed in chicken tinga sauce.
This Chicken Tinga sauce is a delicious combination of a few easy to find items:
Sautéed onions and garlic for a base.
Chipotle peppers from a can of chipotle peppers in adobo sauce, which are very easy to find.
A can of diced tomatoes, although you can dice fresh tomatoes if you like. Fire roasted tomatoes are a very nice addition if you like that flavor!
Salt, cumin, and dried oregano for seasoning.
You can of course tweak the recipe and add or change seasonings if you like!
How can I control the level of spice in these chicken tinga tacos?
This recipe can be adjusted to the level of spice you prefer. Here's how:
We wrote this recipe to use 1 – 2 chipotle peppers in adobo sauce with the seeds removed. 1 pepper will give you good spice, 2 peppers will give you heat, and if you leave the seeds in, they will be quite spicy. Adjust the heat level by using the peppers accordingly.
If you really don't want to have chipotle pepper spice, but would like a touch of heat, omit the pepper, and use a can of diced tomatoes with green chilies – like Ro-Tel. The green chilies will give a touch of heat, but not as much as the chipotle peppers.
Of course, you can omit the peppers entirely and use plain diced tomatoes. These chicken tinga tacos will still taste delicious without any heat.
What do I top Chicken Tinga Tacos with?
These tacos have a wide variety of toppings that can be enjoyed with them. Here's what we used:
Guacamole
Chopped Cilantro
Cotija Cheese
Squeeze of Lime Juice
There are plenty of other great toppings like:
Beans (black or refried)
Slices of avocados
Quick pickled red onions
Chopped white onions
Salsa (green or red)
Crema
Chopped lettuce
Shredded cheese
It's your chicken tinga taco, you can top it the way you like!
What else can I use this Chicken Tinga meat for?
This recipe makes a decent amount of meat, more than many families can eat in one sitting, but luckily our chicken tinga meat is great in leftovers.
You can use up the leftovers (or if you like, start this way) by making these recipe ideas with the cooked meat:
Make a power bowl of rice, chicken tinga meat, black beans, corn, and avocado.
Top tortilla chips with this shredded meat and your favorite nacho toppings, then bake it for a delicious platter of chicken tinga nachos.
Finally, you can use this meat to make a chicken tortilla soup.
If you have other ideas on how to use this meat, we'd love to hear them. You can leave us a comment below.
Do you have other taco recipes?
Heck yeah, we do! We love taco recipes and have a bunch of delicious taco recipes that you can try at home. Visit this link to see what we have.
Right then, I think we've discussed this taco enough, don't you? Time to get on to the recipe. Just one more thing though – if you like this chicken tinga tacos recipe or made any tweaks to it, we'd love for you to leave us a rating or review below. We appreciate the feedback!
3 – 4 lb Whole Chicken
1 cup Water

(or chicken broth)

2 Tbsp Vegetable Oil
1 White Onion

(chopped)

2 clove Garlic

(minced)

1 – 2 Chipotle Peppers in Adobo Sauce

(seeds remove and chopped – see note above)

1 can Diced Tomatoes

(14 oz)

2 tsp Kosher Salt
2 tsp Cumin
1 tsp Dried Oregano
Tortillas

(warmed – for serving)

Guacamole

(for serving)

Cotija Cheese
Cilantro

(chopped – for serving)

Lime Wedges

(for serving)
Cook your chicken by adding a whole chicken and 1 cup of water or chicken broth to a slow cooker. Let it cook for 4 hours on high until it is falling apart. Once the chicken is cooked, shred the meat, mix it with the juices, and set aside.

Add 2 tbsp. vegetable oil to a large skillet and heat to medium-high heat. Once hot, add the onion and cook for about 4 minutes, until softened. Then, add the garlic and cook for 30 seconds more. Next stir in the chipotle pepper(s), tomatoes, salt, cumin, and oregano. Bring to a simmer and cook for 5 minutes.

Carefully pour the sauce mixture into a blender, and blend the sauce until it's smooth.

Watch this video from America's Test Kitchen to see how to safely blend hot liquids if you're not sure how to safely blend hot liquids.

Return the sauce to the pan and reduce heat to low. Add the chicken into the pan and mix it into the sauce. Heat for 5 minutes until the chicken is warmed back through.

Assemble with your favorite toppings. We enjoy these with guacamole, cotija cheese, cilantro, and a squeeze of lime juice, but you can top however you like. Enjoy your Chicken Tinga Tacos!