Learn how to Gobble Gobble
At Lake Geneva Country Meats, we get a ton of questions asking what the best type of turkeys are, if buying a fresh turkey is important, and, most importantly, how big of a turkey to order! In this section, we answer all of your pressing turkey questions.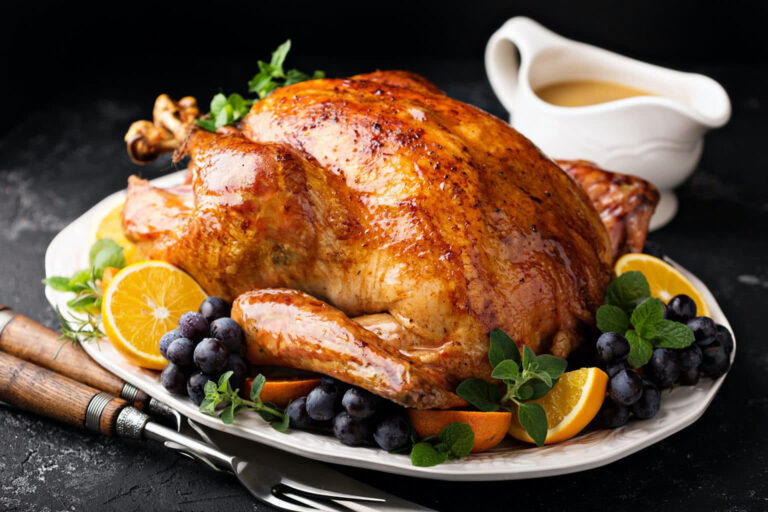 ABOUT LGCM'S Country Day TURKEYS
Our Country Day turkeys are raised cage free in Minnesota by the grower-owners of Turkey Valley Farms. They are all-natural, fed a vegetarian feed with no growth hormones or steroids, and are anti-biotic free. After they're processed, our turkeys are rinsed clean and flash-chilled to keep them fresh on their way to our store. There's no added solution, no artificial seasoning, just delicious, natural turkey for your Thanksgiving table.
Please call 262-248-3339 to check turkey availability
ABOUT Alden Hills TURKEYS
New to Lake Geneva Country Meats in 2023, we are pleased to offer turkeys from Alden Hills Organic Farms in Walworth, WI. These organic turkeys are pasture-raised and certified organic. Compared to our Country Day turkeys, you will notice a more robust turkey flavor, and by purchasing one of these turkeys, you will be supporting local agriculture in Walworth County!
Please call 262-248-3339 to check turkey availability.
There are many ways to cook and carve a turkey. Here are the most common questions asked—and answered—along with some of the best Thanksgiving turkey recipes in our Thanksgiving recipe collection!
Our Favorite Thanksgiving Turkey Recipes
Our Favorite Traditional Turkey Recipe
If you're going for the 'Norman Rockwell' Thanksgiving, with a whole roasted turkey sitting in the middle of the table, you're going to want to try this recipe. 
We aren't always a big fan of roasting turkeys whole (it can cause uneven cooking, especially for bigger turkeys), but we have two tricks that make this recipe work:
By roasting the turkey on a V-rack over a preheated ceramic stone, the turkey will roast more evenly than if it's just on a sheet pan.
A special seasoning rub helps crisp up the skin.
We love spatchcocking (or butterflying) turkey to cook them. 
This process involves cutting out the backbone of the turkey, and then pressing it flat to roast. You'll need a good pair of poultry shears to do this, but there are three big benefits to cooking this way:
Your turkey cooks faster.
Your turkey cooks more evenly.
Your turkey is easier to carve!
If this recipe sounds like something that interests you, you'll want to click the button below to see the entire recipe.
Sidepork Roast Turkey Recipe
When it comes to roasting a whole turkey evenly, we think this one little trick makes a huge difference:
Cover the turkey breast with sidepork (unsmoked bacon) for most of the cooking time!
By covering the breast with the flavorful pork, you insulate the white meat so it doesn't cook as fast as the dark meat.
You also baste the turkey with delicious pork fat. It's a win-win! 
You can order side pork from Lake Geneva Country Meats for this recipe whether you order a turkey from us or not.
Deep frying a turkey is fast and makes a delicious bird, but it also comes with some dangerous steps.
Our recipe teaches you how to safely make a deep fried turkey and also includes links to purchase all the accessories you need to make an incredible deep fried turkey.
So this year, try something different – have a little fun and deep fry your turkey!
If you want to get outside while cooking your turkey, we highly recommend trying it on your smoker.
Smoked turkey is incredibly flavorful, and if you are a skilled smoker, you will be able to slowly cook the turkey to perfection.
Here are two tips to make sure your turkey has great flavor:
Inject your turkey with a lemon / butter / garlic solution before smoking. It will help keep your turkey juicy and add flavor.
Use a lighter wood like apple, cherry, or pecan for smoking. You don't want to overwhelm the turkey with a heavy smoke!
Get our complete step by step directions with cooking times and temperature by checking out our smoked turkey recipe!
One way to add more flavor to your turkey is with a brine. 
Traditional "wet" turkey brines use a salt based solution to dissolve muscle proteins in meat, which leads to less moisture being lost when the turkey is cooked. That in turns leads to more moisture being left in the turkey – seems like a totally great idea, right?
Well, if you use just a salt and water wet brine, you'll have a bird that tastes, well, watery. That's why if you choose to brine your turkey with a wet brine, we recommend you use a flavored recipe, like one of the brine recipes we have for you in the section below.
The other option you have is a "dry" brine. Dry brining is so easy! 
Here's how:
Combine 1/2 cup kosher salt with 2 tbsp. baking powder.
Pat your turkey dry with paper towels on all sides.
Generously sprinkle the mixture on to all surfaces of the surface – your turkey should be covered, but not crusted.
Let the turkey sit on a rack on a baking sheet in your refrigerator for at least 12 but no more than 24 hours. 
You can then cook the turkey as normal and enjoy a juicy, flavorful turkey!
Carving a turkey can be incredibly stressful! We've gathered our favorite resources from the internet on how to carve a turkey. Check them out!
Bon Appetit has put together a fabulous video that we included on this page. Watch it for easy, practical instructions.
Serious Eats has a great step by step illustrated guide to carving a turkey if you prefer a pictorial guide!
These guides all use a chef knife and / or boning knife to do the carving, but don't feel bad if you want to use an electric knife. They definitely make carving much easier and stress free. Here's a good electric knife you can buy from Amazon!
Happy Thanksgiving From Lake Geneva Country meats!
That's our Turkey Guide – we hope it answered all of your questions!
If there's something not answered, just let us know!…we'll be in touch with an answer. We hope you have a great Thanksgiving (or any other occasion you're cooking a turkey) and we'll see you soon at Lake Geneva Country Meats!