Our A to Z of Meat blog series is dedicated to helping you learn more about meat one letter at a time. Today's topic: duck breast!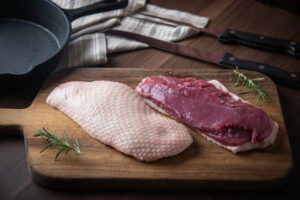 What is a Duck Breast and why is it so special?
Well, as you might imagine, duck breast is the breast meat of a duck, and probably the most popular cut of duck meat. Duck meat is a darker, richer meat than many other types of poultry with a more robust flavor. In fact, duck breasts are often compared to a beef steak in terms of flavor and eating experience, instead of chicken or turkey breast!
If you like turkey thighs, odds are you going to love duck. Perhaps the best part about duck (and, in particular the breast) is the fact that since duck is a type of waterfowl, ducks have a thick layer of fat between the skin and the meat. This skin and fat, when cooked properly helps make a crispy exterior and a juicy interior for cooked duck breast, and it's why duck breast is considered a delicacy!
There are a number of different types of breeds of duck that are raised for human consumption. The most common type of duck is the Pekin Duck, which has a mild flavor and works well with a number of cuisines. Muscovy ducks are also popular and they have thinner skin and a deeper red colored meat that has a bit more "gamey" flavor to it. Moulard ducks are a cross between the a Pekin and a Muscovy and have a thick skin, good fat, and a rich flavor. Wild ducks are a whole different story!
Can I buy Duck Breasts at Lake Geneva Country Meats?
Of course you can! We have a variety of duck products, including whole ducks, duck thighs, and duck fat, but our best selling duck item is duck breast. Our duck breasts come from Pekin ducks raised by Maple Leaf Farms, which has operations in Wisconsin and Indiana. Maple Leaf Farms is a family owned company that is Trident-certified for humane raising practices and environmental stewardship. We're proud to sell their products!
Our breasts are a skin-on product for you to make crispy food creations. We sell them in individual lobes and each lobe weighs approximately one pound. Each one is the perfect size to feed 2 – 3 people. Pick one up from our freezer case next time you're in the store!
How do I cook Duck Breasts?
Duck breasts are very easy to cook! The key is to start with low heat and then gradually move to higher heat to crisp up the skin while keeping the meat juicy. Our simple duck breast recipe is a great place to start. Or, if you prefer watching recipes, check out this easy to follow video recipe from one of our favorite chefs: Gordon Ramsay:
Here are ideas from around the internet for you to take your duck recipe game to the next level:
Pro tip time; don't forget to save the fat that has rendered out as you've cooked your duck. You can use it to make the world's tastiest type of potato – duck fat potatoes! NYT Cooking has a great roasted duck fat potato recipe right here for you to try at home.
What wine pairs well with Duck Breast?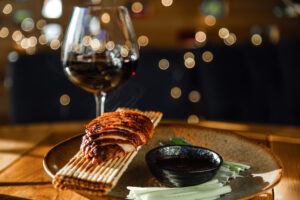 As we mentioned above, we love drinking a glass of red wine with our duck. There's a pretty clear pairing winner for duck and that is Pinot Noir. Pinot Noir has enough acidity to pair with the fat of the meat, while being delicate enough to not overpower the flavor of the duck. It really is a match made in heaven. Here are a few pointers on narrowing down your choices:
If you're doing a simple duck recipe or a recipe with cranberry fruit flavors, we'd recommend choosing a Pinot Noir from Burgundy, France or New Zealand. These regions are a little cooler and result in lighter bodied wines with darker fruit notes that will pair well with these types of recipes.
If you're doing an Asian duck recipe with some spice or orange fruit flavors, we'd recommend choosing a Pinot Noir from California or Oregon. These regions have bolder red fruit flavors and a touch of sweetness that will match up with these styles of duck.
If you aren't a Pinot Noir drinker, we'd recommend trying a wine made from Gamay (similar to Pinot Noir but a bit more spicy), a young Tuscan red wine made from Sangiovese (think a basic Chianti, not an aged Chianti), or, of course, a sparkling wine!
---
That's it for our D is for Duck Breast blog post. We hope this post helped you learn more about this cut of duck, and inspires you to cook these delicious pieces of meat at home.
Do you have questions about about this post or duck in general? Leave us a comment below and we'll be happy to answer. If you want to keep deep diving into more meat topics, you can click here to see all the entries in our A to Z of Meat blog series!
We'll see you soon at Lake Geneva Country Meats!