Our A to Z of Meat blog series is dedicated to helping you learn more about meat one letter at a time. Today's topic: flank steak!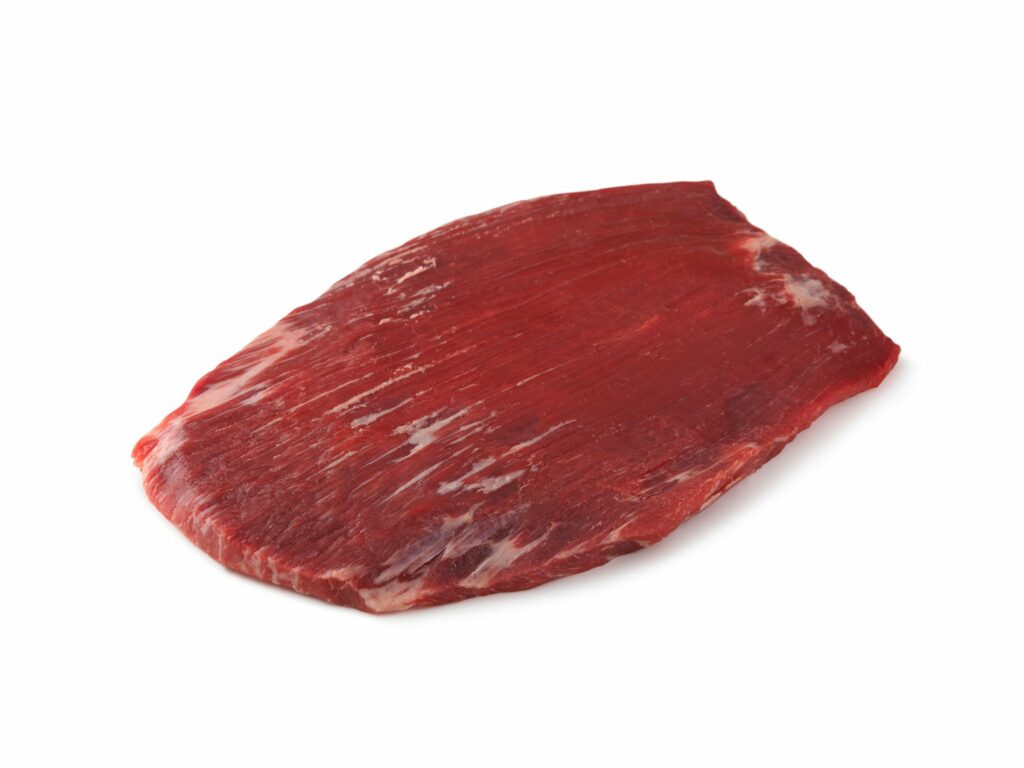 A raw beef flank steak – image from Beef, It's What's for Dinner
What is a Beef Flank Steak?
A beef flank steak is one of our favorite cuts of meat to feed a crowd. We love the deep, rich beef flavor and how this steak does well with different marinades and seasonings. When you look at the steak, you may think it looks pretty different than your "typical steak" and you'd be right. However, this cut is classified as a steak because it is a relatively fast cooking cut of meat, just like your strip or T-bone steak!
The flank steak comes from the belly of an animal and is a certified lean cut of beef. This is one of the least tender cuts of steak because of the amount of connective tissue in the muscle, in addition to the amount of work it gets on the animal. Marinating the steak will help it seem more tender as you enjoy the flavor of the marinade, but we have two tips to actually tenderize the steak:
Use a meat tenderizer like this jaccard model to break up the tissue before cooking it! You can also pound the steak with a meat mallet, but we prefer the jaccard tenderizer.
Slice the meat against the grain when you serve it to make sure you're not chewing on fibers!
There are some alternative names for this steak that can be confusing. French butchers often call a flank steak a bavette, but in America, we call a different steak (cut from the sirloin) a bavette. It will also sometimes be called a London broil, but that term can also refer to a top round roast or an other cut of meat. To keep things clear, please just call this steak a flank steak – it will make all of our lives easier!
One last thing about this steak – because it's less tender and needs a little more love to cook, it's less expensive than steaks like the strip or T-Bone. It's an easy way to feed your family or party without breaking the bank!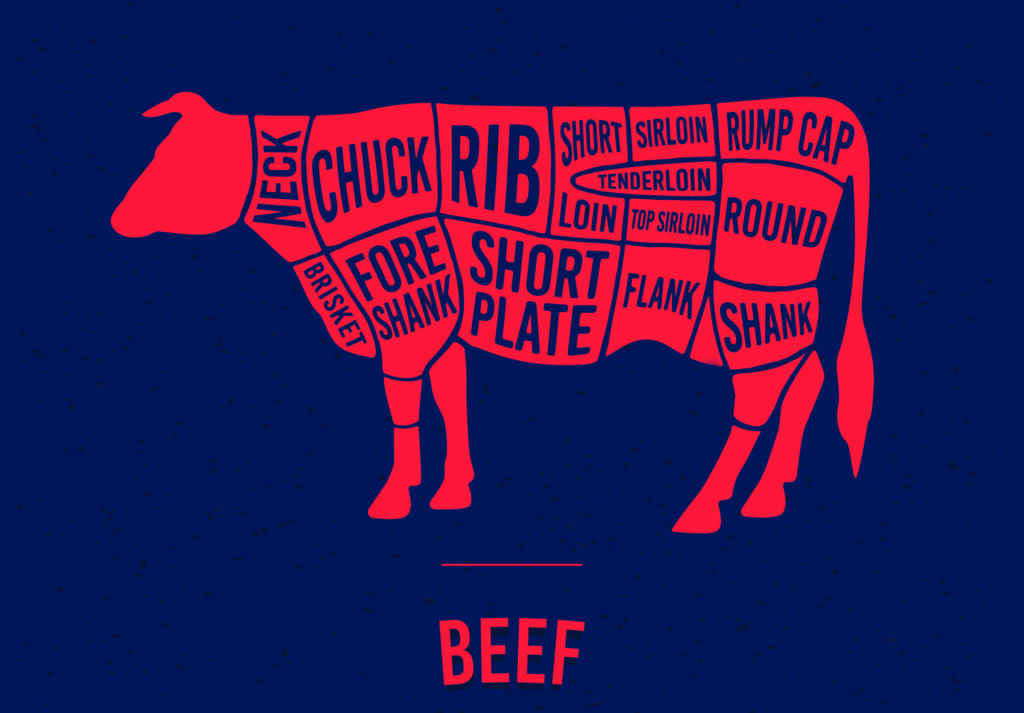 Check out the location of the flank on a beef animal.
How should I cook this steak?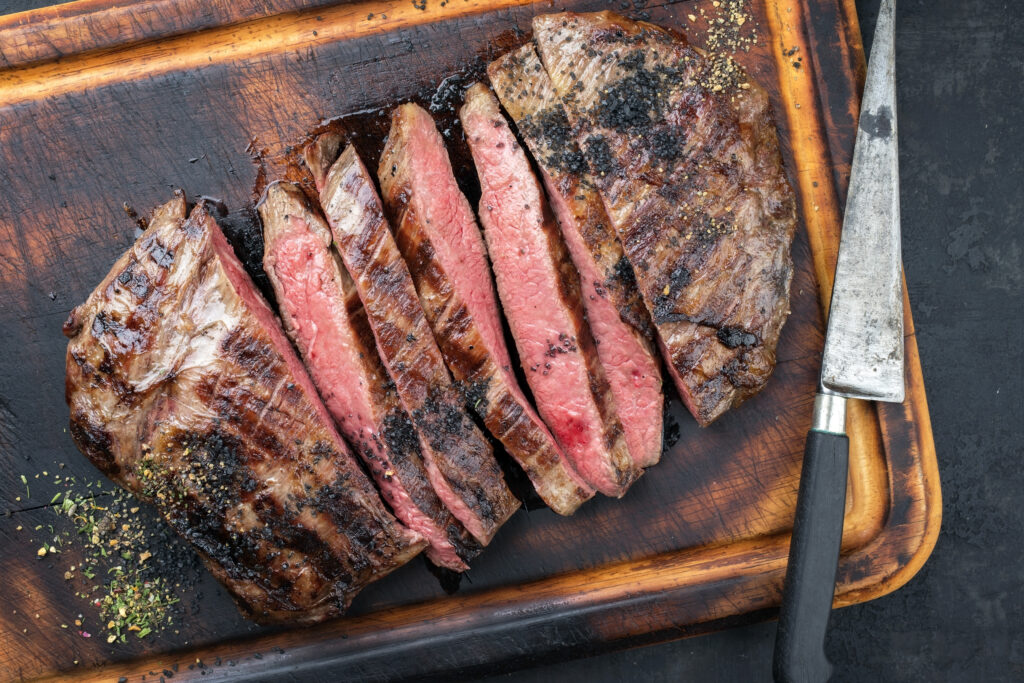 A delicious grilled flank steak.
Flank steaks can be cooked a number of different ways. Since they're thin, you can cook them over medium-high heat over a hot grill, under a broiler, or in a frying pan. Due to the connective tissue, you can also slowly cook them in a braise or in a slow cooker and then pull the meat apart to use for a recipe like our ropa vieja recipe we have below. Finally, the quickest way to cook this steak is to cut it into strips and then pan fry them.
We do like to marinade this steak before cooking it. The juiciness of the marinade will help the steak seem more tender. You'll see in a number of the recipes we have below that they include a marinade. This isn't strictly necessary, but we do think it helps this steak really shine!
Can you share any good flank steak recipes?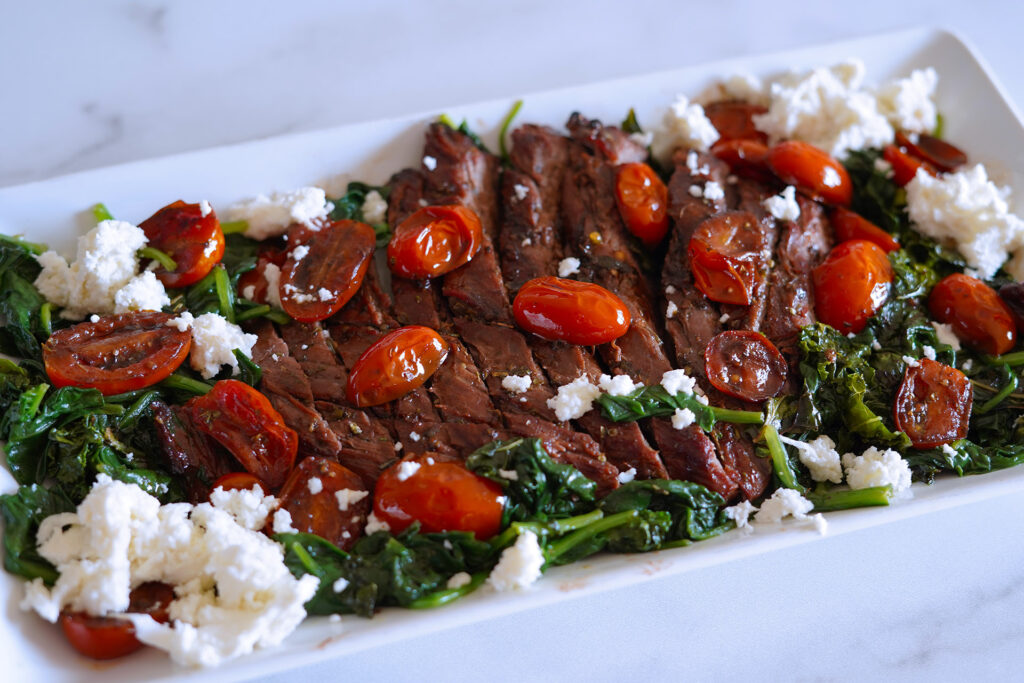 Check out this balsamic marinated recipe using the link below!
Can we ever! We have a ton of flank steak recipes and we love them all. Check out this (partial) list:
If you're looking for even more recipes and information about this steak, check out the  flank steak page in our virtual meat case, or browse over to the flank steak page on the Beef, It's What's for Dinner website.
Oh! One more thing!!
At Lake Geneva Country Meats, we make an incredible sausage product out of flank steak – a cured and smoked flank steak. It's like beef jerky, but juicier, more flavorful, and just overall incredible. We've won a ton of awards for this product, and it's pretty unique to Lake Geneva Country Meats. We also make a bourbon marinated version, so next time you're in the store and need some snackin' meat, pick up a package of our Cured & Smoked Flank Steak to try at home!
---
That's it for our F is for Flank Steak blog post. We hope this post helped you learn more about one of our favorite cuts of meat and get inspired to cook it at home.
Do you have questions about about this post or any other beef cut? Leave us a comment below and we'll be happy to answer. If you want to keep deep diving into more meat topics, you can click here to see all the entries in our A to Z of Meat blog series!
We'll see you soon at Lake Geneva Country Meats!