We're excited to announce we have a store-pick single barrel of 1792 Bourbon available at Lake Geneva Country Meats!
We selected this particular barrel of 1792 from several possible barrels that were available to us because we thought it had the most unique and enjoyable flavor while maintaining the high Bourbon character and flavor that 1792 is known for. We're excited that the only place you can enjoy this expression of 1792 is at Lake Geneva Country Meats because we think it's exceptional!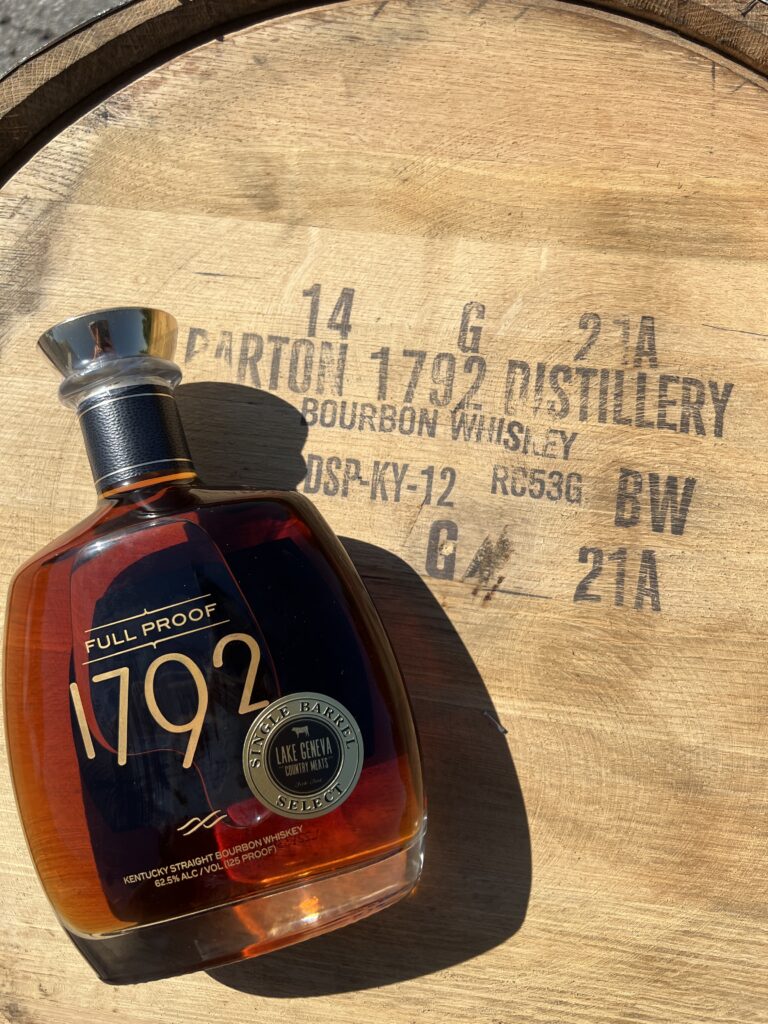 Our tasting notes included the following descriptions:
Sweet vanilla aromas with some smoky overtones.
A bit of 'applejack' type flavor in the middle that are balanced with toffee and other sweet candy hints.
Salted caramel notes on the finish.
Very smooth with deep flavors.
This barrel was distilled on July 21st, 2014, making this a 7 year old Bourbon upon release, soon to be 8 years old. It is at a robust 125 proof, and is distilled from about 75% corn with smaller percentages of rye and barley included in the mash bill.
Since the whiskey is at the relatively high barrel proof, serving the whiskey with a touch of water to open up the flavor is not the worst idea in the world. It's also delicious neat or with an ice cube. If you would like to make cocktails with this whiskey, 1792 offers suggestions on cocktails that complement the taste of their Bourbon right here.
We are releasing this for an incredible introductory price of $44.99 until July 3rd, 2022. After that, we will have the bottle priced at $49.99. Sales tax is extra and you must be 21 or older to purchase.
We want to make this bottle available to as many whiskey drinkers as possible at a reasonable price. We really do think it's something special, and we hope you'll try a bottle or give it as a gift to the bourbon drinker in your life. Supplies are limited (it's only one barrel's worth!) and once it's gone, it's gone!
Have a great day – we hope to see you soon at Lake Geneva Country Meats!