Attention chicken loving people of the Lake Geneva area, we have exciting news to share with you: Lake Geneva Country Meats is now offering Bell & Evans Chicken products!
Based on customer feedback and our store philosophy, we came to the conclusion that we wanted to offer an even higher quality chicken in addition to our current offerings. Our Chief Meat Ambassador Kim put a tremendous amount of research into various chicken programs to find a premium poultry product that would be a great fit for our store.
After her research, we compared six different options, and we decided that Bell & Evans was the perfect fit for our store. We think you are going to love this chicken, and we can't wait for you to experience it for yourself.
Keep reading to learn more about Bell & Evans, why we made this decision, and what you can expect to find in-store!
Why did you add Bell & Evans to the store?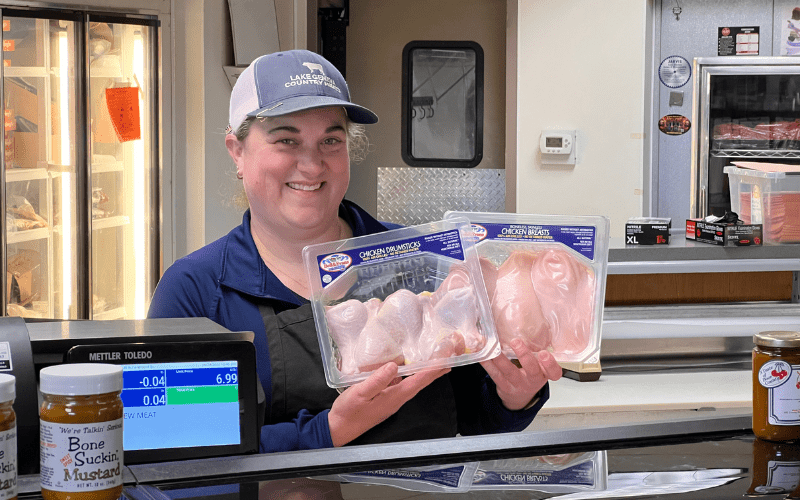 We believe in offering high quality products that represent good value at Lake Geneva Country Meats, and then also offering a premium version of the various proteins we sell as well.
Throughout our store, you will see that our "standard" product lines are a cut above what you'll find in grocery stores, but that we also offer something special above that as well. Take for instance our "every day" Leahy's Angus Beef and the dry aged USDA Prime Angus beef we often offer, or our quality pork and Country Heritage offerings.
While our current chicken line is delicious, fresh, and very popular, we have not offered a significant line of premium poultry other than our Gerber Amish chickens. We felt that we owed it to our customers to offer a premium poultry line that offered superior taste, superior promises, and incredible convenience.
The product that we felt made the most sense was Bell & Evans.
What can I expect from Bell & Evans products?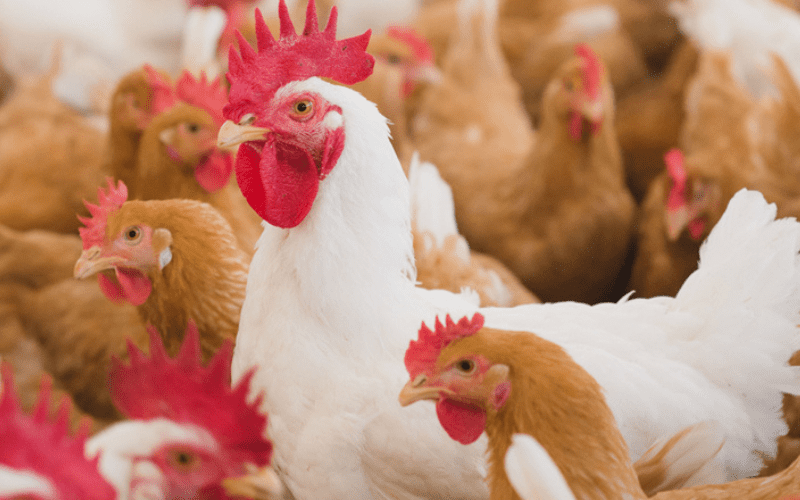 Bell & Evans is a transformative leader in the poultry industry. Based in Fredericksburg, Pennsylvania, this family owned business is the oldest branded chicken company in America. Their quality is unquestioned, and the care they put in to humanely raising and processing chickens is unbeatable.
Before we talk about the taste, let's talk about the packaging. Bell & Evans' products come in conveniently sealed tray packs that are BPA free, fully recyclable, and easy to open. You can clearly see what is in each package, along with an explanation of how the chicken was raised, nutrition facts, and more.
Now let's talk about the chickens. All of the chickens are raised by family farms within about an hour of Bell & Evans' hatchery. Only one breed is used for Bell & Evans' chicken; their own proprietary breeder called the Das Klassenbester – pictured above. Das Klassenbester has been raised to produce a natural sized breast and grow more slowly than a standard commercial chicken.
These attributes mean that you will find chicken that looks and tastes like traditional chicken, before mass commoditization of the chicken industry. The chicken is flavorful, tender, and natural.
How does Bell & Evans differ from your current chicken products?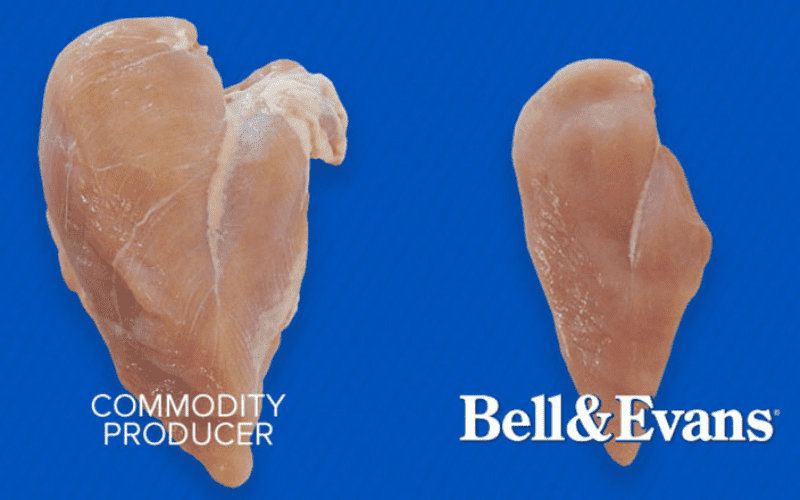 The Bell & Evans chickens have a few key differences from our current chicken products:
Bell & Evans Das Klassenbester chickens are a smaller, more traditional size than our "jumbo" sized chicken. You can see a size comparison above!
Bell & Evans chickens are fed organic feed with no antibiotics ever, and no animal byproducts.
Bell & Evans chickens are air chilled after harvest, so there is no water added during the harvesting process to take away flavor.
While we appreciate the extra care that goes into Bell & Evan's product process, it's important to note that our current chicken products are also all-natural USDA inspected products.
You can learn more about Bell & Evans process and standards by visiting their website. They have a large amount of information available to shed light on their values, including interesting behind the scenes video tours!
What products from Bell & Evans will you be carrying?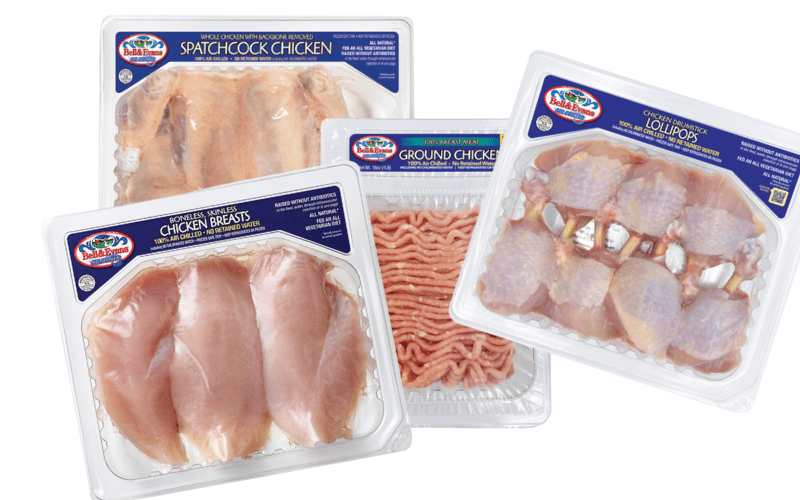 Here is a list of what products we will be initially carrying. Our plan is to keep boneless skinless chicken breasts fresh at all times, and then rotate other products through our fresh case while keeping a selection of frozen products available as well.
Boneless Skinless Chicken Breasts – $7.99 per pound
Ground Chicken Breast – $6.99 per pound
Boneless, Skin On Chicken Thighs – $5.99 per pound
Chicken Drumsticks – $3.99 per pound
Lollipop Cut Chicken Drumsticks – $4.99 per pound
Cut Up Whole Chickens – $5.49 per pound
Halved Whole Chickens – $5.49 per pound
Spatchcocked Whole Chickens – $5.49 per pound
You can browse the entire available selection of Bell & Evans productshttps://www.bellandevans.com/our-chicken/ on their website. If you see something listed that we do not have, please let us know, and we can investigate special ordering it for you to enjoy.
Will you continue to offer your current chicken products?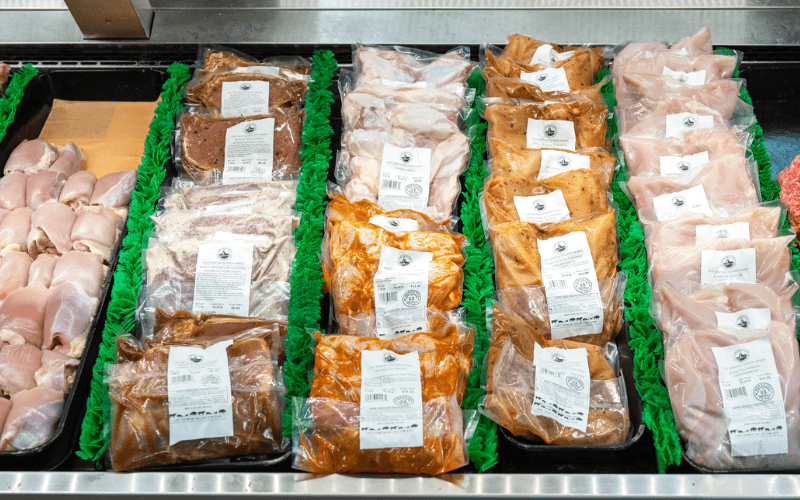 Yes, we do not anticipate making any changes to our current chicken products. You will continue to find our USDA inspected jumbo-sized chicken breasts in our fresh and frozen cases. We will not be marinating any of the Bell & Evans products, so our popular marinated flavors will still be from our conventional chicken.
We also plan to continue to carry Gerber Whole Amish chickens, our popular chicken wings, tenders, and more. If you love what we currently have, don't worry, it's not going away, we're just adding a little something special to the selection!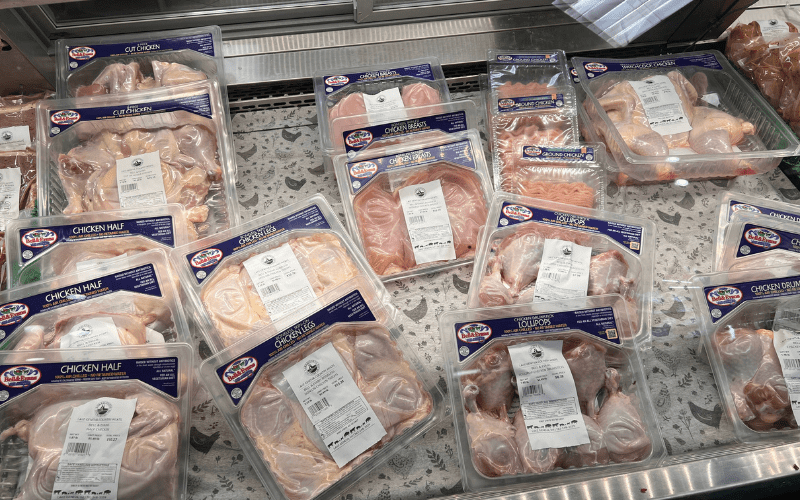 We are incredibly excited for you to try these products. We think you'll love the flavor, and appreciate the care that the Sechler family and the entire Bell & Evans team have put into raising these chickens.
If you have questions about Bell & Evans or poultry in general, please let us know. We are happy to share our knowledge with you and want to make sure you feel like you are making informed purchasing decisions.
See you soon at Lake Geneva Country Meats!
*Prices and availability correct as of November 2nd, 2022 and are subject to change.