We are proud to announce that starting Monday, April 12th, 2021, Lake Geneva Country Meats will be carrying Boar's Head premium deli products in our store. This decision is the result of an exhaustive process to improve our deli offerings and we're excited to share these products with you. Please keep reading to learn more information about this change and why we are making the change.
Why did you make this decision?
As 2020 came to a close, our management team looked at product areas where we thought we could offer our customers even better products. We had learned throughout the crazy, hectic year of 2020 that our customers valued finding the highest quality of meats in our store and experimenting with new flavors and products. As we looked at our deli meat selections, we thought we could do a better job with our deli meat selection. We are proud of our in-house smoked hams, award-winning summer sausages, and more, but we thought we could do a better job of offering quality and variety with our other deli meats in particular.
We started an exhaustive search to find deli meats that we thought provided the highest quality at a fair price. Our retail leadership team of Kim, Maria, and Kate did an excellent job of gathering information and samples from numerous producers and we conducted an exhaustive sampling. None of us wanted to see a turkey sandwich within 10 miles of us for a few days after that sampling!
Ultimately we decided that partnering Boar's Head was the right decision for our store and our customers. There are a few reasons for this decision:
The quality of Boar's Head's meats are top notch. We know that when our customers take home the turkey, chicken, roast beef and more they will appreciate that these products taste appreciably better than "commodity" deli meats.
We love the variety of products that Boar's Head can provide. From a quality Prosciutto di'Parma to uniquely flavored chicken breast products to
Due to the nature of our company, we believe we can offer a very competitive price on Boar's Head products compared to other establishments offering these products.
Boar's Head is a USDA inspected meat producer like ourselves. Following the strictest quality and safety guidelines is important in any vendor we work with and we are very happy with how Boar's Head operates.
Boar's Head is a family owned company like ourselves. Whenever possible, we like to work with other family owned companies that value their employees and customers over short term profits.
Check out this time lapse of our staff and the Boar's Head team setting up our new deli case. 
What products will you be carrying?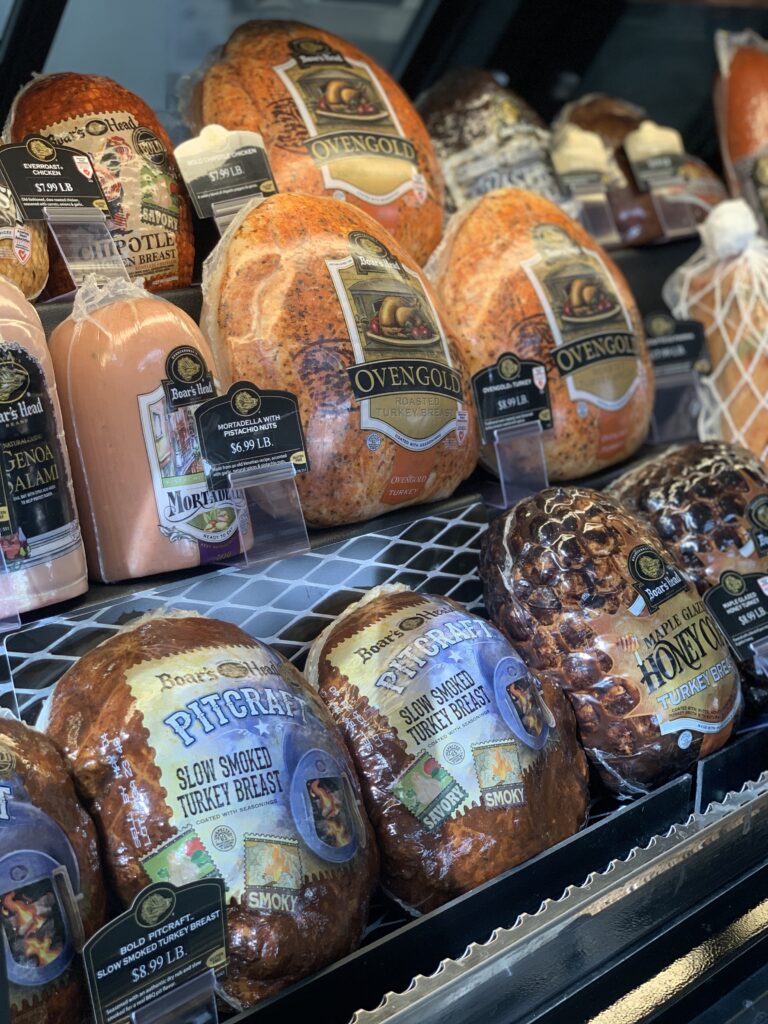 One of the great advantages of working with Boar's Head is the wide variety of products they offer. We intend on rotating some of the flavored products through our deli case, while keeping a stable lineup of everyday products. This way you'll be able to rely on getting your daily staples from LGCM while also finding fun new flavors to try from time to time. Here's a lineup of what we are planning on offering: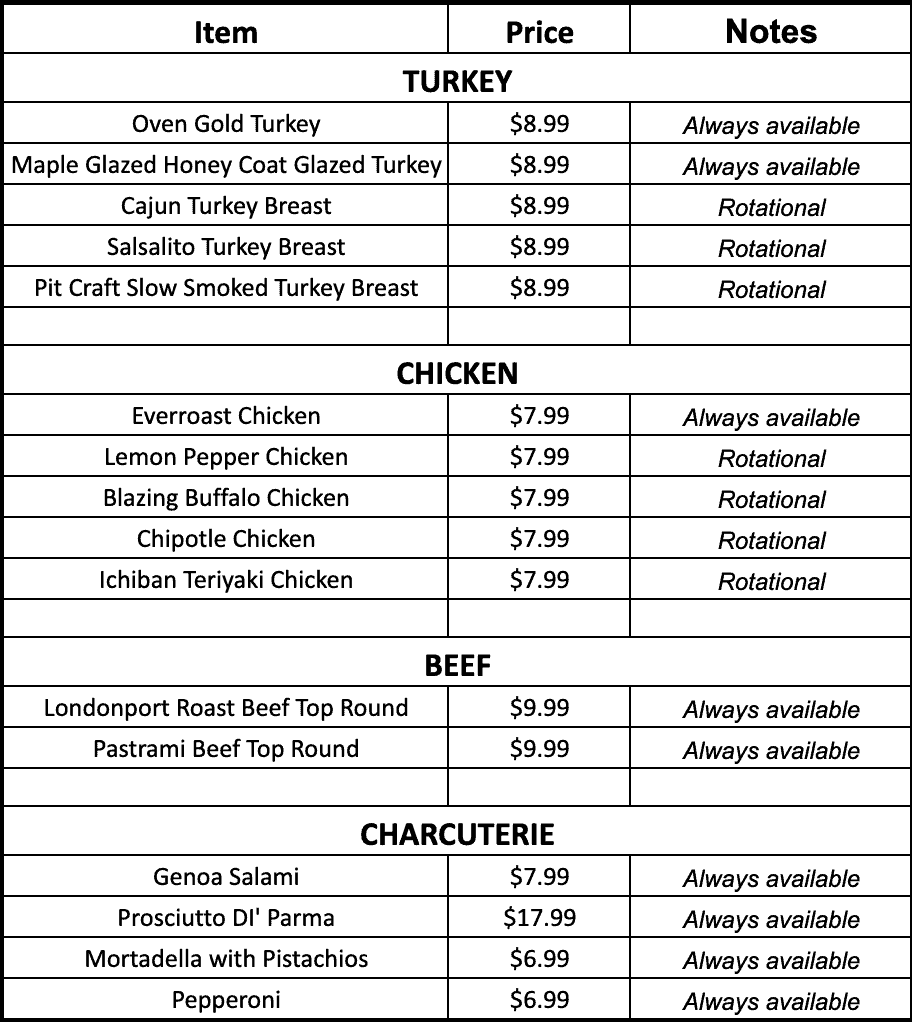 As Boar's Head releases new products, we intend on adding them to the mix! If you have a favorite Boar's Head item you don't see on our list, but have had elsewhere, please let us know about it. We would love to try it!
Will you still be making your own deli meats?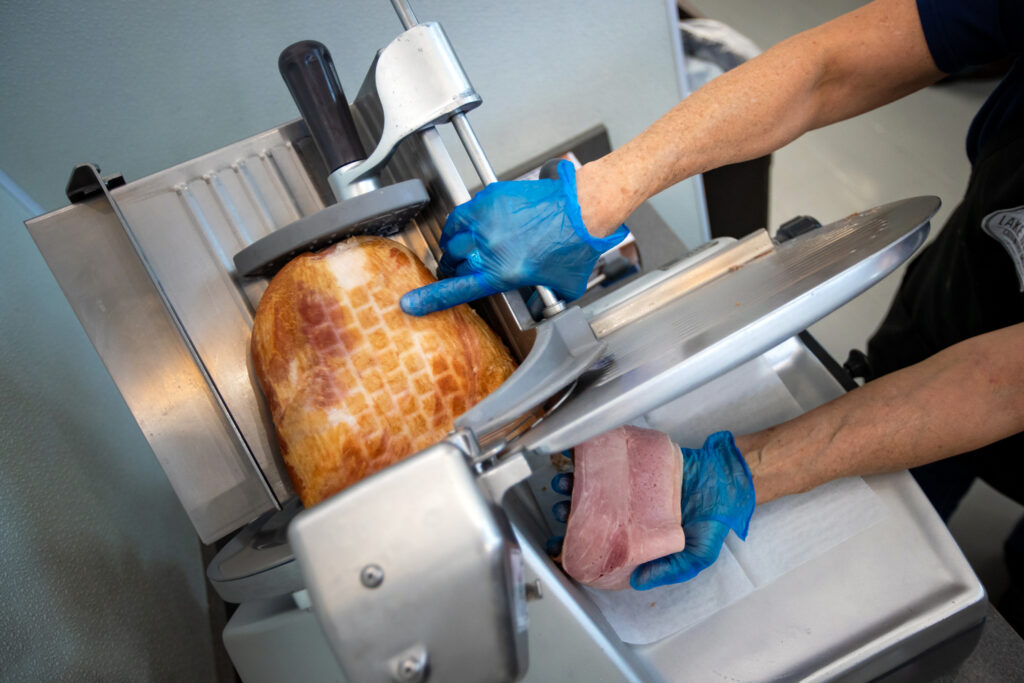 Slicing our award winning in-house smoked ham.
Yes, of course! In addition to Boar's Head's products, we will still be making a number of our own deli meats and having them available for you in our deli. Our goal was not to take away from what we're great at – things like making incredible smoked hams and summer sausage – but rather to rely on the expertise of a trusted partner that has production knowledge and equipment that we don't possess. Here's what we will still be making in house that you can purchase in our deli:
Smoked Ham
Summer Sausage
Summer Sausage with Garlic
Jalapeño & Cheddar Cheese Summer Sausage
Cured & Smoked Flank Steak
Cotto Salami
Bologna
Ham Cherry Sausage
Landjaeger
What about deli cheeses?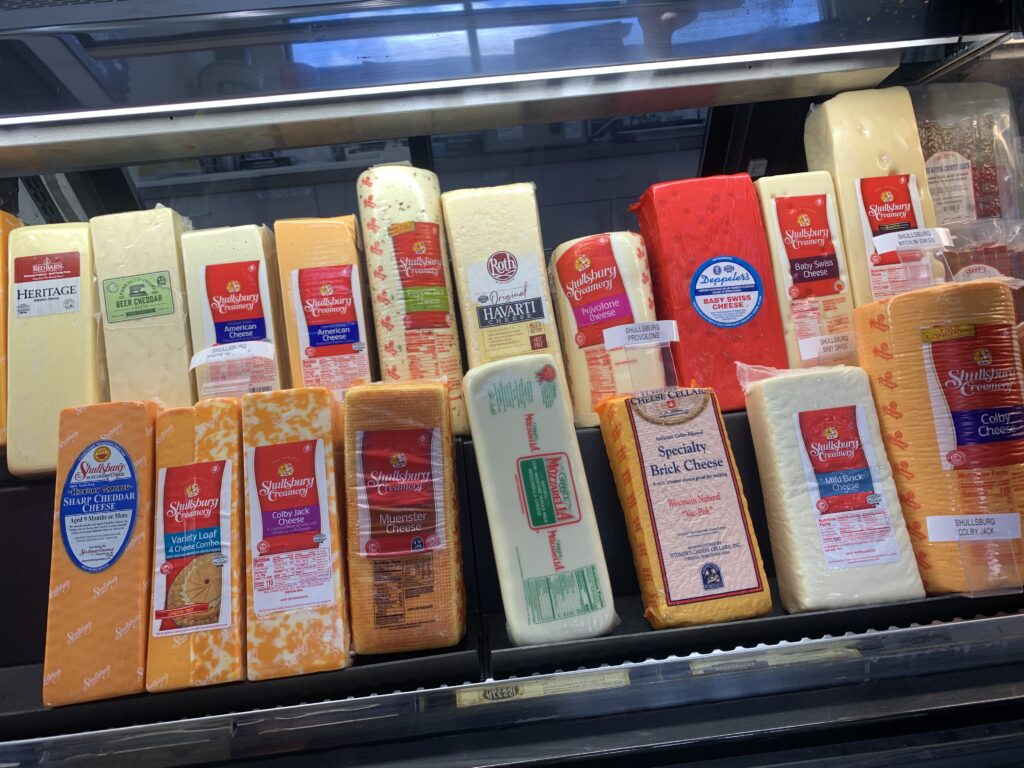 Part of our deli cheese selections.
We have a long and valued relationship with Shullsburg Creamery and will continue to offer a wide variety of their cheeses for slicing in our deli. We love the quality and price of these Wisconsin cheeses. However, we did think we could add a few more offerings and trim down some of the Shullsburg offerings that weren't popular sellers. Here are the new cheeses we will be adding to our deli:
Carr Valley Beer Cheddar – this cheddar cheese has beer added to it for a, well, beer flavor. It's great for a party spread or on a burger!
Grande Whole Milk Mozzarella – we have a number of dairy farmers in this area that sell to Grande, so this cheese could well be made with Lake Geneva milk. The whole milk nature of this mozzarella gives it a soft and creamy texture that's perfect for pizza.
Red Barn Heritage White Cheddar – made in Door County, this made by a small, family owned creamery with milk from small family farms.
Emmi Roth Havarti Cheese –  if you love snacking on Havarti, you'll love slices of it for your next grilled cheese or burger. Emmi Roth is located in Monroe, Wisconsin and makes some of the best havarti in the world!
Widmer Brick Cheese – Widmer is the master of brick cheese, and this Wisconsin original has unbeatable flavor!
We hope you're as excited as we are for our new products. Stop in the week of April 12th, and you can save 20% on all of our new and remaining deli meats and cheeses. We can't wait to hear your feedback, so if you have other requests or feedback, please let us know. We'll do our best to help you get exactly what you want!