We're excited to announce that Lake Geneva Country Meats was awarded 11 honors at the 2021 Wisconsin Cured Meat Championships!
Held in Middleton, Wisconsin on August 27th and 28th, this competition is the largest of its kind in the nation. Scores of butcher shops, grocery stores, and sausage producers gather together and enter their finest products in 36 different classes. Judges made up of university faculty, meat science experts, and other meat processors score each product on a 1,000 point scale with prizes awarded to the top products in each class. Products are judged on criteria such as:
External color
Uniformity of shape and size
Fat-to-lean ratio of the meat
Cooked product aroma
Flavor and taste
Texture and mouthfeel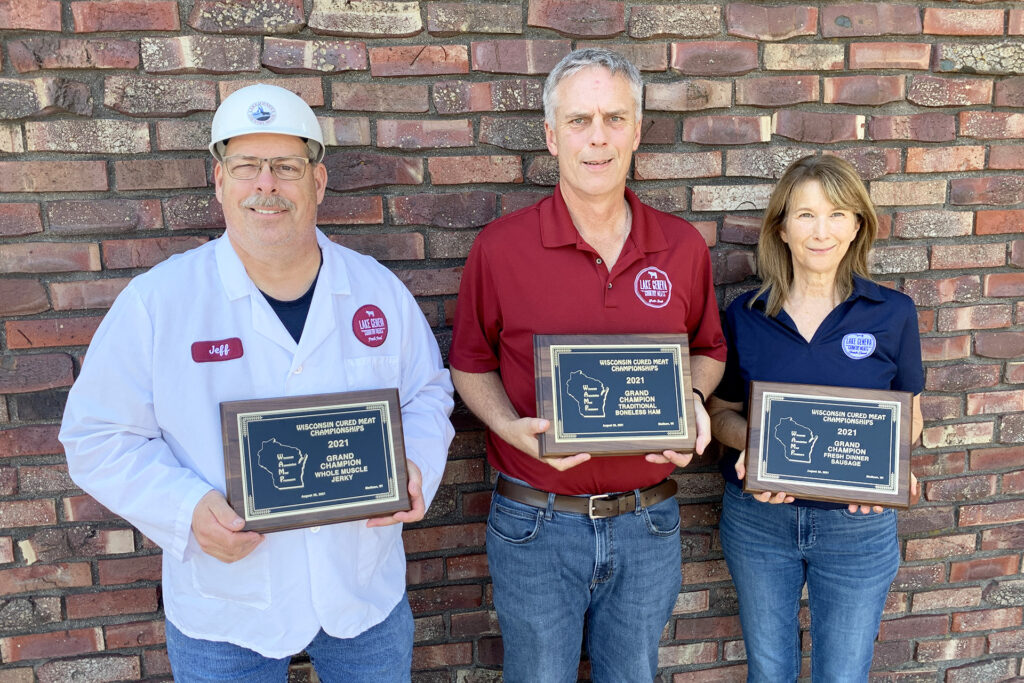 This year's competition was excellent for Lake Geneva Country Meats as we claimed these 11 prizes:
Grand Champion Fresh Dinner Sausage – Chorizo
Grand Champion Skinless Wieners
Grand Champion Bone-In Ham
Grand Champion Traditional Boneless Ham
Grand Champion Restructured Jerky – BBQ Beef Strips
Grand Champion Whole Muscle Jerky – Teriyaki Beef Jerky
Reserve Grand Champion Luncheon Loaf – Cherry Ham Sausage
Reserve Grand Champion Smoked Polish Sausage
Reserve Grand Champion Semi-Boneless Ham
Champion Bacon
Honorable Mention Wieners
You can find a list of recent awards we have won on our About Us page.
We are so proud of our Wisconsin Master Meat Crafter Jeff Schmalfeldt and the entire LGCM production team for making these award-winning products. We strongly believe that there are two things that make our products so good:
The quality of ingredients we use and how we treat our products as we make them – quality of the product is always at the forefront of our minds.
Our production team, headed up by Jeff, not only have expert knowledge about how to make our products, but they care deeply about sending every customer home with quality products. Their pride and skill is ultimately the most important factor behind our products.
Once again, congratulations to Jeff and the entire team – they deserve a big shout-out for these products.
One last note about these awards…
While winning awards is great, you may wonder what this means for you as a LGCM customer. What it means is that you have outside validation that the products you buy from LGCM are some of the best in the nation. The products that we enter are the same products that you'll find on our shelves on a daily basis. In addition to the awards, we receive expert feedback on all the products we enter. That feedback is used to improve and tweak our production methods to continually make the best product possible for you!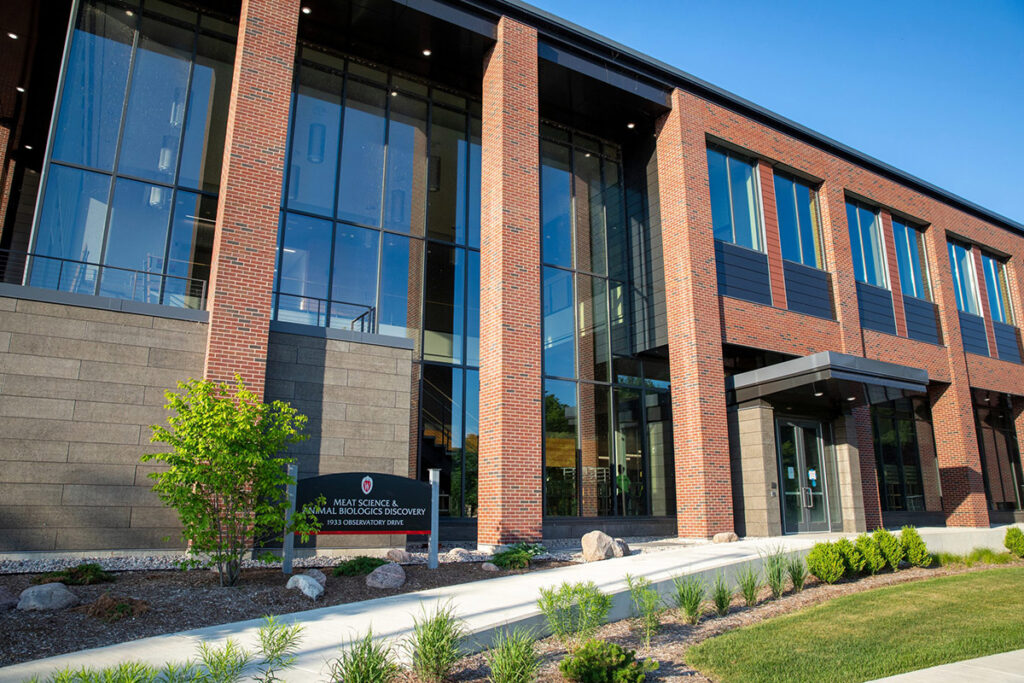 In addition to the Wisconsin Cured Meat Championships, the weekend feature a tour of the newly-opened University of Wisconsin Meat Science & Animal Biologics Discovery Building. This building is the home of the prestigious UW Meat Science program, which Lake Geneva Country Meats is proud to have worked with closely through our 56 years for training, scientific discovery, and product advice. We are lucky to have such a quality meat science program in our state and we take full advantage of the resources they offer!
This beautiful new building is an important tool for the meat industry in Wisconsin to conduct important research, train industry members on current practices, and teach new generations of meat industry workers and teachers the skills they need to keep growing the field. This new building has brought state-of-the-art capabilities to Wisconsin, some of which we witnessed during a presentation on innovative pork harvesting techniques presented by the Wisconsin Pork Council.
We are strong believers in the mission of the University of Wisconsin's Meat Science program and donated to support the construction of the new building. In addition to a donation on behalf of Lake Geneva Country Meats, our family donated in memory of our founders, John and Rita Leahy who forged strong relationships with the University and are enshrined in the Wisconsin Meat Industry Hall of Fame, located within in the new building! It was very rewarding to see our names on the donor wall.
Thanks for reading about our award winning products. We are very proud and excited to share the news with you. If you haven't tried these award winning products, stop in and try them for yourself. You don't want to miss the taste of the