We are excited to announce that we won 10 awards at the 2022 Wisconsin Specialty Meats Championships!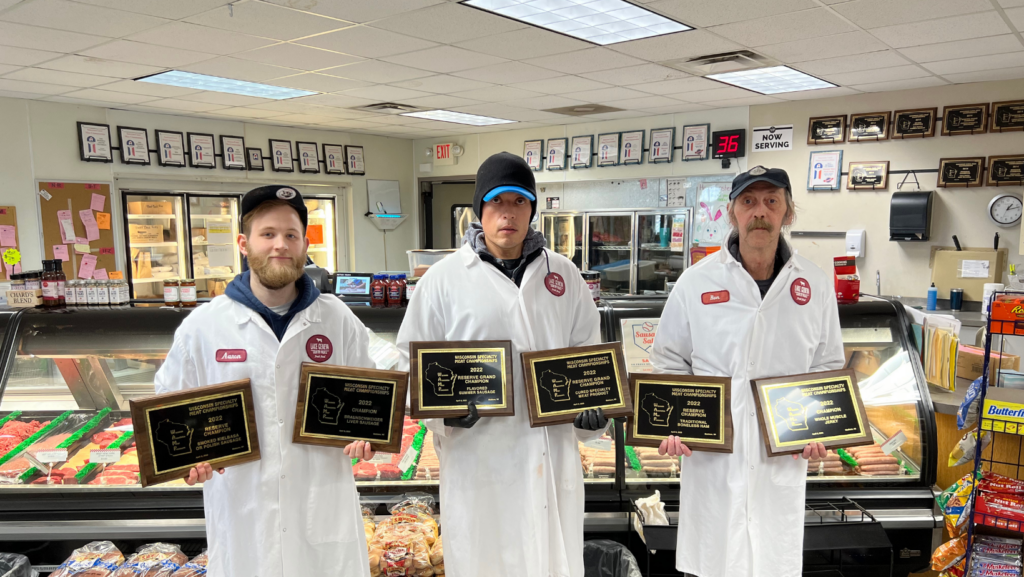 LGCM's Production Team of Aaron, Israel, and Ron, as well as many others helped make the award-winning products.
Here's the list of LGCM's award-winning products:
Boneless Ham – Reserve Champion
Bourbon Cured & Smoked Flank Steak – Honorable Mention
Cured & Smoked Flank Steak – Reserve Grand Champion
Jalapeño & Cheddar Summer Sausage – Reserve Grand Champion
Liver Sausage – Champion
Old Fashioned Jerky – Champion
Semi-Boneless Ham – Honorable Mention
Smoked Bacon, Cheddar & Jalapeño Bratwursts – Honorable Mention
Smoked Polish Sausage – Reserve Champion
Snack Sticks – Honorable Mention
"I am so proud to have a production team that worked together to create such a wide range of award winning products. To win in so many different categories shows that we have a great group of people that are able to make many products well," said Scott Vorpagel, Lake Geneva Country Meats President.
It takes a big, group effort to make meat products on a daily basis, and preparing for a product competition during the Easter season is an even bigger task. Award-winning products truly cannot be made without the contributions of many, many people.
Aaron and Israel took the lead on mixing, stuffing, and smoking products, while Ron took the lead on preparing our award-winning hams. Many other members of our butcher and production teams helped with steps along the production process, while our retail team also helped with the packaging. Our kitchen even kicked in with a Specialty Meat Entrée that took 7th place in its category!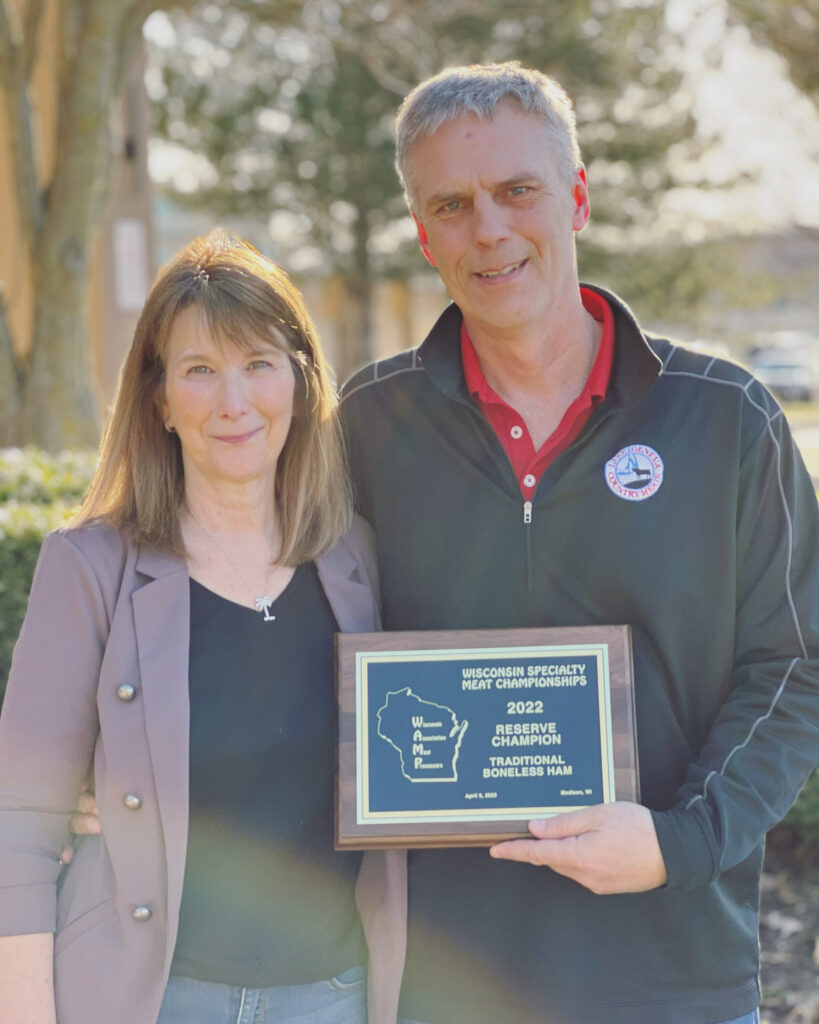 Co-owners Kathy and Scott Vorpagel accepting one of the awards for ham.
"I remember going to conventions with my Dad & Mom when I was a child and winning awards for our products. It was a wonderful feeling then to see your family business recognized, and it still is today. I am proud and grateful that we have a team that keeps our family tradition of quality products alive," said Kathy Vorpagel, Lake Geneva Country Meats owner.
A total of 645 products were entered in 38 categories by a total of 38 small – medium sized independently owned Wisconsin Meat Processors. This competition is among the largest and most prestigious competitions of its kind and is judged by an expert panel of meat science professors, industry experts, and fellow meat processors form other states.
In addition to the 10 award-winning products, a further 12 products placed in the top 10 of their respective category. That means that 22 of 30 products entered by Lake Geneva Country Meats were in the top 10 for their category, an incredible testament to the quality of the products you will find every single day on the shelves at Lake Geneva Country Meats.
Stop in soon at Lake Geneva Country Meats to stock up on your favorite award-winning product, and if you see any of our production team, be sure to congratulate them on a job well done. They deserve it!