Lake Geneva Country Meats is excited to announce that the company was recognized with 20 awards at the 2023 Wisconsin Association of Meat Processors (WAMP) convention!
Highlights include both Kathy Vorpagel and Scott Vorpagel being individually honored with the WAMP Meritorious Service Award. More commonly known as the "Person of the Year" award, this prestigious honor is given to an individual that has provided great service to the Association and furthering the success of small Wisconsin meat processors. Kathy and Scott, owners of Lake Geneva Country Meats, were each individually recognized to honor their years of service to the industry.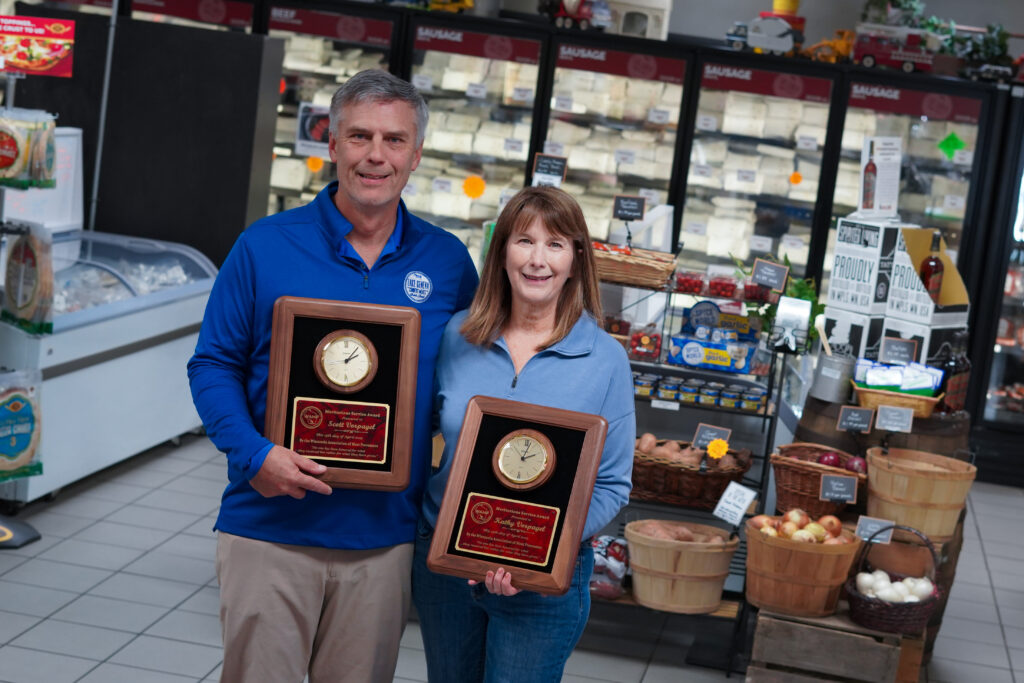 Lake Geneva Country Meats also won the Product Show Excellence in Product Manufacturing Award for accumulating the most total award points in the Wisconsin Cured Meat Championship. The Wisconsin Cured Meat Championship (WCMC) is the largest competition of its kind in the United States. Featuring almost 700 products entered in 38 categories from 36 WAMP members, products were judged by industry experts on appearance, taste, and workmanship.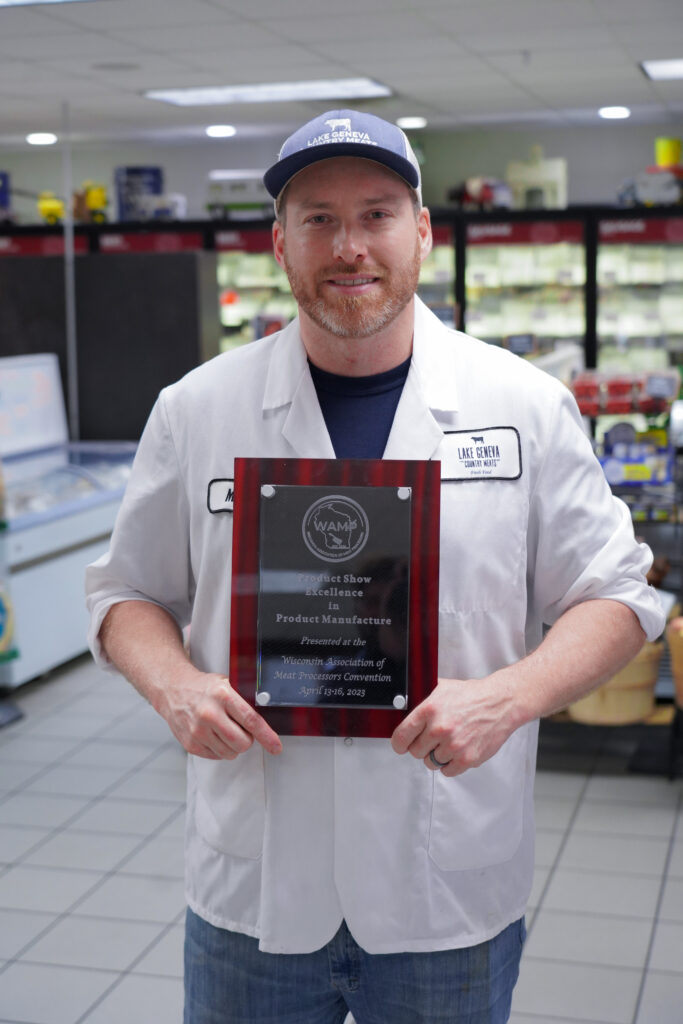 This is the third time Lake Geneva Country Meats has won this prized award, having also won the award in 2014 and 2018. In addition to the Product Show Excellence award, Lake Geneva Country Meats won an additional 17 honors for individual products, including 7 Grand Champion (1st place) awards. The full list of award-winning products is below.
"I am so proud of our production team," said Scott Vorapgel. "To make this many award-winning products takes incredible skill and a lot of work. They all put in extra time to get these products entered, but in the end, these rewards make it worth it."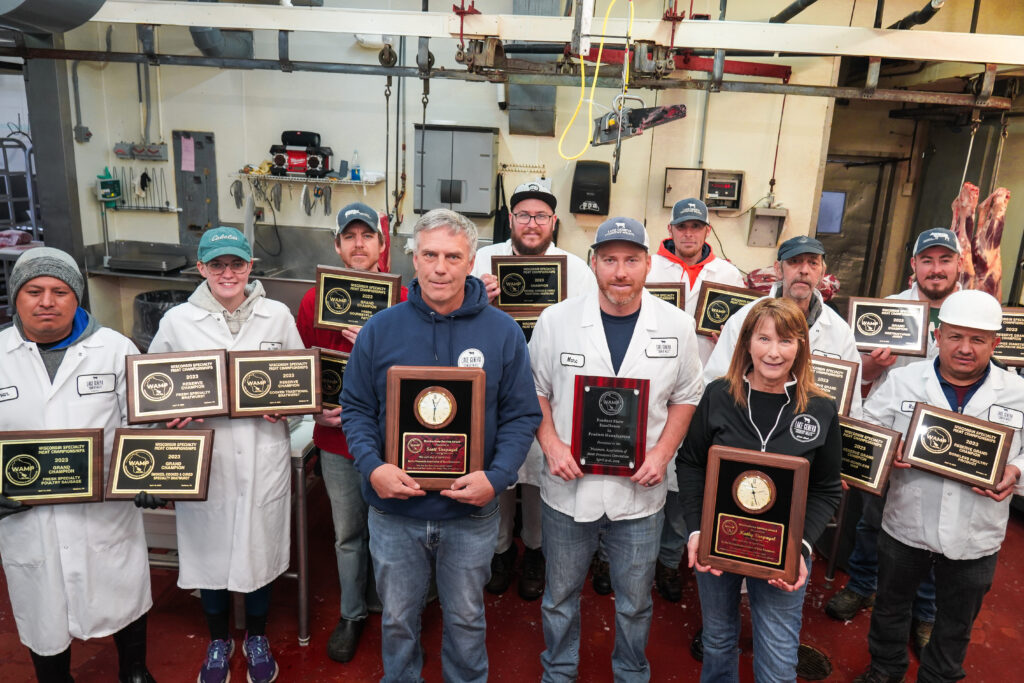 Led by LGCM's Plant Manager Marc Baillargeon, the entire production team chipped in and contributed to making this competition successful. Joining in the effort was LGCM's deli kitchen, headed up by Kitchen Manager Nick DeCarmine. Team members, including Amber, Charlene, Christian, Israel, Ivan, Kim, and many others helped with producing and presenting the products.
"Winning these awards shows the quality of people we have here. I'm proud of our crew, and so happy to have our work recognized with these awards. It goes to show that when you get products at Lake Geneva Country Meats, you're getting some of the best products in Wisconsin, and I hope our customers appreciate that," said Marc Baillargeon.
Lake Geneva Country Meats 2023 WCMC Award-Winning Products
GRAND CHAMPIONS (1st Place)
Cooked Specialty Bratwurst (Cheddar & Green Pepper Bratwurst)
Fresh Gourmet / Flavored Patty (Harissa Spiced Lamb Patty)
Fresch Specialty Poultry Sausage (Chicken Fajita Bratwurst)
Restructured Jerky (BBQ Beef Strips)
Smoked, Cooked, & Cured Specialty Bratwurst (Smoked Bacon, Cheddar, and Jalapeño Bratwurst)
Specialty Meat Entree (Braised Beef Shank with Roman Gnocchi)
Whole Muscle Jerky (Teriyaki Jerky)
RESERVE GRAND CHAMPIONS (2nd Place)
Boneless Poultry Product (Bacon & Cheddar Chicken Snack Sticks)
Large Diameter Luncheon Meat (Cherry Ham Sausage)
Liver Sausage
Semi-Boneless Ham
CHAMPION (3rd Place)
Smoked, Cooked, and Cured Traditional Bratwurst
RESERVE CHAMPIONS (4th Place)
Bone-In Ham
Cooked Traditional Bratwurst
Fresh Specialty Bratwurst (Badger Brats)
HONORABLE MENTIONS (5th Place)
Bacon
Cured Specialty Meat Product (Smoked Flank Steak)
Visit Lake Geneva Country Meats today to try one of these award-winning products today; there are plenty to choose from!