It seems like when we ask our customers how they're doing, the number one thing we hear is "BUSY!!!!"
Well, we hear you, and we're here to make your life easier, cooking faster with our newest scratch-made, fully cooked products:  our serve over meal starters!
These 10 ounce frozen packages are made from scratch at Lake Geneva Country Meats using our quality meats, authentic seasonings, and fresh produce. Each of the four meal starters brings a flavorful protein option to your table. Simply reheat them and serve them over your choice of carb for a decidedly delicious, effortlessly easy, and fantastically fast meal!
Our kitchen team of Nick and Amber have been working hard to develop these products and we are excited to introduce them to you. Our serve over meal starters are all available for $7 each, or you can mix and match any 3 serve over meal starters for a combined price of $18!
Keep reading to learn more about our four launch flavors and how we recommend enjoying these convenient and tasty fully cooked meal starters.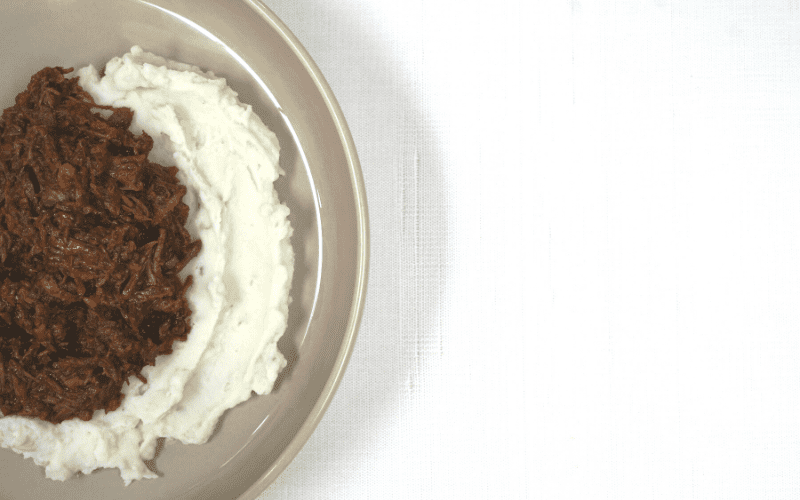 Braised Beef
Our braised beef is the perfect meal starter when you want a comforting stew, but don't have time to cook a stew all day! When we started developing this meal, we were inspired by a traditional boeuf bourguignon and evolved the dish into something that has all of the complex flavor but is easy to serve at home!
We slowly braise flavorful beef round in a combination of bacon, red wine, broth and more. Mushroom, carrot, and garlic all bring extra flavor to the sauce. The end result is a tender beef stew coated in a savory sauce that is perfect to serve over mashed potatoes, rice, or use as a base for a quick beef barley soup.
The vegetables in this dish break down into the sauce as we cook them, so you may want to reheat frozen vegetables as a quick addition to this meal!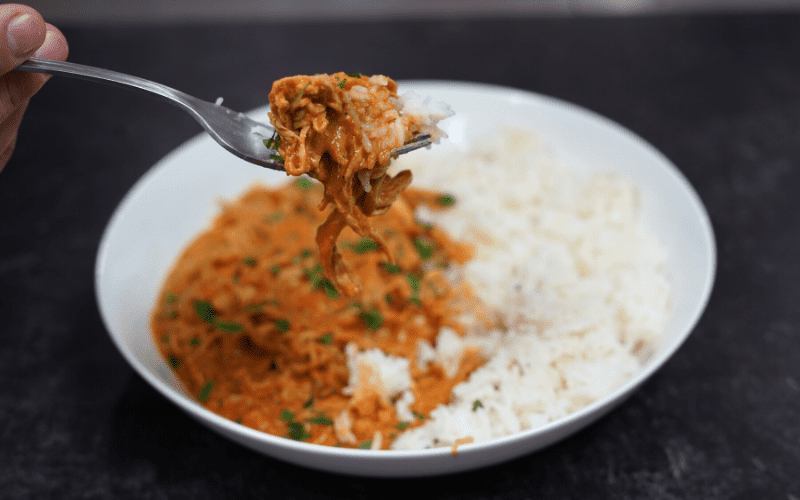 Chicken Tikka Masala
If you love this classic Indian restaurant take-out dish, our chicken tikka masala meal starter is one to stock up on! Not sure what Chicken Tikka Masala is? It's a dish of chicken in a creamy orange-colored tomato sauce spiced with mild curry spices that was popularized in British restaurants. It's now a take-out staple!
Boneless skinless chicken breast is seasoned with an Indian-inspired spice rub, and then covered with an indulgent mixture of tomato sauce, heavy cream, butter and more. After cooking together for hours, what's left is a tender, shredded chicken in a flavorful tomato sauce that is perfect to serve over rice or in a bowl with naan bread for scooping.
This dish has a medium degree of spiciness from the cayenne pepper we use in the seasoning blend, but we think it is perfectly balanced by the tomato cream sauce and the savory (not spicy!) curry powder spice blend.

Mexican-style Shredded Chicken
This Mexican-style shredded chicken is exactly what you need to get a quick Taco Tuesday meal on the table while serving something a little bit more fun and healthy than ground beef tacos!
Based on a recipe for chicken tinga, this chicken is slowly cooked in tomato puree with Mexican-style seasonings, onion, garlic, and a touch of chipotle peppers for a smoky, roasty flavor. With a perfectly balanced "taco" flavor and moderate spice, this shredded chicken is ideal to serve on tortillas for chicken tacos, place on top of tortilla chips and top with cheese for quick nachos, or serve on top of rice with guac and black beans for a convenient power bowl.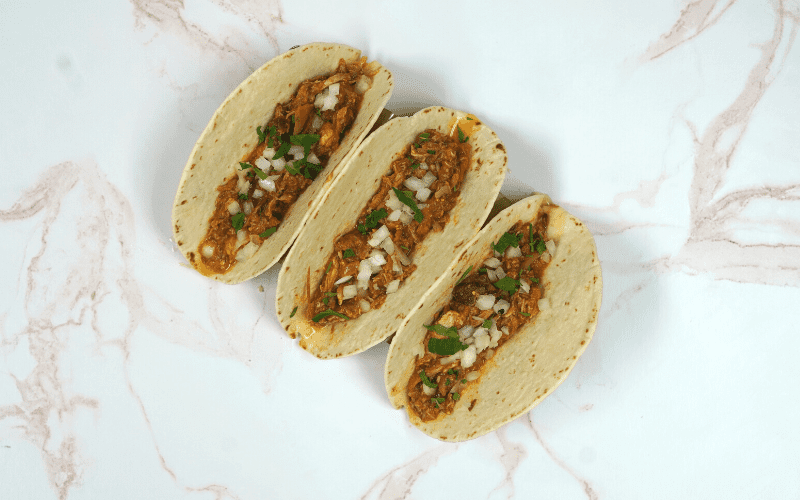 Southwest-style Pulled Pork
The southwest-style pulled pork meal starter is inspired by our kitchen manager Nick's experiences in Austin, Texas where barbecue and Southwestern flavors came together to make delicious food that everyone can enjoy.
Delectable pork loin is allowed to slowly roast with a combination of tomatillos, jalapeños, garlic, and onions. As the pork cooks and the fat renders into the roasting pan, the vegetables pick up the flavor and become tender. All of the ingredients are shredded and tossed together to make a flavor sensation that has balanced smoked and spice notes without being too spicy.
We love to serve this meal starter over rice for a quick and easy dinner or on top of tortilla chips for some of the tastiest nachos you'll ever enjoy!
Do I Need to Defrost These Before Re-Heating?
No, you do not need to defrost these dishes before re-heating. Our serve over meal starters are made to go straight from the container into a skillet to be reheated.
However, if you have time to put them in your refrigerator the day before re-heating, they will heat faster, more evenly, and come out of the container more easily.
How Do You Recommend Re-Heating These?
Our recommended method is to dump the serve over meal starter into a skillet or similar dish that has been heated to medium heat. Stir and breakup the frozen meal starter as it warms up. You'll soon have a warm batch of delicious food to serve over your favorite carb!
If you like, you can add a bit of oil, butter, or broth as you desire to the meal starter to achieve the texture you like, but this is not necessary.
We have tested this method both at Lake Geneva Country Meats and at the homes of our employees and have found that it makes for a fast and easy meal that tastes great.
If you are in a hurry, you can also slide the contents of your serve over meal starter into a microwave safe bowl, and heat up using the microwave! Just be sure to cover the bowl to prevent a mess and to stir the meal from time to time.

How Do You Get These Out of the Container?
If you let the serve over meal starter sit in the refrigerator overnight, they'll come right out of the plastic container no problem.
Otherwise, if you are having trouble getting the food out of the container, you can run warm water over the outside of the container for a few minutes, then open the lid, take a butter knife and carve around the outside perimeter of the container. The food should come out in a jif!
How Long Do These Last In My Freezer?
These serve over meal starters will be safe to eat for at least a year in a well maintained freezer, however we recommend eating them within 3 – 6 months of purchase.
If you defrost the meal starter in your refrigerator before serving, heat and serve the meal within 2 days of defrosting.
These will serve as leftovers for 2 – 3 days after reheating, then should be frozen or discarded.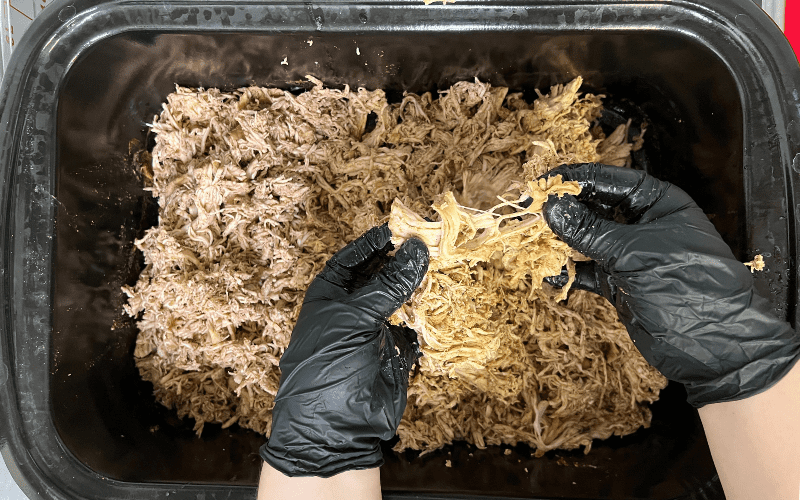 Our serve over meal starters can be found in our frozen section. If you can't find them, just ask a Meat Ambassador for help, and we'll show where you can find them.
We plan on adding and rotating flavors, so keep your eyes open for what we come up with next. If you have a request for a recipe you think would be a great addition to our serve over meal starters, let us know, we love to hear what you would like to enjoy!
Stop in and try these new, delicious serve over meal starters. We've put a lot of work into making these a great product for you and can't wait to hear your feedback!
*Prices and flavors correct as of November 2nd, 2022. Not all flavors may always be available, and prices subject to change.