We're excited to introduce to you our newest exclusive collaboration cheese with Hill Valley Dairy: Nova, a hard cow's milk cheese made in the Alpine-style.
This cheese's story begins when Hill Valley's cheesemaker & owner Ron Henningfeld wanted to try a slightly different salting technique to protect the cheese while it aged. He shared the idea with Nick Vorpagel from LGCM, and it sounded awesome, so we asked if we could sign up to make this cheese a collaboration batch.
Ron agreed, so we headed up to his cheese aging cave on October 17th, 2019 to participate in getting this cheese ready for aging and to learn more about how cheese ages in general. We were excited to see what the cheese would taste like, even if we weren't sure exactly how much time it would need to be ready!
Fast forward 4 years and a lot has happened to this cheese…and the rest of us too! Based on Ron's observations, we decided to pull the cheese from aging in September of 2023 for tasting and to see how we felt about the cheese. Needless to say, we loved the cheese and are excited to release it to you!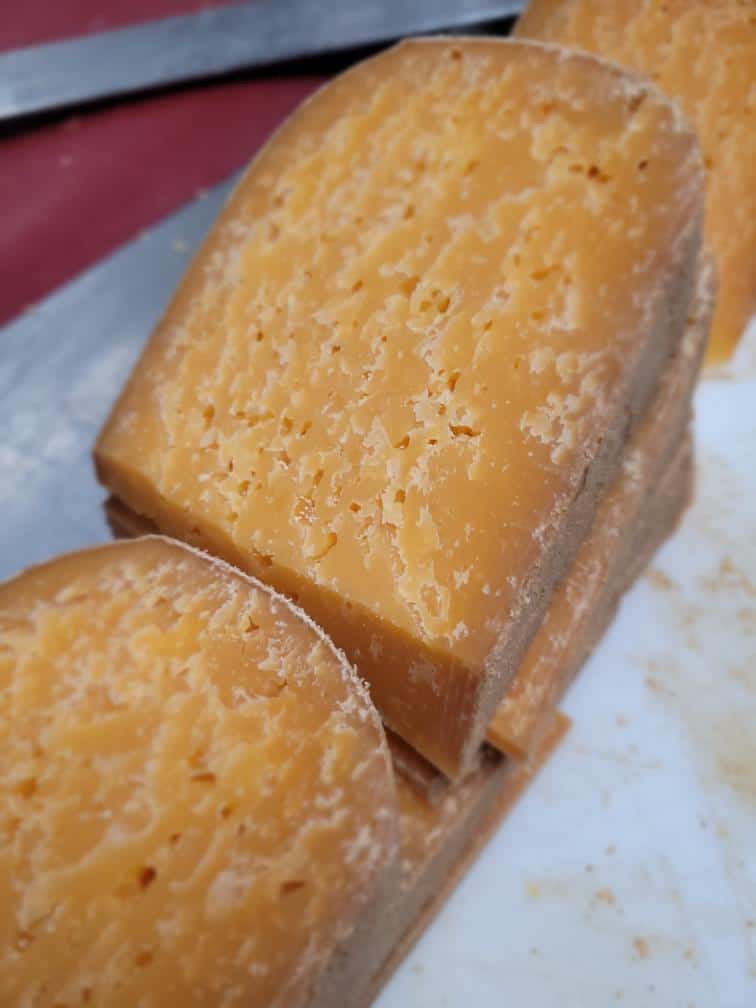 The unique aging process (compared to Ron ages his other Alpine-style cheeses) led to this cheese having a harder texture and a slightly more salt-forward flavor profile than any of the other cheeses from Hill Valley Dairy that we have tried.
After much thought, Josie Henningfeld came up with the perfect name for this cheese: Nova, reflecting on the circumstances of a singular special event causing this star of a cheese to be born. 
Nova is a hard, natural-rind cow's milk cheese made with milk from Romari Farm – Ron's family farm. It has roasted almond, grassy hay, floral, salty, and earthy notes. Nova would be a terrific addition to your next cheese board to mix up textures and flavors and is also a perfect grating cheese for pasta dishes, salads, and more.
If you want to try Nova, act fast because there are only 7 wheels in existence, and you can only find them at Hill Valley Dairy and Lake Geneva Country Meats. We are offering approximate 1/3 pound wedges for $19.99 per pound. Stop in the store and find a wedge in our cheese cooler. Take some home and enjoy.
Thanks for reading and thanks for supporting local agriculture!