At Lake Geneva Country Meats, we love making creative sausage flavors AND we love working with our local school system. For our newest sausage creation, these two loves came together to spawn a bratwurst that we would have never thought up without the assistance of the Badger High School Culinary Program!
Introducing the Shepherd's Pie Bratwurst, a beef & pork sausage that tastes like the delicious comfort food favorite. We made our first ever batch on October 25th and we will donate $1 per pound of this batch sold to the Badger High School ProStart program. Stop in before November 1st for your opportunity to try the first batch and support the students.
Keep reading to get more information about this bratwurst and how it came to be in the meat case at LGCM!
What's In A Shepherd's Pie Brat?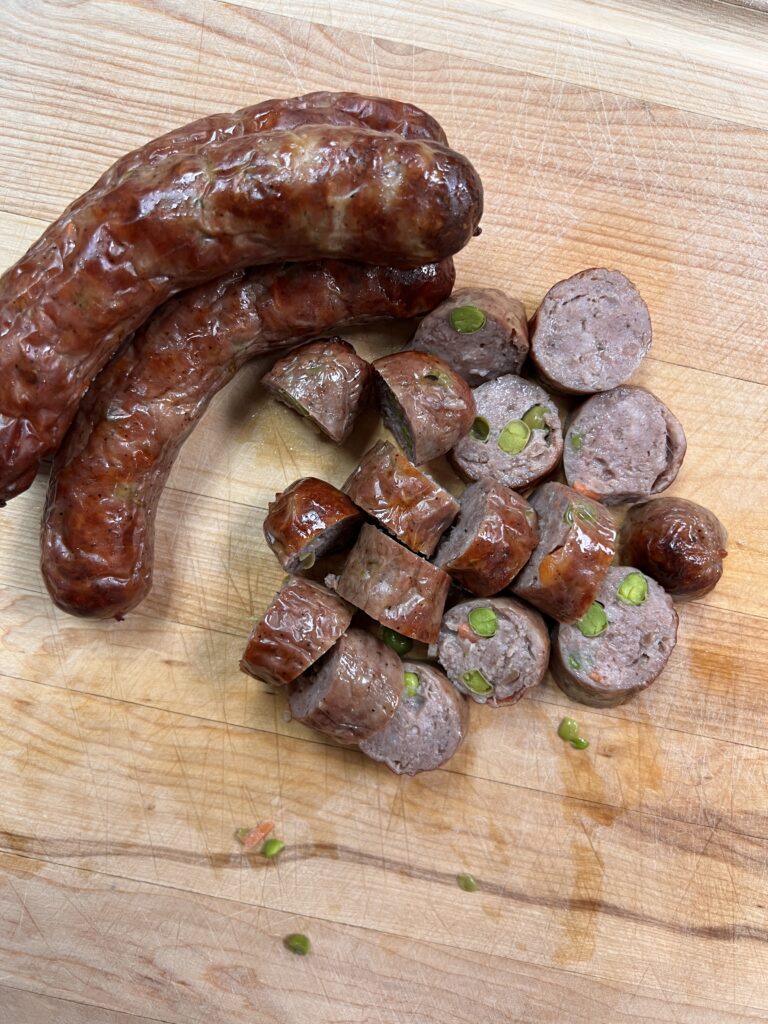 These bratwurst are made from a base of beef and pork, then seasoned with salt, pepper, garlic, onion, rosemary, thyme, and more. We add gravy and beef broth and stuff the bratwurst with peas and carrots!
It tastes beef, savory, and the peas and carrots have a nice little crunch and burst of fresh flavor. It's really good – trust us!
How Do You Serve a Shepherd's Pie Brat?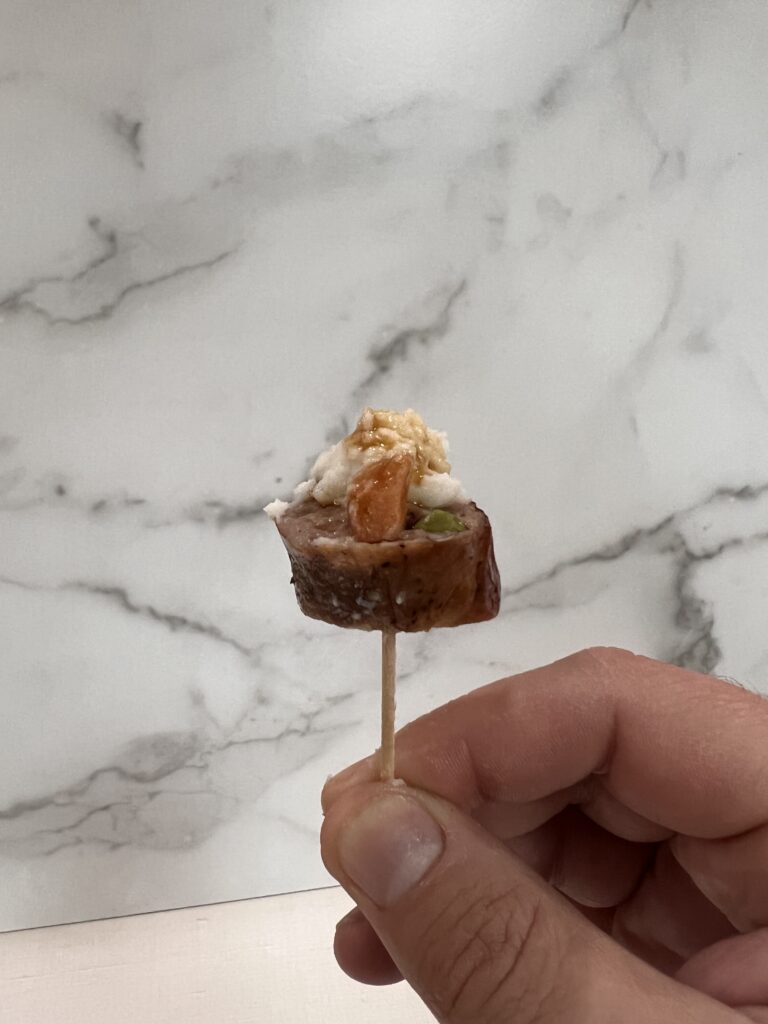 You can eat the Shepherd's Pie Brat right on top of a bun, but we have a few ideas on how you can serve this to make it a little bit more fun:
Cook the bratwurst and then cut it into pieces to serve on top of mashed potatoes. Top with gravy for an easy and super flavorful Shepherd's Pie!
Spoon or pipe mashed potatoes into a brat bun and then top with gravy for a gourmet sausage creation!
Make Shepherd's Pie Brat appetizers by slicing the brat and putting dollops of mashed potatoes and gravy on top. Stick with a toothpick and serve at a party.
We sell heat and serve mashed potatoes from our deli and gravy packets are available to quickly whip up a batch of yummy brown gravy. All the ingredients for an incredible sausage creation are available right here at LGCM!
How Was The Shepherd's Pie Brat Conceived?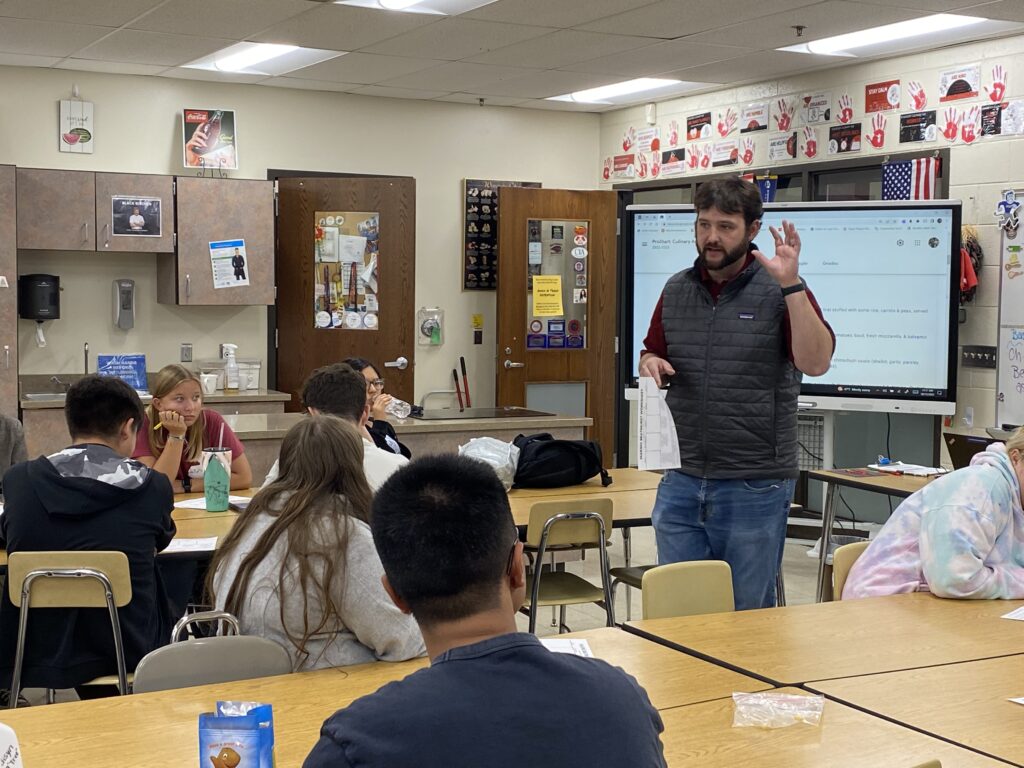 October is National Pork Month and the Wisconsin ProStart program issued a challenge to the state's culinary students to come up with bratwurst creations.
Our Vice President Nick Vorpagel was invited to Badger High School to speak with the students about bratwurst making and he challenged them to come up with new bratwurst recipes for Lake Geneva Country Meats. He promised to make the best proposed recipe.
Morgan K. came up with the idea for a Pot Roast bratwurst that we selected as the winner. As often happens as you're developing a recipe, we evolved the recipe a little bit and it became a Shepherd's Pie Bratwurst.
We rewarded the culinary students with LGCM gift cards and our thanks for many great ideas!
What Were Some Other Ideas for New Flavors?
As we mentioned above, there were many more great ideas for new flavors beyond the Pot Roast bratwurst with a total of seven ideas being entered by nine students.
Some of the ideas were great in theory but would be hard to do as a bratwurst for various reasons. Some we may make in the future like "The Canadian" bratwurst suggested by Cade S. and Steven W. that's a play on poutine in a bratwurst. We appreciate the source of new ideas.
Our favorite bratwurst suggestion though was a Harry Potter-inspired Butterbeer Bratwurst idea submitted by August G. We don't know if we're magical enough to make this bratwurst the right way, but we promise we're going to think about it!
I'd Like To Know More About Badger ProStart!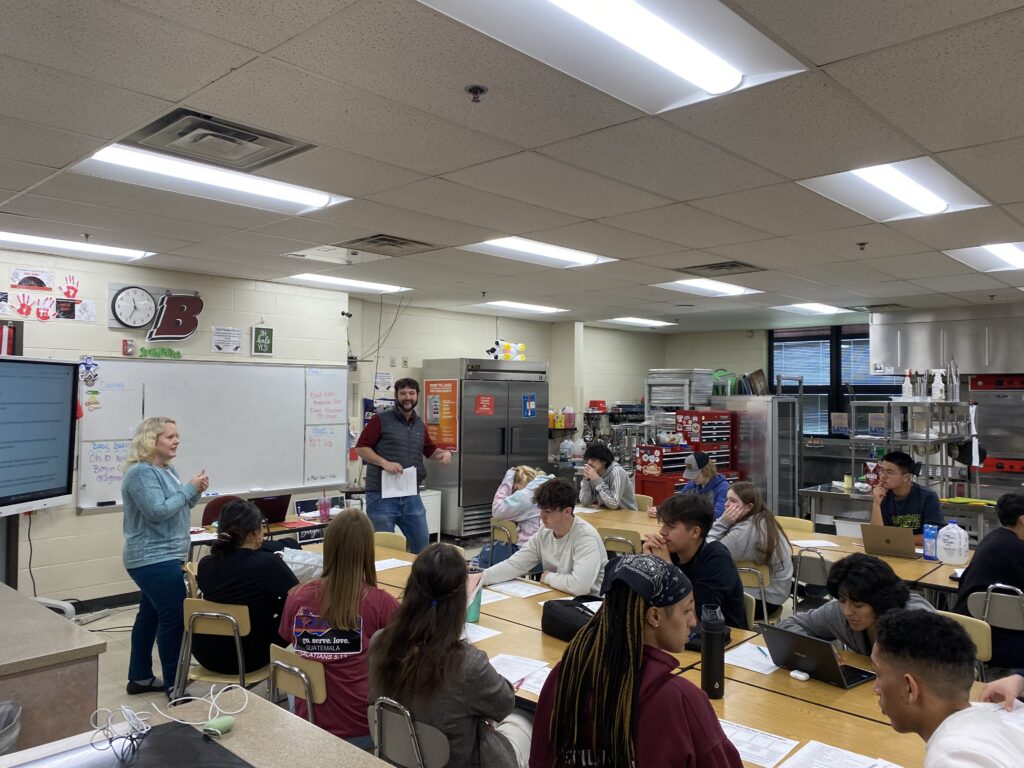 Badger High School has a strong culinary program led by Ms. Jamie Lutz, the 2021 Wisconsin ProStart Teacher of the Year!
ProStart is a nationally recognized program that provides students hands-on education in the culinary and hospitality management fields. It teaches students real life skills in a demanding yet educational environment. It is a pleasure to work with these students.
Check out this St. Patrick's Day Chopped-style challenge we previously completed with the students. It's a ton of fun!
Will You Keep Making This Bratwurst?
We think it's super yummy and if you agree with us, we'll keep making it. Last year's winner of this challenge, the Al Pastor bratwurst wasn't popular enough to keep making, so if you want to try our Shepherd's Pie Bratwurst, get it now, and keep buying it when we release it!
Thanks to Ms. Lutz and the students at Badger ProStart for collaborating with us on this fun bratwurst making exercise. We hope the brat sounds as yummy to you as it was to us and you'll stop by the store to get it.
Give us a call at 262-248-3339 option 3 to make sure we have supplies before you stop out, or better yet, place an order and we'll have them ready and waiting for you. This is a limited production bratwurst after all, so supplies may not always be available.
Cheers!