It's play off time people! Is your game day spread up to snuff? Here's our list of the top 10 foods to eat at your Green Bay football party.
#10. Spam
Okay, hear us out on this one. Green Bay's first uniforms were bought by the Indian Packing Company, a company that made canned meats. They're no longer around, but you can go get a can of Spam and have some canned meats in honor of the team's founding. Or you could acknowledge that just like the game has changed, so has food, and you could get something better :).
#9. Deviled Eggs
Almost every party I go to in Wisconsin has deviled eggs available. I think it is some sort of unwritten rule that someone must bring deviled eggs to every party. Make sure your party has deviled eggs so you don't break any unwritten rules. Breaking the unwritten rules of football watching is just asking for problems.
#8. Bean Dip
3 bean dip, 7 layer bean dip, 14 bean layer dip, whatever, it doesn't matter how many beans or layers your bean dip has in it, you just need a bean dip at your party. Be sure to include some cheese in one of your layers because this is Wisconsin. The Dairy State.
#7. Chips and Queso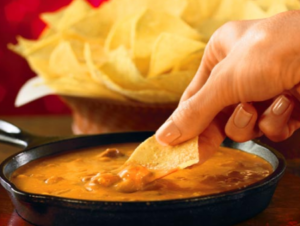 As stated above, Wisconsin is The Dairy State, so make sure you have chips + queso to dip said chips into during the game. Bonus points if you use fun cheese like pepper jack or white cheddar for the dip.
#6. Cheeseburger
As much as I enjoy the "bunch of small items" method of eating, there still needs to be an entree at your party. Use fresh Wisconsin burgers, real Wisconsin cheddar cheese, and butter the buns of your burger to make for a 100% Wisconsin burger.
#5. Cheese and Sausage Tray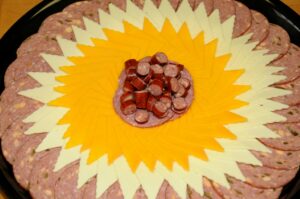 Nothing says "welcome to my party" like a big tray of summer sausage and assorted cheeses. Either let your guests slice their own bits (a risky proposition) or have a premade tray. Don't forget the crackers! Note – if you successfully hunted a deer, you may be able to serve venison summer sausage, congrats! Just check with your guests before they come if they're okay with eating "Bambi."
#4. Chicken Wings
Chicken wings are pretty hard to beat for game day food. Marinate them in hot sauce, BBQ sauce, bleu cheese sauce, garlic sauce, sweet orange sauce, whatever sauce you want and serve them perfectly crisped. Get creative with the sauces depending on the opponent. For instance, make a Texas Chipotle sauce for when Green Bay plays Dallas. The gesture of hospitality towards any opposing fans you may have invited over will make up for screaming "IN YOUR FACE!" in their face when their team loses.
#3. Things Wrapped in Bacon
Fact: bacon makes everything better. One more fact: you can wrap bacon around almost anything and it's an amazing football watching food. Here are some ideas:
Bacon Wrapped Wieners
Bacon Wrapped Chicken Wings
Bacon Wrapped Steaks
Bacon Wrapped Pork Chops
Bacon Wrapped Asparagus
Bacon Wrapped Brownies
Bacon Wrapped Water Chestnuts
The list goes on…
#2. Cheddar & Pepper Bratwursts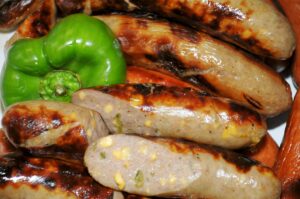 How better to back the green and gold than by consuming green and gold bratwursts? Crisp, green bell pepper with golden yellow Wisconsin cheddar cheese with premium pork and beef  encapsulated in an all natural pork casing. Mmmmmmmm, nothing sounds more delicious. Yes, Cheddar & Pepper Bratwursts are a winner for any Green Bay football watching party.
#1. CHEESE CURDS
Squeaky and delicious, cheese curds are a Wisconsin tradition unlike any other, except maybe Green Bay football. Pair them together and you get something so amazing, so uniquely Wisconsin that it simply cannot be topped. Sit back, enjoy the beauty that is Green Bay football and the gastronomic delight that are cheese curds. Go Green Bay!