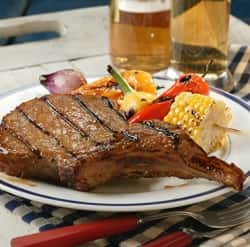 Beer Grilled Pork Chops
Wisconsin is famous for its beer, and this recipe is a great way to enjoy beer and food together. Marinate your Pork Chops with a Beer based marinade and it'll keep them moist and flavorful on the grill. You can…
Wisconsin is famous for its beer, and this recipe is a great way to enjoy beer and food together. Marinate your Pork Chops with a Beer based marinade and it'll keep them moist and flavorful on the grill. You can use any beer, but I'd recommend the classic lager taste of New Glarus Two Women or the rich ale flavor of Geneva Lakes Brewing Amber Ale.
Ingredients
Directions
1

Put soy sauce, brown sugar, ginger root and beer in a small bowl and whisk until combined.

2

Pour marinade into a plastic bag, place pork chops inside, seal, and rub the marinade into the pork chop. Once the marinade has covered all of the pork chop, remove the chops from the bag and discard leftover marinade. Here's why we don't marinate longer.

3

Grill chops for 4-5 minutes per side, on a grill heated to medium high heat, flipping once, or until meat thermometer reads 145 degrees.
---
Get more great recipes at lakegenevacountrymeats.com
Reviews