This recipe is a bit of a love letter to the bacon cheeseburger. It doesn't have the most beautiful pictures of our recipes, but it's going to have a crazy amount of details on why each step is included. If you don't want details, scroll through the pictures and the step by step instructions in this description, but if you want to know why this is the perfect bacon cheeseburger recipe, keep reading.
You see, I love cheeseburgers, and I think bacon makes the cheeseburger much better. More importantly, my wife REALLY loves bacon cheeseburgers. She just loves the flavor of a perfect bacon cheeseburger, and I've worked long and hard throughout our relationship to be able to consistently deliver an incredible cheeseburger. After much trial and error, I think I've hit on the perfect way to make bacon cheeseburgers.
Now I know bacon cheeseburgers really are a simple recipe, but there are a number of choices you can make – the burger, the seasonings, how to cook the burgers, bacon, cheese, bun, toppings – that affect how the burger turns out. I have strong feelings on all of these subjects, and since this is my website, I'm going to share them with you. I hope you find inspiration in this post.
The meat for a perfect bacon cheeseburger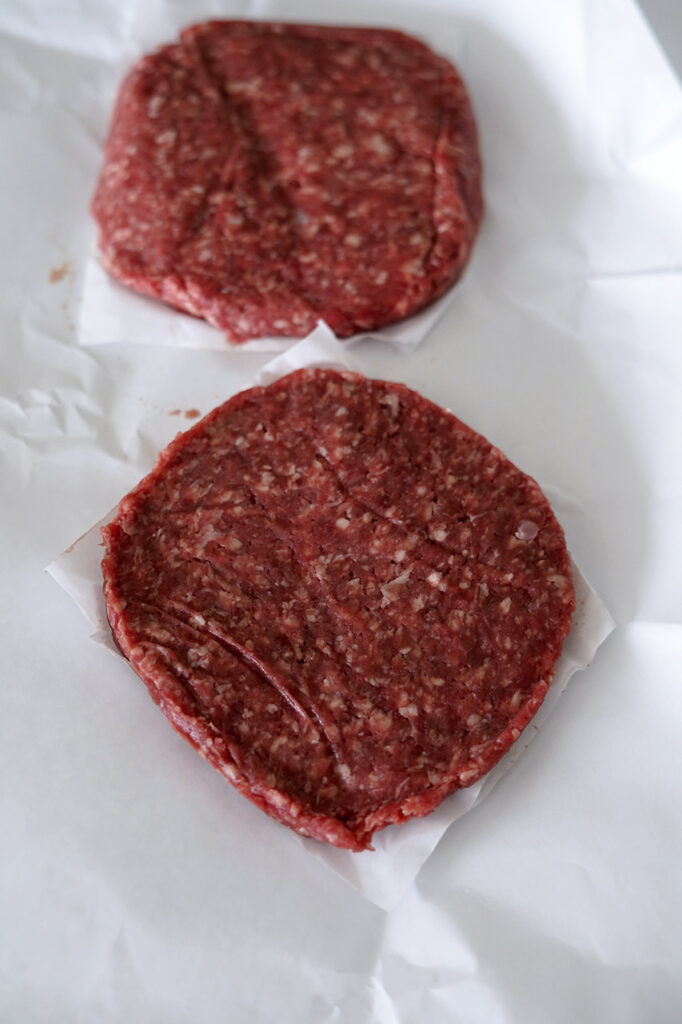 You can't have a bacon cheeseburger without the burger. If you don't get the burger part right, well your bacon cheeseburger isn't going to be very good. I like to use our half-pound, 80% lean gourmet burgers as the base for our perfect cheeseburger. I think 80% lean is the perfect fat ratio for a burger – juicy but not greasy – and I like the combo of brisket / chuck / sirloin / tenderloin in the burgers. The flavor and texture is delicious.  If you have a favorite special burger blend that'll work well too!
I do think a plain ground chuck burger will work just fine for a burger, and you can even use 85% lean meat for this recipe if you prefer a little less fat in your burgers. I don't recommend ground sirloin or ground round or anything leaner than 85%. Please don't use turkey burgers. You do have some room for personal choice, but my general recommendation is use a 6 ounce or larger patty that is based on ground chuck and is between 80 – 85% lean.
How to season your burgers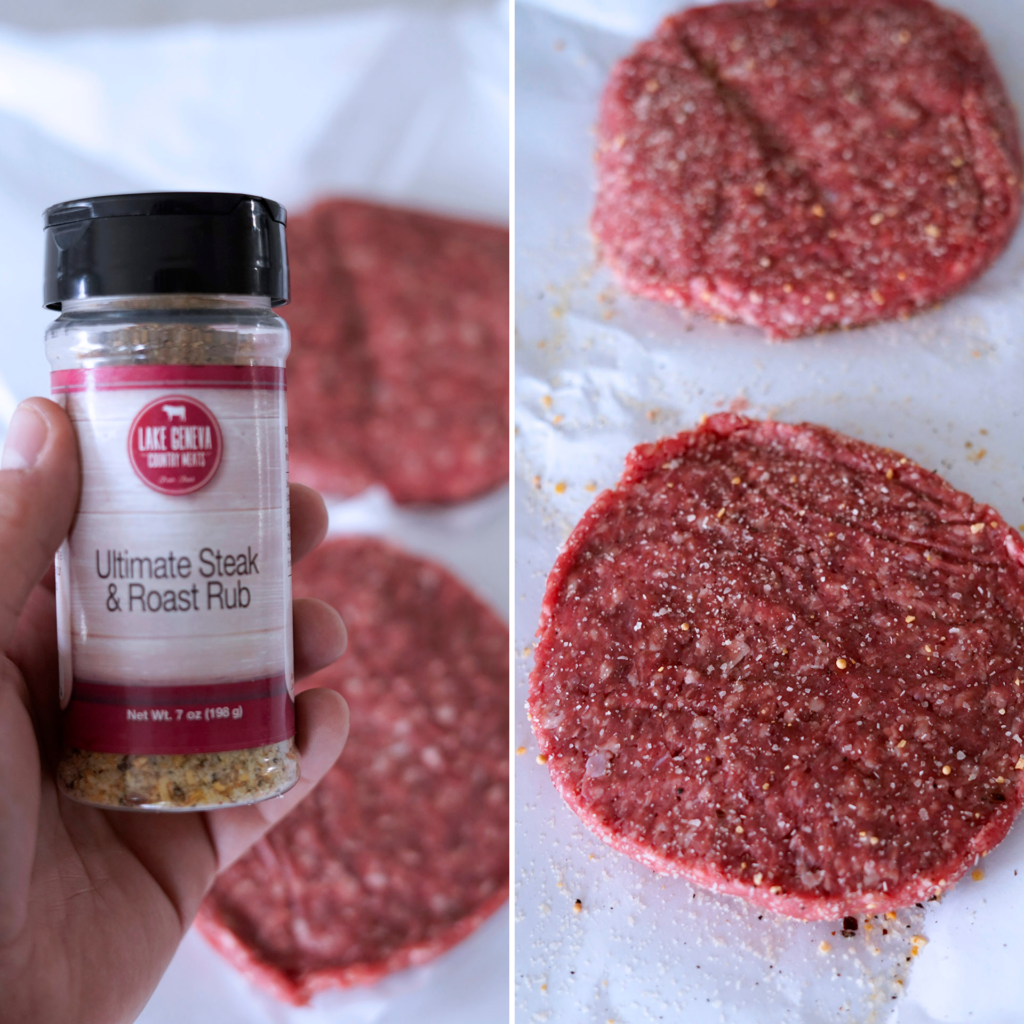 Seasoning burgers is important. I like to use our Ultimate Steak and Roast Rub. It has a combination of salt and pepper with onion, garlic, red pepper flakes, and a few other things. A good burger has a lot of flavor and you're going to want to season the beef robustly. Use your favorite burger seasoning (Montreal steak rub is always a good bet), but please make sure you season your burgers, and use more than just salt and pepper.
Salt and pepper is good enough for a steak, but for these bacon cheeseburgers, you need the oomph that other seasonings like onion and garlic provide. With the melty, rich cheese, you're also going to want a bit of spice in the blend to balance the cheese. It's one of the reasons I love our Ultimate Steak and Roast Rub – it's got a touch of heat without being spicy.
Season your burgers generously but not over the top and don't season them until right before you put them on the grill. Unlike steak recipes where we like to season steak and let it sit, burgers are actually harmed by seasoning the meat far in advance of grilling. The salt will tear apart the grind of the burgers and make them mushier. We don't want that! You can read more about dry brining and why we shouldn't dry brine burgers on this Serious Eats article.
How to cook your bacon cheeseburgers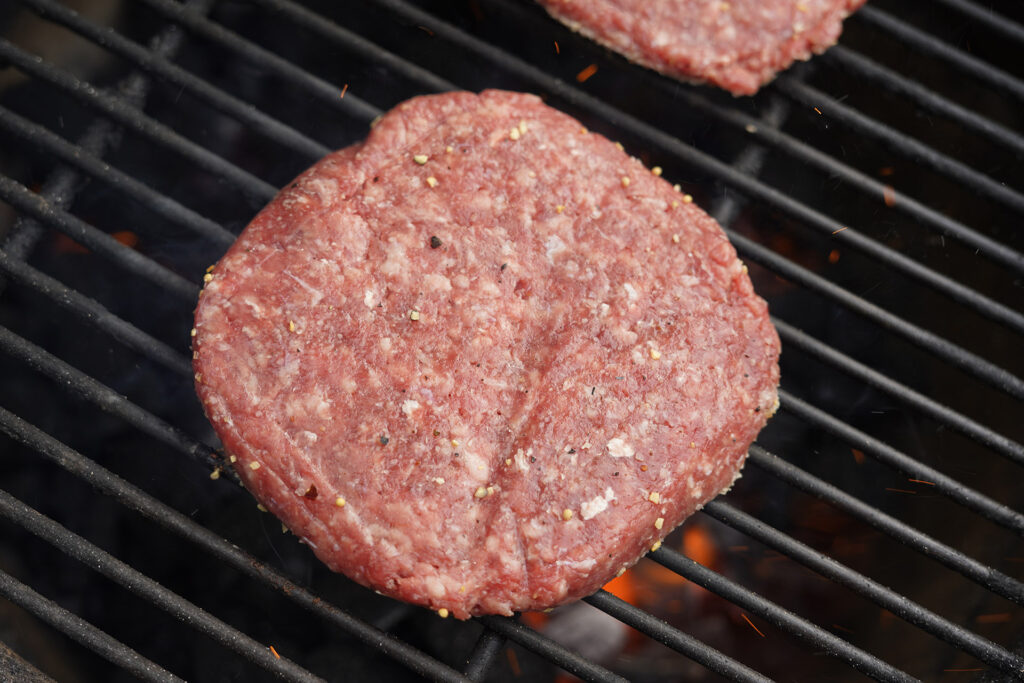 I really think cooking these burgers on a charcoal grill makes them better. There's nothing wrong with gas grills or broilers, but the charcoal smoke combined with bacon is just…perfect for these bacon cheeseburgers. I also loves how the grease from the burgers hits the charcoal, smokes up and creates even more flavor. It's magical.
You can get most of the same flavors on gas grills, especially if you have flavorizer bars, so if you want to use your gas grill, that's no big deal. If you can't cook outside, a broiler will work as well, but you'll definitely lose some flavor. And who wants to lose flavor? If you can grill, grill.
We cook over direct medium high heat, and I flip the burgers only once. They technically cook more evenly if you flip frequently, but with the way I assemble these burgers, it's important to flip them only once. More on that later.
Bacon and cheese
It's not a bacon cheeseburger if you don't have bacon and cheese – it's just a burger. That seems pretty self-evident, but it must be said. Here are my thoughts on bacon and cheese selection for the perfect bacon cheeseburger.
Use a thick sliced bacon – you'll get more bacon on the burger this way – and cook it to the point it is browning but not crunchy. The bacon will continue to cook when you put it on the burger and if it's already cooked to crunchy it'll get crumbly and gross on the grill. You want to taste the bacon on your burger, not get crumbles of burnt bacon all over you. Cut each piece in half once its cooked to put on the burger.
For cheese, I recommend using a medium sharp cheddar. Don't get anything too aged – it'll be too crumbly and not melt – but please don't use American cheese. Cheddar has a delicious flavor for a bacon cheeseburger and melts perfectly fine when it's not super aged. You can also use gouda, a more mild cheddar, pepper jack for a spicy burger, or whatever, but I think a medium sharp cheddar is perfect. Get it sliced at "burger thickness," so it'll melt at the perfect rate.
Assembling the bacon cheeseburger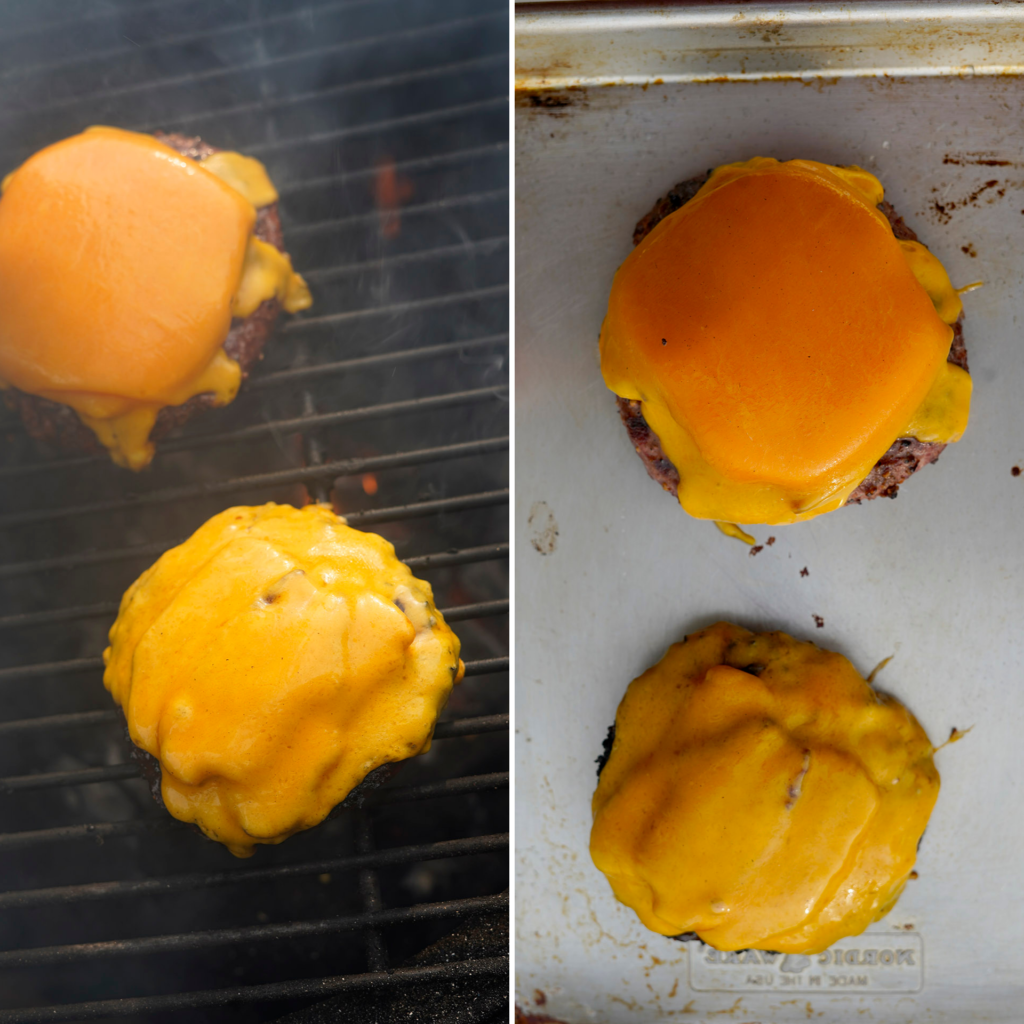 After you have flipped your burger, let it cook for one minute, then start assembling. Put 2 – 4 half slices of bacon on the top of the burger. You can double layer, but I like to single layer. Then put 1 – 2 slices of cheese on top of the bacon. Yep, put it on top of the bacon like you're tucking it in at night.
I know many many people like to put the bacon on top of the cheese, but that doesn't make sense to me. The bacon just falls off. By melting the cheese on top of the bacon, it stays in place and you get really super gooey and yummy bites of burger, bacon, and cheese that are the entire point of making a bacon cheeseburger. If you have never made a burger this way before, please try it. It doesn't look the prettiest, but it tastes really good!
If you do 2 slices of cheese, arrange them on a bit of an angle so the melt over top of one another. I like using 2 slices for myself and the top slice won't melt as much as the bottom slice. I like cheese, so this is perfect for me because I get more cheese flavor. My wife doesn't like cheese as much, so one slice becomes perfectly melted for her. This is a personal preference option!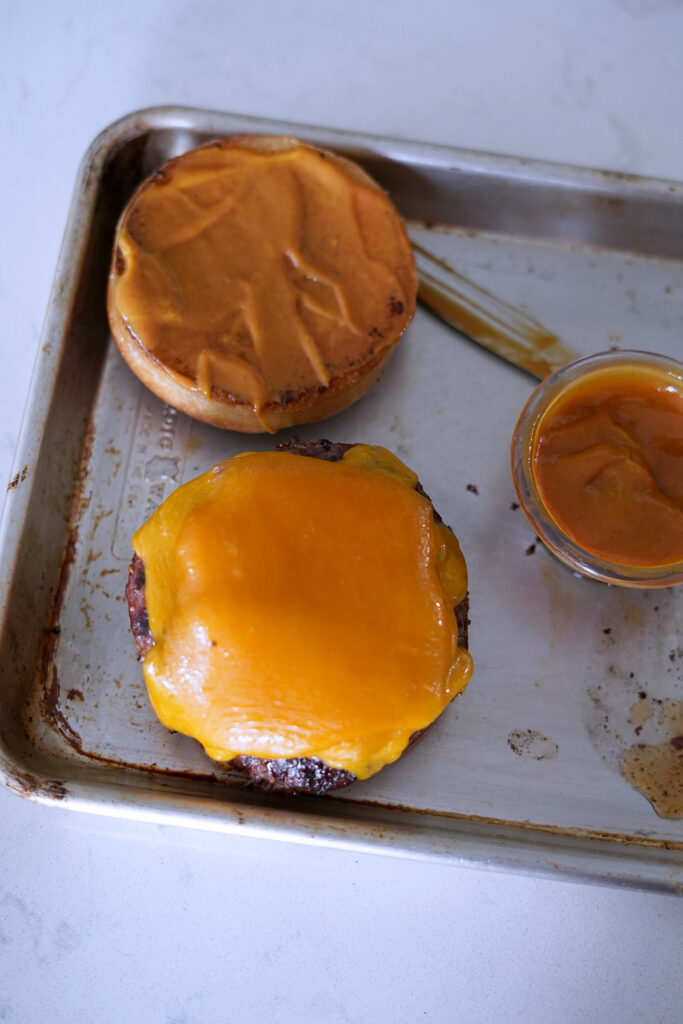 I recommend brioche buns for this bacon cheeseburger. They have a little sweetness to go with the smoky bacon and charcoal smoke flavors and are sturdy buns to go with the big burger. I like to toast mine (pro tip, toast them in the bacon grease for incredible flavor) and I do recommend taking this step so they don't get soggy. You don't have to toast them, but it's very helpful. You can also use kaiser rolls or really any good quality burger bun, but I do think brioche is best!
There are so many toppings for burgers – lettuce, tomato, onion, fried onions (again maybe fry them in the bacon grease!), pickles, and more – but I like to mix together Heinz Ketchup and French's Yellow Mustard in equal proportions and slather it on the buns and enjoy the burger with just the ketchup and mustard. It's classic and hard to beat. I'm really open to whatever you like to do here!
Now – enjoy the perfect bacon cheeseburger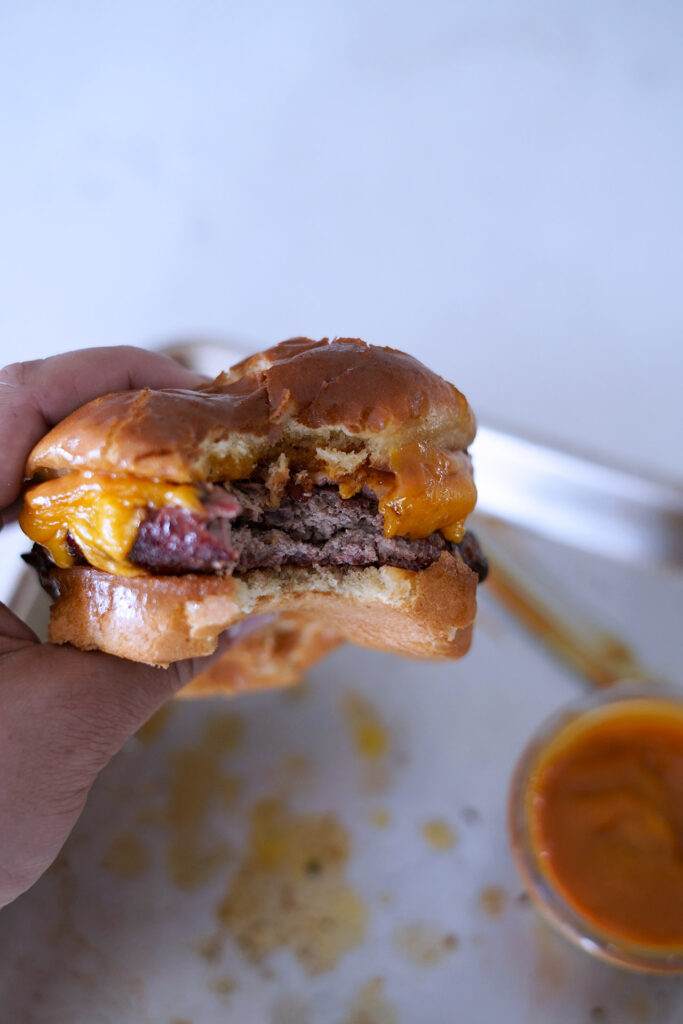 Well – I think that's all I have to say about how to make the perfect bacon cheeseburger – it appears to be about 1,300 words, which is a lot. I hope you enjoyed reading my thoughts on this treasure of American cuisine, and took away a tip or two that can make your bacon cheeseburgers even more delicious.
Do you agree or disagree with my points? Do you have your own tips on how to make incredible bacon cheeseburgers? Drop us a note in the comments below to share your opinion. We look forward to hearing from you!
4 Leahy's Angus Beef Burger Patties

(see recipe notes for burger suggestions)

LGCM Ultimate Steak & Roast Rub

(or your favorite burger seasoning)

8 slice Leahy's Thickly Sliced Bacon

(cooked to not quite crispy and cut in half)

4 – 8 slice(s) Medium Cheddar Cheese
Ketchup
Yellow Mustard
4 Burger Buns

(we recommend toasted brioche buns)
Season your burger patties generously with Ultimate Steak and Roast Rub. Heat your grill to medium-high heat (400 – 425ºF). Once the grill is hot, place the burgers directly over the heat and cook for 4 – 5 minutes until the bottom is browned. Flip the burgers.

Cook for 2 more minutes, then place 2 – 4 pieces of bacon on top of each burger, and 1 – 2 pieces of cheese, to your taste. See the pictures above for reference. Reduce heat to medium and cook for 2 – 3 more minutes, until the burger is cooked through and the cheese is melty and bubbly.

Remove the bacon cheeseburgers from the grill and serve on a toasted brioche burger bun that has been brushed with a mixture of half ketchup and half mustard – or whatever toppings you prefer. Enjoy with a cold beer and some salty, crispy french fries. Cheers!