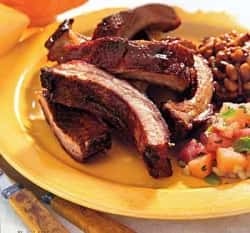 Slow Cooker Dry Rub Baby Back Ribs
This easy to follow recipe makes Baby Back Ribs in your slow cooker with a homemade dry rub. You can substitute your own favorite dry rub recipe or a premade mix like one of our LGCM Rump Rubs. Do you…
This easy to follow recipe makes Baby Back Ribs in your slow cooker with a homemade dry rub. You can substitute your own favorite dry rub recipe or a premade mix like one of our LGCM Rump Rubs. Do you have a secret dry rub that makes great ribs? Let us know in the comments below!
Ingredients
Directions
1

Remove ribs from packaging and thaw (if frozen). Cut each slab in half.

2

Combine brown sugar, chili powder, salt, black pepper, oregano, cayenne pepper and sugar in a small bowl and spread the mixture over the ribs.

3

Put enough water (or beer if desired) in your crock pot to cover the bottom of the pot. Coat the ribs with a thin layer of BBQ Sauce, and place in the bottom of the crock pot with the bones facing down.
4

Cook on low for 6 hours. Meat should be falling off the bone and ready to eat. Coat with more BBQ Sauce and enjoy!

5

Optional – Once you remove the ribs from the slow cooker, coat with BBQ Sauce and put under a broiler for 5 minutes to crisp the outside of the ribs.

6

If you prefer more BBQ Sauce on your ribs and a little less spice, check out our Slow Cooker BBQ Baby Back Rib Recipe, complete with video instructions!
---
Get more great recipes at lakegenevacountrymeats.com
Reviews