We love smoked beef, and this smoked beef chuck roast recipe is an easy and affordable way to put incredibly tasty smoked beef on your table.
When we think of a smoked beef dish, we usually think of smoked beef brisket. Brisket is delicious, but it does take a long time to cook, is getting to be fairly expensive, and you have to buy a huge piece of meat.
Those are some significant drawbacks, so for people who want the rich flavor of smoked beef, but don't want the drawbacks, we suggest smoked beef chuck roast instead!
Keep reading to learn more details about our smoked beef chuck roast recipe, or just keep scrolling to the ingredients to get cooking.
First of all, what's the difference between a chuck roast and a brisket?
Chuck roasts come from a cow's shoulder, while briskets are the breast portion. Chuck roasts have more fat inside the meat, and will shred more easily, while briskets have more fat on top of the meat and will slice more easily.
A whole beef brisket weighs about 16 pounds, and the smallest piece we recommend smoking is around 8 pounds. You can easily smoke a 3.5# boneless beef chuck roast, which is the size we used in this recipe.
They both have rich beef flavor and do well when cooked low and slow!
Alright, what type of chuck roast should I use?
You can buy bone-in or boneless chuck roasts. If you bought a half or quarter of beef from us, you may have a number of bone-in beef chuck roasts, and this recipe is a good twist on the traditional pot roast recipes. Bone-in chuck roasts do have a bone that can make shredding the hot beef a bit of a challenge.
For this reason, we recommend using a boneless chuck roast around 3.5 – 5 pounds big for smoked beef chuck roast. They are big enough to not shrink too much during the long, slow cook, but they are also small enough that they can feed a reasonably sized group of people, plus they are so easy to shred!
How did you set up your smoker for this recipe?
We cooked this beef at a relatively high (for a smoker) temperature of 275ºF over indirect heat with hickory smoke going. We think the temperature cooks this richly marbled cut of beef at the exact right rate of speed.
We like hickory smoke for the deep smoky flavor and color it adds to the beef. Oak would be another solid choice, and while I do not recommend mesquite (I just think the flavor is too extreme), if you like mesquite, this would be a recipe that mesquite works with.
If you're looking for quality wood to use for smoking, and don't like what you've found locally, you can purchase online from Camerons for convenience.
How long did you smoke this chuck roast?
We smoked our chuck roast for a total of about 6 hours total, a far cry from how long it takes to smoke a brisket!
The important thing is that we cooked to temperature. Every cut of beef and every smoker is different, so times are just guidelines. Using a good quality meat thermometer (like this ThermoPro Wireless one) is the key to making this smoked beef chuck roast taste incredible!
Why did you cook the chuck roast in a tray with liquid?
This is a great question. We have received some pushback that since this is in liquid, it's not really smoked. I disagree. The smoked characteristic on this chuck roast is incredibly noticeable. Just look at the picture of the smoke ring on the pulled meat if you don't believe me.
We cook it in the tray with liquid, which is essentially a braise, because chuck roasts fall apart as they cook. I don't want any of that meat to go to waste, so keeping it in a tray keeps it all together, and eventually puts more of that delicious, delicious smoked beef chuck roast in my belly!
We use the liquid because we are big believers in using water pans when smoking. A humid cooking environment keeps everything juicy and flavorful.
Instead of using a separate water pan for this recipe, we're just putting the meat right in that flavorful liquid. Plus, as that liquid cooks down, it becomes a great sauce to add to the finished meat.
Can I cook this recipe without a smoker?
Yes, the way we cook this recipe in a foil pan means that it would also work well on a normal charcoal or gas grill.
To make your smoked beef chuck roast on a normal grill, follow these steps:
Set up for indirect cooking – a hot zone and a cold zone.

If you're using charcoal, mound all of your charcoal on one side. Cook on the side with no lit coals.
If you're using gas, only light one side of burners. Cook on the unlit side.

Add smoke.

If you're using charcoal, you can put wood chunks right on the charcoal.
If you're using gas, use a smoker box like this one on one of the lit burners to produce smoke.

Let it cook!
How did you season this smoked beef chuck roast?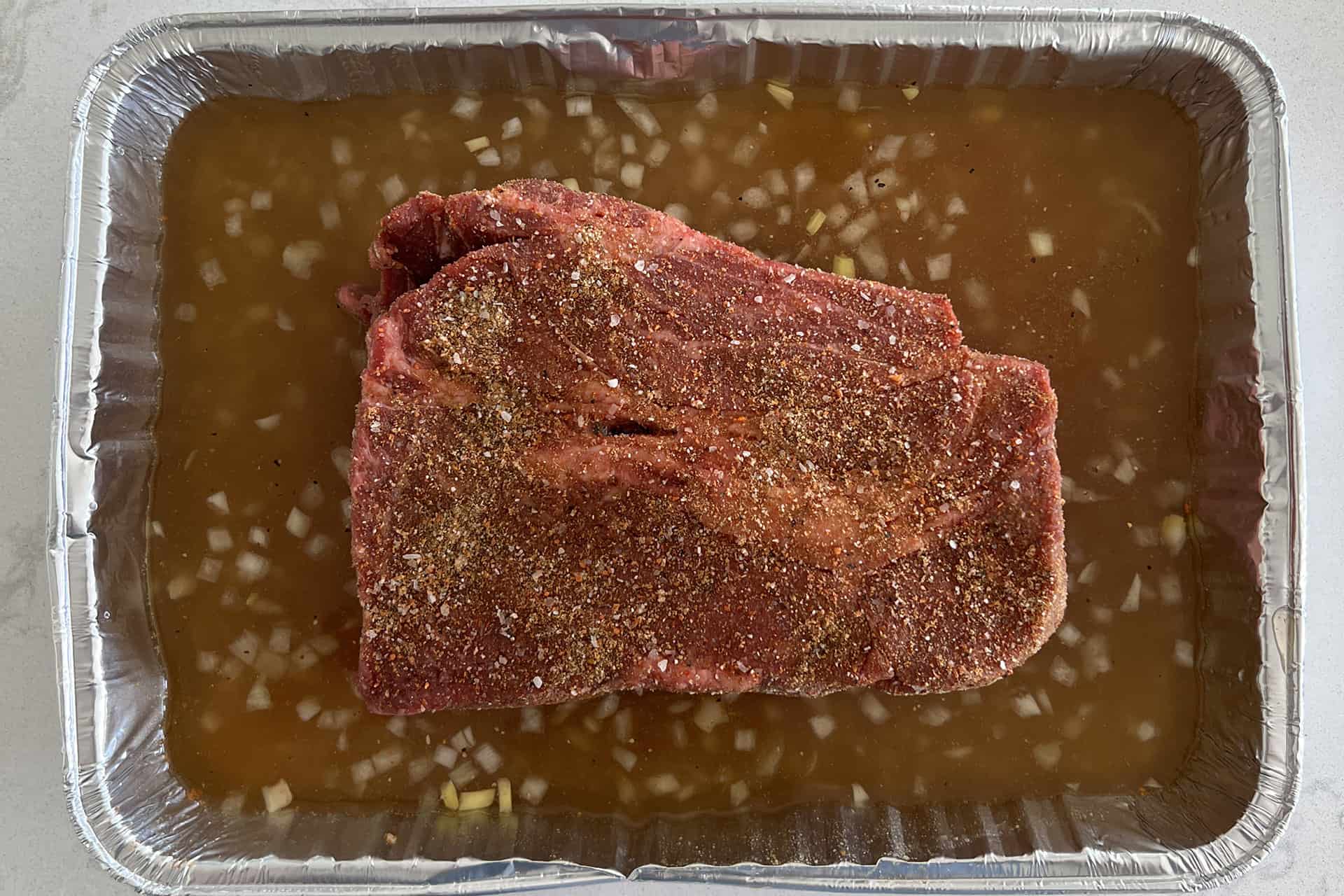 Our seasoned beef chuck roast, ready to smoke!
Typically, a Texas-style smoked brisket would only be seasoned with salt and pepper. I wanted to bring a little different flavor to my smoked beef chuck roast and bring out some Southwestern-vibes, so I used this homemade rub:
1 tbsp. Kosher Salt
1 tbsp. Ground Cumin
1 tbsp. Chili Powder
1 tsp. Garlic Powder
1 tsp. Onion Powder
1 tsp. Black Pepper
1 tsp. Oregano
Of course, you can also use a pre-made rub. Here are two we suggest:
An important part of the seasoning is the liquid we cook the beef in. A combination of apple cider vinegar and beef broth brings rich flavor and acidity to this recipe that makes it delicious!
Can I spice up this recipe?
Heck yeah, you can! Here are three suggestions on how to spice up the recipe a bit:
Add cayenne pepper to the rub to your taste. A teaspoon will go far.
Put some chopped jalapeños in the cooking liquid with the onion and garlic.
Serve with hot sauce or picked jalapeños to accomodate multiple spice preferences when it comes to eating!
Either method (or a combination thereof) will bring a nice tingly heat to your food!
How should I serve this smoked beef chuck roast?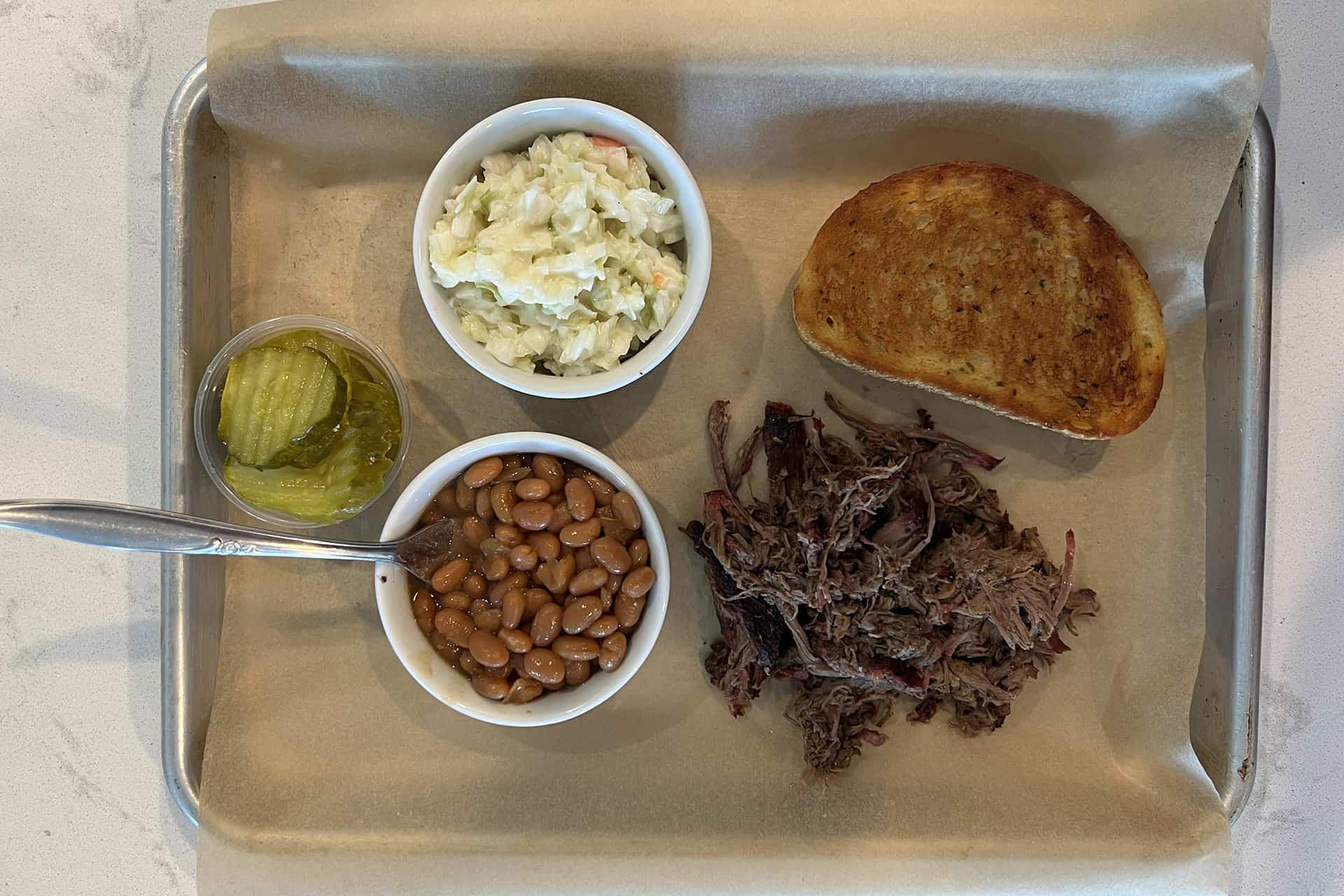 Our serving tray of Smoked Beef Chuck Roast and other BBQ favorites!
We treated this incredible meat like we would smoked brisket and made BBQ trays with:
Texas Toast
Pickles
Baked Beans
Coleslaw
We though an open faced sandwich of the shredded smoked beef chuck roast with pickles and BBQ sauce was super yummy!
You can also serve this recipe as part of an overall BBQ meal, or add in more toppings like onions, jalapeños, or whatever else you like.
Do you have more chuck roast recipes?
Why, of course we do! They're such a popular cut of meat, we have a wide number of recipes that feature this delicious cut. Most of them are a bit more conventional "pot roast" themed than this one, but they're all delicious.
If you'd like to see more chuck roast recipes, just click this link.
Let's get on to the recipe now – thanks for reading all of our notes! If you have questions or other feedback, be sure to leave us a note or a rating below. We do appreciate your checking it out, and hope to see you soon at Lake Geneva Country Meats!
3.5 – 5 lb Boneless Beef Chuck Roast
1 Tbsp Kosher Salt
1 Tbsp Ground Cumin
1 Tbsp Chili Powder
1 tsp Garlic Powder
1 tsp Onion Powder
1 tsp Black Pepper
1 tsp Oregano
3 cup Beef Broth
1 cup Apple Cider Vinegar
1 Yellow Onion
4 clove Garlic
Mix together all seasonings, and generously season your beef chuck roast with the seasoning recipe above, or your favorite seasoning rub. Let sit at room temperature as you prepare your smoker.

Set up your smoker to cook using indirect heat at 275ºF and use hickory, oak, or similar wood for smoke.

Take a 9 x 13 (or similar) disposable aluminum tray and add in the beef broth, apple cider vinegar, diced onion, and minced garlic. Place the seasoned beef chuck roast in the tray and place on the smoker.

Cook for about 4 hours until the beef chuck roast reaches 155ºF internal temperature. Once the chuck roast reaches this temperature, tightly wrap the aluminum tray with aluminum foil and return to the smoker. Cook for another approximate 2 hours until the beef reaches 200ºF internal temperature, then remove from the smoker.

Let the beef rest for 15 minutes, then shred the beef into a bowl.

If desired, skim off the fat from the cooking liquid, and pour liquid and cooked onions and garlic into the shredded beef.

Serve the shredded smoked beef chuck roast with your favorite BBQ side dishes. See our notes above for suggestions. This is a delicious and versatile recipe – enjoy!