Living in the Midwest in the summer gives us a bounty of fresh ingredients, and this Tomato Corn Chicken Skillet recipe takes advantage of some of the ripest ingredients from our local produce growers. If you love the taste of summer, you'll love this versatile chicken skillet!
One of the wonderful things about this recipe is that it produces a meal that can be served in a variety of ways to suit your diet and tastes. It's great on rice, served on a salad, or can be eaten all by itself!
Our Tomato Corn Chicken Skillet can be cooked either indoors or outdoors, and while it is a summery recipe that does best with fresh, local ingredients, it can also be cooked in the winter to bring a taste of sunshine to darker days!
Keep reading to learn more about ways you can make this recipe your own, as well as tips and tricks for making it delicious, or feel free to scroll down to the ingredient list to get cooking!
How do you cook this Tomato Corn Chicken Skillet?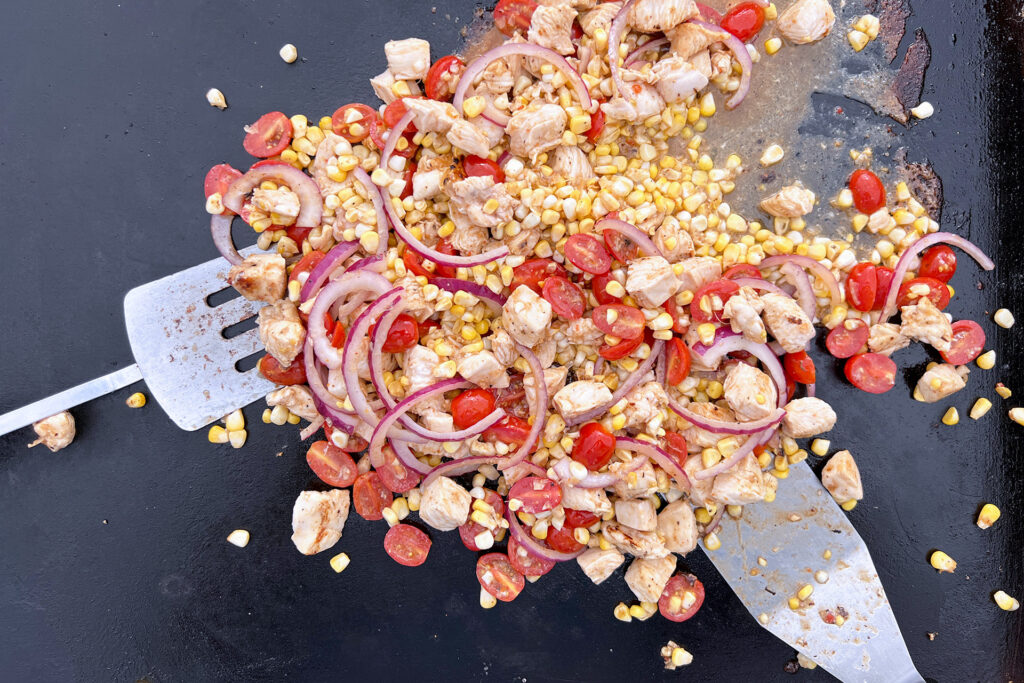 As we mentioned above, you can cook this Tomato Corn Chicken Skillet either inside or outside.
When I cooked the recipe, I made it outside on my 36″ Blackstone Griddle. It cooked quickly and didn't heat up the house on a hot summer day. If you like griddled food and outside cooking, I highly recommend Blackstone's products. Check out the picture above to see what the recipe looked like while it cooked.
This recipe can also be cooked on a griddle pan over a traditional charcoal or gas grill. I recommend and use this Lodge Pre-Seasoned Cast Iron griddle that can be used outside or inside. If you make a purchase using our links, we'll get a small commission, so thank you for your help!
If you prefer cooking inside, you can make this recipe by using the griddle I recommended above over your burners. In a pinch, you could even cook this recipe in a cast iron skillet – you just won't have much room, so cut the recipe quantities in half.
The recipe is written to work on a flat top griddle. Whether you're cooking inside or outside, the directions should work for you!
How do you serve this Tomato Corn Chicken Skillet?
Another wonderful feature of this recipe is you can serve it in many different ways. While I chose to serve the skillet over cooked white rice, there are many alternative ways to serve this meal. Here are four suggestions:
Quinoa is a conscious alternative to rice that is another option to serve your Tomato Corn Chicken Skillet over to enjoy the meal as a bowl.
This mixture is delicious when served over a fresh salad – chopped romaine gives it a crunchy characteristic while fresh summer mixed greens give it a lovely bite.
If you like eating Middle Eastern-style, try having the skillet served in a bowl with pita bread surrounding it. Scoop up bites of the mixture into the pita and enjoy.
Finally, you don't have to serve our Tomato Corn Chicken Skillet over anything – it's great on its own!
What the heck is halloumi and do I need it for this skillet?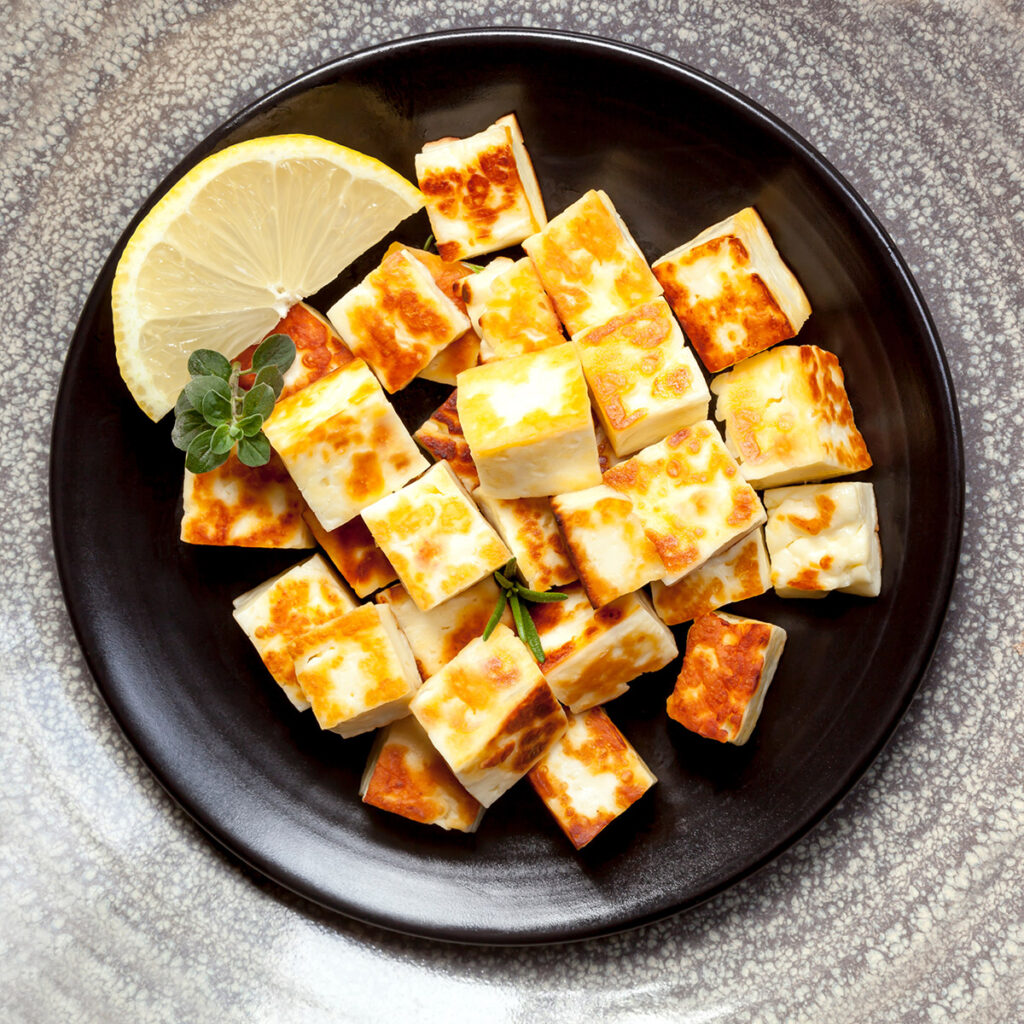 Halloumi is a traditional cheese made from a mix of goat, sheep, and / or cow's milk from the island of Cyprus in the Mediterranean Sea. It is a dense and squeaky cheese with a high melting point so it is perfect for frying or grilling – think saganaki as an example of a dish that can be made from hallloumi.
Adding grilled halloumi to this skillet adds a salty, crunchy, and gooey element to the meal that is completely delicious and a lovely addition to the overall flavor of the dish. However, if you don't like cheese, or can't locate halloumi, you can skip this part of the Tomato Corn Chicken Skillet.
Is this Tomato Corn Chicken Skillet spicy?
No, this Tomato Corn Chicken Skillet recipe is not spicy. If you like spicy food and would like to spice it up, here are a few suggestions to add spice to the recipe. You can use all, some, or none of these ideas to get the finished meal to your desired level of spiciness:
Season the chicken with a spicy marinade instead of Italian dressing. A buffalo-style marinade would spice this dish up beautifully.
Use chili powder to season the vegetables instead of paprika to bring more heat to the vegetables.
Include diced jalapeño peppers with the corn, cherry tomatoes, and red onion to bring a spicy pepper to the dish.
What other ingredients could I add to this recipe?
There are a ton of other ingredients you can add to our base Tomato Corn Chicken Skillet recipe to make it your own. We already mentioned different ideas for serving and ideas to spice up the dish, but here are a few other ingredients you could add or substitute for this dish:
If you prefer pork to chicken, diced up pork tenderloin or loin meat would work well in this recipe as well.
For the veggie lovers, here are a few additional vegetables that would work along with the corn, tomatoes, and onion:

Diced yellow squash
Diced Zucchini
Sliced Mushrooms

For a more satisfying bite, try topping this skillet with a few pieces of tortilla strips. The crunchiness is lovely with all of the cooked vegetables, chicken, and cheese!
Can I make this Tomato Corn Chicken Skillet without fresh corn?
Yes, of course you can. While fresh from the farm corn on the cob is amazing, it's not always available. Substituting defrosted corn kernels from a frozen bag of corn is just fine as well!
We hope we answered all of your questions about this recipe and also gave you some ideas on how to make our Tomato Corn Chicken Skillet your own. Did you read through this recipe and decide that you are looking for something different? You can find all of our chicken breast recipes right here.
On to the recipe – we hope you like it, and we hope to see you soon at Lake Geneva Country Meats. Oh, and if you have any questions or suggestions on this recipe, please leave us a rating or comment below. We appreciate your feedback!
1.5 Boneless Skinless Chicken Breast

(cut into 1″ cubes)

1 cup Italian Dressing
2 cup Corn Kernels

(shucked from 2 – 3 ears corn or from frozen)

2 cup Cherry Tomatoes

(halved)

1 Red Onion

(small – thinly sliced)

1 Tbsp Vegetable Oil
2 tsp Apple Cider Vinegar

(or white vinegar if preferred)

1 tsp Kosher Salt
1 tsp Ground Paprika

(or chili powder for more flavorful version)

1 tsp Black Pepper
1 piece Halloumi Cheese

(about 12 ounces – cut into 2″ cubes)

1 Cucumber

(seeds removed and cut into small pieces)

1 Tbsp Apple Cider Vinegar

(or white vinegar if preferred)

1 tsp Kosher Salt
Rice

(cooked for seving)

Lime

(cut into wedges for serving)

Cilantro

(chopped for serving)
Cut your chicken breast into 1″ cubes and put into a large, sealable plastic bag. Pour in Italian dressing and seal shut. Toss the chicken in the dressing so it is evenly coated, and set aside in refrigerator.

Add the corn kernels, havled tomatoes, and red onion to a small bowl. Add in 1 tbsp. vegetable oil, 2 tsp. Apple Cider Vinegar, and 1 tsp. each kosher salt, black pepper, and paprika. Mix to combine and set aside.

Remove seeds from cucumber and cut into small pieces. Place in a separate small bowl and add 1 tbsp. Apple Cider Vinegar and 1 tsp. kosher salt. Mix to combine and set aside in refrigerator. The combination of vinegar and salt will bring flavor and crispness to the cucumber.

Heat a large griddle / flat top cooking surface to medium-high heat and spray with non-stick cooking spray. Once hot, add the marinated chicken and cook for about 5 minutes, flipping frequently to cook on all sides.

After 5 minutes, add the corn, tomato, and red onion mixture on top of the chicken. Mix together and continue to cook on medium-high heat, flipping frequently, for about another 5 minutes until the chicken is cooked through and the vegetables are soft.

Once the chicken and vegetables are cooked, remove from the cooking surface and set aside. Scrape the surface clean of any excess residue, then add the halloumi cheese and cook for about 2 minutes total, flipping frequently until the cheese is melted. Remove and prepare to serve.

We recommend enjoying your Tomato Corn Chicken Skillet this way:

Start with a bed of cooked rice in a bowl.
Add a generous spoonful of the chicken and vegetable mixture.
Scoop in a few pieces of cucumber and halloumi cheese.
Finish with a squeeze of fresh lime juice and a sprinkle of fresh chopped cilantro for freshness.

Enjoy!