We are excited to announce that we have won 11 medals and the Ehrenpokal des Deutschen Fleischer-Verbandes (honorary trophy of the German Butchers' Association) in the 2016 International Quality Competition for Sausages! This event is considered the most prestigious quality competition in the world. It's held only every three years, and we are proud to have won so many awards in our first time competing. The event takes place in Frankfurt, Germany along with the huge IFFA trade show for the meat industry. We will be flying to Frankfurt in May, 2016 to accept the awards and take part in the trade show!
For many years, it was practically impossible for American companies to enter this competition, due to restrictive importation and security policies. This year, through the efforts of the American Association of Meat Processors, the IFFA judging panel was flown to Madison, Wisconsin to allow for American made products to be entered. Lake Geneva Country Meats entered 11 products and received 549 points out of a maximum 550 we could have received! This effort led to us winning 10 gold medals, 1 silver medals, and the trophy!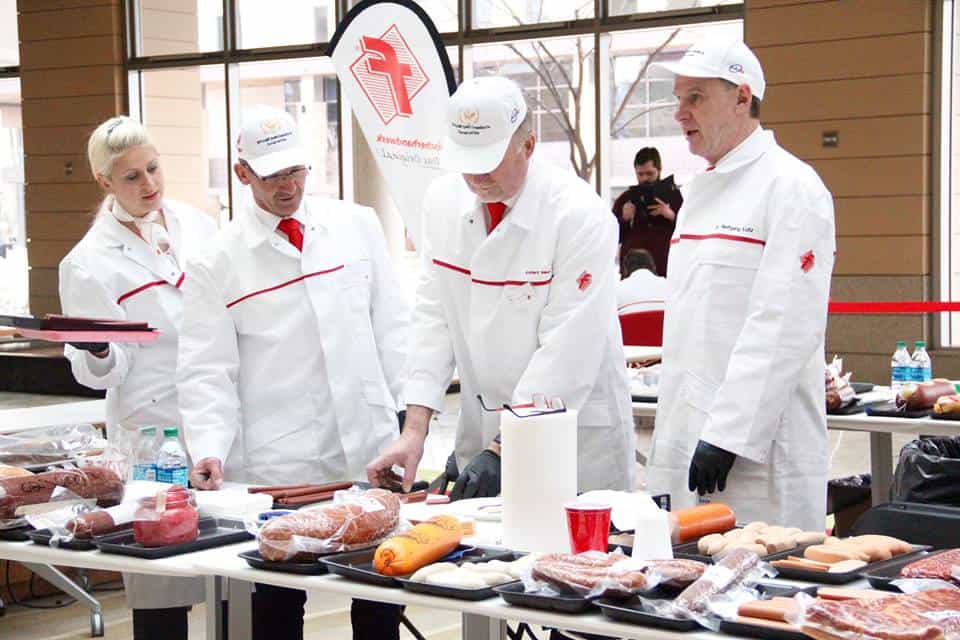 Congratulations to our Master Meat Crafter Jeff and his entire production team for crafting products that have now been recognized not just as state or national award winners, but International Gold Medal winners! Here's the full list of products that won awards:
BBQ Beef Strips – Gold Medal
Cooked Bratwurst – Gold Medal
Cooked Cheddar Cheese & Green Pepper Bratwurst – Gold Medal
Cooked Portabella Mushroom & Swiss Cheese Bratwurst – Gold Medal
Liver Sausage – Gold Medal
Old Fashioned Jerky – Silver Medal
Smoked Bacon – Gold Medal
Smoked Bacon, Cheddar Cheese & Jalapeno Bratwurst – Gold Medal
Smoked Cheddarwurst – Gold Medal
Smoked Flank Steak – Gold Medal
Ultimate Bacon (Canadian Bacon Wrapped in Bacon) – Gold Medal
UPDATE: Click here to check out pictures from our trip and of the awards!