Lake Geneva Country Meats is excited to announce a new open-class food competition at the 2023 Walworth County Fair!
Called "Taste of Walworth County," this competition challenges you to showcase your cooking and baking skills while utilizing local products.
To participate, you must register by Friday, August 4th, and bring your entry to the fairgrounds on Wednesday, August 30th.
Lake Geneva Country Meats is sponsoring a challenge to make an appetizer using any of our bratwurst flavors as an ingredient! This open class exhibition is open to all individuals regardless of age from anywhere in the USA.
Oh, we should mention…the best entries win cash prizes!
You can find complete rules and instructions on how to enter by visiting the Walworth County Fair's website. To get specific rules on the Taste of Walworth County contest, visit this link.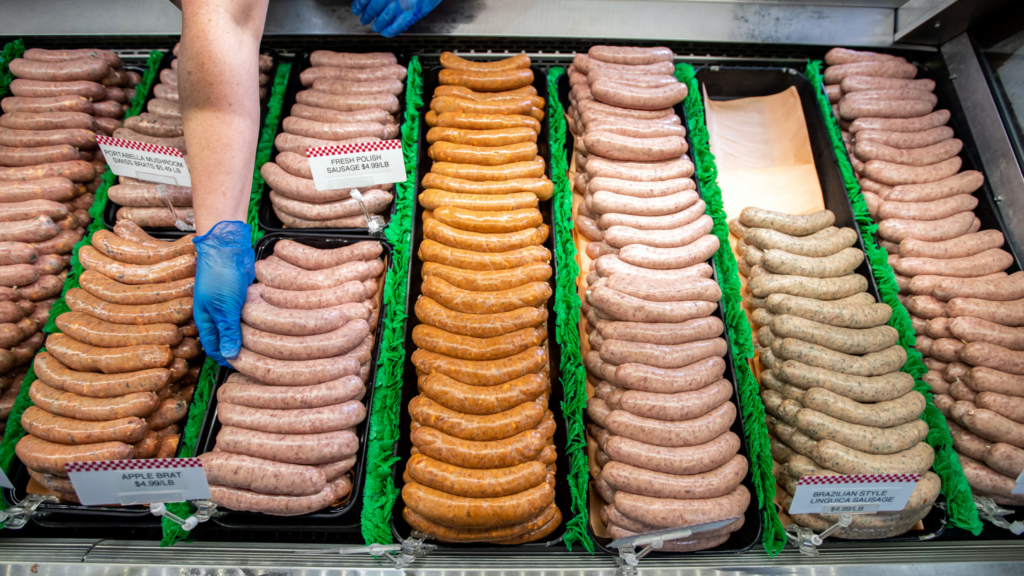 Here's a list of bratwurst flavors we will have fresh from Wednesday, August 23rd to Tuesday, August 29th. These are the flavors you'll be able to get any quantity of from our fresh case. You can also use flavors from our freezer or pre-cooked brats as well:
Apple Bratwursts – made with a touch of apple sweetness, these could be a delicious addition to a tart!
Badger Bratwursts – these are made with a sweet and tangy seasoning, mild pimiento peppers, and Wisconsin mozzarella. These red & white brats support Badger High School!
Cheddar Cheese & Green Pepper Bratwursts – a green and gold treat with mild bell peppers and gooey cheddar cheese.
Cherry Bratwursts – our top-selling sausage; many have tried to imitate this, but no one has gotten the savory and slightly sweet flavor is unbeatable!
Chicken Hot Wing Bratwursts – this chicken sausage has all the flavor of hot wings. There are a ton of applications for this sausage in an appetizer!
Chili Bratwursts – chili con carne seasonings and cheddar cheese. These aren't too spicy, but could add a nice kick to a dish without overpowering other flavors.
Chorizo Sausage – our all-pork take on the Mexican sausage.
Jalapeño Popper Bratwursts – loaded with spicy cheese and jalapeños, this spicy brat would be a terrific filling for a jalapeño sausage!
Mild Italian Sausage – made with fennel and Italian seasonings, this is a lovely filling for calzones and similar dishes.
Onion & Garlic Bratwursts – a richly seasoned bratwurst that will add "oomph" to any dish.
Pizza Bratwursts – we can't wait to see what you come up that uses this sausage loaded with tomato, mushroom, onion, pepper, and mozzarella cheese!
Polish Sausage – a traditional Polish-style sausage that's terrific in pierogi!
Portabella Mushroom & Swiss Cheese Bratwursts – the mushrooms come from River Valley Ranch and add tremendous savoriness to any dish!
Traditional Bratwursts – the award-winning traditional sausage.
To guarantee your sausage is available for you, we do recommend calling 262-248-3339 option 3 and reserving your preferred sausage. We make thousands of pounds of sausage each week, but when you're entering a competition, it's best not to take a risk that we sell out of your flavor!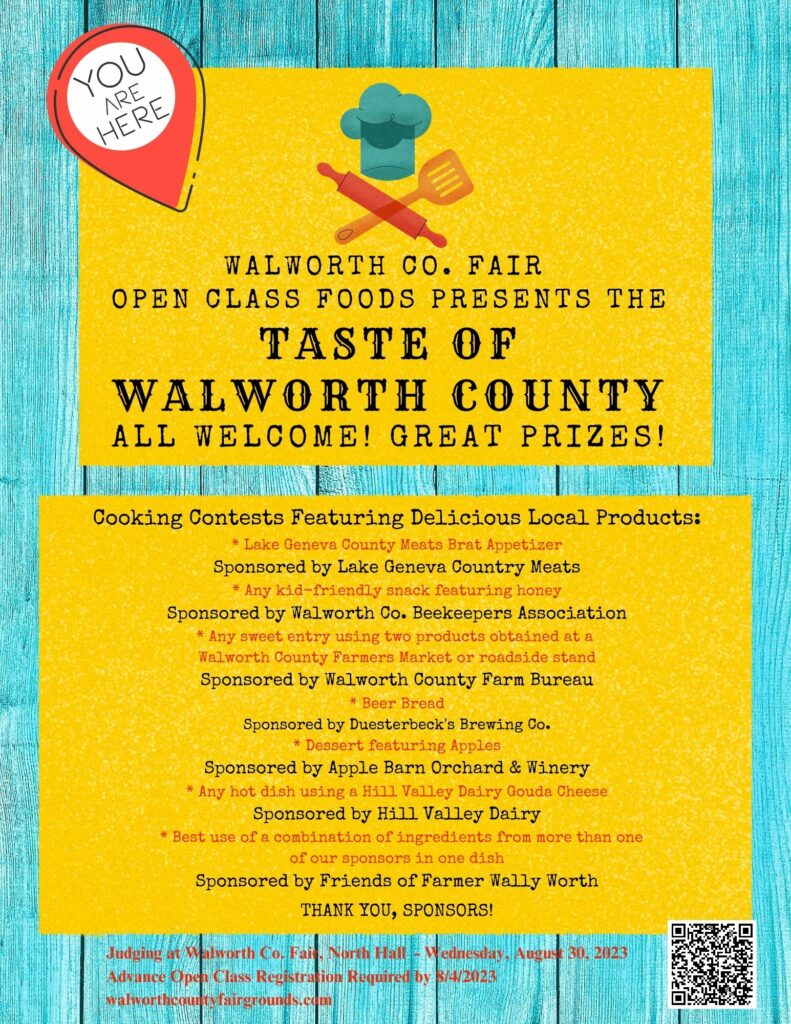 We aren't the only sponsors of this competition! Other categories include:
Any kid-friendly snack featuring honey, sponsored by the Walworth County Beekeepers Association.
Any sweet entry using two products obtained at a Walworth County Farmers Market or roadside stand, sponsored by the Walworth County Farm Bureau.
Beer bread, sponsored by Duesterbeck's Brewing Co.
Dessert featuring apples, sponsored by Apple Barn Orchard & Winery.
Any hot dish using a Hill Valley Dairy Gouda Cheese, sponsored by Hill Valley Dairy.
Best use of a combination of ingredients from more than one of our sponsors in one dish, sponsored by friends of Farmer Wally Worth.
Thanks for reading – we'll see you at the Walworth County Fair!