Instead of getting together in person to create great wine and food experiences during Lake Geneva Festival of Wine, Nick Vorpagel from Lake Geneva Country Meats, and Chef Nelly Buleje from Grand Geneva Resort and Spa connected online to make a dish that paired perfectly with Black Stallion Pinot Noir.
Moderated by Bridget Leech, the LGCM Marketing Manager, this cookoff featured two delicious pork dishes. Chef Nelly opted to make a Five Spice Pork Belly with a sweet potato puree, Brussels sprouts, and an apple slaw, while Nick made Pork Chops with a Spanish Sofrito-style sauce. Each of the dishes used the acidity and savory fruit flavors in the wine to complement the fat and flavor of the pork. You can watch the cookoff below, and get recipe information below the video.
Chef Nelly's Chinese 5 Spice Pork Belly with Sweet Potato Puree, Brussels Sprouts + Apple Fennel Slaw Recipe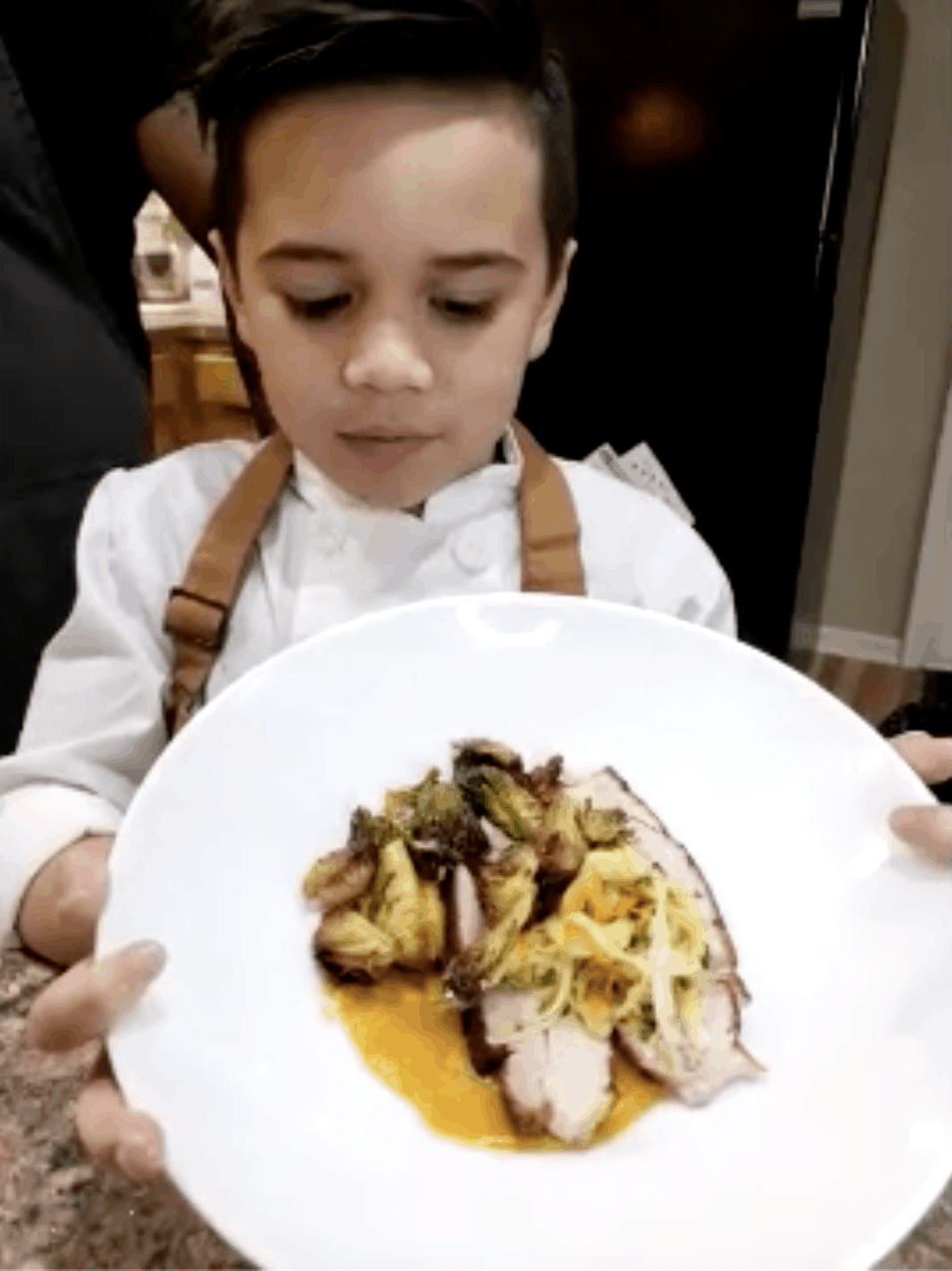 Chef Nelly's young sous chef Jacob presents the finished dish!
Pork Belly
Ingredients:
3 Pounds          Pork Belly (Lake Geneva Country Meats)
1/2 Each           Onion Spanish
6 Each              Clove
6 Each              Garlic Cloves
3 Each              Bay Leaves
3 TBL                Kosher Salt
4 TBL                Brown Sugar
8 Cups              Water
To Taste           Chinese 5 spice, Salt kosher and Fresh Cracked Black Pepper (my recommendation is 1 teaspoon 5 spice and salt and ½ teaspoon pepper)
1/2 Cup            Oil blend
Directions:
Add all ingredients except pork belly into a pot and set on high heat until water comes to a boil.
Once at a boil bring to a low simmer add in pork belly, cover with lid and allow to cook for about 1.5 hour to 2 hours until pork is tenders. (A toothpick should be able to slide in and out with ease)
Once tender remove from water pat dry and score top of belly with ¼ inch deep diamond cut pattern.
Season with salt, fresh cracked pepper, Chinese 5 spice and place in cooler until ready to pan fry.
Pre-heat a cast iron skillet or heavy pan to medium heat with ½ cup of oil and add pork belly scored side in oil.
Cook for about 3 4 to 5 minute each side until golden brown and hot all the way thorough.
Slice into ¼ inch thick pieces and set aside for plating.
Sweet Potato Puree
Ingredients:
2 Each              Sweet Potato Peeled and medium cut
4 Cups              Water
1 TSP                Salt
4 TBL                EVOO
4 TBL                Orange Marmalade
1 TSP                Salt Kosher
4 Ounces          Boiling Water
Directions:
In a small pot add water, salt and cut sweet potatoes and boil on high until very tender. (About 30 to 40 minute)
Drain sweet potatoes but save 4 ounces of liquid and transfer to the rest of the ingredients to a blender and start on low and gradually increasing each setting every 30 seconds until you reach high and your sweet potato puree is nice and velvety.
Brussels Sprouts
Ingredients:
1 Pound            Brussels Sprouts
1 Cup               Vegetable Oil (amount depends on size of pan need enough to about 3 inches of pan/pot)
1 TSP                Salt
To Taste           Black Pepper Cracked
1 TBL                Honey Any Local
1 Each              Lemon (you will use half for zest and half for juice)
1 TBL                Parmesan Grated
Directions:
Fill a large pot with a few inches of vegetable oil. Fit with a thermometer and heat oil to 400ºF. Meanwhile, make the sauce.
When the oil is 400ºF, add 1/2 of the Brussels sprouts and turn the heat to high. Stir sprouts while they are frying. When they float to the top and have a nice golden brown color, about 3 minutes, remove them with a slotted spoon and transfer them to a paper-towel-lined plate. Sprinkle lightly with kosher salt and fresh cracked black pepper.  Bring oil temperature back to 400ºF. Add remaining half of the sprouts to the oil and repeat the process.
Add all the sprouts honey, lemon zest, lemon just and stir in a mixing bowl once well mixed add grated parmesan and toss again.
Note: The temperature of the oil is very important. If the temperature is low or the Brussels sprouts are cold or damp, it will bring the temperature down too low and the sprouts will be soggy, not crispy
Apple Fennel Slaw
Ingredients:
1 Each              Honey Crisp Apple Large (peeled and julienne)
1 Each              Carrot Medium (peeled and julienne)
1 Each              Fennel Bulb Small (sliced thin)
1 Each              Garlic Clove (minced)
6 Leaves           Basil (minced)
6 Leaves           Mint (minced)
10 Each            Chives  (minced)
1 Each              Lemon Zest and Juice
2 TBL                Vinegar
Directions:
Place all ingredients in a bowl and stir well add salt and pepper to taste.
You can serve everything separate or serve plate each one individually enjoy.
Nick's Rioja-style Pork Chops
Nick served his pork chops family style over rice!
Ingredients:
4 piece(s) LGCM Pork Chops ( Use at least 1″ thick bone-in chops.)

Salt

Black Pepper

Spanish Paprika

1 whole Yellow Onion ( chopped)

1 clove Garlic ( diced)

2 whole Red Bell Pepper ( cut into strips)

2 whole Tomato ( chopped)

1 cup Red Wine ( We recommend Rioja!)

2 Tbsp Olive Oil
Directions:
Season your pork chops with salt, pepper and paprika to your taste. Set aside and let them sit at room temperature while you are slicing vegetables and heating oil
Heat 2 tbsp. of olive oil in a large cast iron skillet to medium high heat. Once hot, add the pork chops and sear for about 2-3 minutes per side until browned. Once browned, remove from the skillet.
Add the onions, red peppers and garlic to the same skillet and cook until soft. Once soft, pour in the red wine and tomatoes. Stir the entire mixture together, making sure to scrape up the drippings from the pork chops into the liquid. Add the pork chops back in and bring the mixture to a boil. Reduce the heat to a simmer and cover.
Let cook for 20 minutes until the pork is soft and has reached 145ºF. Once the pork is done cooking, serve the meal over rice and garnish with fresh chopped oregano. Serve with Rioja wine. Enjoy!
---
Thanks for checking out our recap. Which recipe looked best to you? Let us know, and stay tuned for more collaborations!