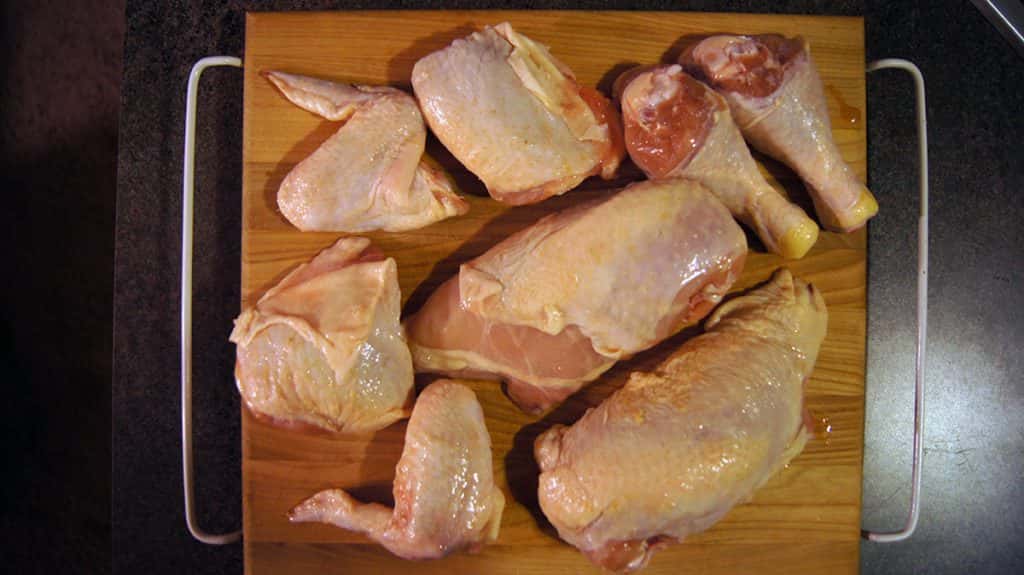 Cheap Eats is a series from LGCM dedicated to helping you eat delicious cuts of high quality meat and seafood without breaking your bank.
What's the Cut?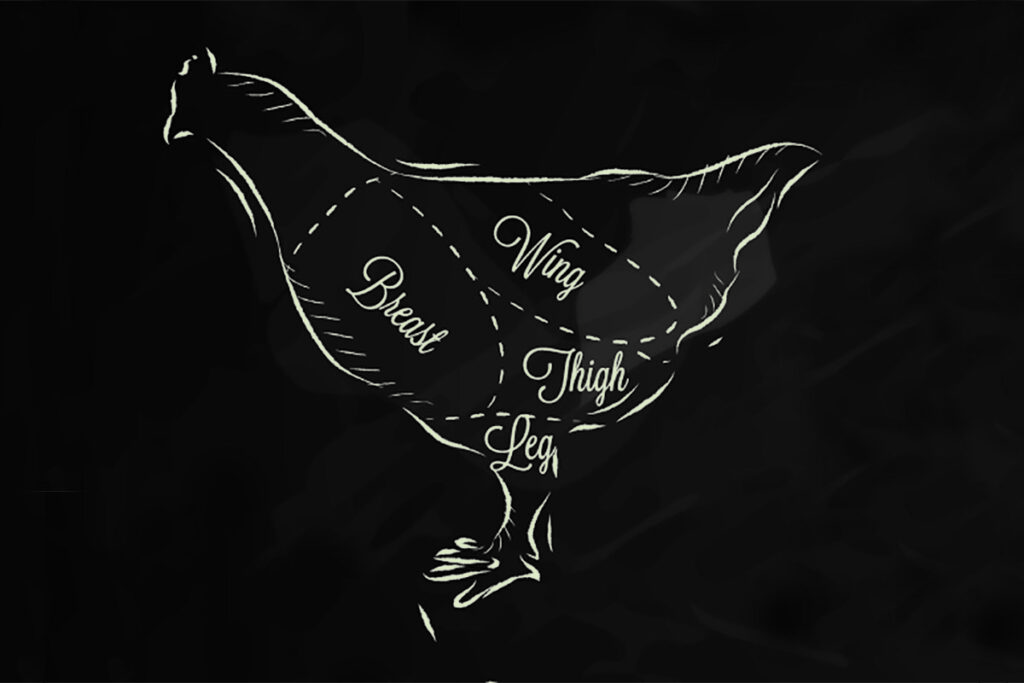 Today we're talking about four delicious cuts of meat in one convenient, affordable package – Cut Up Fryer Chicken! Fryer chickens are young, smaller (3-4 lb.) chickens that are perfect for, what else, frying! You can purchase your fryer chicken whole, or already cut up into 8 pieces. There is such a small price difference, that it's often more convenient to purchase a Cut Up Fryer rather than a Whole Fryer.
When you purchase a Cut Up Fryer Chicken, you get a package with 8 pieces. In the illustration above, you can see the four major parts of the chicken:
You'll get two pieces of each of the above four cuts. You can use the pieces individually, but we like cooking them all at once for an easy and tasty dinner to please everyone in your family.
What does Cut Up Chicken Fryer Taste Like?
Fryer chickens are prized for their tenderness and flavor, and all the parts of these chickens have fantastic flavor. Breasts are lean, white meat, thighs and legs are darker, juicier meat, and chicken wings, well you know what chicken wings taste like! If you're not familiar with Chicken thigh or leg meat, getting a cut up fryer chicken is a great way to try the cuts. Even if you don't like the flavor of these cuts, you still have the familiar breast and wing meat to fall back on!
Why are Cut Up Fryer Chickens Such a Good Deal?
As we talked about in our post about Chicken Thighs, America has a love affair with boneless skinless chicken breasts. Breast meat is so prized that it drives the prices of other chicken parts down. Most people would rather just have breast meat and not deal with legs, thighs or wings. Since you're buying all of the chicken pieces instead of just the favored breast meat, you're paying a lot less money overall.
I especially like that with eight pieces of meat, it's very easy to feed a family or large party quickly with cut up fryers. Instead of having to buy several breasts, you can just buy one cut up fryer and serve the group. This alone is a great way to save you some dollars!
How do I Cook Cut Up Fryers?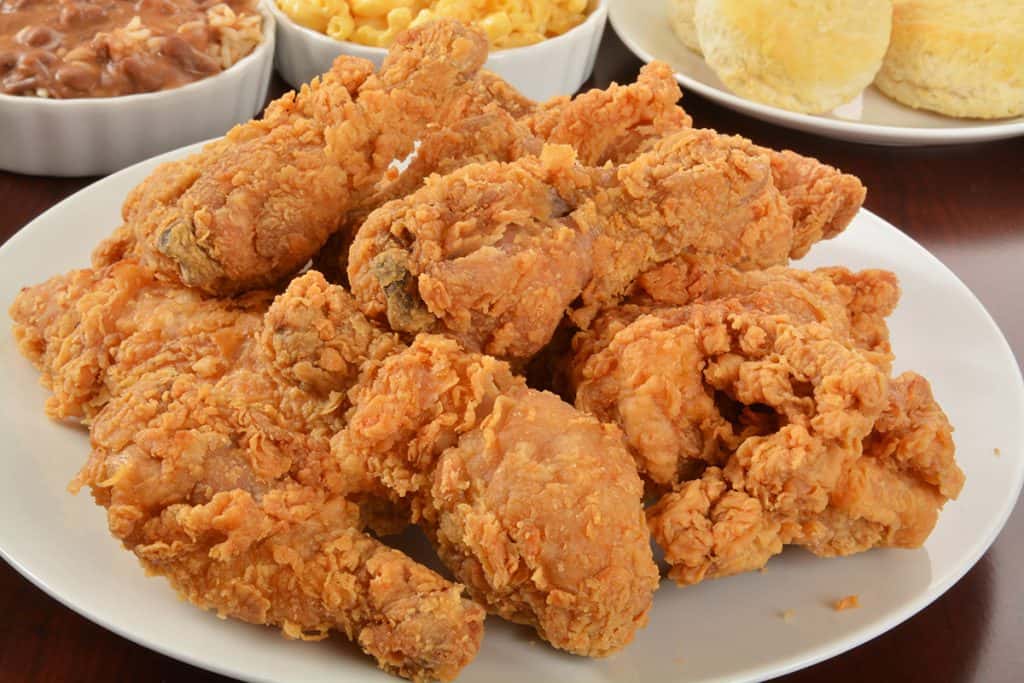 Since you're getting eight pieces of chicken in one package, you need to be careful to not overcook some pieces and undercook other pieces. These recipes hit the balance perfectly. Cut Up Chicken is a super easy way to turn out delicious fried or baked chicken. I love taking one home, seasoning the pieces and then popping it in the oven to bake. The kitchen starts to smell delicious and in an hour I have amazing chicken. Check out all these recipes:
Top Butt is also great as an ingredient in prepared beef dishes like the kabobs you see above. Check out all of our recipes for Top Butts below:
Baked Cut Up Chicken – this is a super simple recipe that turns out so delicious. Just season and bake.
Braised Cut Up Chicken – we build layers of rich flavor with this recipe. Since we're using chicken, the braise is quick and painless. It's a good introduction to braising if you've never tried braising meat before!
Simple Fried Chicken – classic seasonings, classic deliciousness. Perfect for a Sunday dinner or summer picnic.
Spicy Buttermilk Fried Chicken – we take the heat up A LOT with this fried chicken recipe from Tabasco! We use Tabasco sauce and other seasonings to make a spicy chicken fried with a down South buttermilk flavor.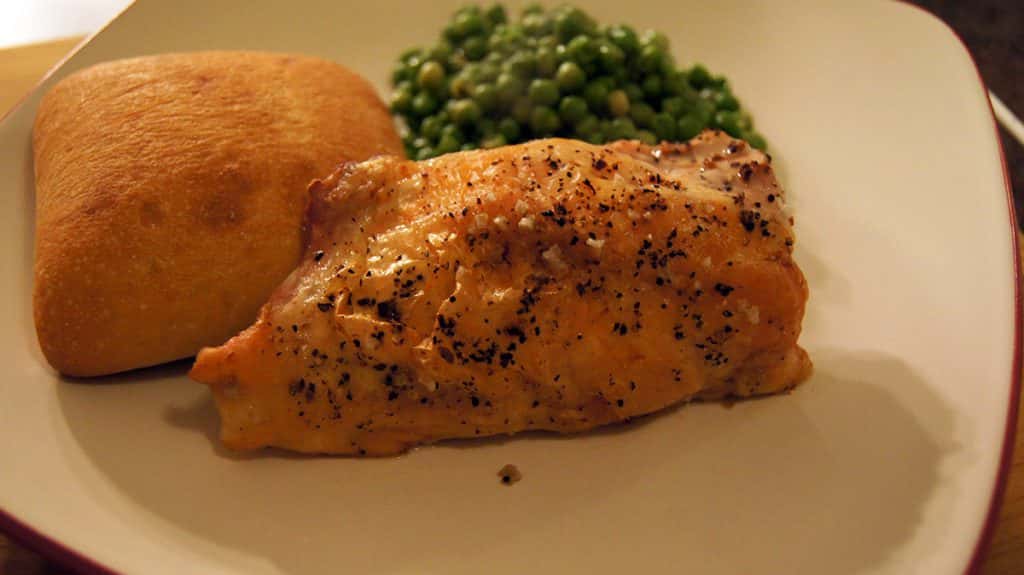 If I Like Cut Up Fryer Chickens, What Are Some Other Cuts to Try?
If you liked the Cut Up Fryer, you have so many options! First, you can purchase a whole fryer chicken, cook it whole and then break it down into pieces for yourself. Here's a great video from the New York Times on how to cut up a chicken. You'll save a little bit more money and have a carcass to make chicken stock with!
Second, you can purchase all the pieces of chicken individually. Chicken breasts are more expensive, but you can stock up on chicken thighs and legs at great prices. We have some awesome recipes for thighs like Slow Cooker Orange Chicken! Click here to check out the recipe. Since they're made of darker meat, Chicken Thighs are a lot more forgiving when it comes to cooking, so feel free to experiment a little bit!
Thanks for reading Cheap Eats, our series dedicated to helping you find budget friendly cuts of meat and seafood. We hope you enjoyed this installment – subscribe to our email list or keep checking our blog to get more great content from LGCM!