Let's face it, learning to be a good barbecue cook is tough. It takes a lot of experience and mistakes along the way, but we think this list of barbecue resources will help you speed up the process of going from novice to pro!
This article contains cookbooks, online communities, and websites that we think are helpful barbecue resources to answer the questions we all have as we're trying to make delicious barbecue. Each resource is one that I have personally used and find trustworthy. We know there are some unhelpful barbecue resources out there, so hopefully this list helps you sift through the bad ones.
Who Am I?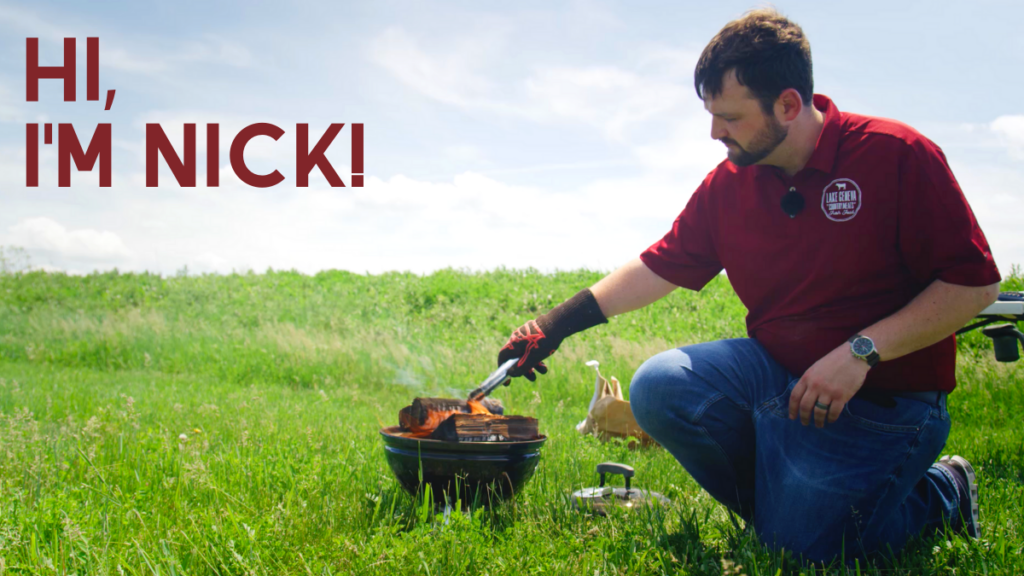 Before our list, I just want to answer the question you may have, which is who am I and why should you listen to my list.
Well, I'm a third generation family member at our butcher shop that has seen a ton of meat go out the door to make barbecue in all forms. I've heard tips from commercial chefs to competition winners to talented home cooks and have been able to learn from a lot of people.
I think my wide-ranging encounters with cooks of all types and knowledge on the meat side of the barbecue game provides me with a perspective to share what's useful in what scenario. And really, a good butcher is one of the best barbecue resources you can have. At Lake Geneva Country Meats, we're always happy to help with your questions!
Barbecue Resources: Cookbooks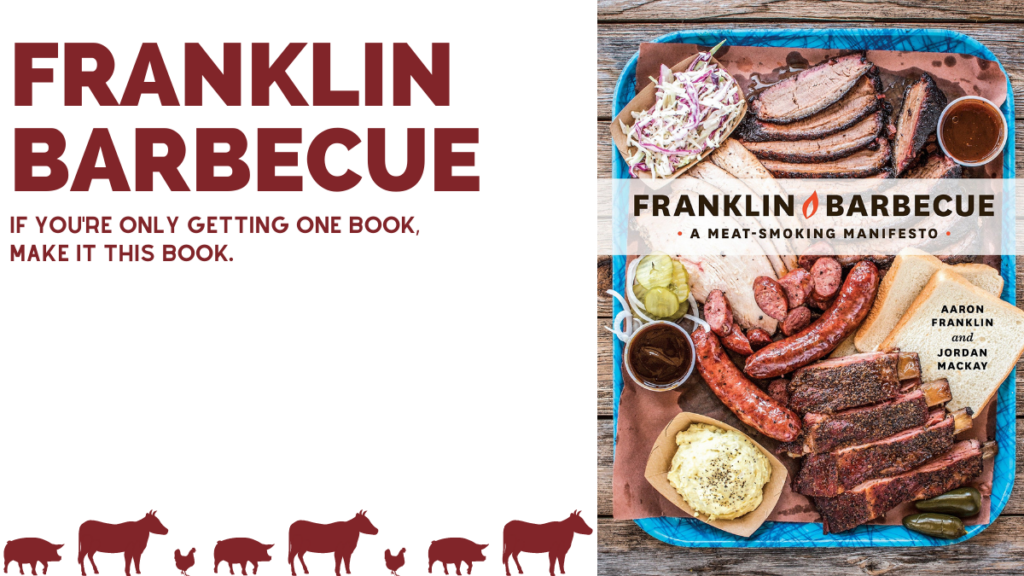 Franklin Barbecue – A Meat-Smoking Manifesto by Aaron Franklin & Jordan Mackay. 
If you're only going to buy one cookbook about barbecue, this is the book. Aaron Franklin is the first person to win a James Beard award for barbecue, and his collaboration with Jordan Mackay is easy to read, entertaining and perfectly detailed. This book includes:
Information about what equipment to buy and how to set up a barbecue cook.
Pro tips on what to look for when purchasing meat to barbecue.
Detailed cooking instructions for pork, beef, and more including rub and sauce recipes.
Serving and eating suggestions.
I cannot recommend this book enough – everything you need to know about barbecue can be found in this book, I promise!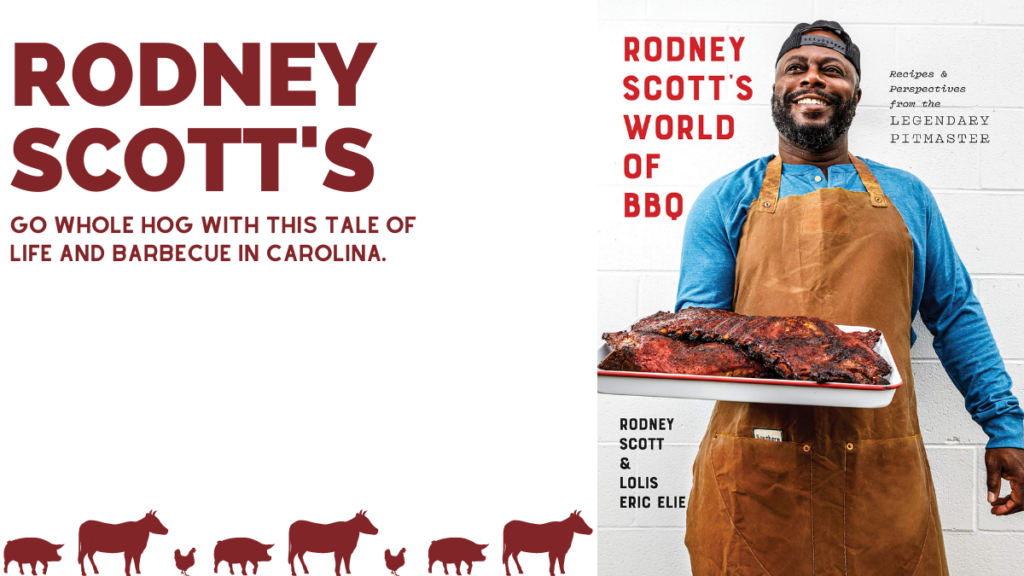 Rodney Scott's World of BBQ: Every Day Is a Good Day: A Cookbook – by Rodney Scott and Lolis Eric Elie. 
Rodney Scott is another James Bear award winner for barbecue, and was also featured on the Netflix's Chef's Table: BBQ series. Rodney takes a different approach from Aaron Franklin's Texas approach. Rodney is known for Carolina-style whole hog barbecue and grew up cooking at his family's barbecue spot: Scott's Bar-B-Q.
In this book, Rodney shares his path to finding his own place in the barbecue world, in addition to teaching you a Carolina approach to barbecue. The book includes:
Instructions on how to build yourself a whole-hog barbecue pit.
Recipes for everything from pit-smoked turkey to ribs to hush puppies!
A wide ranging collection of rub, sauce, and side dish recipes.
Plus some delightfully delicious alcoholic and non-alcoholic drink recipes to complement barbecue food.
This book presents a traditional approach to barbecue from someone who grew up in the pits. I love reading it and recommend it as a book to pick up to broaden your horizons.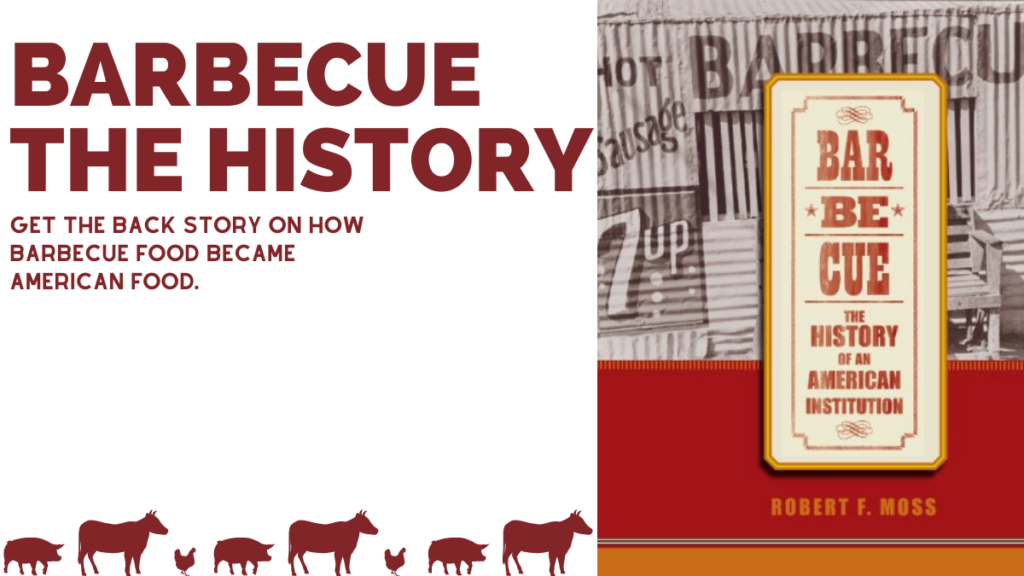 Barbecue: The History of an American Institution – by Robert F. Moss
Just like the title says, barbecue is an American institution, and if you really want to understand the cultural side of barbecue, this book provides context on how barbecue food became American food.
This fun-to-read book covers the history of barbecue from American Indian cooking techniques, to the influence of enslaved individuals who made meals in the South and Caribbean, to the competition barbecue cook-offs of today. Once you're done reading this book, you'll have gained an appreciation for how barbecue came to be, and your predecessors in cooking it!
I'm a bit of a history nerd and a foodie, so this book is right up my alley, but if you want to skip the history, it's no big deal, you'll definitely want to check out the next book though…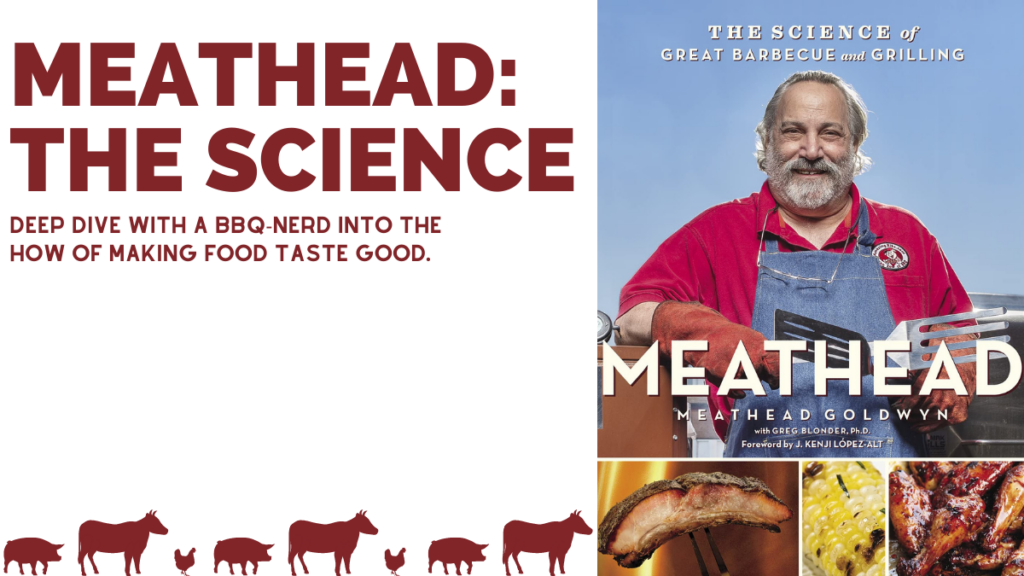 Meathead: The Science of Great Barbecue and Grilling – by Meathead Goldwyn and Greg Blonder, Ph. D.
Did you notice that science is in the title and a Ph. D. is in the author field? Yep, if you love the science of cooking, this is the book for you. Well known for his website (getting to that), Meathead takes an approach to barbecue that is based on science, experiments, and finding the best methods of cooking. No myths and old-wives-tales in this book, just the facts such as:
What does smoke actually do when you're cooking, and what are the best ways to apply smoke.
How marinades and rubs influence meat, and what types of meat are best for barbecue.
The best types of cooking instruments for barbecue and how each one affects your cooking.
Plus lots of recipes for rubs, sauces, pork, beef, chicken, lamb, seafood, and more!
I have this book and refer to it for particularly tricky questions. It's not let me down yet, and this is the book I recommend to people who really want to know the "why" behind how to make great barbecue.
Barbecue Resources: Online Communities
Sometimes you just need to chat it out and you've already exhausted all of your friends. Seriously, they don't care about if you wrapped your ribs at two and a half hours or three hours! But people on these communities will be happy to listen: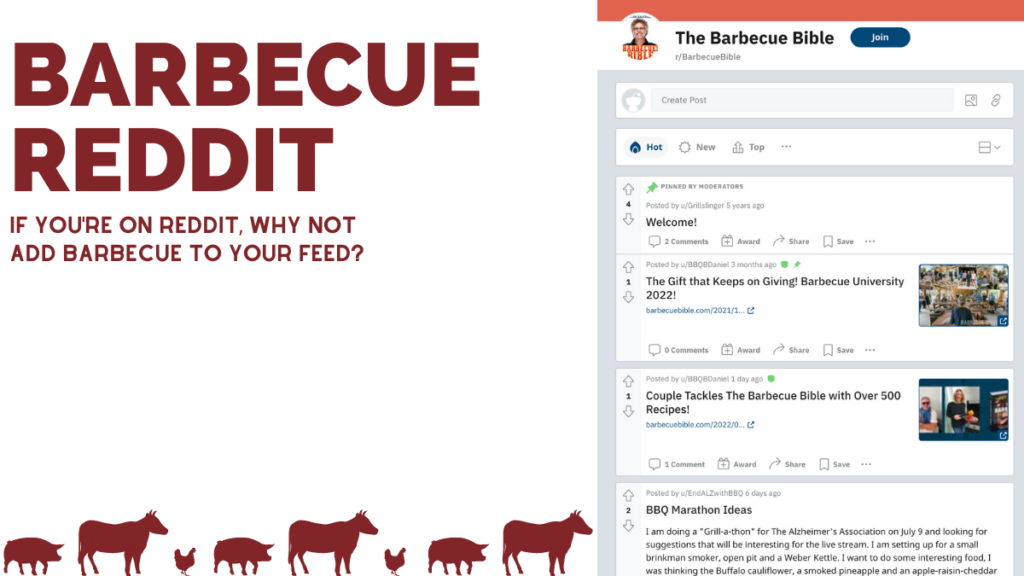 Reddit isn't the social media site for everyone, but Steven Raichlen's (more about him later) subreddit is a great barbecue resource for discussion and answers about all sorts of barbecue topics. Steven himself will pop in to answer from time to time, so if you don't find something on his website (again more on that later), this is a great community to engage in.
For a more general subreddit, r/BBQ is also a great place to visit.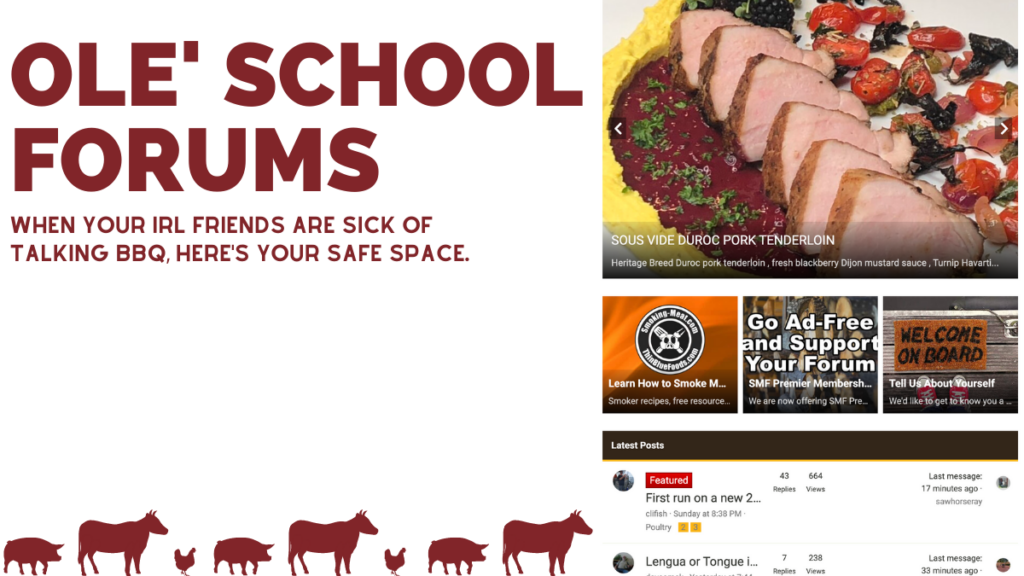 This old-school forum is a great place to engage with other barbecue fiends and get your questions answered. Whether you're looking for advice on equipment, a recipe, or just want to show off your end results, this is a community full of free barbecue resources and camaraderie.
We're also going to give an honorable mention shout-out to a local Facebook group called Show Us Your Meats. This group shares life advice along with providing a positive place for you to talk about your smoking and grilling adventures. It's a breath of fresh air among the sea of more negative groups!
Barbecue Resources: Websites
If you're more of a "I need it now!" or anti-book person, here are web resources we recommend as great barbecue resources!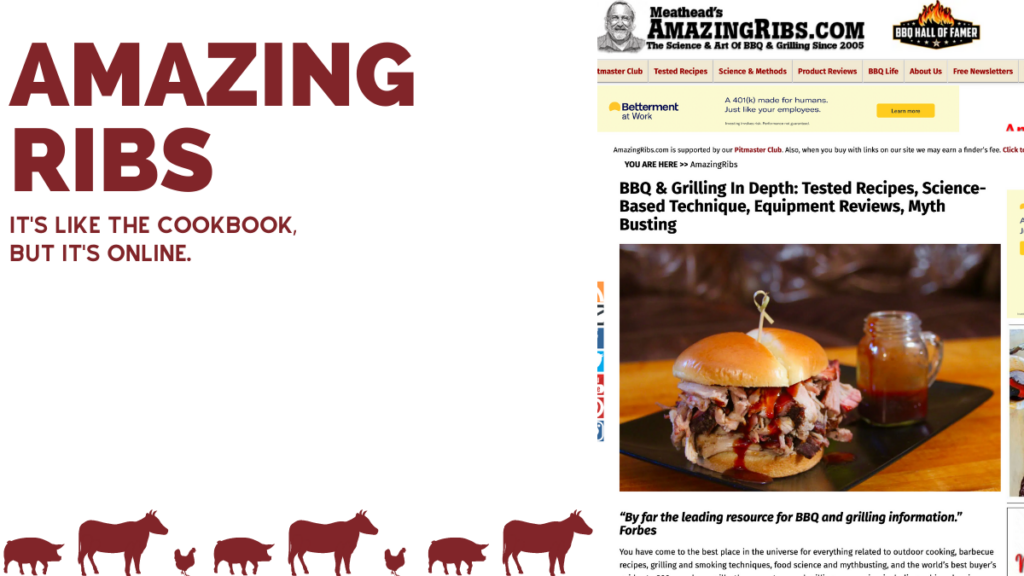 Coming to you from Meathead Goldwyn of the cookbook above, this website is an exhaustive resource for all things barbecue and grilling including:
Tested recipes for a variety of meats and not-meats.
Articles about the science of barbecue and the best methods for cooking.
Reviews of cookers, injectors, charcoal, and lots more.
Plus lots more!
There is a premium version of the site available through Meathead's Pitmaster Club that brings you into a community of barbecue freaks (aficionados?) just like you.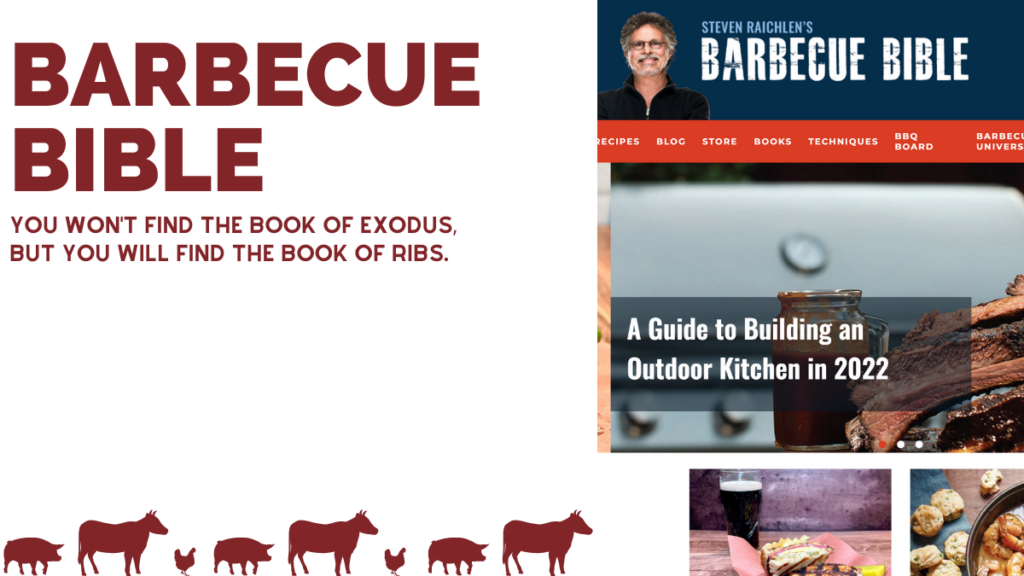 Steven Raichlen is the self-proclaimed "man who reinvented modern barbecue" and to be honest, he's not exaggerating much. Between his books, TV shows, and this website, he is one of the most knowledgable people about barbecue you can find. On his website you'll find:
Recipes from appetizers to vegetables (not quite A to Z, but almost!) for you to make at home.
Steven's blog with timely articles on a wide ranging amount of subjects.
How-to articles and guides.
Plus links to his Barbecue University classes, his many books on a variety of subjects, and all sorts of other barbecue resources.
This website has ever evolving and useful content, so bookmark it, and refer back as needed.  His book The Barbecue! Bible is also an incredible resource if you're a cookbook type of person!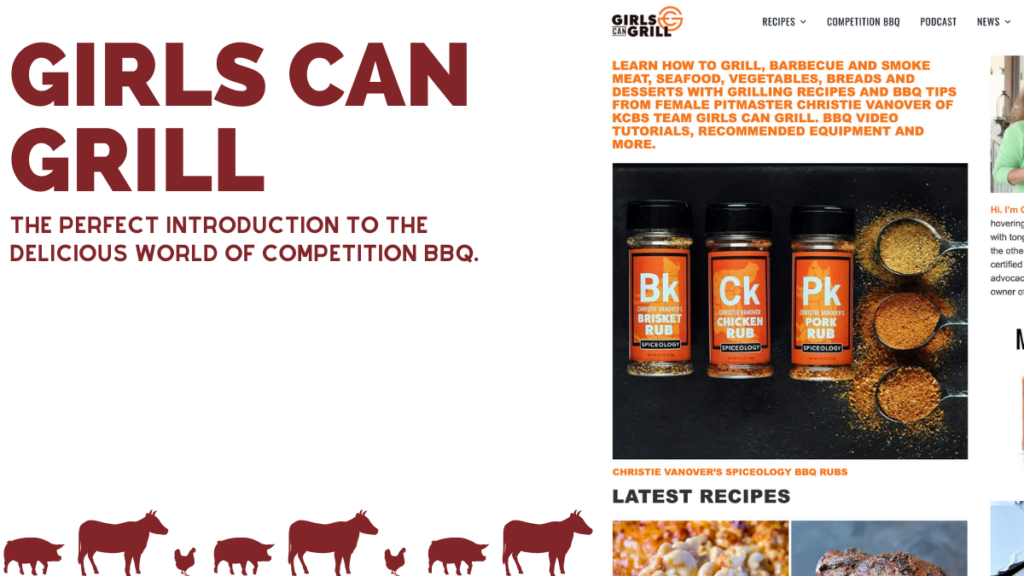 Christie Vanover is a competition barbecue cook, certified barbecue judge, and much more. What's unique about Christie's site is that it focuses on sharing tips for barbecue competitions. If you're looking for barbecue resources that are aimed at people competing in KCBS-style competitions, this site is for you. It includes:
Recipes (of course!)
A shop full of helpful products.
Link to Live Fire Cooking podcast.
Plus, all the information on competition cooking you can want, including a link to join her private Facebook group.
Again – if you want to get into competition barbecue, or just make competition-level barbecue at home for your friends and family, this is the perfect site to check out!
---
That wraps up our list of barbecue resources for you. We hope you find it helpful as you work to step up your barbecue game. There's always that little bit better you can do, and that's part of the fun with barbecue: no one may ever cook perfect barbecue, but we can all try!
If you're looking for more barbecue information from Lake Geneva Country Meats, you can visit these pages:
Do you have a cookbook, community, or website that you think is a particularly useful? We'd love to have you share with everyone else. Just leave a comment below with your favorite barbecue resources – we all will appreciate it.
Cheers!
Nick