If you're ready to start making your own delicious BBQ at home, you are going to need some special tools, and we think these are the best tools to cook BBQ!
In this post, we are talking about B-B-Q type foods, you know pulled pork, smoked baby back ribs, Texas-style beef brisket, foods cooked low and slow with smoke, not just any old food cooked outside on the barbecue.
When you talk about the best tools to cook BBQ, you probably need to start with smokers. However, that discussion is way more than we want to bite off, so for this post, we're not going to talk about smokers.
Instead of getting in the debate of who makes the best smoker, in this list, we're going to share my personal suggestions on what tools you need in four areas of BBQ:
Prep Work
Fire
During the Cook
Serving
Let's get our best tools to cook BBQ list going by sharing a few of the tools we use for our BBQ prep work.
The Best Tools to Cook BBQ: Prep Work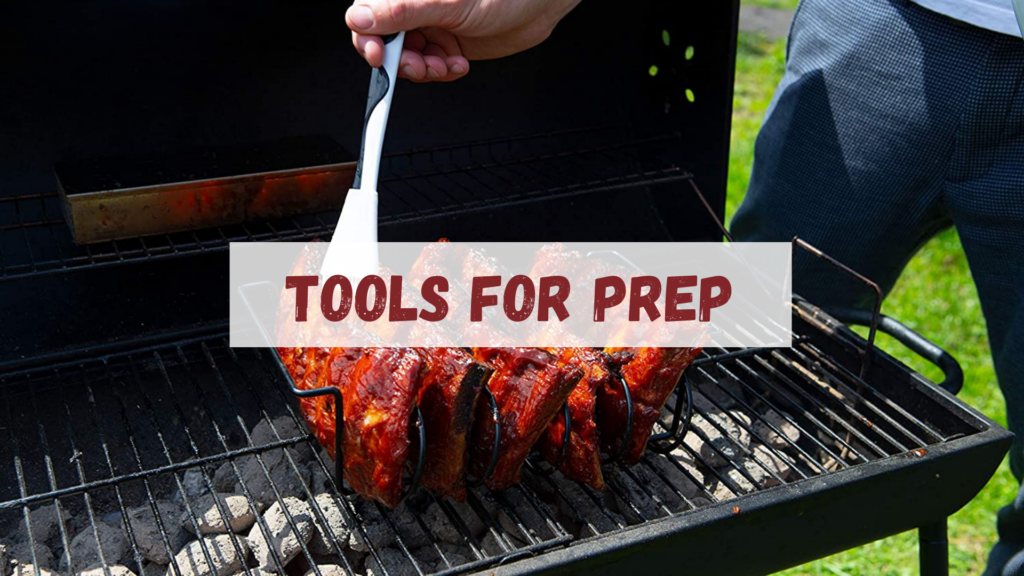 I am not going to talk about the two most important parts of BBQ prep work in this section. Those two parts are buying good meat and seasoning. Here's why I'm not going to talk about those items:
You should just buy your meat at LGCM (or if you're not local, your quality neighborhood butcher), and buying good meat is taken care of!
There are a ton of seasoning companies out there, and it's a matter of personal taste. I particularly like Lillie's Q and Spiceology, if you're looking for recommendations on quality BBQ spice manufacturers.
Instead, I'm going to share six products that I regularly use as I get my meats ready to BBQ. Here they are:
The Best Tools to Cook BBQ: Fire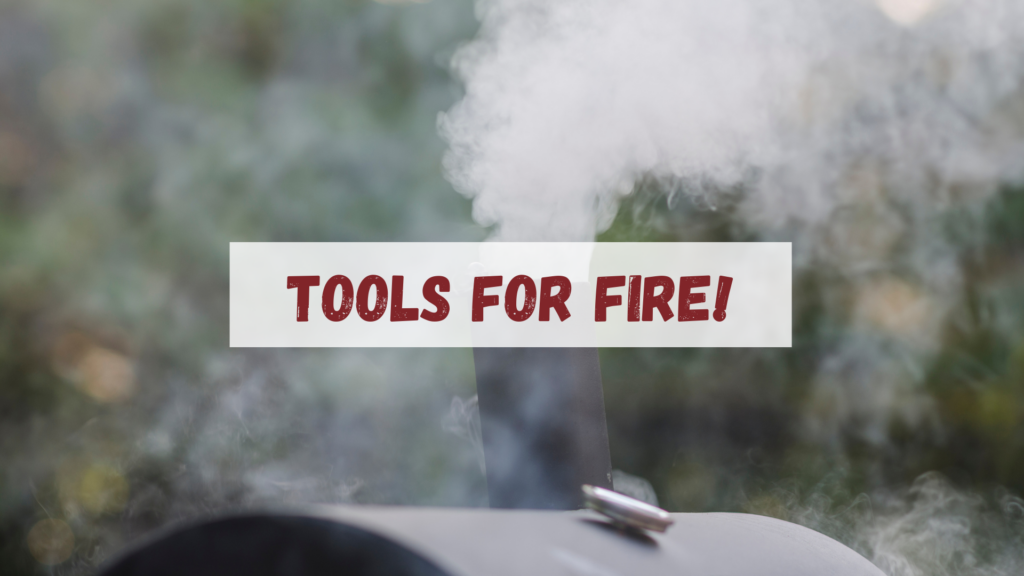 BBQ without smoke is a little incomplete, although you can make BBQ without a smoker if you want. Here are three different products that I recommend to get your fire going:
Char-Broil Stainless Steel Smoker Box – Before I had a smoker, I used a smoker box like this one to smoke food on a gas grill, no smoker required! Just fill with your favorite wood chips and put on the burner.
GGC Electric Charcoal Fire Starter – I love these – if your smoker is within reach of electricity, an electric fire starter like this one will get your fire going in mere seconds!
Tumbleweeds Firestarters – Unfortunately, my smoker isn't convenient to electricity, so I use these firestarters to get a fire going with very little fuss.
For charcoal, I like to use natural lump charcoal. It burns well, gets nice and hot if you want it to, and also gives off a natural smoke without having to add wood chunks. My preferred brands are:
Big Green Egg
Humphrey
Royal Oak
When you want to add wood smoke, I generally prefer using wood chunks instead of wood chips as I think they give off a more even and clean smoke. There are many guides on what wood to use for different types of flavor, but after testing, I like to keep things simple. Here's what I use:
Apple for chicken. Apple is a light smoke with a bit of sweetness. It will add to the chicken and not overwhelm it, which is exactly what I want.
Pecan for pork. Pecan is actually a type of hickory, but with a more mild flavor. It adds a moderately sweet flavor and moderate color, which works nicely for pulled pork and ribs.
Hickory for beef. Hickory has a rich smoky flavor and adds a deep color to food, perfect for brisket, smoked short ribs, or any other beef you decide to smoke.
There are a ton of places you can buy wood chunks or chips, but if you're looking for an excellent quality, like having things shipped to you, or need something special, I think Camerons makes a great product.
The Best Tools to Cook BBQ: During the Cook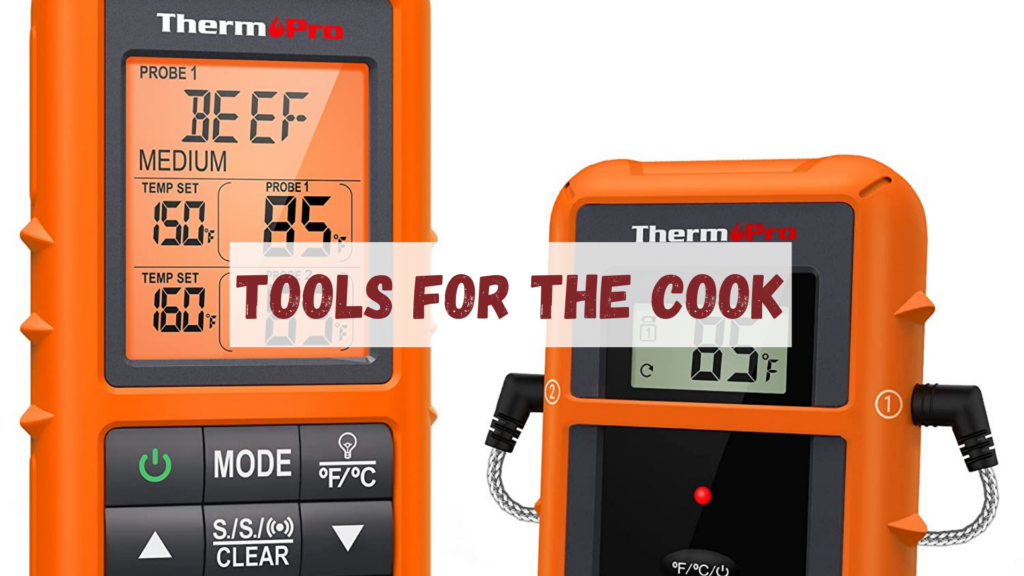 While you're cooking BBQ, there's not a ton to do other than keep things moist and make sure you don't burn the meat. Here are my three tools I like to use to accomplish those tasks:
Miso Grill Basting Mop – There's a difference between a grill mop and a brush. Grill mops are made to perfectly mop sauce or dip onto your meats while you're smoking. The 18 inch handle keeps your hands away from the heat, which is important!
Spray Bottles – I think spritzing food is incredibly important when you're doing a long slow smoke. It helps keep things juicy and flavorful. I use heavy duty spritzers because I frequently drop them by the grill and I don't like that the cheap ones break.
ThermoPro Wireless Meat Thermometer – I can't stress it enough: a quality meat thermometer is essential to monitor temperature and cook your meat to the right doneness. You can buy a variety of levels of fancy probe, but I like (and use) this wireless one from ThermoPro.
The Best Tools to Cook BBQ: Serving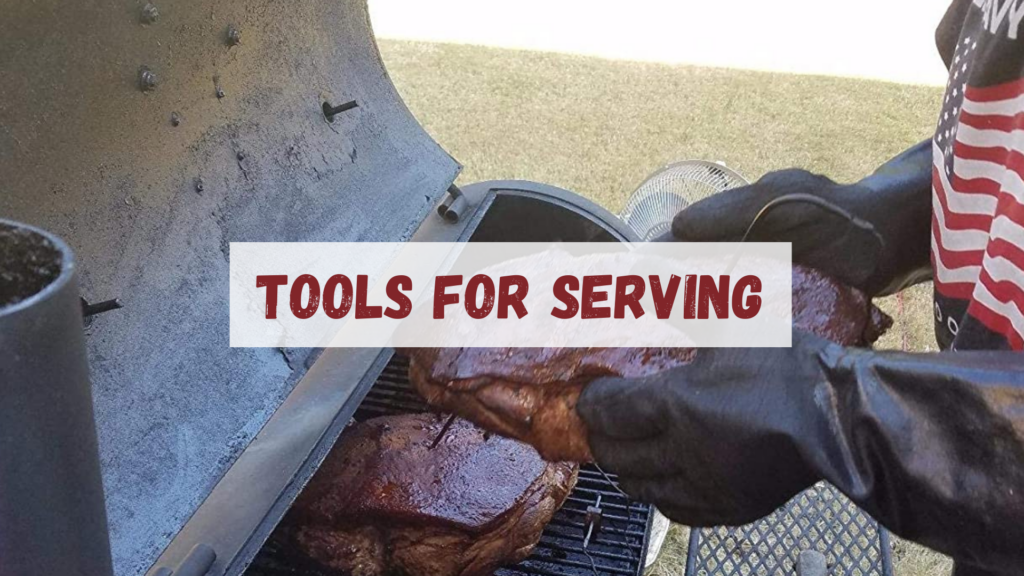 Finally, when it comes time to pull that BBQ off the smoker and get it ready to serve, here are a few products that I am constantly using.
Oversized Carving Board with Grooves – I hate carving a brisket and having it slip away or having juices go all over. This bamboo carving board fixes those problems. It's a really neat product and works great for all types of larger cuts of meat!
Rapicca Heat Gloves – I like to use my hands while cooking to pull grill grates, flip food, pull pulled pork, all sorts of things.  If you're like me, get a pair of quality heat gloves and save yourself from being burnt. I use these because I like how easy it is to clean off the rubber, the soft liner inside, and the overall fit.
Silicone Tipped Tongs – Silicone tipped tongs are better for BBQ. You've worked hard to make a product that looks and tastes good, so don't ruin them by having the product get cut by metal tongs. Silicone tongs grip better, and are gentler on the food. This grill length set also keeps your hands out of the fire!
If you're looking for more BBQ information beyond just the best tools to cook BBQ, here are a few more resources from Lake Geneva Country Meats:
Do you have a favorite tool that you use to cook BBQ? We'd love to hear what you think the best tools to cook bbq are. We learn new things constantly, and we all love learning from our fellow BBQ lovers. Just leave us a comment below with your feedback, it's much appreciated.
Speaking of much appreciated – if you make a purchase using one of our links, we'll get a small commission. It helps us keep the site going and pay for the time we spend creating delicious content like this piece.
Cheers!
Nick