Skirt steak is a cut of beef that makes for some of the most flavorful and easy-to-prepare steak tacos you can eat. Many cuts of beef can be used for steak tacos, but we are big fans of skirt steak, or as it's known in Mexico, arrachera.
This simple skirt steak taco recipe uses a grilled and lightly marinated skirt steak as the base for traditionally topped tacos. This is an easy recipe, so you can probably skip to the ingredients and get cooking.
If you want to learn more about skirt steaks, how we recommend cooking them, plus learn more about how we like to serve these skirt steak tacos, check out the answers below!
What is skirt steak?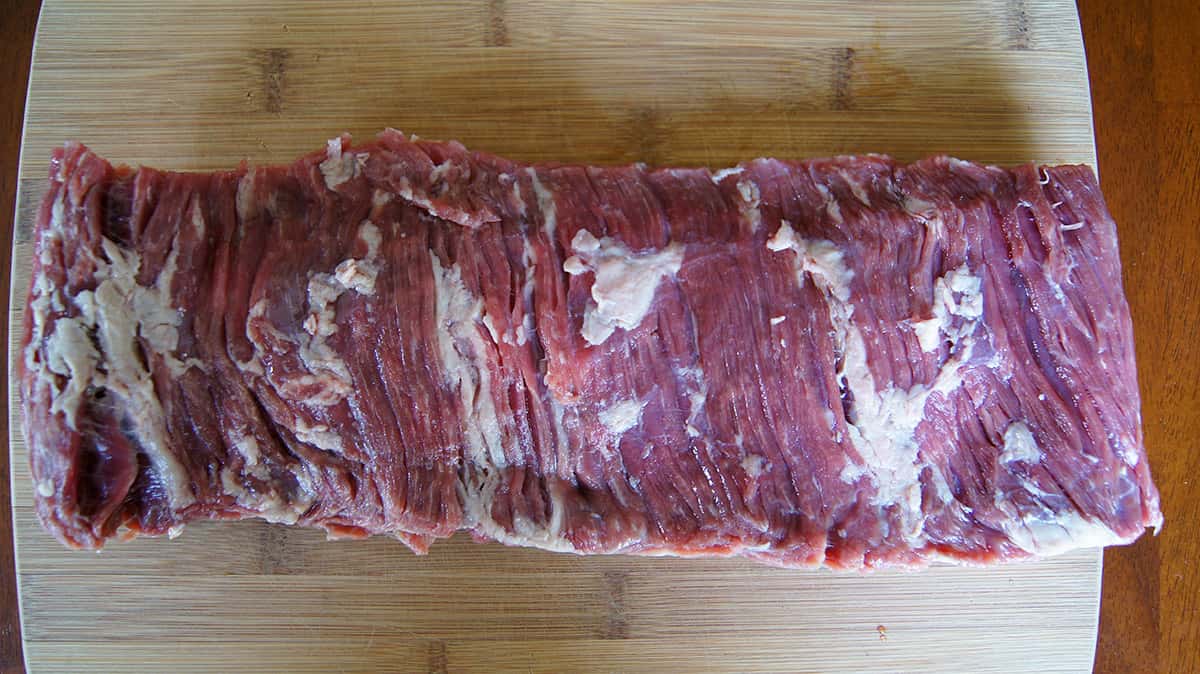 Skirt steak is what we call a "thin cut" in the butcher industry. Thin cuts aren't the traditional center of the plate steaks such as T-Bones, Ribeyes, and Strips – those premium cuts are also known as middle cuts because they come from the middle of a beef animal.
Instead, thin cuts from the exterior of the beef animal where the muscles get more work, making for a tougher but more flavorful and economically cut piece of meat. Skirt steaks come from the diaphragm muscles of a beef animal and are a long, thin cut.
Skirt steaks are the perfect cut to cook over high heat quickly, then slice for tacos, fajitas, or similar dishes. Be sure to let the meat rest for five minutes after cooking, then cut against the grain of the skirt steak to maximize the tenderness of the meat.
There are two types of skirt steaks – outer and inner skirt steaks. Inner skirts are the thinner of the two cuts and have a beefier flavor and a coarser texture. Outer skirts have more marbling and are a bit more tender than inner skirts.
We sell inner skirt steaks at Lake Geneva Country Meats, and either version of the steak will work for to make delicious skirt steak tacos.
How do you recommend seasoning your skirt steak?
Skirt steaks have a deep, rich beef flavor, and they can be given lots of seasoning without losing that flavor. It's part of why we love skirt steak, and in this recipe, we put a simple soy sauce / beer / lime marinade on the beef, which adds big flavor to our tacos!
This marinade combines the savory and tangy flavor of the soy sauce with the bright tropical acidity of the lime juice, as well as a touch of heat from cayenne pepper. While it may seem odd to use an Asian ingredient like soy sauce in a taco recipe, trust us, it turns out great!
This recipe does have a bit of spice but is not what we would call spicy. You can adjust the amount of cayenne and garlic to your taste to make this recipe your own, or you can use any other Mexican-style marinade, such as a premade carne asada marinade.
If you don't want to marinate your skirt steak, that's totally okay, just use your favorite southwestern or fajitas-style dry rub on the beef as seasoning, and the beef will turn out fantastic!
What's the best way to cook skirt steak?
Skirt steak is a versatile cut of beef that can be cooked in several ways, but we recommend cooking it quickly over high heat. You can use any of these cooking methods to make fantastic skirt steak tacos
Grilling – put your seasoned skirt steak over direct high heat and cook for about 3 – 5 minutes per side. You can cook skirt steak on a gas or charcoal grill, but we do like cooking over charcoal for extra flavor, especially in these skirt steak tacos!
Sautéing – you can easily cook skirt steak in a cast-iron skillet heated to medium-high heat. Just add a little oil before adding your skirt steak to the hot pan and cooking for 3 – 4 minutes per side. You'll get extra crispy outside bits if you cook using this method!
Broiling – broiling is a terrific cooking method to quickly make skirt steak tacos (or any other skirt steak recipe) inside. Just turn your broiler on high, and place your skirt steak on a wire rack set over a baking sheet and cook for 3 – 5 minutes per side.
Bonus method super cool method – if you have a charcoal grill, you can cook your skirt steak directly on hot coals! Check out this recipe from Alton Brown on how to make skirt steak on coals.
Regardless of what method you use to cook your skirt steak, let it rest for at least five minutes before slicing, and be sure to slice it against the visible grain of the meat.
We wrote this recipe for the grill, but you can adapt it to any of the abovementioned methods!
How do you assemble your skirt steak tacos?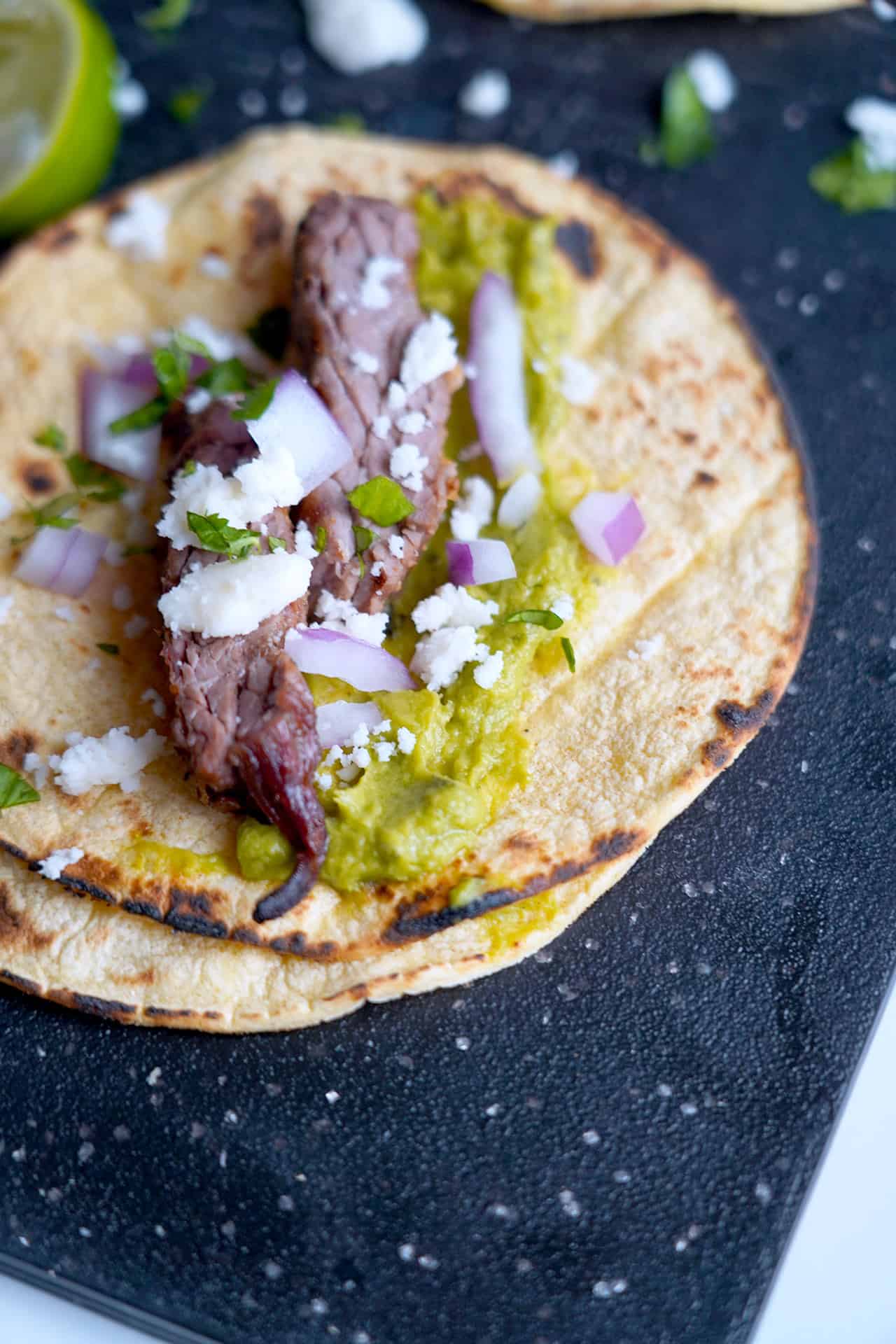 We like using more traditional Mexican-style taco toppings on our skirt steak tacos than American-style taco toppings such as shredded cheddar cheese, lettuce, and tomatoes.
For the tacos you see in this recipe, we assembled them with these ingredients:
Grilled corn tortillas – you can use flour or corn, whatever you like!
Guacamole – a little smear of guac helps make these tacos taste more tender.
Chopped red onion – you can also add quick pickled red onions if you enjoy a bit more sweet and tangy flavor.
Chopped cilantro – omit if it tastes like soap to you.
Queso Fresco – this fresh, crumbly Mexcian cheese adds a salty and creamy element to complement the other flavors in the taco.
Lime juice – a squeeze of fresh lime juice adds a zip of acidity to accentuate the other flavors!
Other ingredients that would be delicious on these tacos include pickled jalapeños, sliced radishes, or even crema!
Of course, if you prefer American-style taco toppings, go ahead and add them. This is your skirt steak taco, after all, so it should be made the way you like it!
Do you have more taco recipes? What about more skirt steak recipes?
Yes!
We love tacos and have plenty more taco recipes. You can see all of our taco recipes by visiting this link.
If you're intrigued by skirt steaks and want more skirt steak recipes, you can see all of our skirt steak recipes by visiting this link.
Alright, we hope we answered all of the questions that you had about skirt steaks and skirt steak tacos! If there's a question we didn't answer or if you have feedback about this recipe, leave us a comment below, and we'll get back to you.
Have a great day and we'll see you soon at Lake Geneva Country Meats!
2 lb Leahy's Angus Beef Skirt Steak
1/2 cup Soy Sauce
1/2 cup Beer

(use a Mexican lager like Corona or Modelo)

2 Lime

(juiced)

2 tsp Salt
1 tsp Cumin
1 tsp Garlic Powder
1/2 tsp Cayenne Pepper
1 tsp Black Pepper
12 Tortillas

(corn or flour)

Guacamole

(for serving)

1 Red Onion

(chopped for serving)

1 bunch Cilantro

(chopped for serving)

1 Lime

(cut into wedges for serving)

Queso Fresco

(for serving)
Add all of the ingredients from the soy sauce to the black pepper to a mixing bowl and whisk together. Place your skirt steak into a sealable plastic bag, pour the marinade into the bag, and seal the bag shut. Work the marinade into the meat, and let sit for 15 minutes at room temperature or up to 24 hours in the refrigerator.

When you're ready to cook, heat your grill to high heat. Remove the skirt steak from the marinade and shake excess marinade loose. Place the skirt steak directly over the heat and close the lid. Discard the remaining mariande.

Cook the skirt steak for about 4 minutes per side, until each side is well browned. We recommend flipping only once. Once the steak is cooked, remove it from the grill, and wrap it in foil to rest for 5 – 15 minutes.

After the steak has rested, cut the meat against the grain into thin strips. Since the skirt steak is a long piece of meat, you will need to make several cuts with the grain to cut it into reasonably sized pieces to cut against the grain.

Assemble your skirt steak tacos by putting a smear of guacamole on warmed corn tortillas, then adding strips of skirt steak, chopped red onion, queso fresco, chopped cilantro, and a squeeze of lime juice. Enjoy!