It's a bit of an understatement to say that 2020 has been a rough year. This year, when you're celebrating Christmas you deserve to treat yourself to a nice bottle of wine to enjoy with your meal. Here are a few of our top picks for making your meal special.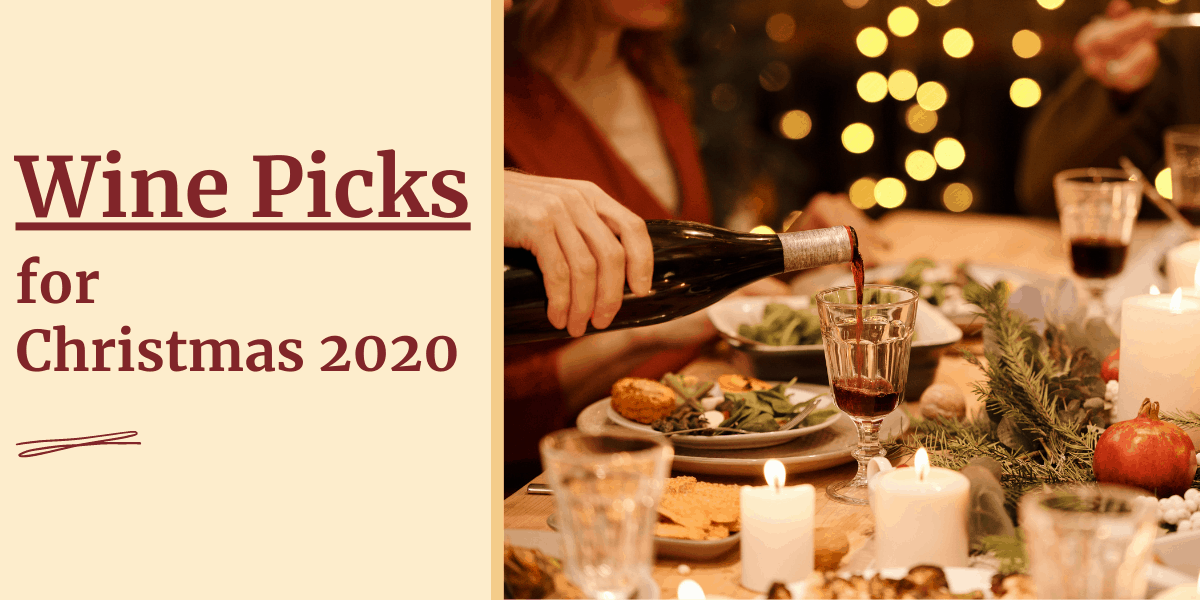 ENJOY A UNIQUE BOTTLE
If you want to shake up your usual routine – and 2020 may deserve something a little different – here are a few suggestions on "unique" wines that you can try for your Christmas celebration!
Truchard Carneros, Napa Valley Tempranillo – the only place you can buy this wine in Wisconsin is Lake Geneva Country Meats, and it's a perfect pairing for your beef dishes. This is a richly textured wine with rich black and red fruit flavors and a bit of spice on the end. Get this while it lasts! $29.99.
Truchard Carneros, Napa Valley Zinfandel – also only available at Lake Geneva Country Meats, this is an incredibly food friendly wine for turkey, pork, and beef! This has medium bodied dried red cherry fruits with spice notes and a long finish. It's not a fruit bomb like some other Zinfandels, but instead an old-school style that's lovely to enjoy with your meal or by itself. $29.99
Sandeman 10 Year Old Tawny Port – if you like to gather around the fire with dessert, port is a fine addition to your celebration. This wine comes from one of Portugal's best producers and has been aged 10 years to bring together sweet ripe fruit flavors with Christmas pudding, almonds, and cocoa powder notes. $29.99.
Schmitt Söhne Glühwein – Glühwein is a seasonal spiced winter drink when it is really cold outside. As it has to be enjoyed hot and the alcohol is between 9-10% by vol., you can count on it to warm your body from head to toe. This spicy red wine is a standard at German Christmas markets, so if you missed your Christkindlmarkt this year, pick up a bottle from LGCM and enjoy the drink at home! $7.99.
BIG RED WINES FOR BEEF
If you are making a prime rib, roasting a whole tenderloin, or enjoying any other cut of beef, you're going to want a fuller bodied red wine like a Cabernet Sauvignon, Merlot or Malbec to pair with the meal. These wines have lots of flavor and tannin (the dry part you taste as you swallow the wine) to stand up to the richness of the beef. It's a classic, no brainer pairing for good reason. Here are a few of our top picks for this year's celebrations.
CABERNET SAUVIGNONS – MORE DRY, VERY DELICIOUS.
Black Stallion Napa Valley Cabernet Sauvignon – this is a classic Napa Valley Cabernet with black fruit flavors complimented by notes of licorice, plum, and oak. $24.99.
High Valley Vineyards Lake County Cabernet Sauvignon – I love the the bold and complex flavors of cherry, dark chocolate, and leather that come together in this bottle of wine. $16.99.
Matthew Fritz North Coast Cabernet Sauvignon – a great value, this Cabernet has blackberry, olive, and baking spice flavors with medium tannins. $14.99.
Postmark Napa Valley Cabernet Sauvignon – made by the Duckhorn Wine Company, this bottle is rich and complex with plush black fruit flavors balanced out by toasty vanilla and baking spice notes. $29.99
MALBECS – MORE FRUIT, STILL GREAT WITH BEEF.
Catena 'La Consulta' Mendoza, Argentina Malbec – this Malbec shows off a specific area of Mendoz, Argentina with rich raspberry and cherry flavors with notes of coffee and spice with a rich finish. $17.99
Zuccardi 'Q' Mendoza, Argentina Malbec – a beautifully aromatic wine with red and black fruit notes complimented by cassis, chocolate and violets. A silky finish. $16.99.
MERLOT – A LIGHTER BODIED OPTION FOR BEEF.
Castoro Paso Robles Merlot – a nose full of rose petal and dried cherries with a medium body and flavors of blueberry and strawberry. Finishes with a soft vanilla notes. $16.99.
Decoy Sonoma Country Merlot – a beautiful combination of plum, cedar and baking spice aromas with dark cherry flavors and a smooth, medium bodied finish. $19.99.
Frog's Leap Rutherford, Napa Valley Merl0t – one of the world's best merlot producers, this sustainably produced winery makes a merlot with dusty tannins, and complex dark cherry flavors complimented by mocha, spice, and eucalyptus notes. $35.99.

BUBBLES WILL HELP YOU FORGET YOUR TROUBLES
Bubbles are key for New Year's, but they also make Christmas celebrations more fun! Sparkling wines are excellent food pairing wines as the bubbles refresh you between each bite of food and bring a variety of flavors together. Here are a few of our most popular picks!
Charles Armand Blanc de Blanc – a richly effervescent French sparkling wine, this has golden apple, peach, and apricot flavors with a soft finish. $14.99.
Gran Passione Prosecco – a crisp and clean Italian sparkling wine with small bubbles, this is crisp and refreshing with light citrus notes. $9.99.
Pol Roger Champagne – my personal favorite bottle of sparkling wine, this French wine has rich brioche and yeast notes with a complex finish that still is incredibly refreshing. Perfect for major celebrations! $44.99.
Scharffenberger Brut – a classic American sparkling wine from California, this is richly textured with mango and vanilla notes. One of the best values in American sparkling wine! $16.99.
Segura Viudas Cava – one of the most consistent excellent values in wine, this Spanish sparkling wine has a touch of sweet citrus fruit flavors and refreshing bubbles. Great for mimosas! $8.99.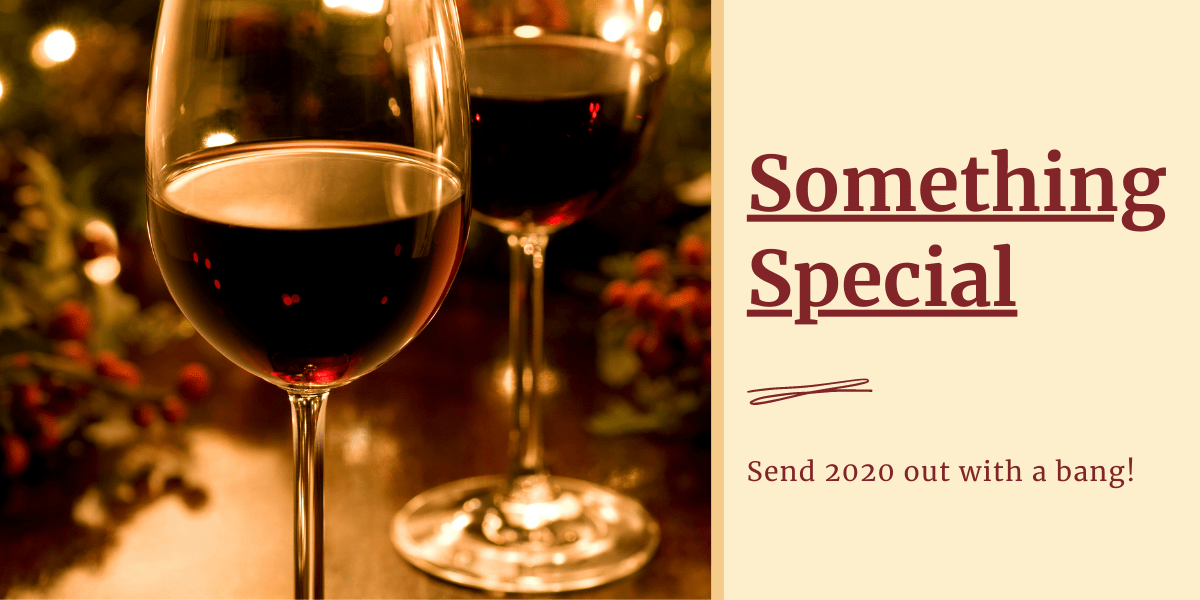 SOMETHING REALLY SPECIAL
If you really want to send 2020 out with a bang, we have a few *very special* bottles that'll celebrate a year like no other. We've put together a special area with these wines (and a few more) to highlight some really fantastic wines that you can add to make your Holiday an extraordinary experience. Here are a few highlights!
Opus One Napa Valley Cabernet – an extraordinary wine made as a collaboration between Robert Mondavi and Philippe Rothschild, this has rich dark fruit, rose, forest floor, cassis, and cocoa powder notes. $330
Pride Mountain Vineyards Napa & Sonoma Cabernet Sauvignon – a unique bottle of wine made with fruit from a mountain that's half in Napa and half in Sonoma, this has deep black fruits, tobacco, mint, and coffee notes. Complex and enjoyable. $69.99.
Quintessa Napa Valley Red Wine – an eloquent wine made from a large, sustainably farmed vineyard in the middle of Napa Valley, this is a wine that perfectly combines black cherry, cassis, dark chocolate, thyme, and red currant flavors into one beautiful wine. $165

PINOT NOIR FOR PORK, HAM, AND TURKEY
If you're doing a Christmas meal of pork, ham, or turkey, Pinot Noir is the perfect pairing. The silky texture and light body of this red wine are excellent pairings with these meals that aren't as rich as beef. Here are a few of our favorite Pinot Noirs:
Allan Scott Pinot Noir – New Zealand makes some of the most interesting Pinot Noir in the world, and this one shows uniquely bright red berry and cherry fruit flavors with a smoky oak finish. $17.99.
Flowers Sonoma Coast Pinot Noir – one of the best Pinot Noir producers, this is their Sonoma Coast wine with bright red cherry and raspberry notes complemented by ground clove and graham cracker notes. $44.99.
Kin & Cascadia Willamette Valley Pinot Noir – a soft and delicate wine with strawberry, cherry, and floral notes. Medium bodied (for Pinot) and silky smooth. $14.99.
Louis Latour Burgundy Pinot Noir – this French Pinot Noir embodies the wonderful things of Burgundy, Pinot Noir's birthplace without breaking the bank. Savory blackberry and blackcurrant flavors with earth and baking spice notes on the finish. $17.99.
Tortoise Creek Pinot Noir – a very enjoyable Pinot Noir at an every day price, this is a simple wine with enjoyable violet, cherry, and raspberry notes. $9.99.
There are our 2020 Christmas wine recommendations! Stop by the store to pick up one of these recommended bottles, or if none of these are right for you, ask for me, and I'll be happy to help you find a bottle that fits your occasion, taste, and price point.
Cheers!
Nick
*Must be 21 to purchase wine, tax extra, prices subject to change, availability not guaranteed.