CELEBRATE ST. PATRICK'S DAY WITH LAKE GENEVA COUNTRY MEATS!
St. Patrick's Day is one of our favorite food holidays! Whether you celebrate with the Irish-American classic dish of Corned Beef & Cabbage, or a more traditional Irish meal of lamb stew, or a Dublin Coddle, we have everything you need to make a tasty St. Patrick's Day meal.
This year, our famous Leahy's Angus Corned Beef Brisket is available for $7.49 per pound. Various sized pieces are available – call 262-238-3339 option 3 to reserve your preferred size, or stop in the store and pick one out from our fresh case.
This page has information on how we make our Corned Beef, has links to all of our Corned Beef, and Irish recipes, as well as information on our St. Patrick's events and specials. We hope to see you soon at Lake Geneva Country Meats to celebrate St. Patrick's Day!
Sláinte!
How we Make St. Patrick's Day Beef Brisket
Call 262-248-3339 option 3 to reserve your piece now!
What makes our Corned Beef special?
We get a lot of questions about why our corned beef is better than what you can find at the grocery store. We are proud of the corned beef that we produce; here are the top three differences that make our corned beef special.
You can make less expensive corned beef by using frozen beef, or selecting lower quality grades of beef, but that's not how we do things at Lake Geneva Country Meats.
We know most people either boil, roast, or slow cook their corned beef for a significant amount of time. During this cooking process, fat will melt out and the beef will become more tender. If you start with a low quality of meat for your corned beef, the meat will get dry and flavorless instead of juicy and delicious as it cooks.
That is why we stick to our strict quality standards – sure it costs a little more, but we don't want to ruin your St. Patrick's Day with dried out corned beef brisket!
After 60+ years in the meat industry, we've come up with a method of preparing corned beef that combines a quick injection with a long slow brine of the corned beef. We then include a ball full of authentic corning seasonings for you to use as you cook the corned beef.
We find that using this combination of methods gives the meat the best overall flavor distribution and offers both sweet, aromatic, and salty flavors. It takes more time, but we are proud of this unique method.
You can watch how we take a piece of fresh beef brisket and turn it into our signature Leahy's Angus Beef Corned Beef by watching the video on this page.
Finally, members of the Leahy family – either Kathy or Nick, or both – personally taste each batch of St. Patrick's Day corned beef brisket to make sure that it fits our quality and taste standards. Sometimes the beef needs to sit longer, or sometimes it reaches optimal flavor earlier than planned. It's only with years of experience and personal care that we reach our ideal flavor profile.
When you buy corned beef from Lake Geneva Country Meats, you know the owners stand behind the quality!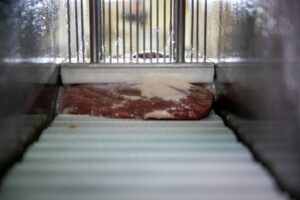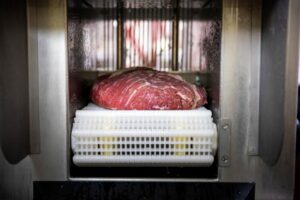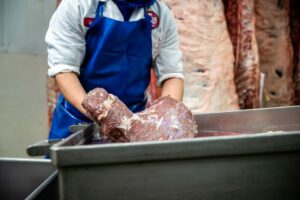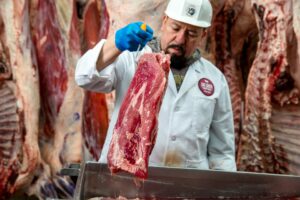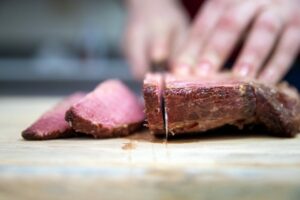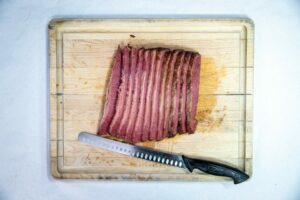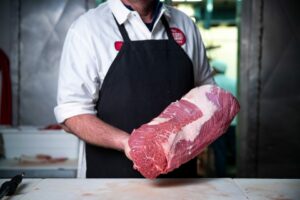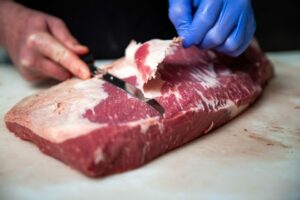 Our favorite recipes for St. Patrick's Day!
We know that corned beef isn't actually "authentic" Irish food, but it is an American staple of St. Patrick's Day celebrations. If you want to celebrate with more traditional Irish foods, this list contains some of our favorite authentic Irish recipes in addition to corned beef recipes.
Guinness & Corned Beef Stew Kit
Our Guinness & Corned Beef Irish Stew Kits have almost everything you need to make a delicious Corned Beef meal in your slow cooker. Each kit has beef broth, brown sugar, Guinness beer, potatoes, carrots, onion, and cabbage. Just pick out the your preferred size of Corned Beef Brisket, follow the easy directions, and enjoy a yummy meal!
Stew kits are available in our store for $11.99 each.
St. Patrick's Day Special Items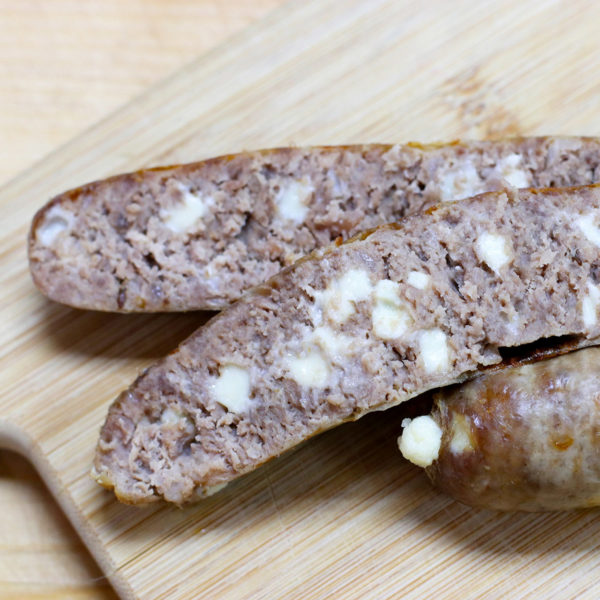 Reuben Brats
If you love Reuben sandwiches, but don't have the time to make a Reuben sandwich, we have the perfect solution for you: Reuben bratwursts!
Our Reuben bratwursts are made with your favorite corned beef seasonings, sauerkraut, Thousand Island seasoning, and Swiss cheese – everything that makes the sandwich great. They're the perfect way to enjoy one of the world's most delicious sandwiches with a low amount of effort. 
We'll be making a batch of Reuben Brats fresh on Thursday, March 11th. They come in approximate quarter pound links are are priced at $5.99 per pound – get yours while supplies last!
Produce Specials
It's a crime to have corned beef without cabbage and potatoes, right? Well, maybe not, but we do think corned beef is better with vegetables on the side. We've put together these special buys for you to enjoy:
 – Green Cabbage – 69¢ per pound!
 – Bulk Wisconsin Red Potatoes – 99¢ per pound! 
 – 2# bags of organic cello carrots – $1.69 each!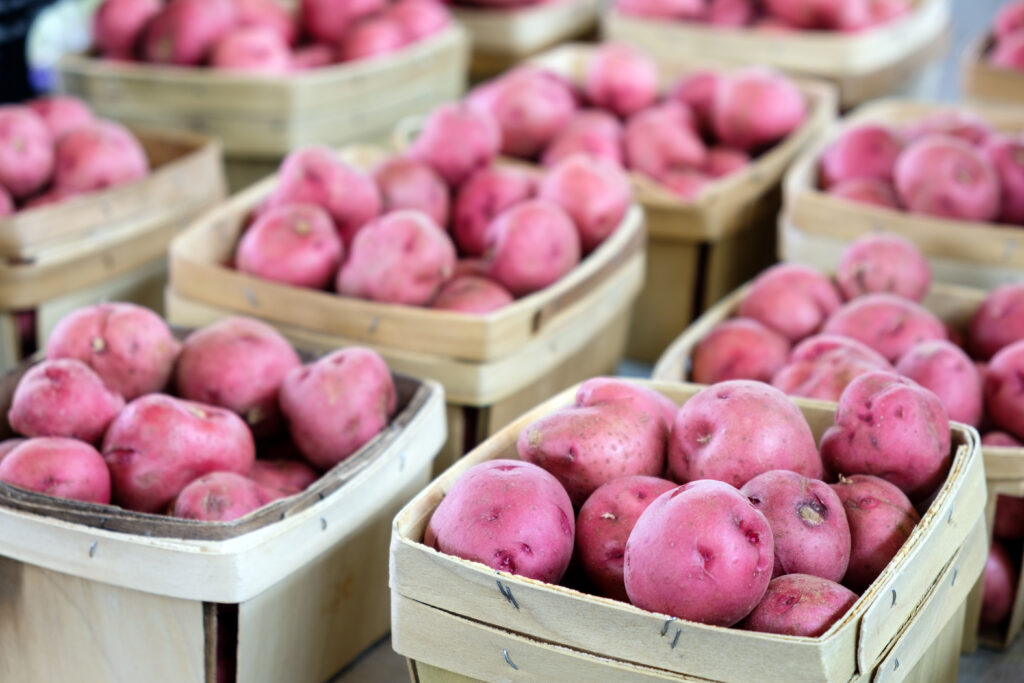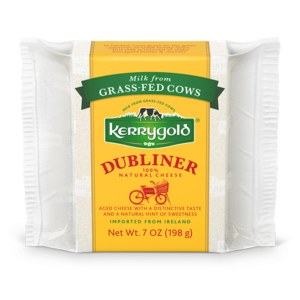 Kerrygold Dubliner
Kerrygold Dubliner is a aged cow's milk cheese with a bit of hard texture and a combination of nutty, sharp, and sweet flavors. It is delicious with a full-bodied wine, pint of Guinness, or used to make a Grilled Cheese!
$14.99 per pound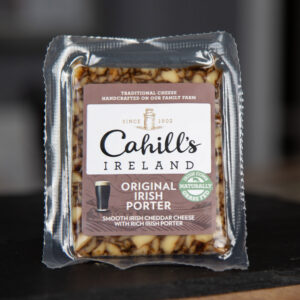 Cahill's Irish Porter
Cahill's Irish Porter is the original Irish cheddar made with porter beer. Each piece of cheddar is infused with beer to created a unique marbled appearance and to add roast coffee and chocolate notes to the cheese.
$14.99 per pound
Reserve your corned beef, reuben brats and other favorite items now – give us a call at 262-248-3339 option 3 to speak to a Meat Ambassador!