No matter what happens, we still have Thanksgiving.
Go ahead: create your own Norman Rockwell moment. You can do it, and we're here to help!
At Lake Geneva Country Meats, we are proud to offer fresh, never frozen Amish raised turkeys for your Thanksgiving meal. These turkeys are raised with care on Amish farms in Minnesota to be ready just in time for Thanksgiving. It is our firm belief that these turkeys taste better than a frozen turkey, and our customers seem to agree, because we sell out of turkeys ever year. 
If you want to enjoy one of our fresh Amish turkeys for your Thanksgiving meal, reserve yours now by using our online reservation form. We will have your turkey ready and waiting for you – just pay when you pick up. They are available in 3 pound weight ranges starting at 8 pounds, and going up to 30 pounds. 
Have a wonderful Thanksgiving – keep reading for our recipes, tips, and entertaining advice. We're here to help you create wonderful memories around a table full of delicious food.
Monday - Friday
9:00 AM - 6:00 PM
Saturday
9:00 AM - 3:00 PM
Sunday
10:00 AM - 2:00 PM
Please note!
Please call 262-248-3339 for Thanksgiving orders - availability is currently limited.
Processing Pickups
Processing pickups end at 5 PM Monday -Friday, and processing is closed on Sunday.
Quick Thanksgiving Turkey Tips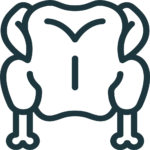 BIGGER ISN'T ALWAYS BETTER!
Turkeys bigger than 18# take longer to cook, don't cook as evenly, and don't fit easily in many ovens. We recommend sticking under this weight range.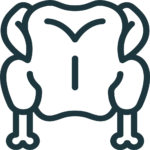 ORDER ENOUGH TURKEY FOR ALL!
We recommend ordering a minimum of 1 pound of turkey per person, or 1.5 pounds if you want leftovers for everyone. Who doesn't want leftovers?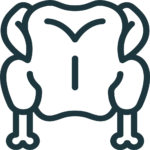 COOK A PARTY BIRD FOR YOUR GROUP!
Cook one bird traditionally, then try cooking another bird with a different recipe. You can even try a roast chicken to get enough meat for your group.
All about Thanksgiving Turkeys
Make an amazingly delicious turkey.
Cooking a whole turkey to perfection is a challenge, but we're here to show you how to get it done!
We have all sorts of tips and tricks to cook your turkey, but when you just want that Norman Rockwell experience, you're going to want to try Our Best Traditional Roast Turkey recipe. It uses two simple twists to the "standard" turkey cooking instructions to make a picture worthy turkey.
You can find all of our turkey recipes in the slider below, or get all of our turkey information by clicking here to visit our Turkey page.
Please note!
Please call 262-248-3339 for Thanksgiving orders - availability is currently limited.
Other Ways To Cook a Turkey
Sorry, we couldn't find any posts. Please try a different search.
Our Best Thanksgiving Sides
Sorry, we couldn't find any posts. Please try a different search.
Thanksgiving Turkey Alternatives
For the person that doesn't like turkey, these are great options.
We get it, not everyone likes turkey, which is why we have these delicious "harvest themed" recipes for you to choose from as well. 
One of our favorite items to serve at Thanksgiving is a roast chicken as a side dish to the turkey. This roast chicken can help feed your crowd if you have a few too many people eating for the turkey you plan on making, or it can be a fun flavor for your guests to enjoy. Check out our Garam Masala Roast Chicken recipe for one idea on a "side bird" to serve.
Scroll through the recipes below to check out all of our "not turkey" suggestions for your Thanksgiving feast!
Sorry, we couldn't find any posts. Please try a different search.
Best Wines for Thanksgiving
make your meal better with the perfect bottle of wine!
When it comes to pairing wine with your Thanksgiving meal, it can be tough to match all of the different elements in the meal. It also can be hard to make sure that everyone drinking the wine has something they enjoy! In this video, our wine expert Nick offers you a simple answer on what the best wine to pair with your Thanksgiving meal is and gives you a few suggestion on bottles that you can try.
Thanksgiving Gear Recommendations!