2015 has been quite the year at LGCM – our 50th in business! Take a look back at the year that was with us and thanks for making 2015 such a success!
JANUARY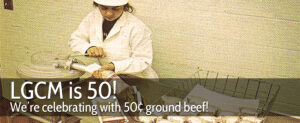 We started the year with a bang with our unbelievable 50¢ Ground Beef Sale. Throwing back the price of ground beef to 1965, the year we opened, customers were able to purchase 2 pounds of frozen ground beef at this special price, and we were overwhelmed by the response! We were completely out of ground beef by Thursday and had sold 4,532# in just 3 days. That ended up being more than 13% of our entire year's sales.
FEBRUARY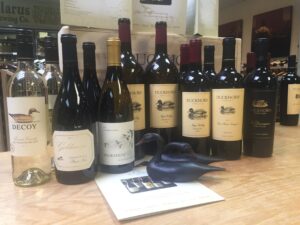 We had a great time hosting our first ever wine dinner featuring the wines of Duckhorn Wine Company and five courses of expertly prepared gourmet foods. All who attended enjoyed and we're hoping to offer more experiences like this in the future!
APRIL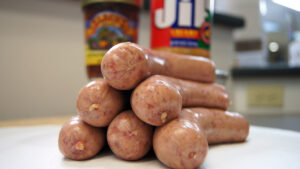 We love a good joke and boy, did we pull a good one this April Fool's Day! On April 1st, we announced the creation of our newest bratwurst flavor – the Peanut Butter and Jelly Bratwurst – and no one believed us that we really made it! We really did make this flavor sensation and the 100# we produced quickly sold out. Our Master Meat Crafter Jeff has sworn he'll never make them again because of the mess they created, but we'll see!
APRIL
Over 40 lucky customers got a behind the scenes look at how we take a whole pig and break it down into your favorite cuts of Pork during our "Know Your Pork" tour. This tour was a great experience for all involved and was expertly presented by our Master Meat Crafter Jeff Schmalfeldt. If you missed out on the tour, you can watch it in the video above! You'll learn things about pork that you never knew before.
MAY
We teamed up with Mike from the Big Green Egg and Dunn Lumber to bring you our most popular recipe of the year – Smoked Brisket on a Big Green Egg. You can watch the video above or click here to see the recipe. If you're looking to step your culinary game up to the next level, we definitely recommend you check out a Big Green Egg. Take a look at them at Dunn Lumber in Lake Geneva – they're experts and will help you get the right size for you!
JUNE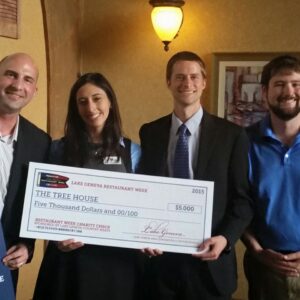 We were so proud to be the Charity Check sponsors of the inaugural Lake Geneva Restaurant Week. This community driven element of the event saw a $5,000 check donated to the Walworth County Alliance for Children / Tree House to assist their efforts to help children lead lives free of abuse and neglect.
JUNE
We made A LOT of Dads very happy with our tradition of offering Dry Aged Rib Steaks for Father's Day. We dry age these Leahy's Angus Beef Rib Roasts in our massive cooler for 21+ days to let them gently develop a unique, rich flavor. If you're interested in trying some for yourself, keep an eye out to our announcements near Father's Day and Christmas!
JULY
It was great serving our wonderful customers at our annual Customer Appreciation Day in July! We had beautiful weather for our cookout and there were plenty of customers that enjoyed the free bratwurst. We can never say it enough – thank you for being our customer!
AUGUST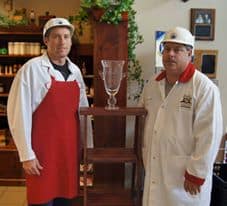 Our Ultimate Bacon (Bacon Wrapped in Canadian Bacon) won the Best in Show Award at the Wisconsin State Fair. Our Master Meat Crafter Jeff, Marc, and the whole production team did a great job making a product with amazing workmanship. They deserve the crystal ball. The bacon sold for $20,000 at the Governor's Blue Ribbon Meat Production Auction and benefited the Wisconsin 4H. How cool is that?
AUGUST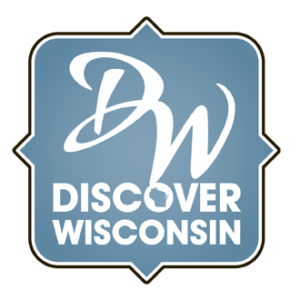 It was a great thrill to appear on Discover Wisconsin for the second time! Host Jake learned how to make a Beer and Sauerkraut Brat from beginning to end as we showed the bratwurst loving population of the world a little behind the scenes glimpse of LGCM. The episode was great fun to shoot and we had awesome feedback from everyone who watched. If you missed it, it'll air again in 2016 and 2017, or you can see it on the Discover Wisconsin website!
SEPTEMBER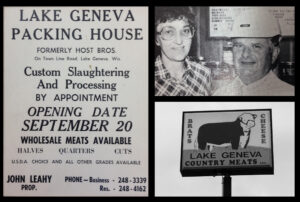 Woooo – we officially turned 50 years old on September 20th and we celebrated in style with a 50% off Bratwurst sale and more. Take a look back at all of our 50th year celebrations and historical look backs. on our 50 year page.
OCTOBER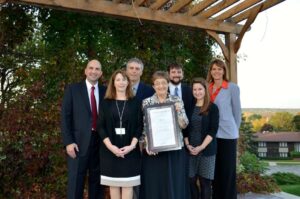 We were honored to be awarded the 2015 Lake Geneva Hospitality Award for our efforts in making Lake Geneva a more inviting place for locals and visitors alike. It meant a lot to us to be recognized by our peers in business with this award, especially in our 50th year in business!
DECEMBER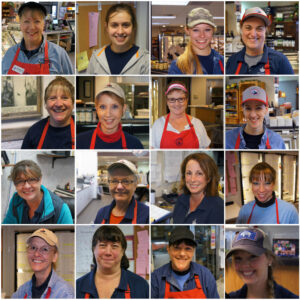 During December, we celebrated the talents of our staff and asked you to come meet our newly minted Meat Ambassadors. Each day from November 30 – December 19 we featured a different item on sale in our retail store. Each of these items was specifically recommended by one of our knowledgeable and helpful Meat Ambassadors.
Want even more facts from LGCM's 2015? Check out our Meat Facts 2015 photo album! It has lots of fun stats from this past year, like exactly how much ground beef we sold! Thanks for following along with our look back and we'll see you in 2016! Happy New Year!