Surf and turf is a great dinner – it combines two delicious things into one even more delicious meal! While a big ole' lobster tail and a tenderloin filet may be a pricy dinner at a restaurant, it's less expensive to prepare at home, and it's also very easy to prepare. Here we've put together 4 different Surf and Turf meal ideas at 4 different price points for you to enjoy. All pricing is approximate, and includes the meat, seafood and a little extra for sides. Check out our Surf and Turf ideas:
Surf and Turf for About $5 per Person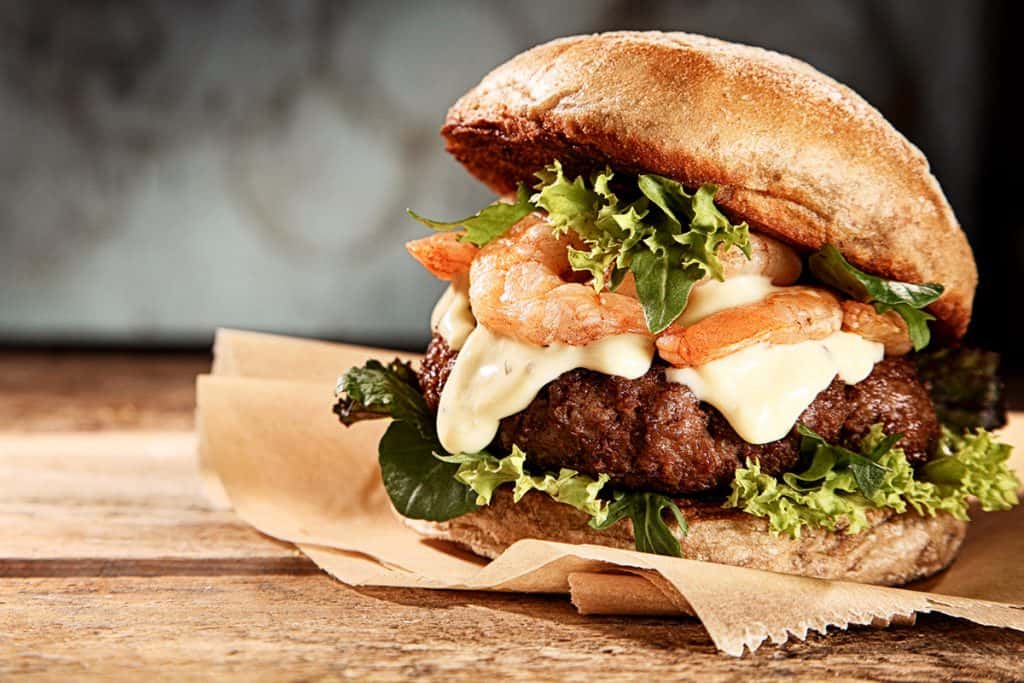 Our Cajun Shrimp Burger is a very easy and affordable way to enjoy both beef and seafood together. Make a Leahy's Angus Beef burger, top it with shrimp and then add a homemade Cajun Mayo on top. It's super simple, and very affordable. Feel free to add whatever other toppings you like to the burger.
Get our Cajun Shrimp Burger Surf and Turf recipe here.
Surf and Turf for About $10 per Person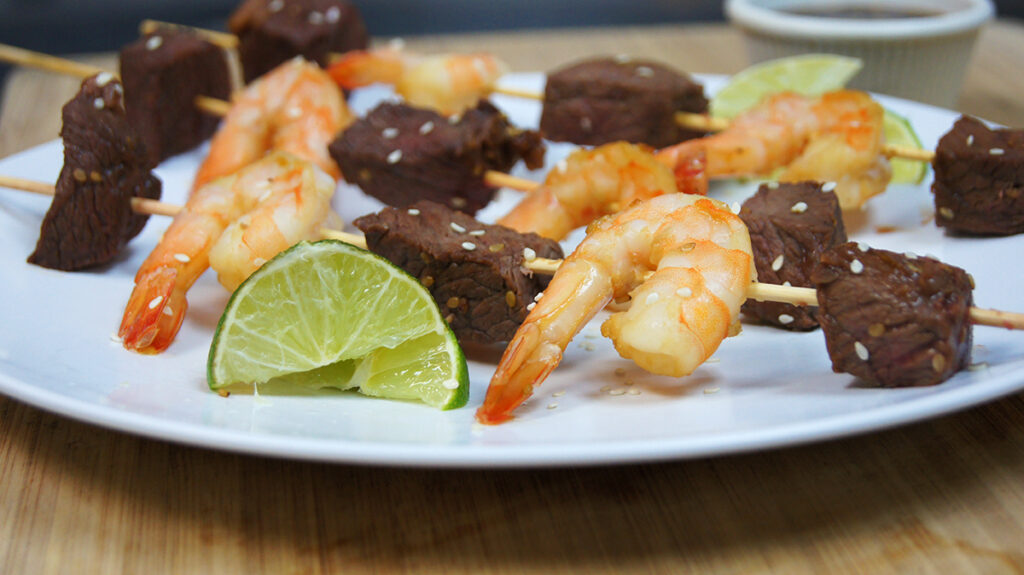 If you want a quick Surf and Turf meal, our Island Shrimp and Beef Kabob recipe is a home run. Quickly marinate sirloin steak and shrimp in our Soy Vey Island Teriyaki Sauce, make up some skewers, grill and you're good to go! You'll have the whole recipe done in under 30 minutes, giving you more time to savor your meal!
Get our Island Shrimp and Beef Kabob Surf and Turf recipe here.
Surf and Turf for About $20 per Person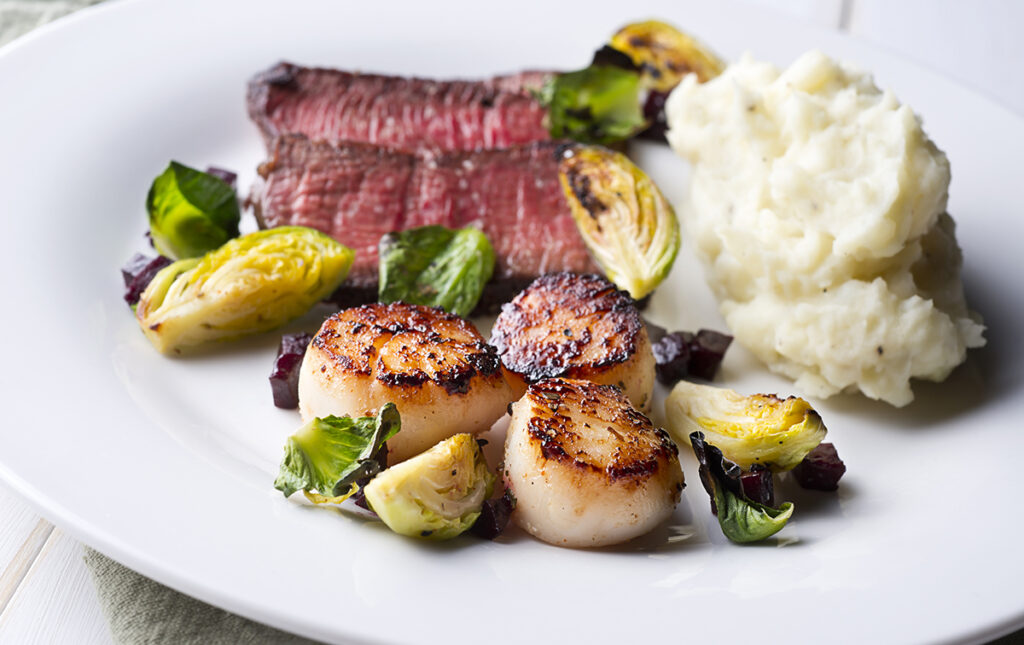 This idea is one of our most elegant surf and turf recipe ideas. Put together a New York Strip with Seared Scallops and enjoy. There are two ways to make this combination. First, you can roast a New York Strip Loin Roast, slice it and serve it with scallops. This is an easy way to feed a crowd. If you have a smaller group, instead of the roast, you can make individual steaks with your scallops. Either way, you'll have a delectable dinner.
Get our New York Strip Roast recipe here and our Seared Scallop recipe here.
Surf and Turf for About $35 per Person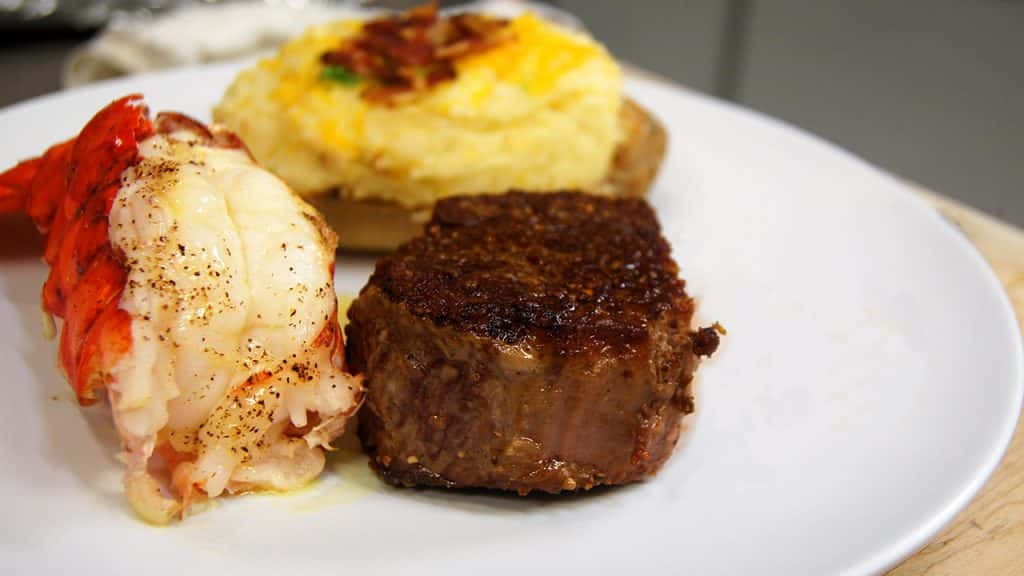 The crème de la crème of Surf and Turf – a Lobster Tail paired with a Tenderloin Filet is our pick for a high end Surf and Turf Dinner. For this price, you'll get a 12 oz. Tenderloin Filet and a big 8 oz. Lobster Tail. Put it with one of our famous Twice Baked Potatoes and you'll be in heaven. It's very easy to bake a lobster tail, and searing a filet is very straightforward as well. A meal like this in a restaurant would easily cost twice as much, so give it a try at home!
Get our Baked Lobster Tail recipe here and our Tenderloin Filet recipe here.
---
There are our four picks for Surf and Turf recipes on any budget. Do you have any Surf and Turf recipe ideas that we didn't talk about? Let us know in the comments below, we'd love to hear what you have to say! You can also find a great wine pairing idea on our New Years Eve 2016 Sparkling Wine Picks blog post. We have picks for wine at every budget and sparkling wine is fabulous with Surf and Turf. See you soon at Lake Geneva Country Meats!