We get lots of questions about what wine to pair with Thanksgiving dinner. This is a tough question, because there really isn't a perfect wine to pair with the entire traditional meal of turkey, gravy, stuffing, mashed potatoes, cranberry sauce, and green beans. However, if you follow our 4 Thanksgiving Wine Pairing Tips, you're sure to find a bottle that you like drinking and goes well with the meal. Check out our infographic with pairing tips, then see some of our favorite wine suggestions for Thanksgiving!
wine picks
There are so many great wines that pair with turkeys, but here are a few that we think are both excellent pairings and good values. Check them out!
scarpetta prosecco
Light, bright, and sparkly, this Italian sparkling wine is sure to bring joy to your table. The bubbles will perfectly refresh your palate between each bite, and the green apple and melon flavors are delightful with turkey. Bonus – for your guests that don't like wine, you can use this bottle to make mimosas!
$14.99 + tax at Lake Geneva Country Meats
castle rock california cuvee pinot noir
A budget friendly wine that works perfectly with turkey, this red wine has soft flavors of red cherries and highlights of dried herbs and forest floor. This lighter bodied wine will complement the flavor of the turkey and go beautifully with your sage stuffing and cranberry sauce. Buy a few – it's a great price!
$7.99 + tax at Lake Geneva Country Meats
migration pinot noir
If you want to bring a really nice bottle of wine to Thanksgiving, may we suggest this delicious Sonoma County Pinot Noir? Cherry and cranberry fruit flavors come together with orange-cinnamon spice and deliciously refreshing acidity. This is a very nice bottle and a great gift!
$29.99 + tax at Lake Geneva Country Meats
tommasi rafaél valpolicella classico superiore
This Italian red wine is a great pick for someone who wants a red wine to pair with their meal, but likes something a little bigger than Pinot Noir. Cherry, dried spices, with spicy cherry notes on the finish, and plenty of acidity to refresh between courses.
$15.99 + tax at Lake Geneva Country Meats
domaine tour boisée rosé
This pink wine is not sweet, but it sure is refreshing! This wine from Minervois, France has a combination of fresh red fruit flavors with a crisp, light body. The Domaine Tour Boiséee is versatile enough to serve both before and during your meal. We particularly enjoy a glass of rosé while cooking!
$12.99 + tax at Lake Geneva Country Meats
pacific rim dry riesling
A perennial top value award winning wine, this dry riesling from Washington State is a go-to when we make turkey. Jasmine, citrus, and white peach flavors with mineral acidity combine to make a wine that is a refreshing complement to all of the dishes on your Thanksgiving table.
$9.99 + tax at Lake Geneva Country Meats
pascal jolivet attitude sauvignon blanc
Possibly the best value on this list, this Sauvignon Blanc comes from the Loire Valley in France, and is made by a producer that usually charges MUCH more for their wines! This is a crisp, fresh Sauvignon Blanc with lemon, green apple, and kiwi fruits with an elegant, crisp, mineral finish.
hugel gentil white blend
Coming to us from Alsace, France this beautifully made wine is a blend of 6 different aromatic white wine grapes. The end result is an aromatic wine with apple, nectarine, and mineral notes that has the perfect amount of acidity to go with your Thanksgiving feast.
$14.99 + tax at Lake Geneva Country Meats
---
Stop by Lake Geneva Country Meats for fresh Amish turkeys, advice on how to prepare your meal perfectly, and, of course, great wines to pair with your Thanksgiving meal. Our wine expert Nick is almost always around to answer your questions and help you find a bottle that fits your taste and budget. Just ask for him!
If you're a try-before-you-buy type of person, we'll be having free wine tastings featuring some of these wines, as well as other great picks. We've also made it easy for you to find wines on our shelves that pair perfectly with turkeys. Just look for this logo to know you found a wine that will be delicious with your meal!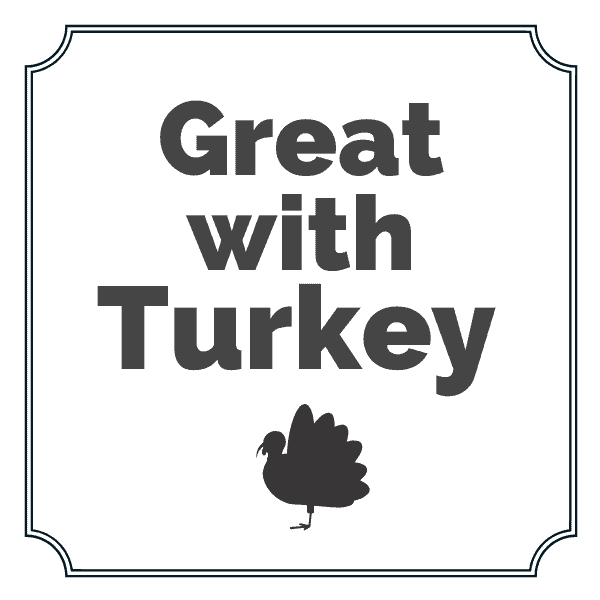 Have a fabulous Thanksgiving – we'll see you soon at Lake Geneva Country Meats! Want even more great Thanksgiving information? Just click here to return to our main Thanksgiving page.