Remember when 2020 was over and we were so excited for a new year and a fresh start?  "Nowhere to go but up" we thought… well, enter 2021.  Turns out, we had another year of crazy in store for us. Throughout it all, we've managed to do some pretty incredible things at Lake Geneva Country Meats – with your help, of course! We want to take a few minutes to celebrate the year that was and look forward to more fun and less crazy in 2022. Take a look at some of the highlights of 2021!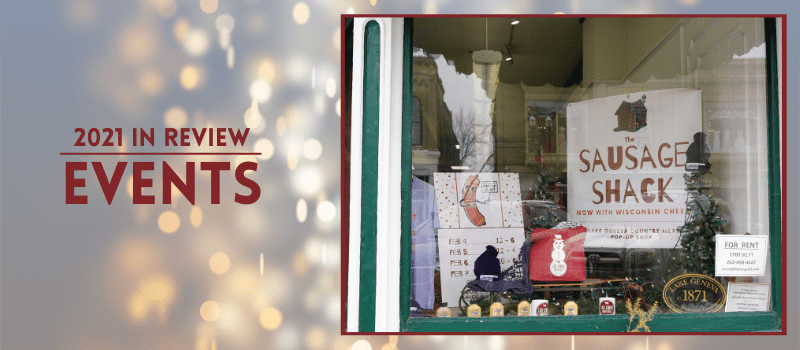 We participated in some incredible events this year! Some were hosted at Lake Geneva Country Meats, some were on the internet, and some we partnered with our friends around the community. Here's a rundown:
Lake Geneva Country Meats opened a pop-up Sausage Shack in downtown Lake Geneva! For a few days during Winterfest, we had our own little store where you could stock up on brats and more. We would have loved the opportunity to do more, but unfortunately, it wasn't meant to be. We'd like to extend our landlords, Kevin & Maureen, a big thank you for helping to make our little shop a reality!
Together with Chef Nelly Buleje of Grand Geneva Resort & Spa, and the team at Duckhorn Vineyards, we hosted a virtual Valentine's Day dinner for almost 100 people!
Our Summer Beer Tent series was super popular – we'd like to thank Tyler from General Beverage and all of the participating breweries for making the series a success!
We participated in the 2021 Wisconsin Cured Meat Championships and won 11 awards!
Our ever popular Holiday Wine Tasting returned to our store with more wine than ever before!
This is just a partial list – thanks to everyone who stopped at our events this year!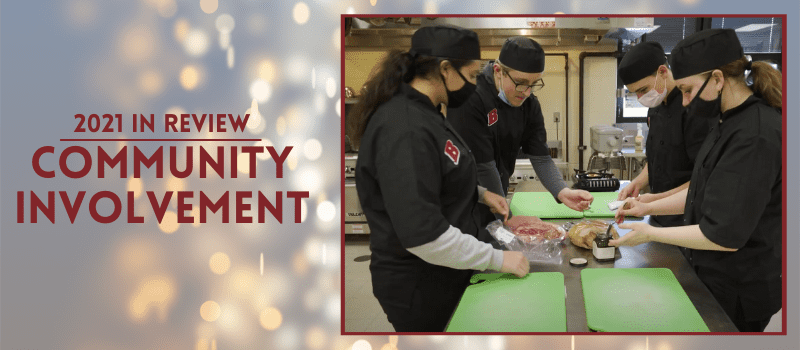 Community involvement is a huge part of what we do at Lake Geneva Country Meats, and this year we came up with some new ways to support our community. Check it out:
We love working with the students and teachers at Badger High School, and this year we came up with two very fun collaborations with Culinary Program:

The Pro Start team missed out on their annual competition, so we arranged for them to compete in their own St. Patrick's Day Chopped Challenge! Watch the video here – they did awesome!
We also teamed up with the culinary students in October (Pork Month) to learn about sausage making. They designed our new Al Pastor bratwurst and we donated a portion of the proceeds of the sale of that sausage to their program!

Another local organization we love working with is the Lake Geneva Public Library. We sponsored their expanded outreach program during their renovation, and also donated seven new cookbooks to the library during National Cookbook month.
You could find our products supporting local non-profits at a number of area events including:

LGCM Ribeye Steaks at the Big Foot Lions Club Steak & Lobster Boil
LGCM Bratwursts at the Lake Geneva Jaycees Venetian Festival
LGCM Bratwursts at the Lake Geneva Rotary Brat Stand at Oktoberfest
LGCM Short Ribs & Chicken at the Open Arms Free Clinic Gala in December
In additions to these notable collaborations, we've donated a large amount of food to Lake Geneva area food pantries as part of our ongoing commitment to doing what we can to help feed our community.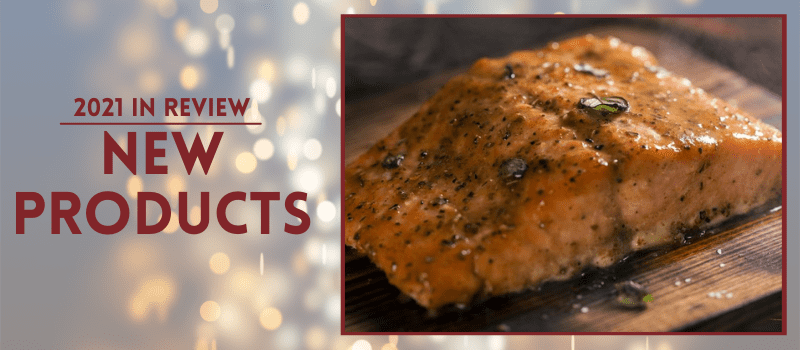 We've not stood still on the product front, and we've done our best to keep bring you new and delicious items. These are a few of the ones that we thought were particularly yummy:
We are excited to now have Boar's Head turkey, chicken, and salami deli meats in our store. These have been a huge hit with our customers – if you haven't been picking up your lunch meat at LGCM, what are you waiting for?
We offered fresh seafood on a regular basis throughout Lent, the summer, and the Holiday season. It was a big hit (particularly the salmon and shrimp!), and we look forward to offering it again in Lent 2022!
We brought 7 new bratwurst flavors to the grill this year including:

Al Pastor Brat

Chcolate Mole Brat

Jalapeno & Habanero Brat

Filipino-style Longanisa

Macaroni & Cheese

Pineapple & Teriyaki Brat

Seipp Beer Brats

And, our new flavors of marinated pork chops have been a huge hit with hungry customers who want an easy to prep and fast to cook dinner option!
Did you have a favorite new product or something you'd like to see in 2022? Let us know!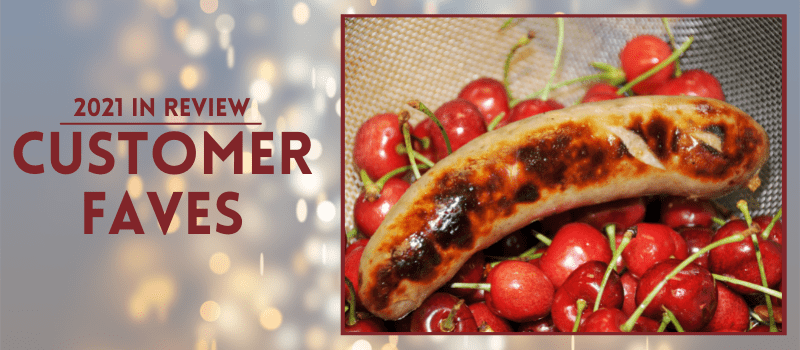 Finally, we have to run down what our customers were loving this year!
BEEF
We sell a lot of ground beef. It's our most popular product, and this year, we sold over 46,000 pounds.

What's your favorite steak? This year, in a flip, Tenderloin Filets were our most popular steak, followed by last year's winner rib-eyes, then New York Strips and Porterhouse steaks.
PORK
Do you prefer a bone-in or boneless pork chop? Bone-in pork chops outsold boneless pork chops more than 2 to 1 this year!

Oh baby – we sold about 34,000 bones worth of baby back ribs this year. That's a lot of BBQ.
CHICKEN
Can you guess our most popular marinated chicken breast flavor? It's Garlic Parmesan, then Bourbon and Italian Romano.
SAUSAGE
We're known for our fresh brats, and in particular our cherry brat. It's our best selling brat!

Our top five flavors this year: Cherry, Traditional, Mushroom Swiss, Wisconsin Three Cheese, Cheddar & Green Pepper.

We made over 800,000 links of sausage this year, or about 8 links for every resident of Walworth County – that's crazy, isn't it??
ALCOHOL
Our customers love Cabernet! A little more than 25% of the wine we sold this year was Cabernet Sauvignon.

For the second year in a row, Josh Cabernet Sauvignon was our most popular wine in the store. 

Only in Wisconsin and #1 at LGCM: New Glarus' beers (like Spotted Cow) were more than half of the beer we sold in 2021.

Our most popular beer that wasn't from New Glarus? Seipp Extra Pale – a beer with a super awesome story.

We had two store picks of whiskey available this year – 45th Parallel New Richmond Rye Whiskey + Tattersall Rye Whiskey. Looking forward to bourbon in 2022!
RECIPES
Our most popular recipes on the website this year were:
What was your favorite recipe?
Thank you for all of your support this year – we could not have made it through this insane year without you. Let us know your favorite LGCM memories of 2021 in the comments below, and if you have any hopes for 2022, let us know those as well!
Cheers!