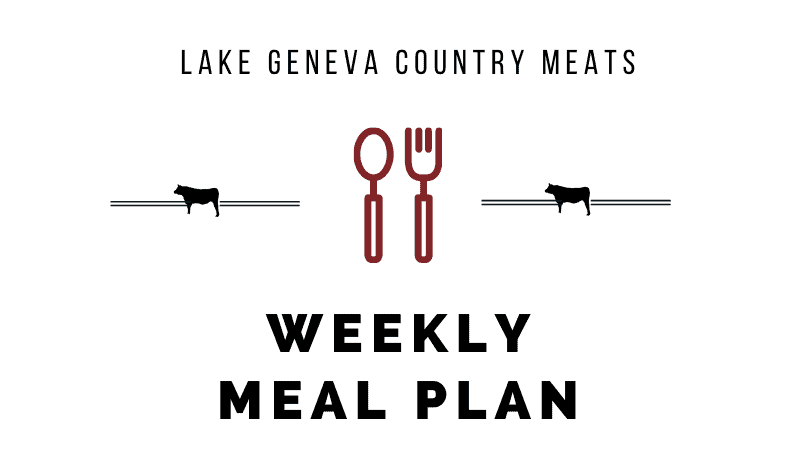 This week's plan is pretty random, to be honest.  It's full of great recipes, but there wasn't too much rhyme or reason to my choices.  As always, I've included various types of meat, a taco Tuesday, a sheet pan recipe and a few other great ones.
MONDAY
This week, Nick taught me that mustard actually helps breading stick to pork.  And, even better, most of the mustard flavor cooks off.  Personally, it's not my favorite flavor, but
TUESDAY
Slow Cooker Salsa Verde Chicken Tacos
You can't go wrong with a slow cooker chicken recipe, am I right?!  And, even better when the end result is tacos.  There isn't much more to say than that!
WEDNESDAY
Sheet Pan Beef Tri-Tip and Brussels Sprouts
Honestly, brussels sprouts are what originally drew me to this recipe, but you can use other vegetables too – the recipe would also be great with carrots and potatoes.  Throw it all on one sheet pan and enjoy a meal with minimal dishes.
THURSDAY
Enjoy some leftovers today (or maybe even takeout!)
FRIDAY
Pan Seared Barramundi with Pico de Gallo
I had never heard of this fish, have you?  It sounds delicious and I'm thrilled to top anything with pico de gallo.  This fish is most well known in Australia, but it's time to start trying it more and more in the States.
SATURDAY
Buttery Garlic Grilled Chicken Breast
Pick your favorite seasoning and get to grilling.  Learning how to perfectly grill a chicken breast is a skill that we can all benefit from, so this is the recipe for you!
SUNDAY
Bourbon Peppercorn Flank Steak
Flank steak is great for a group, so pull this recipe out if you're feeding a crowd.  Slice the meat up into small pieces and enjoy!
Happy cooking everyone – have a great week!
–Bridget