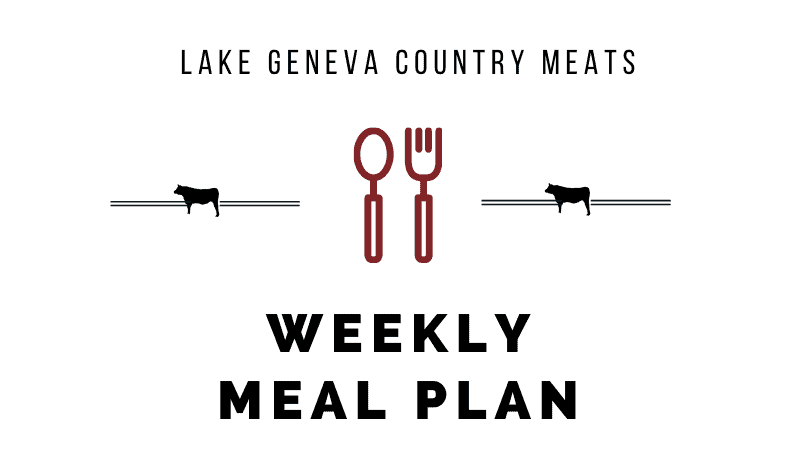 Happy Father's Day to all the Dad's out there!  While you're hopefully enjoying a delicious steak dinner or a tasty grilled lunch, we put together this plan for your  meals for next week.  Enjoy!
MONDAY
This is Nick's pick of the week because it's a great use of ground pork and cabbage – two ingredients that are often over-looked.  Of course, you can use various varieties of lettuce and whatever your favorite protein may be to make this dish your own.
TUESDAY
Tortilla Crusted Chicken Breast
You know I had to fit in a chicken recipe and this one sounded so delish!  I love a good crunch to my meals and the tortilla chips provide just the right amount. I also just discovered how much I love the marinated santa fe chicken breast (usually I marinate my own, but never again – the santa fe is the best!)
WEDNESDAY
Beef Tenderloin Filets with Blue Cheese Topping
If you've been following along for awhile, you know I love meals that can be flexible.  And, no surprise, this is another recipe that you can get creative with.  If filets aren't your style, simple sub for a different kind of meat and you'll still get that great blue cheese flavor.
THURSDAY
Leftover Day!
FRIDAY
Have you heard of this dish before?  I hadn't, but I love trying different cuisines that are new to me so I thought this would be a good fit for our Fishy Friday recipe.  This dish uses cod and shrimp, but again, feel free to substitute a different fish if you'd prefer.  The end result is a popular Brazilian fish stew!
SATURDAY
Basil Pesto Italian Pizza Recipe
This is my favorite recipe on the plan this week.  I love getting my older son in the kitchen with me to help  make dinner.  He seems more invested in the meal then and will actually eat it, instead of just playing with it!  And pizza is the easiest things to let kids help with.  Certainly, he'll make a plain pepperoni pizza, but I am using this recipe and even trying to make it on the grill this week!  I've always wanted to try grilled pizza, so we'll see how it goes…
SUNDAY
This is a great Sunday dish because it's a classic family dinner meal from the 1940s through the 1960s.  The Beef Council put together this recipe that we are happy to share with you.  Let us know if you try it and if it's a close second to your favorite steakhouse meal.