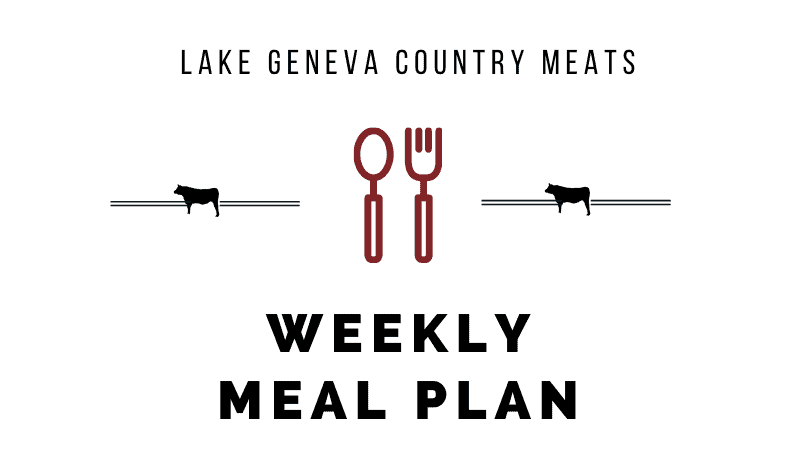 Happy Mother's Day!  I hope all you Mom's out there are enjoying a lovely day today.
A little beef, some tasty pork, seafood and a whole chicken – this week's meal plan has it all!  I started the week off with a dish that looks as beautiful as it tastes and ends with a basic that everyone should know how to do…but, don't worry, I didn't know until practicing with this recipe!
MONDAY
Kick your week off with a healthy dish.  Or, if you're not so concerned with the calories, add in some cheese for an even more delicious filling.  What's your favorite way to stuff a steak?
TUESDAY
Slow Cooker Shredded Beef Tacos
Whether you're working from home or out in the office/at work, a slow cooker recipe is a great way to take a little stress out of the evening.  I know, at our house, my son loves Taco Tuesday and never asks what's for dinner on Tuesday because he already knows!
WEDNESDAY
Sheet Pan Teriyaki Pork Tenderloin and Vegetables
Since Nick just moved, finding and unpacking all of your dishes, pots, pans, utensils is never fun, so this one's for him!  All you really need is one sheet pan, a knife and a cutting board  Since I'm confident he can find those things, this dinner will be an easy way to a warm meal, even in a brand new house.
THURSDAY
Thursday is our day for leftovers and I'm guessing you have some beef leftover from those tasty tacos on Tuesday!
FRIDAY
I love a good crunch and the sesame seeds in this recipe provide just the right texture and flavor to this tuna steak.  This is my second Asian-inspired recipe of the week so you know it's one of my favorite ways to eat!
SATURDAY
Did you know that there is a National BBQ Today and that day is today!  We can't think of a better day to make some BBQ spare ribs.
SUNDAY
The more time I spend at Lake Geneva Country Meats, the more I learn about different cuts of meat!  And if you've been listening along to our Dinner plus Drinks podcast, you know how much I love chicken.  Well, I've never cooked a whole chicken, so now is a good time to try!
Are you cooking anything new this week?
–Bridget