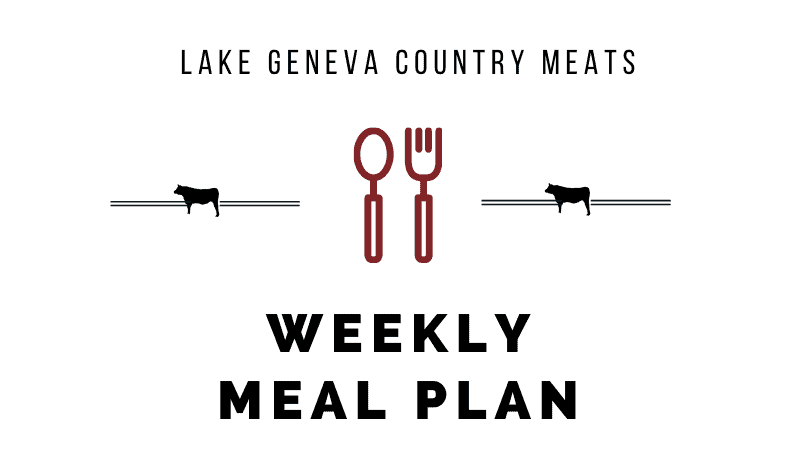 This week's meal plan wraps up with a super cheesy recipe to celebrate National Dairy Month.  We could think of no better excuse to indulge in the cheesiest mac.  I mixed up the recipes a bit to go between a few on the lighter side and a few indulgent dinners.  I hope you enjoy!
MONDAY
Grilled Chicken Salad with Honey Mustard Vinaigrette
A salad with chicken – sure sounds like a Bridget recipe if I ever heard one!  This is a great dinner to jump start the week.  And if you'd like something a littler heartier, get crazy and put rice or quinoa in place of the lettuce.
TUESDAY
We traditionally make our favorite pork carnitas in a slow cooker, but might give that up quickly after trying this recipe!  We know that any recipe that is shared down through generations can stand the test of time and this recipe does just that.  Give it a try and let us know if you're ready to make the switch from slow cooker to lard!
WEDNESDAY
Easy and stir fry.  Check and check!  We love stir fry at my house and one that's this easy to put together is on the regular dinner rotation.  A lean beef and a pan full of veggies is why we love stir fry.  Both of my kids enjoy will enjoy it and eat protein and veggies along the way.  Perfect!
THURSDAY
Looking like a great day for Leftovers
FRIDAY
Now, I'm sure that you traditionally think of these as appetizers, but I say then it's apps for dinner this Friday!  A lot of times, I'm exhausted fro the week being over and I just want popcorn and red wine for dinner – does that count as a meal?  So, I'm all about small bites – call it tapas and you can make it sound fancy 🙂
SATURDAY
Bratwurst Cooking Instructions
With grilling season in full-effect, it's about time we make sure you know how to properly cook our fresh brats!  I think everyone probably has their go-to brat cooking method, but this one might just change the way you do things for good.
SUNDAY
Double Cheesy Macaroni and Cheese
Did you know that June is dairy month?  What better way to celebrate than with all the cheese!  There's not much more to say than use your Sunday to cook up this ooeey gooeey bowl of comfort.
What's your meal style?  On the lighter side?  Or give me all the lard and dairy?  Either way, I hope you get to enjoy some delicious food this week!
–Bridget