Let the good times roll with LGCM!
We're German / Irish butchers for most of the year, but when it comes to be Mardi Gras season, we're your place to get the ingredients you need for incredible Cajun and Creole dishes.
Celebrate this festive time with decadent food that will warm you up during a cold Midwestern winter. We have a wide variety of easy to make and flavorful recipes for you to try, plus our store is full of Bayou-inspired products for Mardi Gras.
Keep reading to see our recipes, products, and more!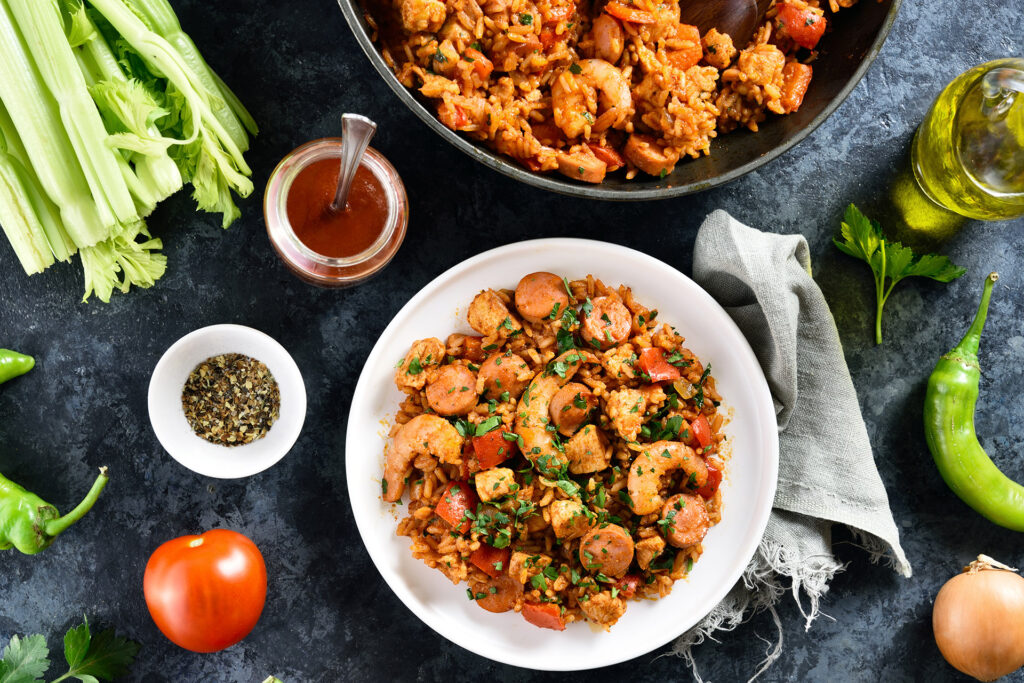 Easy Mardi Gras Jambalaya from LGCM
Do you know what our most popular item during Mardi Gras is?
It's Jambalaya!
Start with one of our Jambalaya kits, throw in fresh produce, then finish the dish off with your favorite proteins such as:
LGCM's international award-winning Smoked Andouille Sausage – on sale for $6.48 per rope, 20 % savings!
LGCM's Bourbon-marinated Chicken Breast – on sale for $5.59 per pound, 20% savings!
LGCM's Bourbon-marinated Pork Tenderloin.
LGCM's award-winning Smoked Ham – look for new 1# packages of cubed ham!
Cooked shrimp, crawfish, catfish, or other seafood.
After simmering, you'll have an incredible pot of Jambalaya fit to feed a crowd. Stop in and get your Jambalaya ingredients now!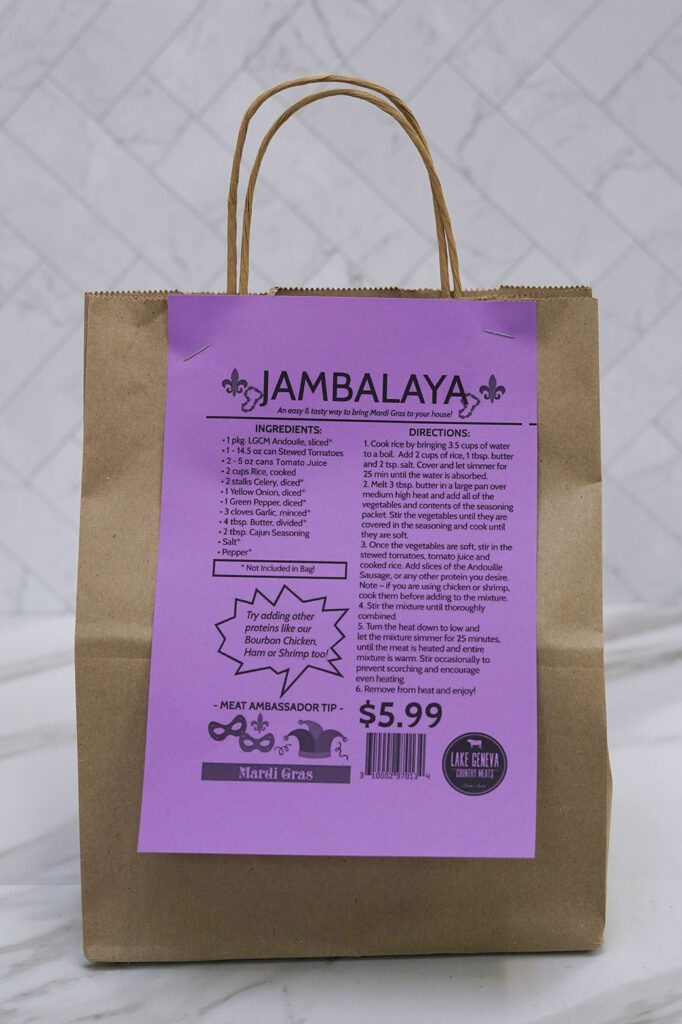 Heat up your Mardi Gras with the perfect sausage!

This loaded sausage will bring a cajun party to you.
Available fresh from February 15th – 21st only, this Cajun-seasoned pork & beef fresh sausage is loaded with onion, green pepper, and red beans and rice for a Cajun taste sensation that we think you're going to love!
$5.99 per pound – 1/4 pound links.

This is our best seller – with awards to back it up.
Our classic Smoked Andouille Sausage is an international award winning product with a rich flavor base, a touch of smoke, and a lasting heat that will have you smacking your lips and wanting more and more and more.
On sale for $6.48 per 1.25# rope.
Terms & Conditions
Sale prices valid 2/8/23 - 2/21/23. Not all items may be available at all times, as these are seasonal, limited availability items. Please call ahead to confirm availability if there is something you really really want. Thanks!