SLICED LUNCH MEATS & CHEESE FOR YOU
When you need quality sliced lunch meats and cheeses for your meals, Lake Geneva Country Meats is your go-to store. We are happy to slice meats and cheeses to your preferred thickness, and package the product in your preferred sizes. All you have to do is ask!
Here's an overview of items we have in our deli:
DELI CHEESES:
Cheddars (of various ages)
Swiss Cheese (of various ages)
Provolone
Mozzarealla
Colby
Brick
Colby Jack
Muenster
American
DELI MEATS:
Ham
Turkey
Cotto Salami
Genoa Salami
Bologna
Mortadella
Prosciutto
Summer Sausage
Liver Sausage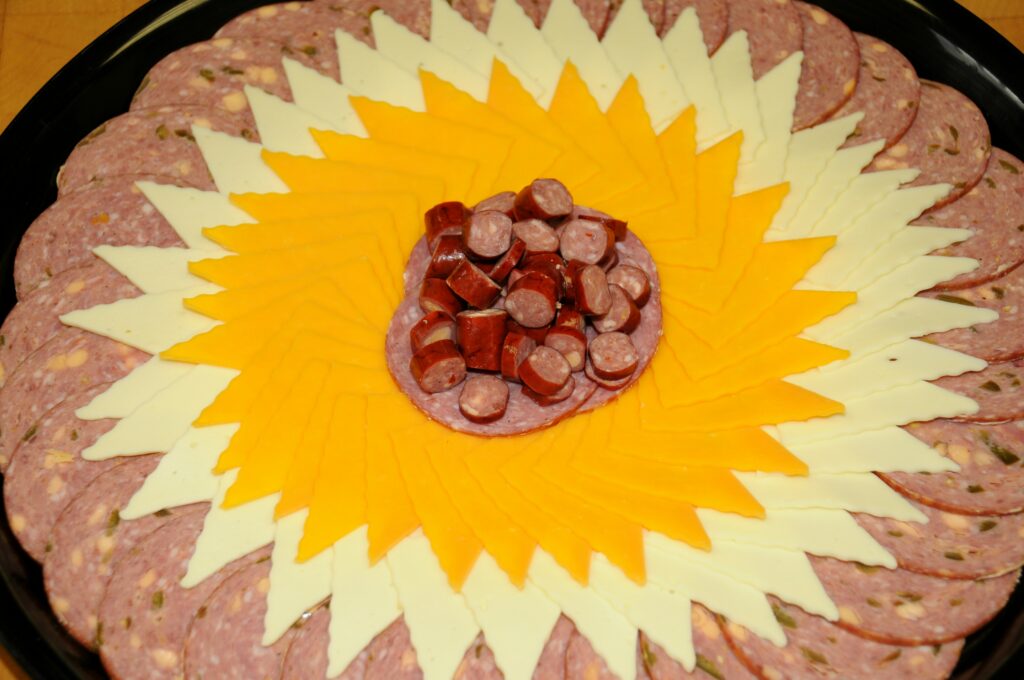 Cheese and Sausage Trays
We are happy to make cheese and sausage trays for your next event or party. To place an order, and to get details on options, sizes, and pricing, please call a Meat Ambassador at 262-248-3339, and select option 3.
Easy meals & side dishes from our deli section
Lake Geneva Country Meats is proud to offer a rotating selection of deli salads and entrees for you to enjoy at home. Our deli salads are perfect for a quick lunch time meal, a side dish for your grill out, or as an appetizer for your big party. 
Here's a sample of some of the items we make:
Salads:
Chicken Salad
Liver Pate
BLT Macaroni Salad
Potato Salad
Bowtie Pasta Salad
Coleslaw
Macaroni & Cheese
Entrees & SIDES:
Twice Baked Potatoes
Mini Meatloaves
Quiche Lorraine
Stuffed Green Peppers
Chicken & Black Bean Enchiladas

Mashed Potatoes

Spinach & Artichoke Stuffed Mushrooms
* Product availability is not guaranteed, so call ahead to reserve your favorite!