Pork Like IT SHOULD TASTE
If you still think Pork is just the "Other White Meat," you are missing out on a protein that has more flavor than chicken, can be cooked in many different ways, and costs less than beef! 
Here's the story on pork:
For a long time, the pork industry thought trying to make a pig be a chicken was a great idea. Through breeding and diet, they tried to make the pigs extra lean and not super flavorful. It was also suggested to the meat to 165ºF, the same temperature for chicken cooking. All this did was make a bland and flavorless meat that wasn't super popular with the meat eating public. 
Starting in the early 2000's, things began to change. The pork industry understood that pork is a wonderful meat that should have some marbling and a rich flavor that is unique to the meat. They also began to recommend pork chops and tenderloins to 145ºF instead of overcooking it to 165ºF. It's amazing what a difference not overcooking your meat can make!
At Lake Geneva Country Meats, all of our pork comes from Midwestern pigs that have just enough pork flavor to enjoy without becoming overly "piggy" and have enough fat to keep them juicy and flavorful while cooking. We never bring in frozen, pre-cut pork to our store, and our butchers meticulously cut and trim each cut that goes in our meat case to high standards to make sure you're enjoying the best parts of the pig.
If you can think of a cut of pork, we either have it on hand, can cut it fresh for you, or, with a little lead time, can get it cut for you. If you would like to know about current availability and pricing, please call us at 262-248-3339 and select option 3 to speak to one of our retail Meat Ambassadors.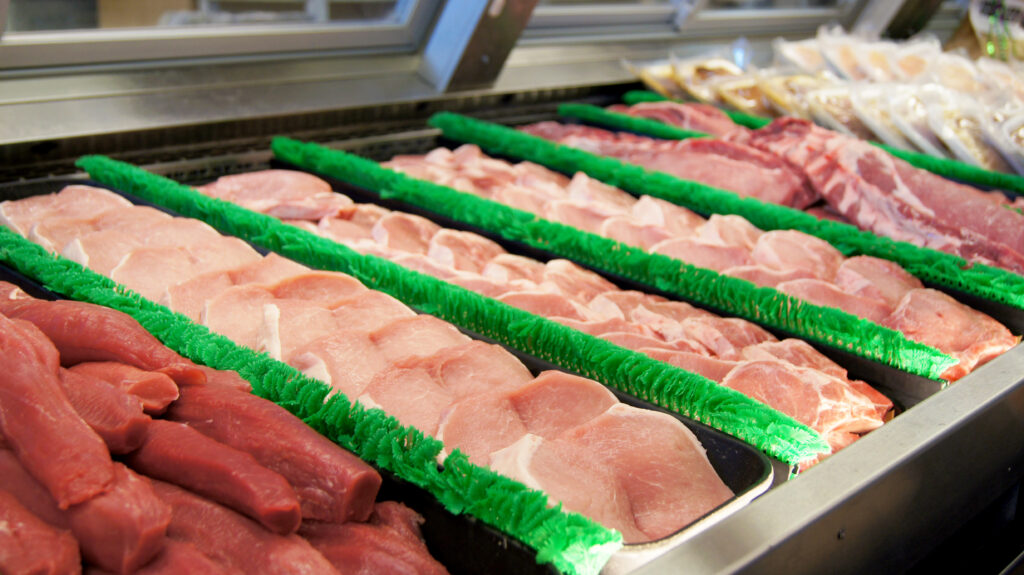 We are proud of our pork, and if you haven't tried quality pork lately, you are missing out. Here are some of the things we love about pork:
It is super easy to cook!

 Depending on the cut, you can cook pork using almost any method you prefer – grilling, sautéing, baking, slow cooking, air frying, or even using the Instant Pot!

You can flavor the pork in almost infinite ways!

 Much like chicken, you can easily marinate pork chops or pork tenderloins to add your favorite flavors to the meat. Pork also loves a good seasoning blend, so if you have a favorite dry rub, pork is a great option for you!

Pork is a nutritious source of lean protein!

 Cuts like pork tenderloin, pork loin chops, and pork loin roasts are all certified lean cuts of meat that are great to enjoy while you're counting calories and fat.

There are cuts for every occasion!

 Whether you need a quick meal (sautéed pork chop), are feeding a crowd (slow cooker pulled pork shoulder), want to make a fancy feast (pork crown roast), or love BBQ (baby back ribs), there is a cut of pork for whatever moment in life you're enjoying.

Pork is affordable!

 We love beef, but a Ribeye steak is much more expensive than a pork chop. When you want a great cut of meat on the center of your plate, but want to watch your budget, we think that dollar for dollar, pork is the best bet for you. 
If you really love traditional, richly flavored and marbled pork, keep reading.
In addition to our standard pork, we are proud to offer our Country Heritage line of pork. These cuts of pork come from traditional "old school" breeds of pigs like Berkshires and Durocs that have a richer pork flavor and more marbling. If you want to taste what pork used to taste like, our Country Heritage Pork is for you!
We offer select cuts of Country Heritage Pork such as pork chops, ribs, tenderloins, and shoulders on a rotational basis in our fresh case, and as supplies last in our freezer. If you would like to enquire about current availability, please call us at 262-248-3339 and select option 3 to speak to one of our retail Meat Ambassadors.