Have you tried our Seafood selection?
We're more than just great meat at Lake Geneva Country Meats, we also have a large selection of frozen seafood. Whether you're looking for a lobster tail to enjoy with a steak for a Surf & Turf feast, or if you are a devoted fish eater, we are a great place to shop for seafood in Lake Geneva.
This page has information about our selection, as well as links to some of our most popular seafood recipes. If you have more questions, please give us a call at 262-248-3339 and select option 3 to speak to one of our Meat Ambassadors. 
Why Frozen Seafood?
Frozen seafood lets us stock a wide variety of fish and shellfish that we would not otherwise have room to feature. In fact, we think we have one of the best selections of seafood in the Lake Geneva area, with very low prices. Here are three reasons we feel confident in our seafood selection:
Frozen seafood is generally processed and flash frozen when it's caught, or right off the boat meaning the quality of the seafood is preserved for the trip from the ocean to the Midwest.
Frozen seafood is always in season – you can enjoy items that were caught in the height of season year round, thanks to modern freezing technology.
Frozen seafood is better for the environment, because it does not require extra trips from the boat to shore to offload a fresh catch, nor does it require expedited air travel from the ocean inland. As a bonus, the more sustainable transportation model also helps you save money!
What type of seafood do you offer?
Our selection is always evolving, but here is a listing of some of our most popular items:
Shellfish:
Canadian Cold-Water Lobster Tails
Raw Shrimp
Cooked Shrimp
Scallops

Crab Cakes

Crab Legs (seasonally)
Fish:
Norwegian Fjord Salmon
Yellowfin Tuna
Cod
Walleye
Chilean Sea Bass
Alaskan Halibut
More Fish:
Mahi Mahi
Tilapia
Swordfish
European Lake Perch
Orange Roughy
And many more whole and portioned fish!
Do you carry sustainably sourced seafood?
Yes, we do carry a large amount of sustainably sourced seafood! We believe strongly in purchasing as much seafood as possible from sustainable fisheries, and we support a number of producers that use these methods to harvest their fish.
We are particularly proud to offer a wide selection of premium grade sustainable seafood from Wixter Market in Chicago, Illinois. Wixter Market is a boutique seafood shop with incredible expertise in sourcing top quality sustainable seafood from around the world. They offer their flash frozen products on a wholesale basis to select retail markets such as Lake Geneva Country Meats.
You will find a partial list of products we offer from Wixter Market below. Please note that due to the seasonal nature of Wixter Market's offerings, this list will vary throughout the year.
American Shrimp
Norwegian Cod
Norwegian Haddock
Norwegian Salmon
Norwegian Steelhead
Vietnamese Barramundi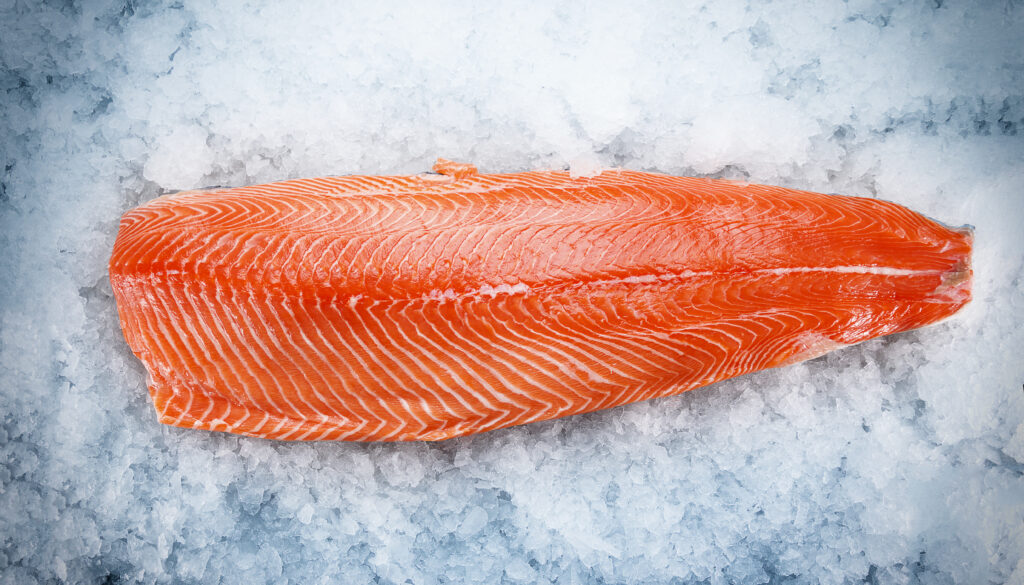 How do I special order fresh seafood?
It is so easy to special order fresh seafood through Lake Geneva Country Meats. Through our multiple seafood vendors, we can find just about any seafood item you desire, and even if we can't find it fresh, we can probably find it frozen for you. We offer very competitive special order pricing, so if there is a seafood item you love, but are having a hard time finding, you owe it to yourself to take the time to get a quote.
Here's how to special order seafood from Lake Geneva Country Meats:
Call us at 262-248-3339 option 3 at least 5 days in advance of when you need the items with details on the item you wish to order. If you don't know exactly what you need, or what size you'd like, it's okay – we can help you with the details!
We will then reach out to our fish mongers, and get you a quote for your seafood. 
If you like the quote, we'll order it for you, and you can pick it up in store – usually within 2 days. If you don't like the quote, no big deal, we were happy to check for you!
That's it – it's a super easy, no pressure process, and many of our customers take advantage of our ability to source their favorite seafood at low prices.
Get your order started now by calling 262-249-3339!