quality chicken for every day enjoyment
If you're looking for quality, all-natural chicken to feed your family, Lake Geneva Country Meats is the place to find it.
We offer a variety of chicken products from whole chickens, to breasts, to thighs, wings, and even chicken livers and much more. If it is a cut of chicken, we probably either have it in the store, or can get it for you with advance notice. If you would like to know about current availability and pricing, please call us at 262-248-3339 and select option 3 to speak to one of our retail Meat Ambassadors.
Here's information about some of our most popular chicken products.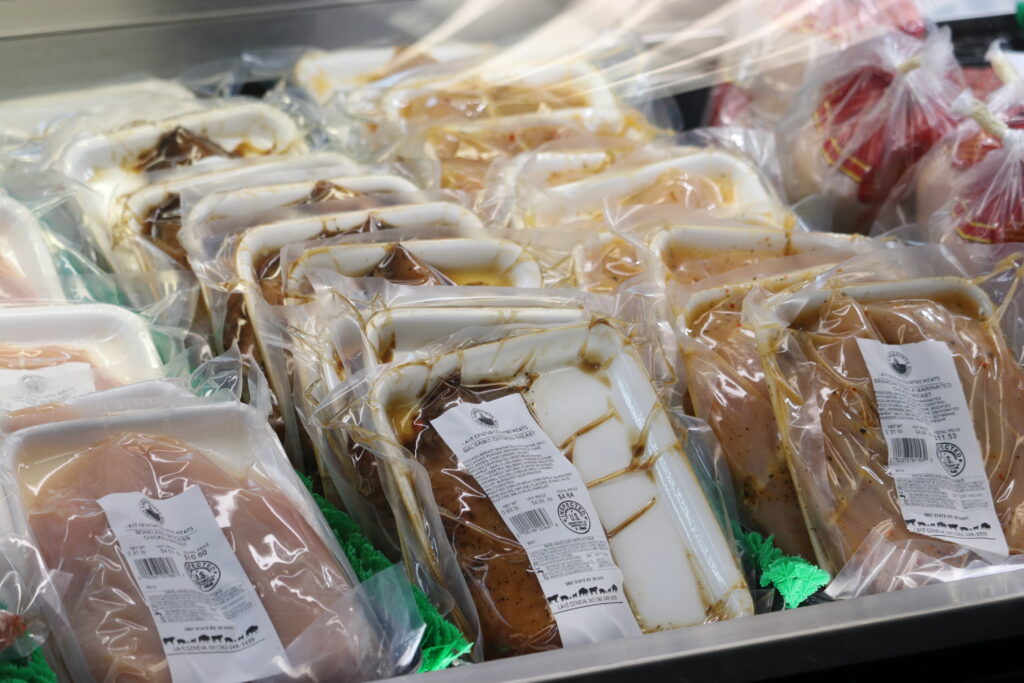 BONELESS SKINLESS CHICKEN BREASTS
Our famous boneless skinless chicken breasts come from a single supplier that we trust to raise quality birds. These breasts come to us fresh, never frozen, and are trimmed to ensure there is no excess fat on the meat. These breasts are not injected with any type of brine or other solution – unless we marinate them in store, of course!
We are often asked why are chicken breasts are so big – are the birds on steroids? The answer is no, we specifically order a "jumbo" sized chicken that has a very large breast portion, often around 2 pounds. We have found our customers enjoy the larger sized chicken breasts, and we offer both single lobe and double lobe packages to fit your cooking needs. We do recommend filleting or flattening these large breasts for faster and more even cooking.
We are proud to offer a variety of pre-marinated chicken breast flavors in our store. We prepare these marinated products in store in our speciality vacuum sealed tumbler to ensure the marinade spreads deeper and more evenly in the chicken than what you can accomplish at home. We currently offer these flavors: 
Balsamic – a traditional savory flavor that is one of our most popular flavors.

Bourbon – a little sweet and a little tangy, this is a crowd pleaser.

Buffalo – this flavor is packed with traditional "buffalo wing" heat.

Garlic Parmesan – the combination of rich garlic and parmesan flavor is versatile and delicious.

Italian Romano – bring more Italian flavor to your next pasta with this flavor.

Lemon Pepper – this classic flavor combination is great on the grill or with salad.

Mandarin Teriyaki – a bit of sweetness goes perfectly with teriyaki flavor.

Santa Fe Salsa – not too spicy, this flavor is a great short cut for your next chicken fajita dinner.

Sriracha – we love the roasty, moderate heat of this chicken breast flavor.
Please call our Meat Ambassadors at 262-248-3339 option 3 to check on current pricing and availability.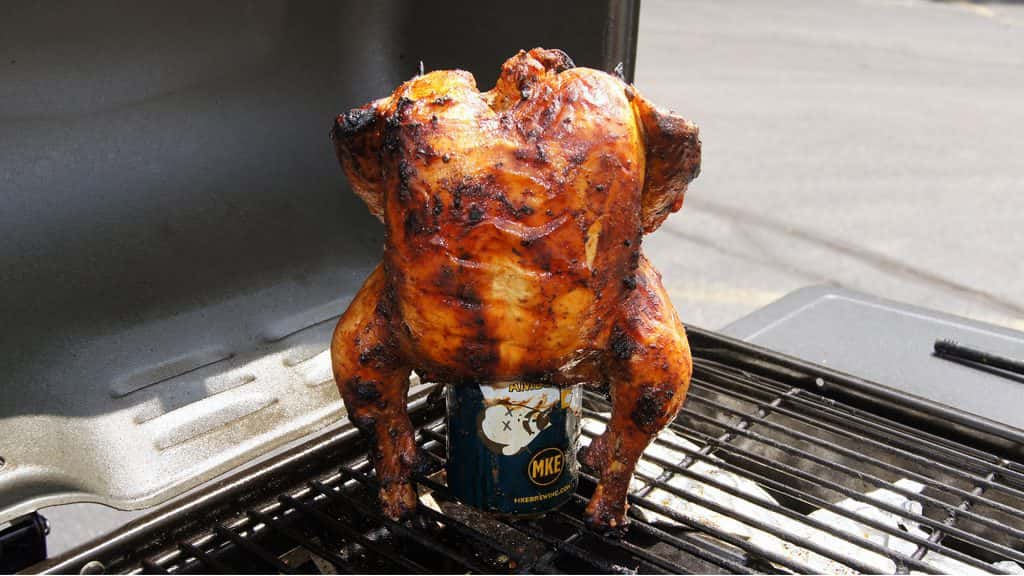 GERBER AMISH CHICKENS
In addition to our standard chicken, we are pleased to offer whole Gerber Amish Chickens. These traditionally raised chickens come to us from Amish farms in Ohio, and we think they have amazing flavor. These 3.5 – 4.5 pound whole chickens are perfect for roasting, smoking, cooking whole on the grill, or cutting into pieces to cook individual skin on pieces of chicken.
If you're looking for "chicken like chicken used to taste," you need to try our Gerber Amish Chickens. We have them available frozen at (almost) all times, and frequently available fresh. Just call us to confirm pricing and availability!