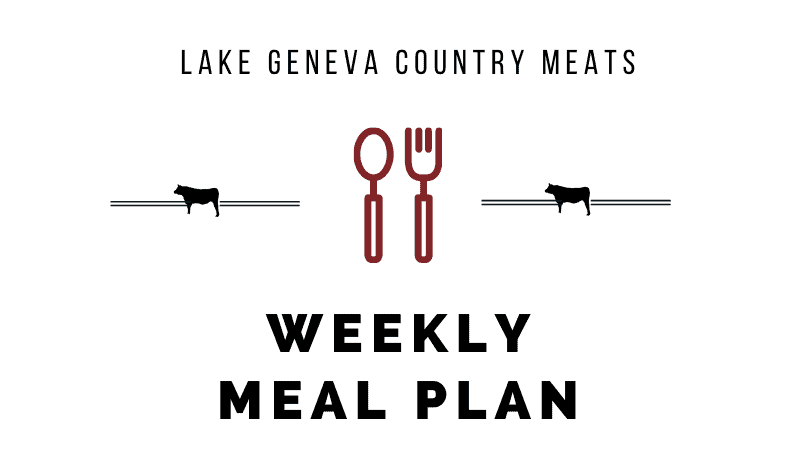 Brat-Tober Fest continues into it's second week, so we're still sharing plenty of German recipes.  But don't worry, this week has plenty of non-German options as well!  So sit back and get to planning because there are a lot of great recipes to choose from this week.
MONDAY
Kicking off the week with two chicken dishes.  Neither are German, but both are delicious!  If you've been following along for awhile, you may know how much I love chicken, so I'll be making both of these this week!
Option 1: One pot roast chicken and vegetables
Option 2: Yogurt and lemon marinated chicken breast
TUESDAY
It's a taco showdown!  Nick and I battle over tacos pretty  much daily.  I like all sorts of tacos, but have a special place in my heart for a good ol' classic ground beef taco.  Nick is not a fan!  I admit that the chorizo tacos are a fantastic alternative because you get that little kick of spice that ya love in a taco.
Option 1: Ground beef tacos
Option 2: Chorizo sausage tacos
WEDNESDAY
Mmmmm Grünkohl – that's kale and sausage stew of course.  Kale is a traditional part of German cuisine, which we recently learned.  (we've always been pretty focused on the sausage part!).  Give this German recipe a try and let us know what you think.  And if you're not a fan, you can always cook up a hearty pork stew!
Option 1: German kale and sausage stew
Option 2: Milwaukee pork stew
THURSDAY
Plenty of leftovers to enjoy!
FRIDAY
This is not what I expected when I read about German-style salmon.  But now that I know about gebackener Lachs I can't wait to try it because, well, bread crumbs make everything better!  If mustard isn't your think, you may want to opt for a simple grilled salmon dish instead.
Option 1: German-style salmon fillet
Option 2: Grilled salmon
SATURDAY
A perfect day for a hearty pork dish and no better than the pork schnitzel.  You know this is the German option and who doesn't love a good schnitzel!?  Plus, it's fun to say.  Even better.  These meals are both super affordable and easy to make.  Great family dishes for the weekend!
Option 1: Pork schnitzel
Option 2: Quick fried pork cutlets
SUNDAY
It's Fischeintopf vs. cajun stew this week.  And in case you don't know, that's a German fish stew.  Fish or beef.  German or cajun.  Let us know what you think!
Option 1: German fish stew
Option 2: Cajun beef stew
Whatever you're cooking this week, we hope you get the chance to try something new and have fun in the kitchen!
–Bridget