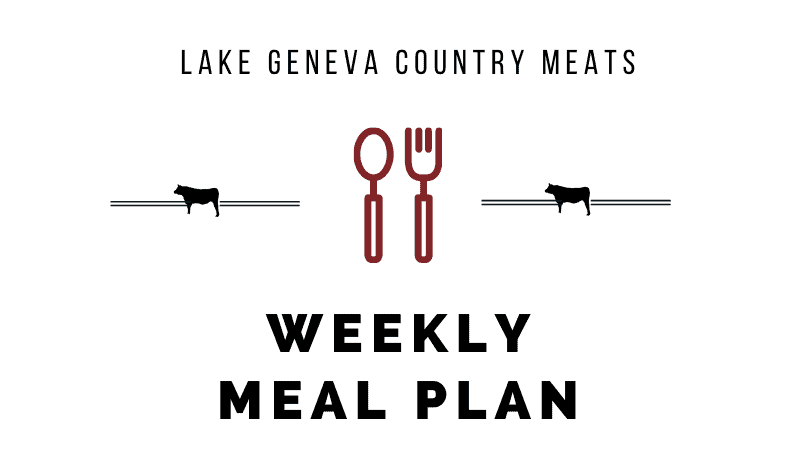 Is anyone else having a hard time keeping track of what day it is?  Well, I'm here to remind you that Easter is THIS Sunday.  That's right, April 12th is Easter.  We start this week off with some great meals and end with a couple favorite staples in our house for Easter.

MONDAY
These are a favorite of my husbands and of many of our LGCM customers.  Stuffed peppers are available in the deli case, but we thought it would be fun to share the recipe so you can re-create the at home any time you'd like!
TUESDAY
Mexican Beer Braised Turkey Legs
Getting a little creative with Taco Tuesday and sticking with Mexican flavors…on a turkey leg!  Keep the meat on the bone or shred it and put it in a tortilla for a more traditional taco.  Any way you eat it, we're sure you're going to love it.
WEDNESDAY
Butter chicken is one of those recipes that always intimidated me, so I love that this recipe takes a traditional butter chicken recipe and adapts it to be more approachable for people more on my cooking level!  And, this dish comes together in one pan, which is always a favorite bonus.
THURSDAY
Our favorite day – leftover day!
FRIDAY
This dish is a great way to celebrate Good Friday.  Using ingredients you likely already have at home, you'll be able to make a whole fish feast.  Since we're not gathering in large groups, prepare to have some leftovers to eat throughout the weekend.
SATURDAY
Deviled eggs.  These are a fave at all of my family functions.  Now, unlike Nick, I eat eggs everyday, but deviled eggs are a treat.  I really only eat them at holidays, but they are oh-so-yummy!  This recipe is a family one, from Kathy Vorpagel herself.  A perfect side dish for your Easter at home.
SUNDAY
Happy Easter to you!  Ham is one of those classic dishes for Easter and it can be made so many different ways by adding any number of delicious glazes.  In my house, it was always brown sugar.  This recipe is pretty darn easy and will get you a tasty ham for your Easter meal.
I hope you all enjoy a week of good food and that these meals plans take a little weight off your shoulders.  It can be exhausting coming up with something new and creative to eat each week, so we're here to help!
Enjoy your Easter and stay healthy!
-Bridget