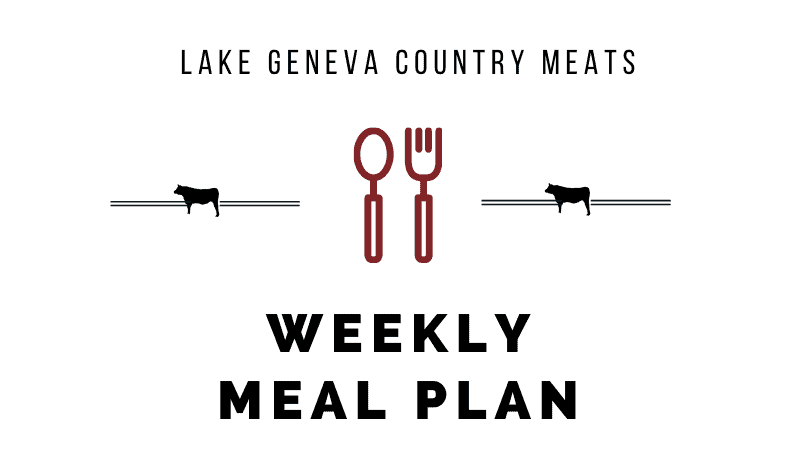 This week's plan has a little bit of everything…including a few of my favorites.  Everyone at home should find something they like on the list, so here's to a great week of cooking yummy meals!
MONDAY
An easy, fun way to start the week.  My four year old loves helping with this recipe so that's always a bonus.  Get creative with your toppings and enjoy some pizza to celebrate making it through Monday!
TUESDAY
A fun way to make tacos that's a bit different than your ordinary taco Tuesday.  This recipe takes flavors from Mexico and Cuba, combined with pork shoulder for the best taco you've had in awhile.
WEDNESDAY
Slow Cooker Pesto Chicken Thighs
A meal fit for me.  It's easy, it's chicken and it's smothered in pesto.  Yum yum.   Slow cooker meals are the best because you can set it and forget it.  Plus this meal is super affordable, but still packed with flavor.
THURSDAY
Time for delicious leftovers!
FRIDAY
An easy seafood meal that's fun to eat with a group of friends.  My Dad loves crab legs, so these always hold a special place in my meal memories.  You don't need any unique ingredients to make this meal a success, so get cooking!
SATURDAY
Coffee? Yes please.  Rubbing your steak with different flavors can really change your steak game.  This dinner comes together in 30 minutes and, again, uses ingredients you probably already have in your pantry.
SUNDAY
Asian flavors are delicious flavors and this meal is no exception.  Enjoy this steak alongside your favorite veggies and maybe even some rice.  Sweet, savory, tangy and tasty!
Enjoy your weekly meal plan and let us know what you're making in the comments below.
–Bridget